This is a live blog for Intel's CES presentation. Intel is expected to reveal details about Tiger Lake mobile CPUs, the DG1 discrete GPU, Comet Lake desktop CPUs, and upcoming projects concerning cloud, networking, and AI technology. See details here.
Event
Intel CES Presentation
Well put, and with that, that's the end of this live blog, thank god. We'll see you guys next time, probably at Computex.
Well, final thoughts...

I wasn't particularly surprised at either of tonight's presentations.  AMD's did have a lot more focus on the PC as expected.  Both of them are clearly interested more in the mobile space though Intel didn't show a single desktop part in the whole night, that I can recall.

Some of the demonstrations were alright but a pale shadow of previous CES.  I guess they are either keeping their cards close to their chests or they really have nothing much "new" to show at this point.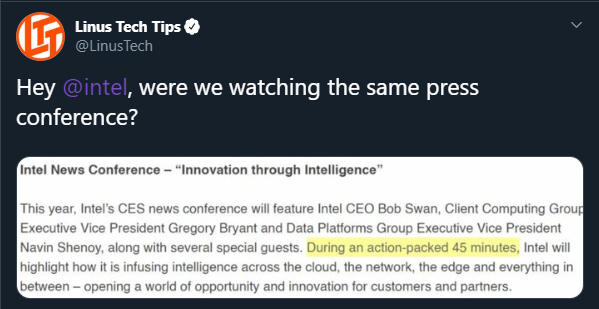 Tiger Lake is a summer product so I expect DG1 to come around the same time, it's just a shame they didn't give us much if anything to speculate on. No figures of any sort other than what we already knew in the first place.
Overall, Intel's show was really boring I guess. Barely anything of substance was shown. I wish they showed more Tiger Lake and DG1 but I guess it's just not ready, huh?
Okay, so what did we learn today?
DG1 demo reminded me of some Vega stuff, it was that short.
That looks like 720p though, maybe 1080p, hard to tell.
Mobile form factor running Destiny 2.
Tiger Lake - Doubling graphics performance and industry-leading AI performance.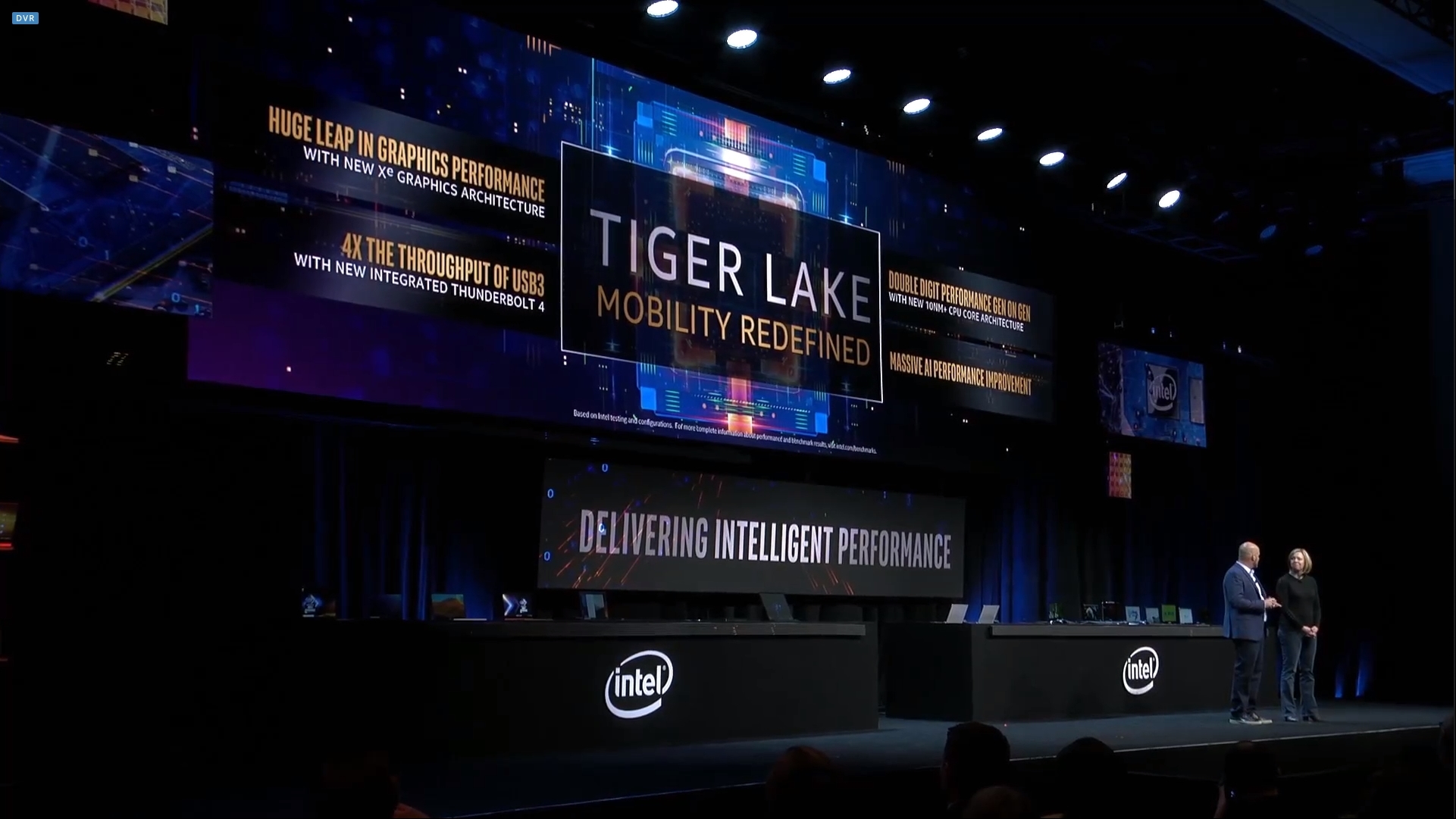 Tiger Lake coming this summer.
They've stopped talking about Tiger Lake, now they're on image unblurring.
Looks at least 30 FPS though...
Tiger Lake running Warframe but no details...
Twice the graphics performance of Ice Lake. Gaming level.
Now I wonder if that extra die is something to with IO or the GPU.
Looks about as big as Renoir.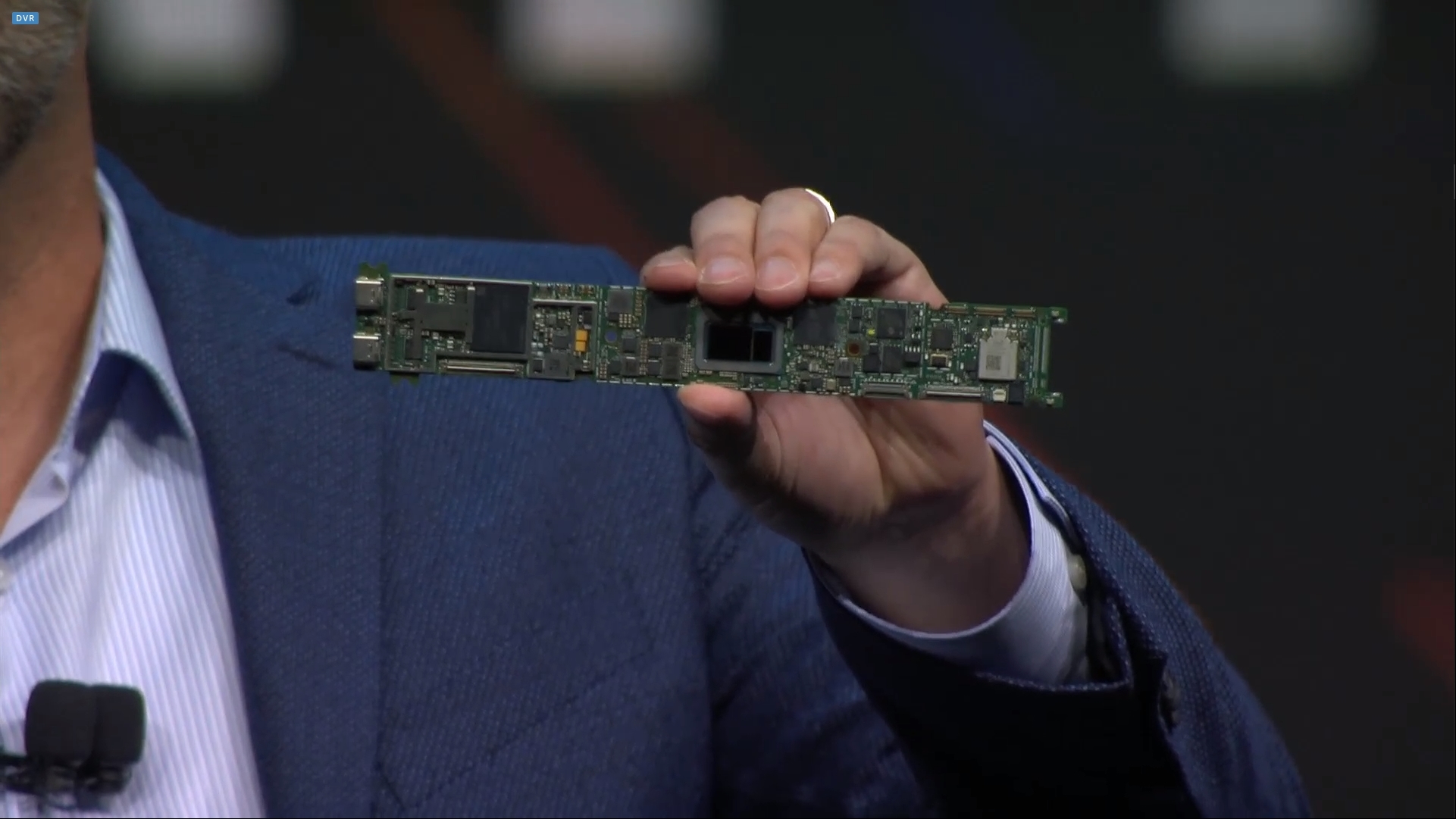 So that foldable laptop was a Tiger Lake laptop.
Finally! Something that's actually interesting! Please show us something cool!
Yes they're showing Tiger Lake!
How in the world was the best part of the show when Adobe came up on stage?!
Ok I'm back, yeah he's actually quite good.
Jim, this is easily the best and most memorable part.
Adobe got the biggest applause so far, by a landslide. They need to hire this guy for their presentations.
Too cringey for me to watch, let me know when it's moved on to something else.
This Adobe guy has more energy than the whole Intel team combined, why?
Too much of this presentation is Intel piggybacking on their partners' cool stuff.
Nevermind, it's just Adobe...
I'm just unsure what's new about it, what did Intel add to the experience that made it possible? Was it not possible before?
This one looks pretty cool at least.
A new category of foldable devices, horseshoe bend.
I'm not super sure this dual screen design for laptops will catch on but maybe I'm wrong and it will.
So some dual screen Dell laptops.
But didn't mention what they helped on with engineering... so is it using Lakefield or not?
This sounds alot like the Surface Neo which uses Lakefield... so this also uses Lakefield?
The worlds first foldable PC.

"Full performance" apparently.
World's first foldable PC.
Lenovo exec is up on stage, talking about a dual screen device.
I guess Intel has the problem of having a ton of technologies as well.
Yea, I appreciate laptops but they have barely shown any hardware through the entire presentation.
Notice all the talk is about style over substance.
Athena, not just throwing money per-se but yes, working on the "ecosystem".  Essentially it's about making better form factors and all that, with less emphasis on CPU and GPU performance...figures.
So more Intel Chromebooks, yay.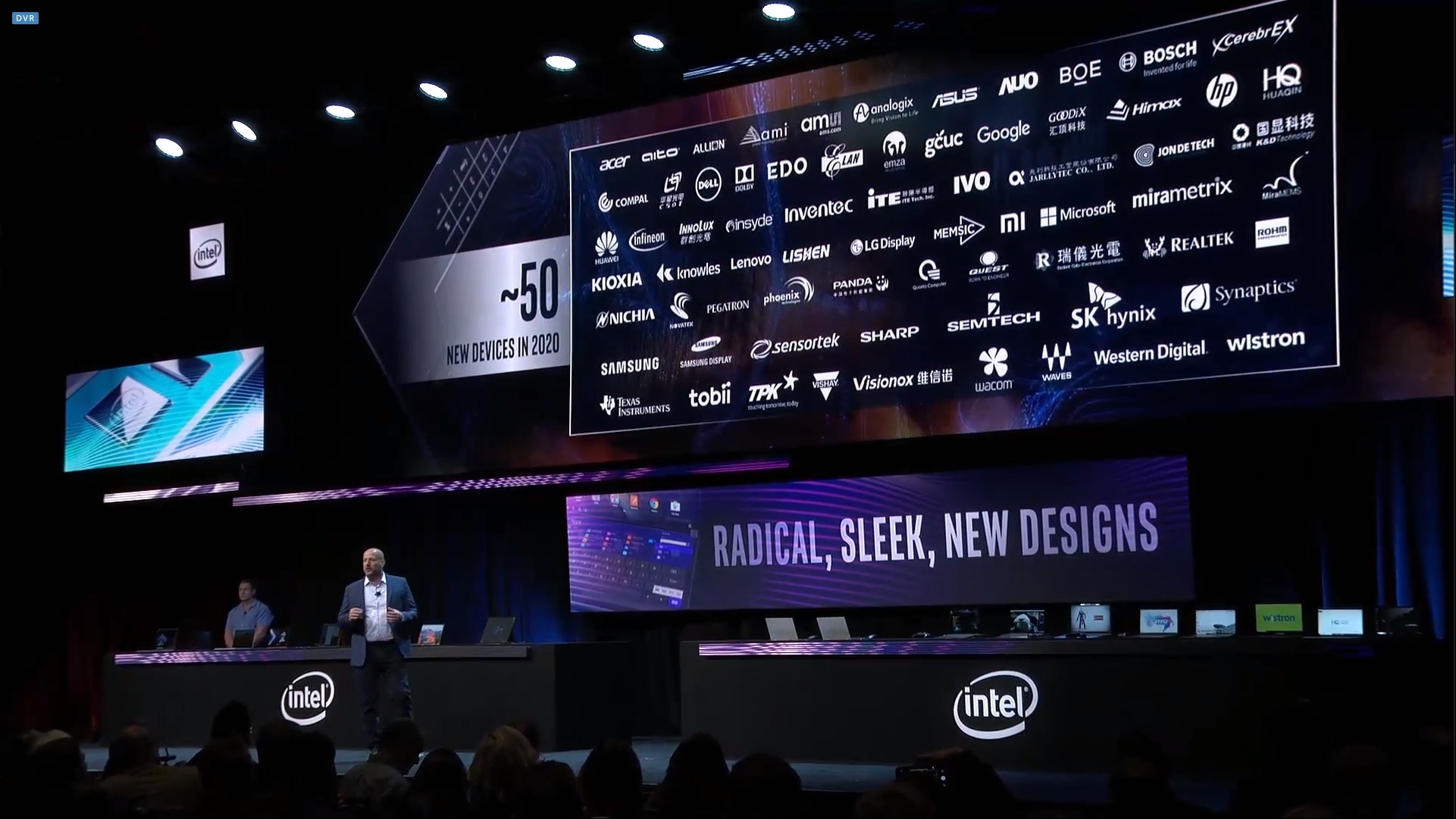 Are they actually gonna talk what's in these laptops? They're just showing off laptops.
Or is it Intel helping design some cool laptops?
So, I never understood what Project Athena is to be honest. Is it just MDF?
So no Comet Lake announcement?
5 "PCs" shown, none were desktops...
They did say "Xe graphics"!
Please show us Tiger Lake and DG1 and not beaten dead 9th and 10th gen CPUs.
Gregory Bryant - executive vice president and general manager of the Client Computing Group
PC, yes, something that might be interesting.
I have a feeling EA might want some of this technology though.
This part of the presentation reminds me alot of the Xbox One reveal where they showed off all these features with Kinect and voice recognition, but those ended up not amounting to anything because they were just novelties and gimmicks.
I get that more interaction with content sounds cool, but the question is whether or not people will care and if it's feasible as a generally available technology.
In the background I can see a laptop running what looks like a video game and there's MSI AB in the top left corner...
I could see this multi perspective, 3D video of sports games working on YouTube, they have the 360 degree videos.
Ok so pretty cool, guess we're finally getting close to Blade Runner technology.
I just don't see this taking off, this seems so incredibly niche that there's just almost no chance the average consumer is gonna be able to take advantage of it. Will you need a dedicated console or something?
So Intel is looking to make a sort of action replay where the viewer can control the athletes with a controller.
Oh wait this is normal sports, that's fine too I guess.
I'll take esports, that's fine with me.
Intel's XE HPC presentation was great even though I'm not an enthusiasts of all the other things Intel is getting into. This just isn't doing it for me.
"Intel Sports"...what the...
I'm fine with AI and cars and FPGAs but there's just no content here.
It's a different focus Matthew, I've been talking about this in videos for years.  Both Intel and Nvidia have zero care about classical computing.  AMD only cares so long as it suits them.

We're all to blame for losing our grip on technology.  If the markets were distributed more evenly, they'd all be trying a bit harder in every department.
This motion tracking and athlete thing sounds like Kinect which was released a decade ago.
I have no actual product to critique here so I'm forced to critique what's being shown to me which is basically just a bunch of filler.
This presentation is really boring, I'm not gonna lie. AMD's wasn't super exciting but at least they were showing us stuff of substance, that substance just happened to be a tad boring at times.
There's a lot of talk but we're not seeing a whole lot.  If AI is to be sold to consumers it'll take some seeing, not just hearing.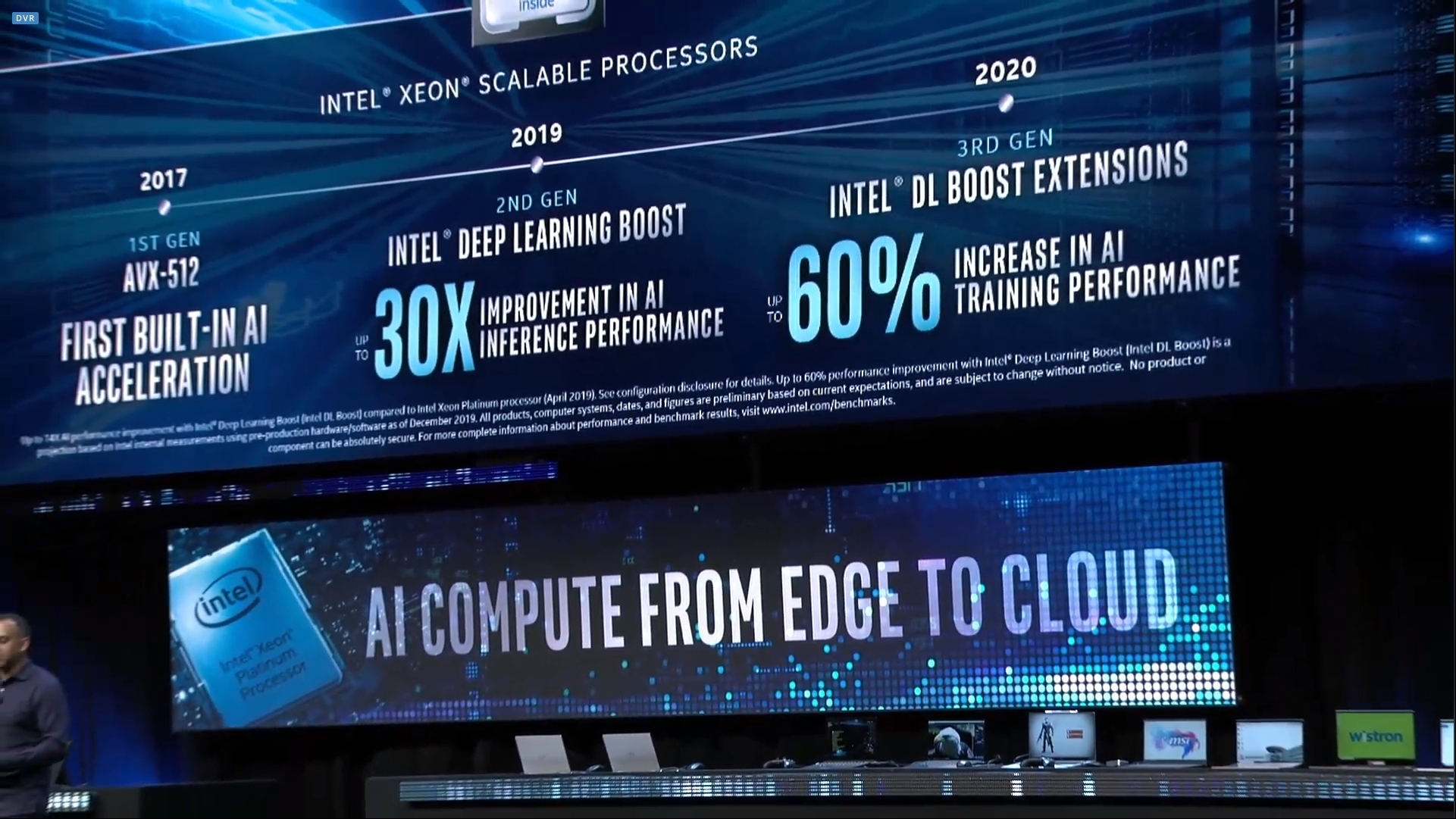 I will point out that AMD is not really focusing on AI and if they want to get into it, they need to get into it now and not later, otherwise they'll be missing out entirely.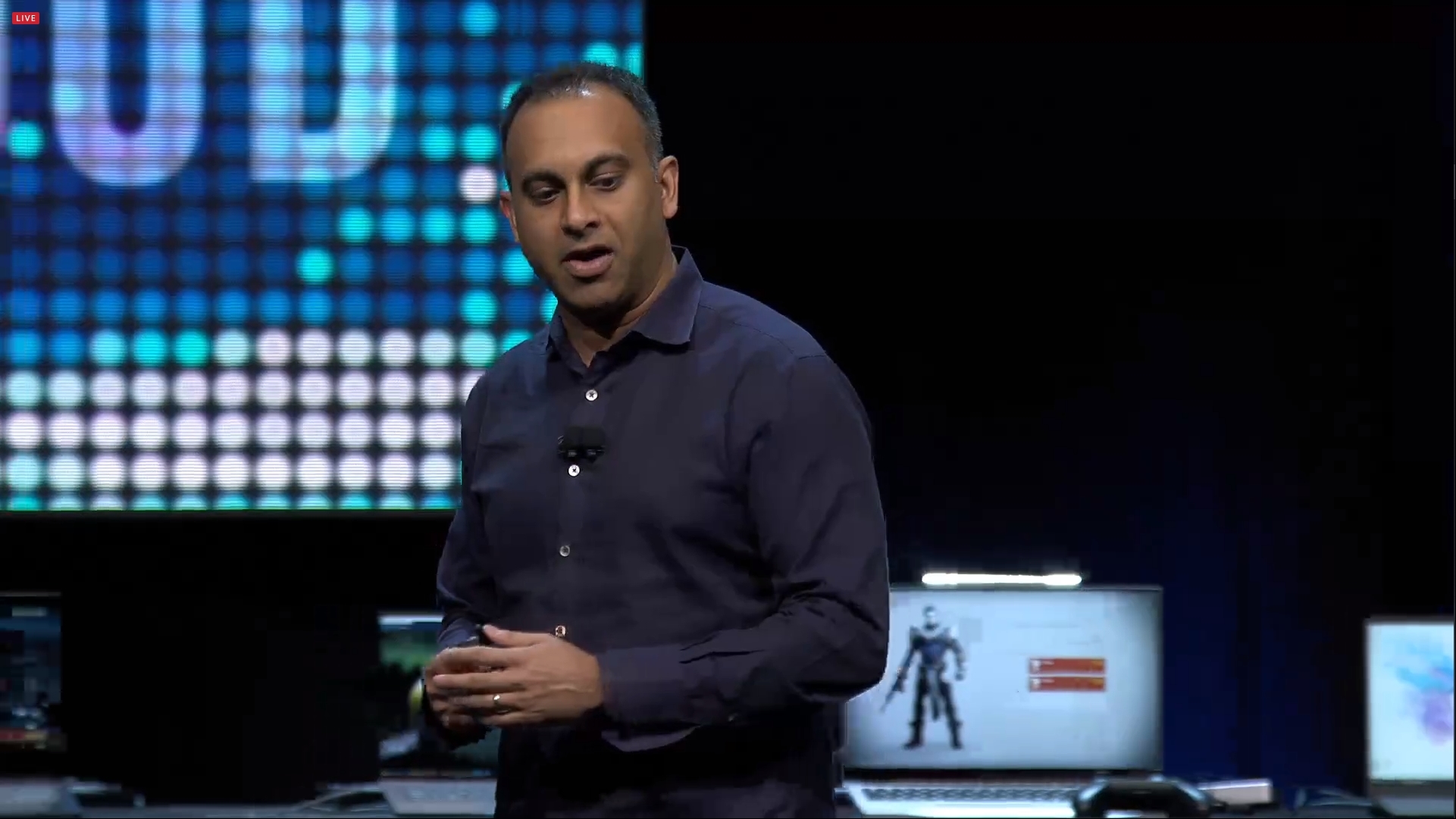 He's talking about Xeon but honestly it's not that exciting.
The NNPI is apparently alot faster than anything else on the market but of course grain of salt and all that.
This is Intel's "XPU" he's talking about now.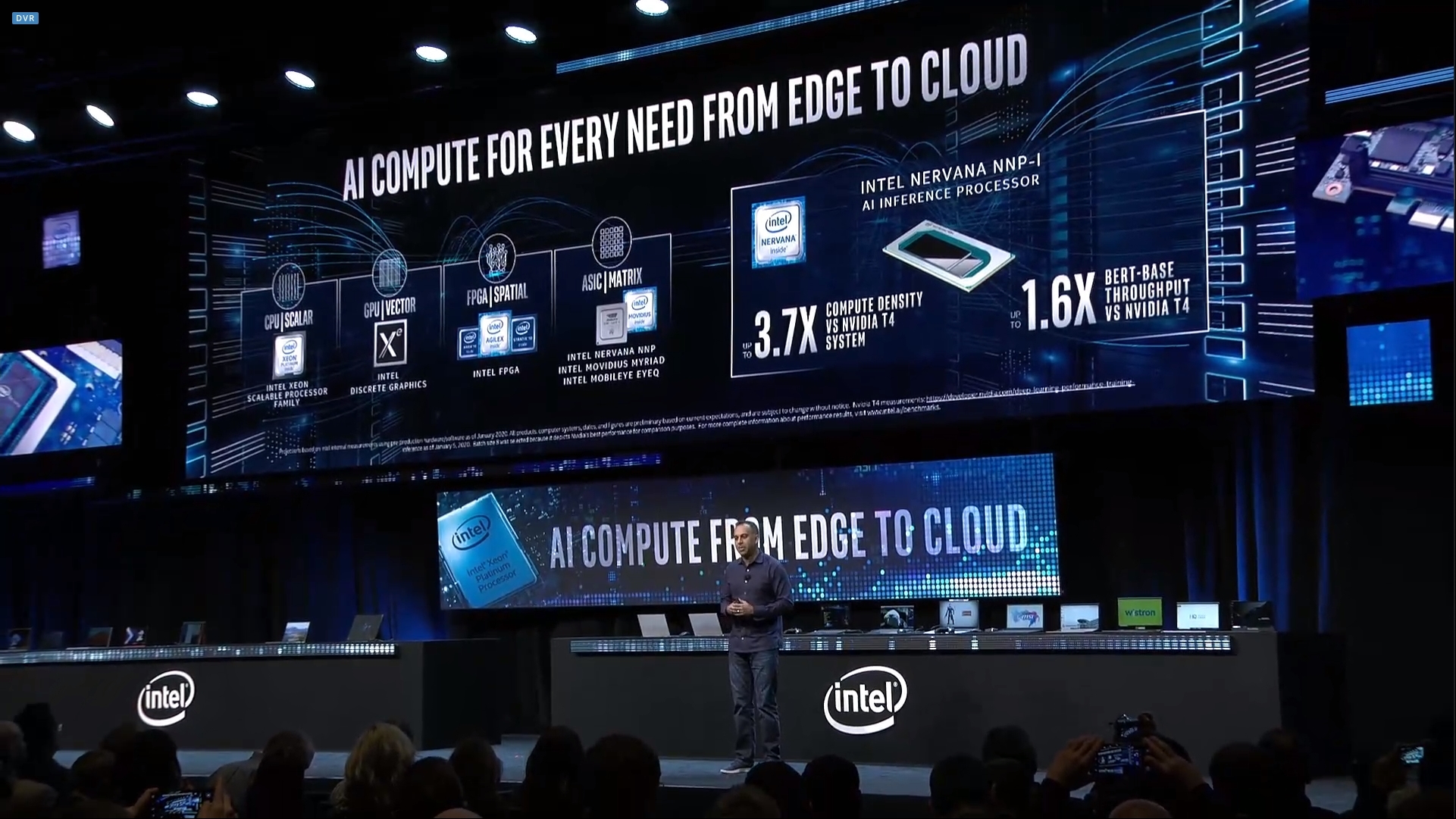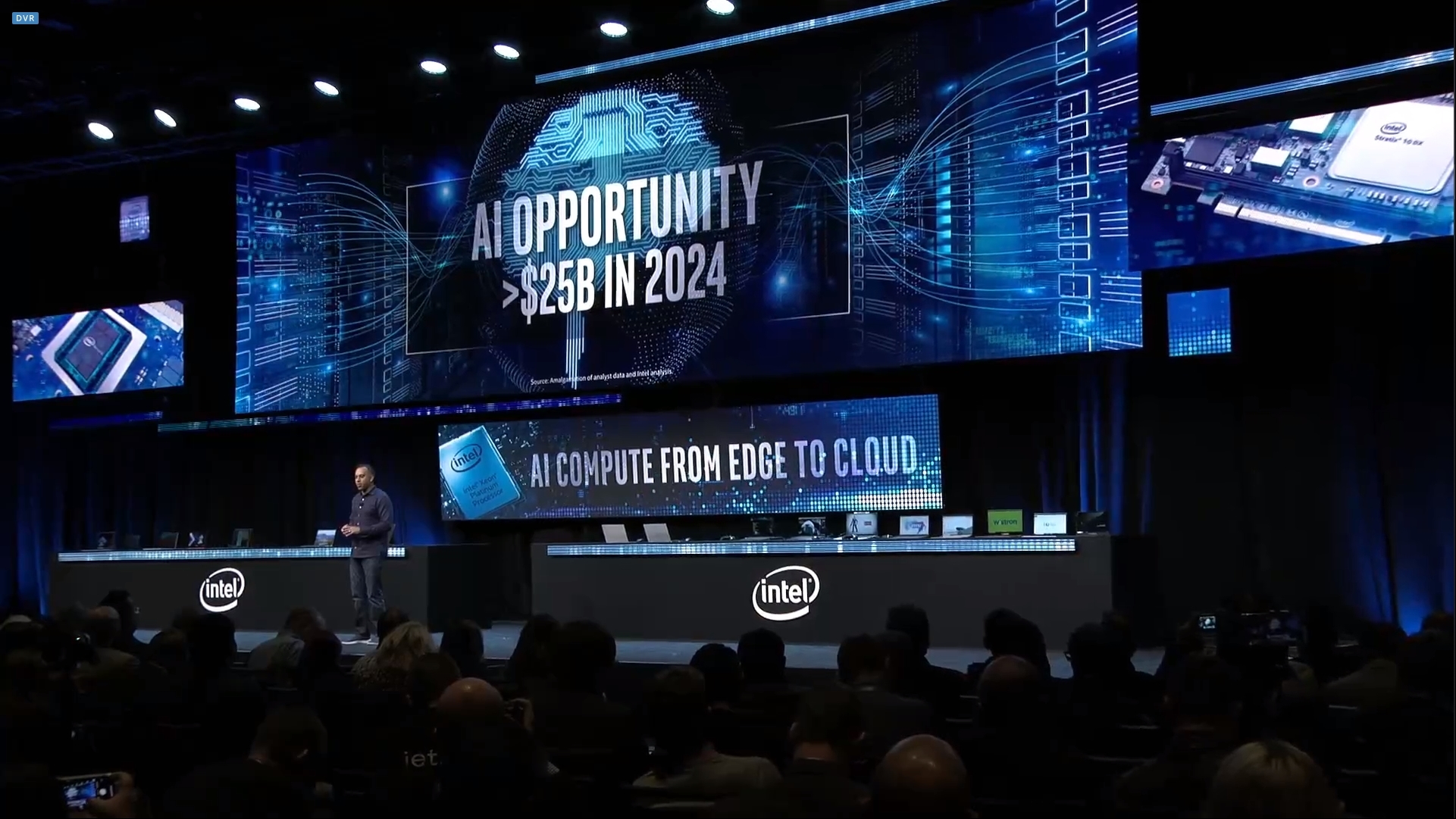 Clear difference in quality between the codecs, as usual it's wise to take marketing with a grain of salt and wait for independent verification.
Codecs are important though, case in point NVENC for Turing GPUs.
So nothing about hardware has been discussed in this entire Netflix segment, just talking about this new codec (which I accidentally called a decoding program, oops).
What's interesting is that Netflix was looking into Epyc Rome, I wonder if that's not happening anymore or if they'll have both Xeon and Epyc.
So Intel and Netflix are creating a decoding program specifically for Xeon. And now they have a Netflix person coming up.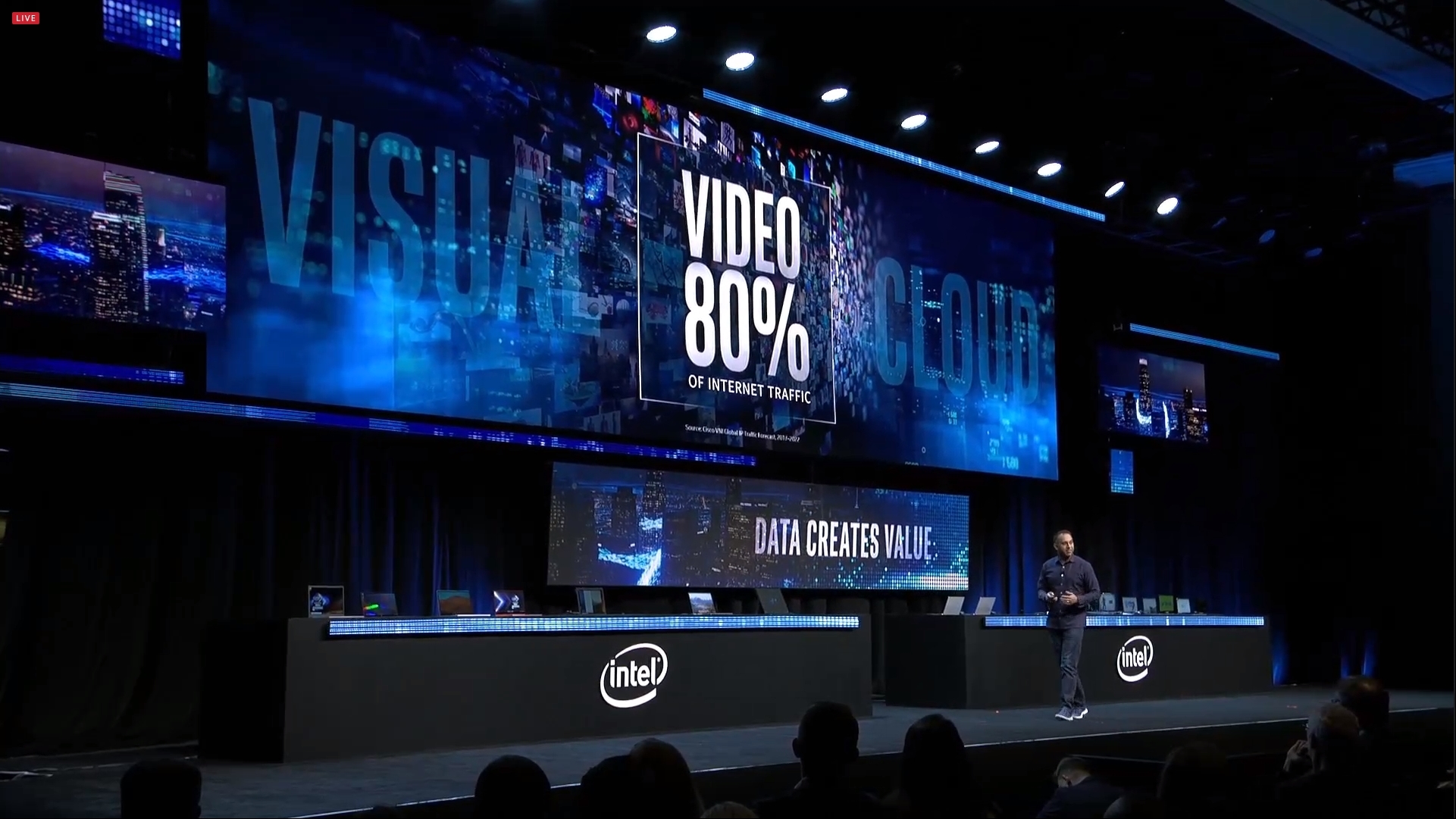 So this is about streaming I guess.
Sorry, not Gregory, Navin Shenoy.
Up now, Navin Shenoy - executive vice president and general manager of the Data Platforms Group
Gregory Bryant is here though, so maybe we'll finally see some products?
Bob's presentation was touching but that doesn't change the fact that he basically talked about nothing Intel.
Nice shout-out to those affected by the horrible situation in Australia.
But I don't know if I would trust Intel to have my back if a hurricane hit Tennessee.
Well to be fair Jim, with climate change they are changing, meaning they're getting alot worse.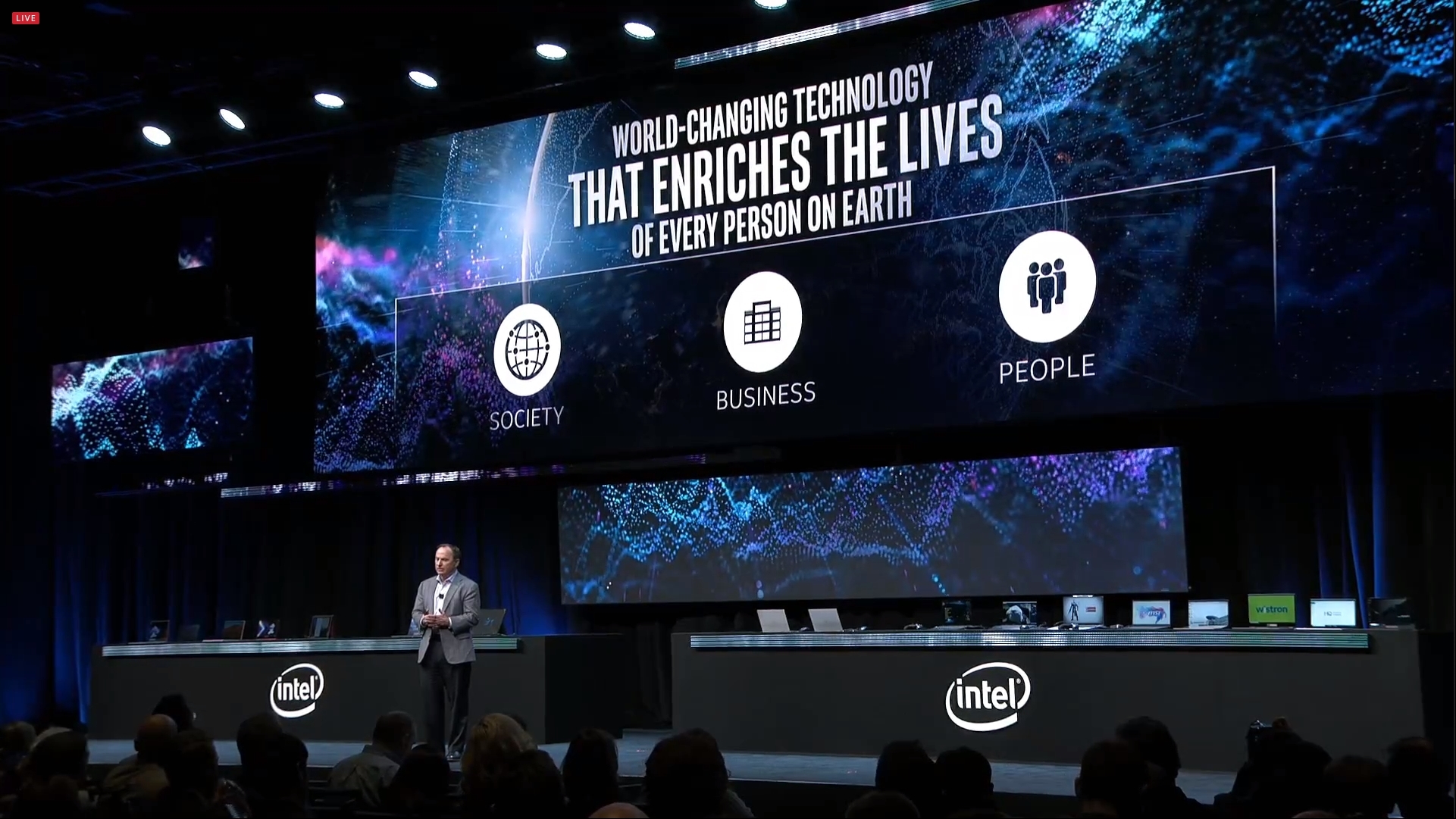 "Disasters are changing", that's quite a claim.
For context, they're talking about how Red Cross and Intel is making digital maps for unmapped areas in lower developed countries.
I would hope an Intel computer could make a map better than a person.
He's nice but he just doesn't have any energy.
Bob Swan comes across as a nice guy, unlike most of Intel's more recent CEO's.
Bob is breaking the "show don't tell rule" so hard... just show us cool stuff, not talk about how you're gonna show it.
Don't forget they paid $15.3 billion for Mobileye.  Acquiring and integrating tech is not the same than having developed the expertise in-house.
I guess AI cars are kinda cool though.
Bob Swan's presentation is a little lethargic compared to Lisa Su's, or anyone from AMD. I hope Gregory Bryant is a little better.
Saving lives with Mobileye... that's why they bought it. Money has nothing to do with it.
It's interesting to see how much like an Nvidia presentation from 2-3 years ago this is.
So we're focusing on transportation right now...
"We're only just getting started"
That's something AMD says alot, I just wonder if Intel is copying or being sincere.
Problem is Intel are only just getting started...others started a long, long time ago.
"We are simply embedding intelligence in everything we do"
I would hope so...
Now we're getting into something... "these three technologies are not standalone, they are reinforcing."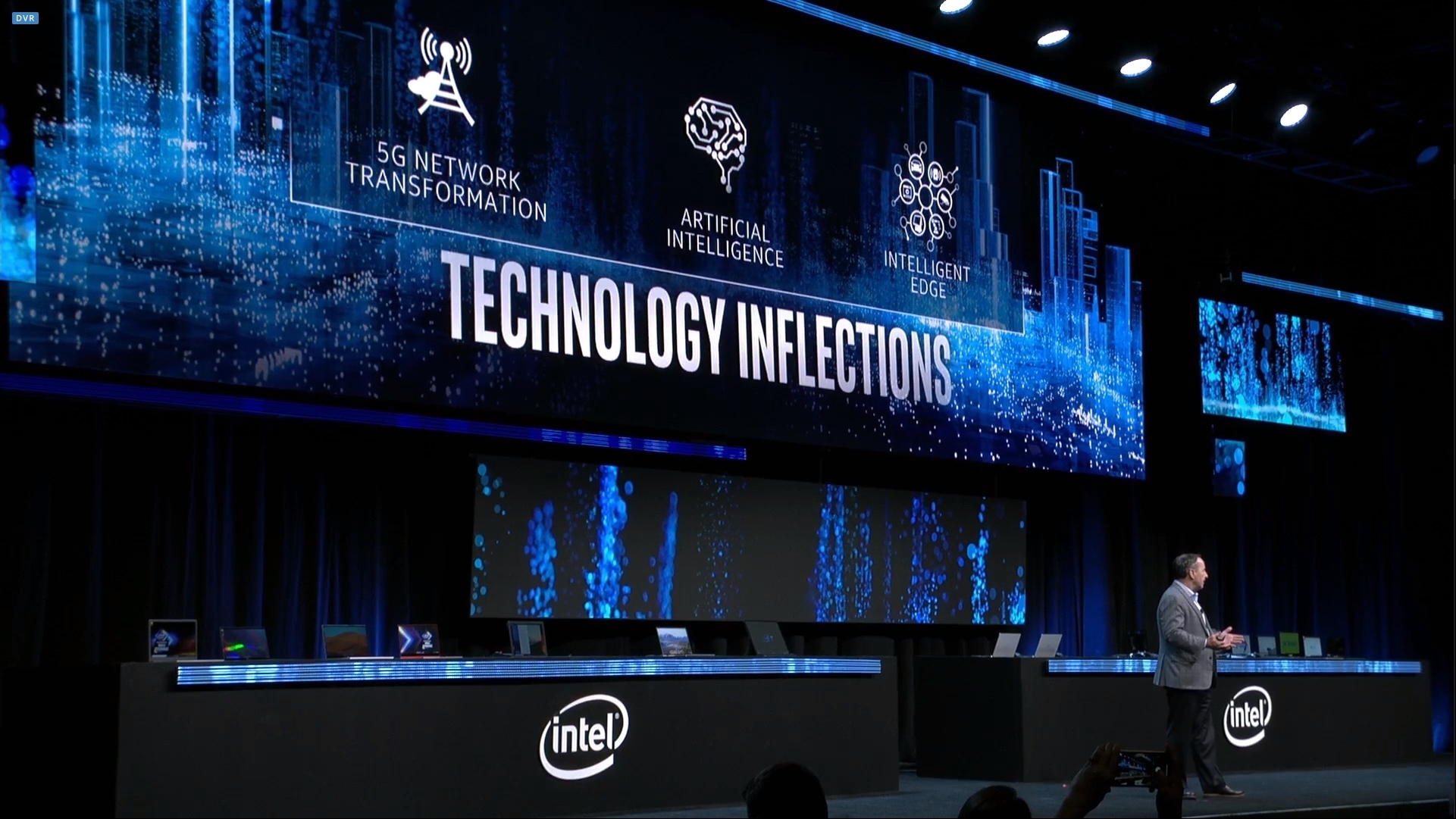 So many words are being said, yet not a whole lot of meaning is being conveyed... what is Bob Swan talking about?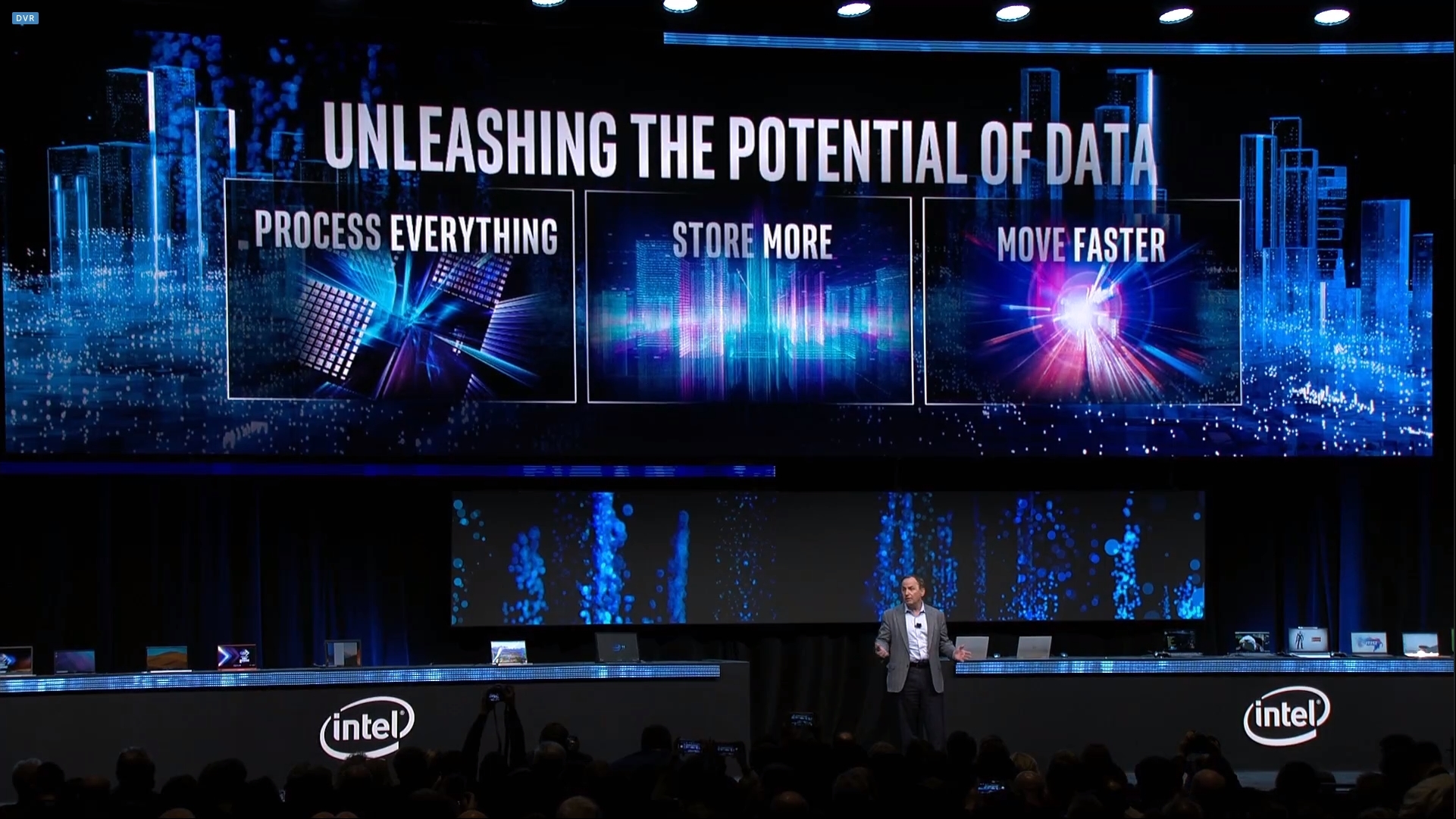 "We are only just getting started with data created by AI"
Zettabyte is a thing, yes.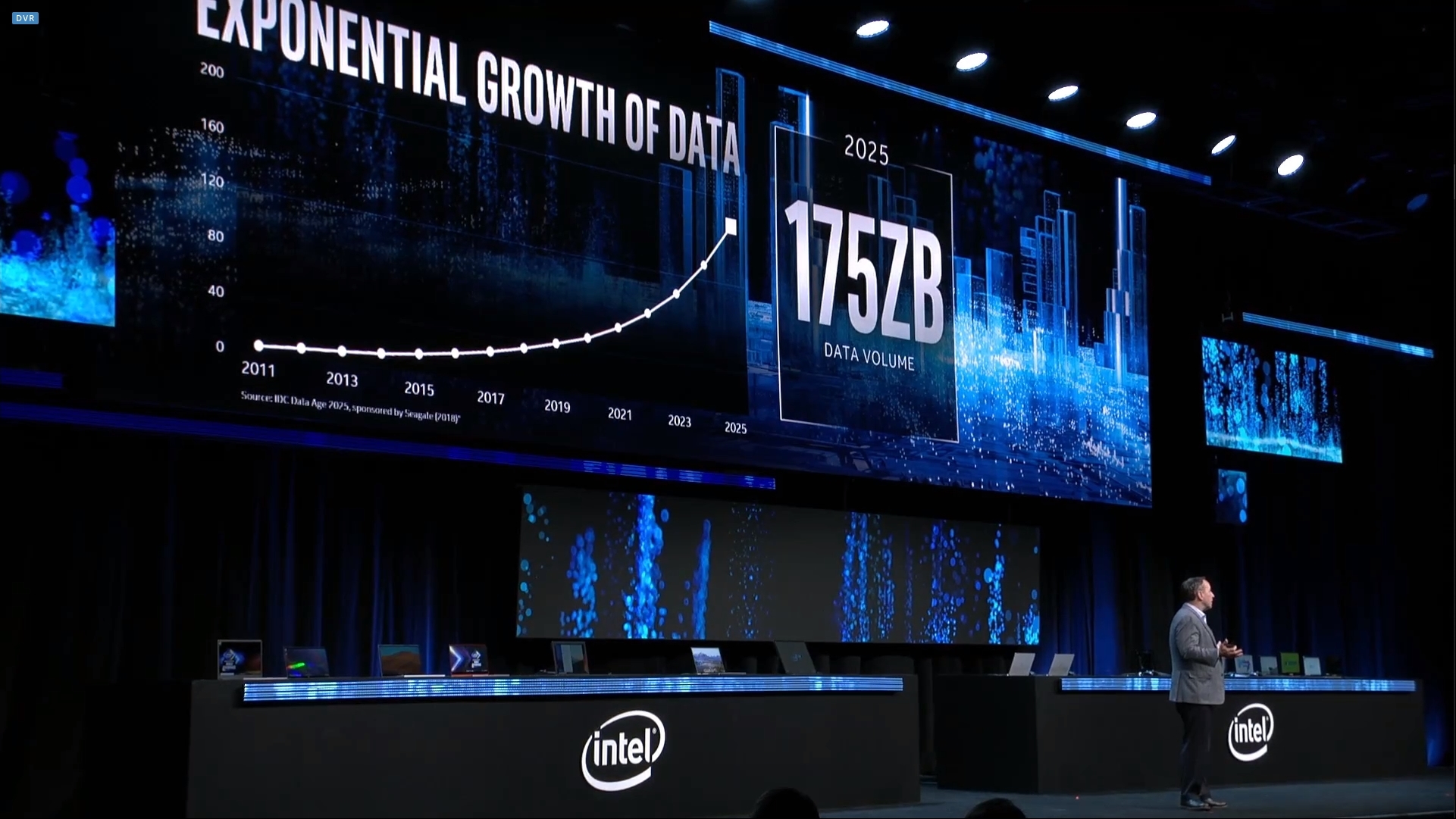 You always notice a difference between Intel and AMD presentations.  Intel's are always a bit more "money" and "business-like".
I think they said that before 10nm was designed.
"Our ambitions are rather big... but we've been at this for a while"
Oh nice, I like the way it paused at "Intel" before adding "ligence".
Immediately I can see a ton of laptops, I bet they're gonna show us the same marketing we saw earlier today.
This voice over sounds dystopian to me for some reason.
I feel like I'm watching a movie trailer, but I guess that's okay.
Jim that joke is as old as 14nm.
The presentation is running a little bit late...nothing as bad as 10nm though (yet).
Yea this headline is not fitting Intel at all.
If I see DG1 and Tiger Lake I will be happy, I can suffer through everything else.
"Innovation Through Intelligence"
Interestingly, Tom's has Tiger Lake and Xe Graphics in the headline for its coverage so maybe that's a good sign of things to come?
There's been quite a lot of change in that 2 months as well.  Chris Hook and Heather Lennon are no longer there.  All the news/info I've heard has been bad.  I really am rooting for the GPU division though and I'm happy to see Ashraf Eassa getting a promotion.
These elevator tracks actually really define the differences in Intel and AMD. I can just hear the Intel in this music.
Who had the best elevator music, Intel or AMD?  I think I marginally prefer Intel's.
Our sources did tell us DG1 would be talked about at CES but that was over 2 months ago and that was probably based on when it was estimated to release.
E3 is a little interesting, surely it'll have to be something like the Ryzen 4000 segment of AMD's CES presentation, because otherwise it'll be really boring if it's just the DG1.
Well Intel has Gregory Bryant as part of the show so hopefully we'll get some better news on PC.  Regarding graphics, my information is E3 is the next time we'll hear a lot.
Now, I'm hoping we'll at least get something about the DG1 but if Tiger Lake is a no show then DG1 might be as well.
Basically, 10nm desktop has been canceled, Tiger Lake is gonna be a quad core with good gaming graphics, all the good stuff Intel is waiting on will be on 7nm, DG1 is the same GPU as the Tiger Lake iGPU, and DG1/Tiger Lake will have 96 EUs. You can skim through the articles in the 6 minutes we have before the presentation starts.
Oh yeah I remember reading that earlier today, but that "they'll (Nvidia) be back in future".

Nothing to show or just don't care any more...
Nvidia doesn't even have a presentation.
I'm gonna drop some links to our Intel leaks since that has been very interesting so far.
Pretty sure Nvidia will be "cars, AI, some more cars".
This CES just didn't align properly with any of AMD, Nvidia's, or Intel's projects it seems.
I have a terrible, terrible feeling the PC section is just gonna be trashy marketing like we saw earlier today. I hope I'm wrong but...
I've heard a few comments suggesting this CES has been pretty unexciting so far.  Sign of the times I guess.
None of this really interests me except PC and maybe edge... but I read that Tiger Lake probably won't get much attention since it's a little too far out, and we haven't heard about DG1.
Well, my expectations are fairly low given what is on their website.

They will highlight how Intel is infusing intelligence across the cloud, network, edge and PC. The conference will bring to life several of Intel's latest advancements focused on creating broad positive impact for people, business and society.
Welcome to the Intel CES Presentation live blog, the presentation will begin in 15 minutes. Until it starts, we're just going to have a little pre show mostly talking about expectations and opinions.
Alright guys...we're back again with another CES presentation, this time it's Intel.

You can watch it through this link.