Event
AMD Financial Analyst Day
Never seen Devinder Kumar looking so confident or happy as this...
Overall, this has been interesting, but not very, which is what I expected.
Anyways, thanks everyone for sticking around.
If there's any actual product announcements after this I'll be really sad I missed it.
It looks like this is a look at AMD's financials, and I think this is a good point to stop.
Every time I watch Forrest talk I'm impressed.
Devinder on the stage now.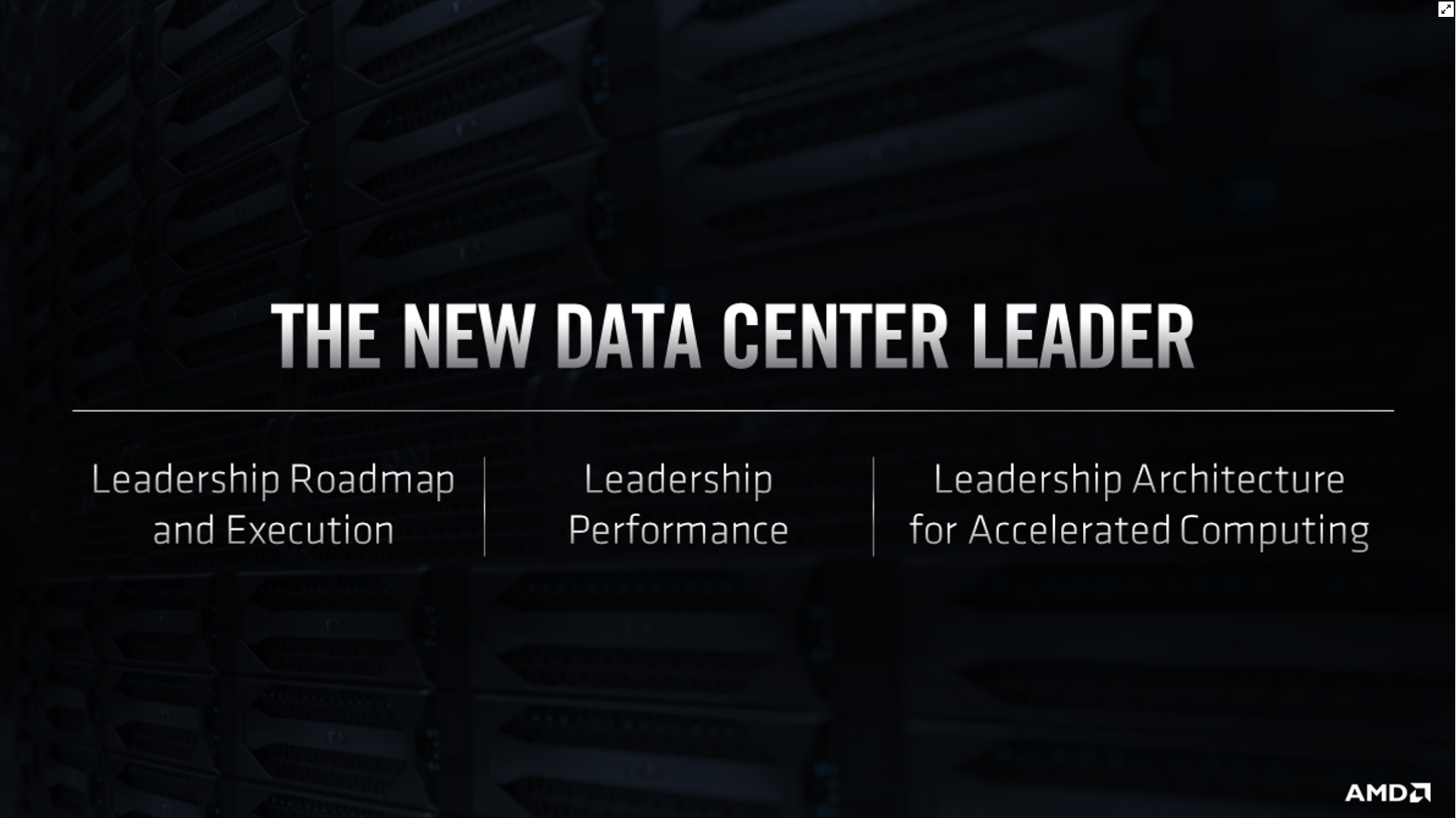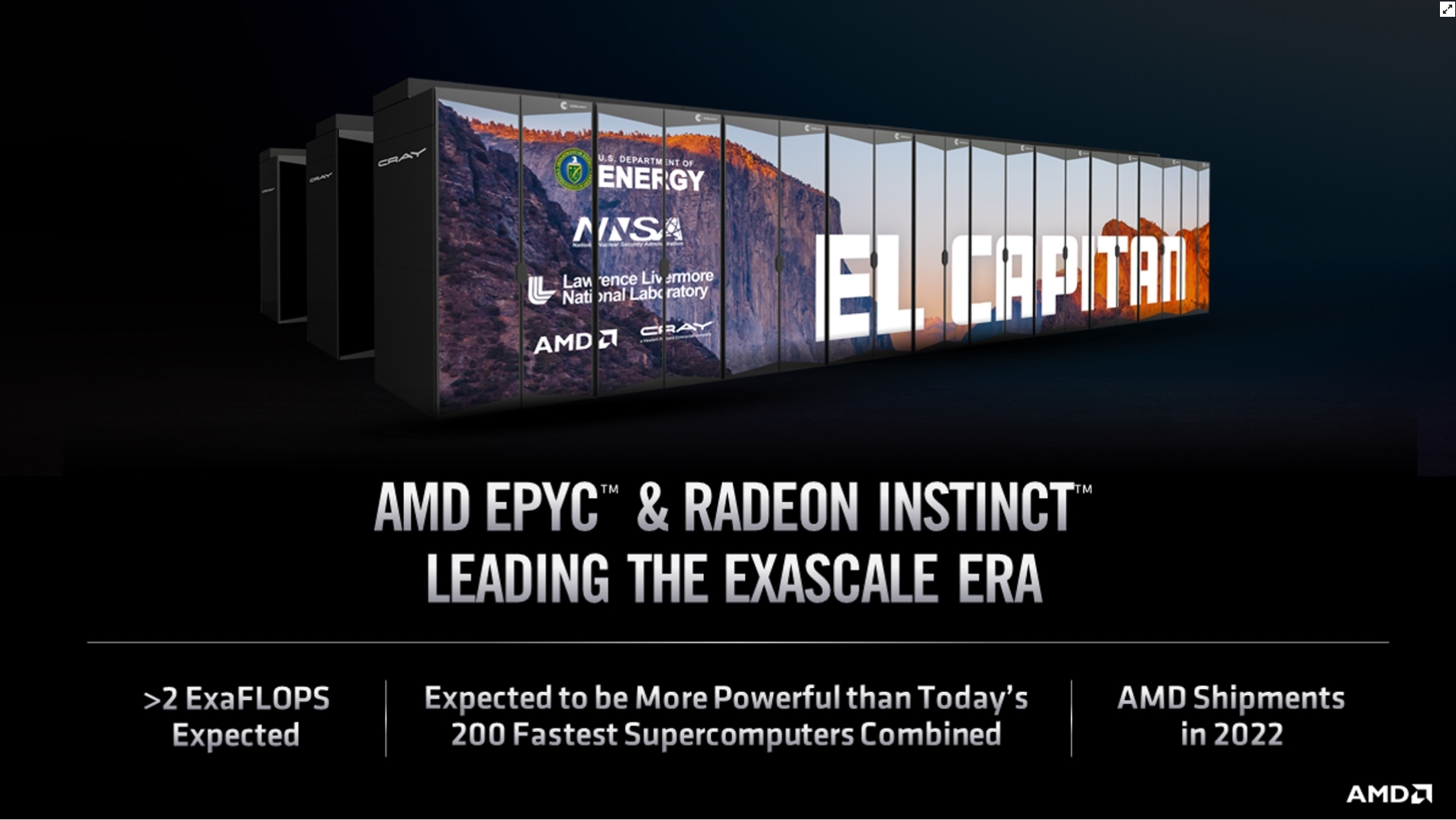 Not on the slide but El Capitan is also another exascale supercomputer that AMD won in both CPUs and GPUs.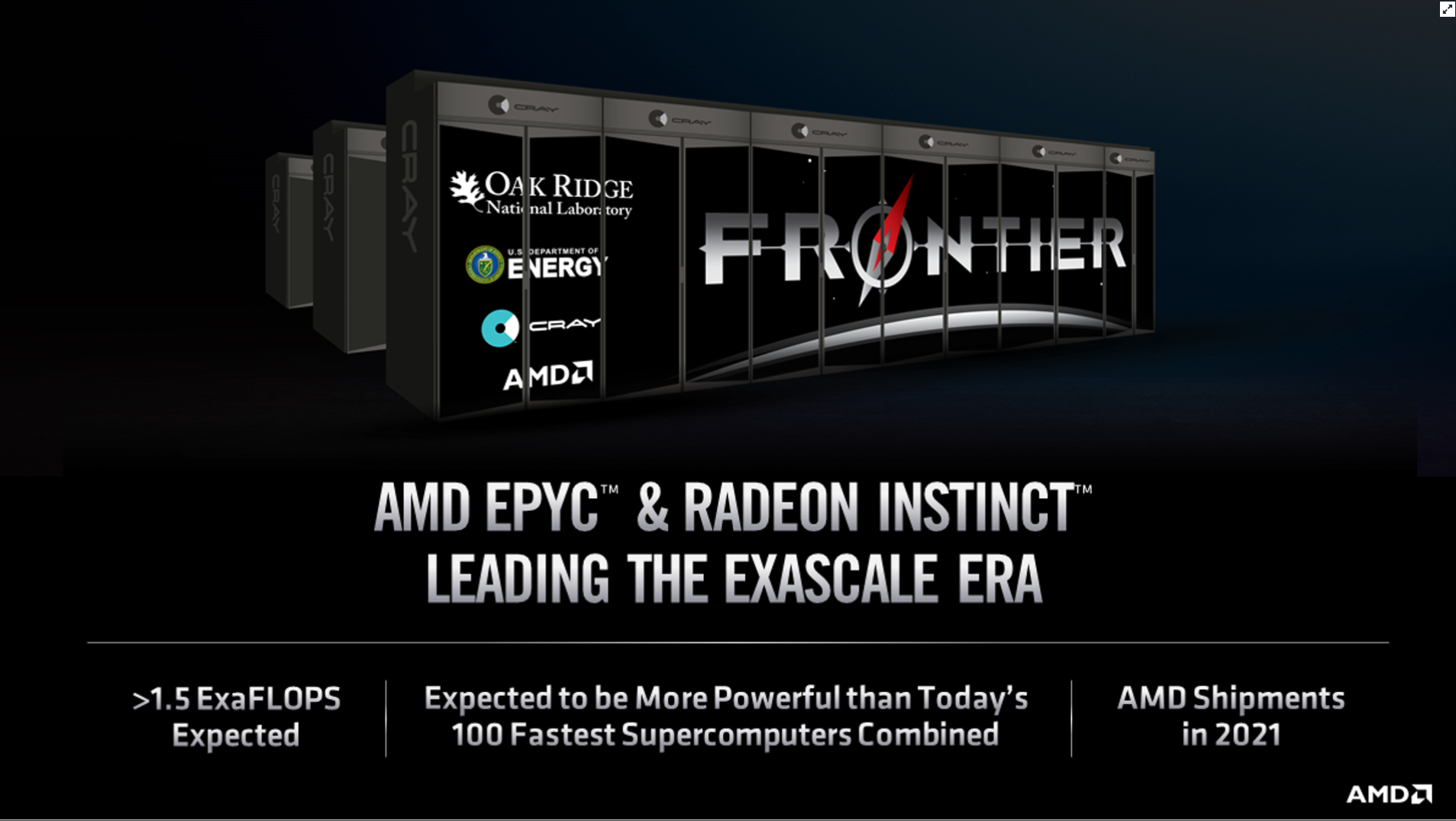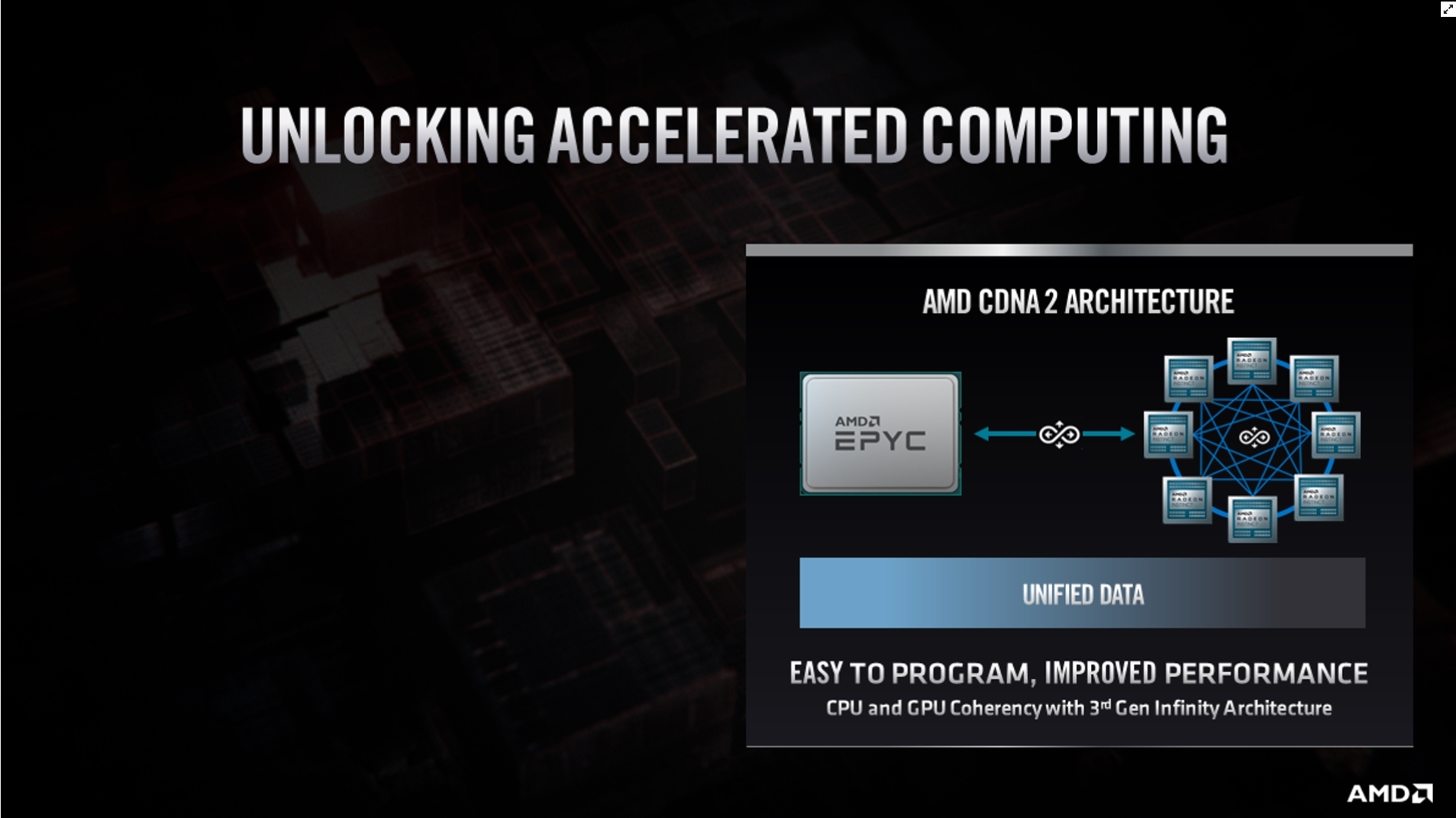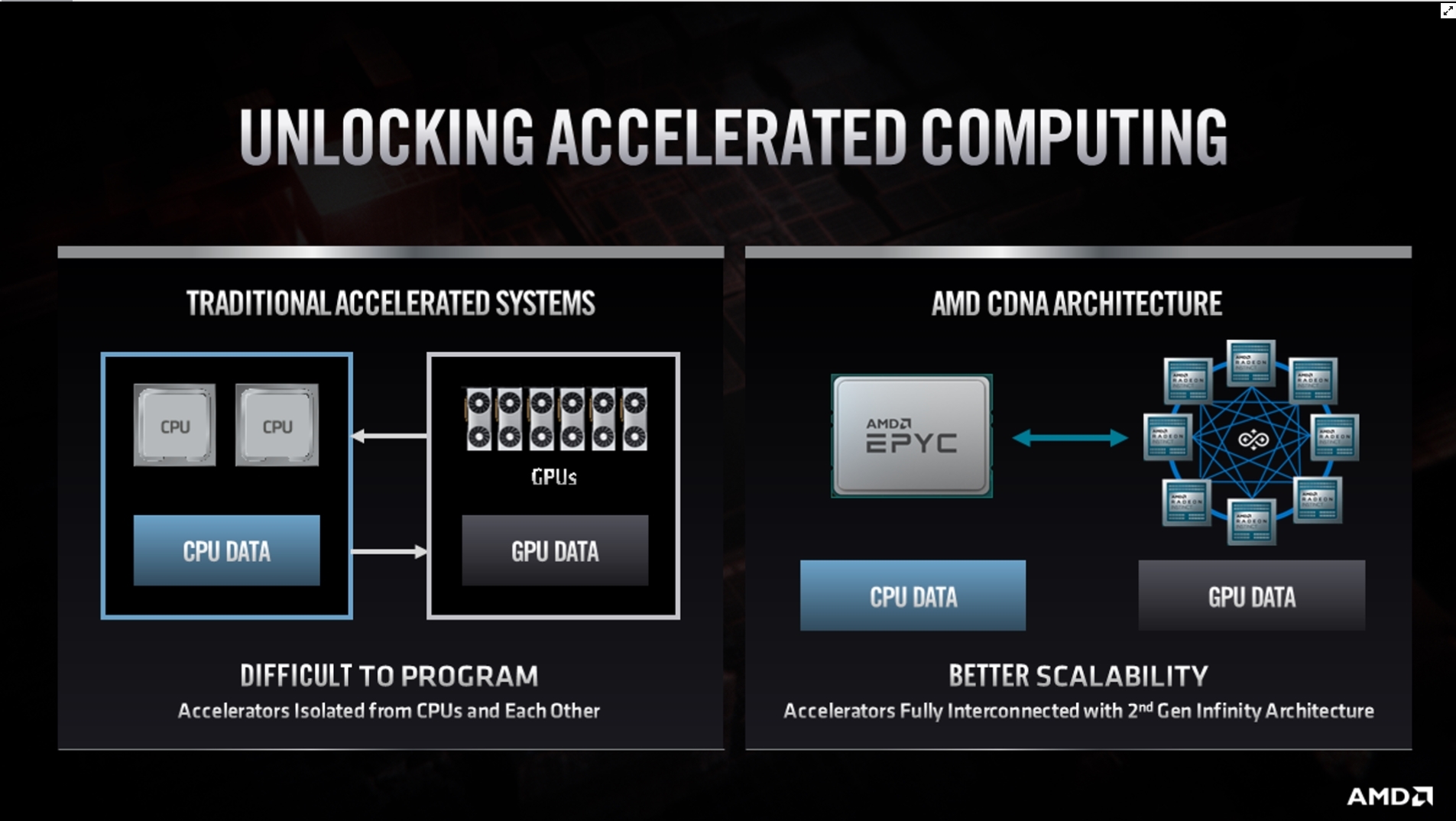 "Advanced Node" must mean they haven't decided between 7EUV or 5nm yet.
CDNA is also later this year.
10000x performance jump in 5 years to get exascale by 2025.
10000x performance increase in the past 15 years.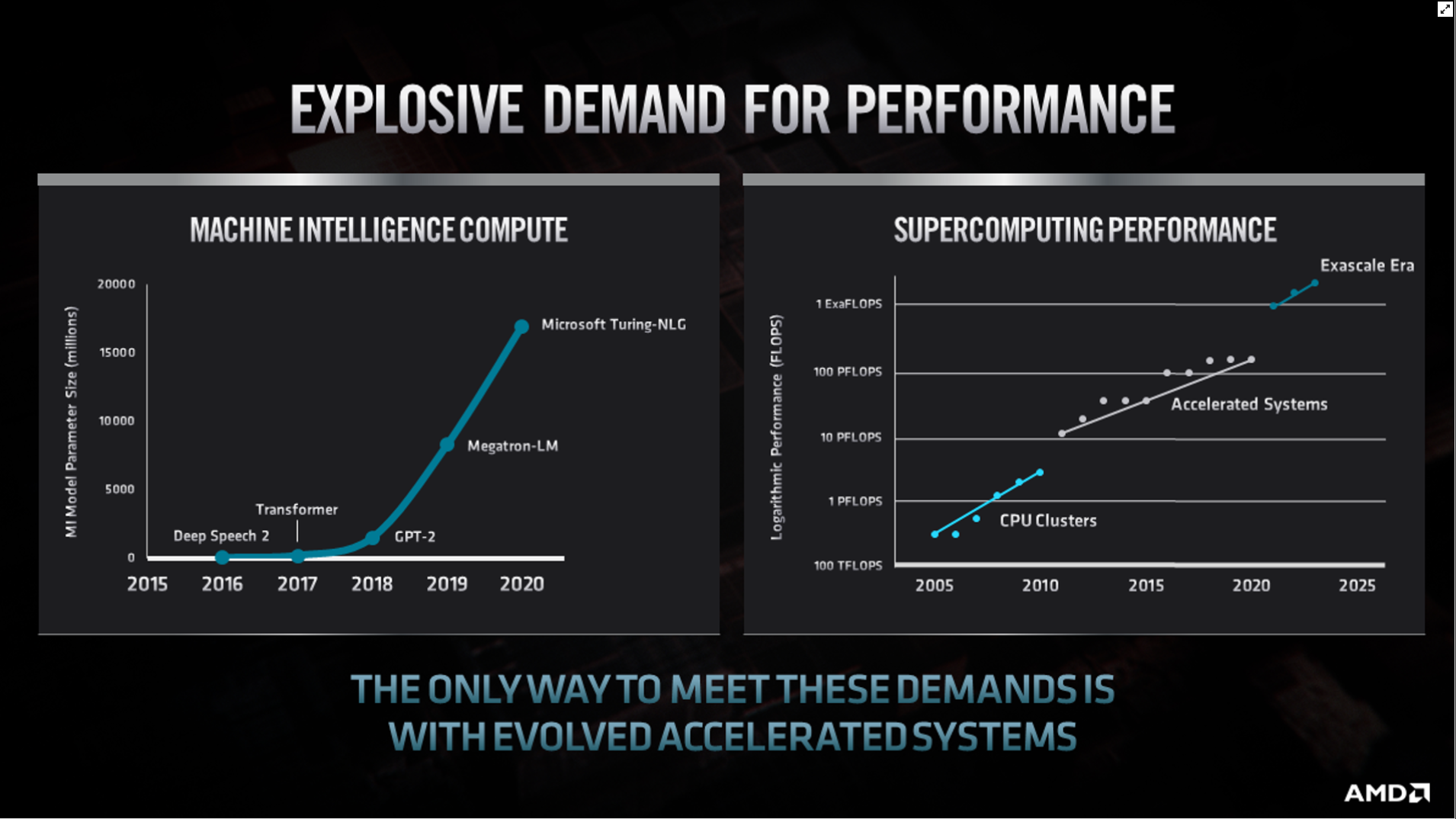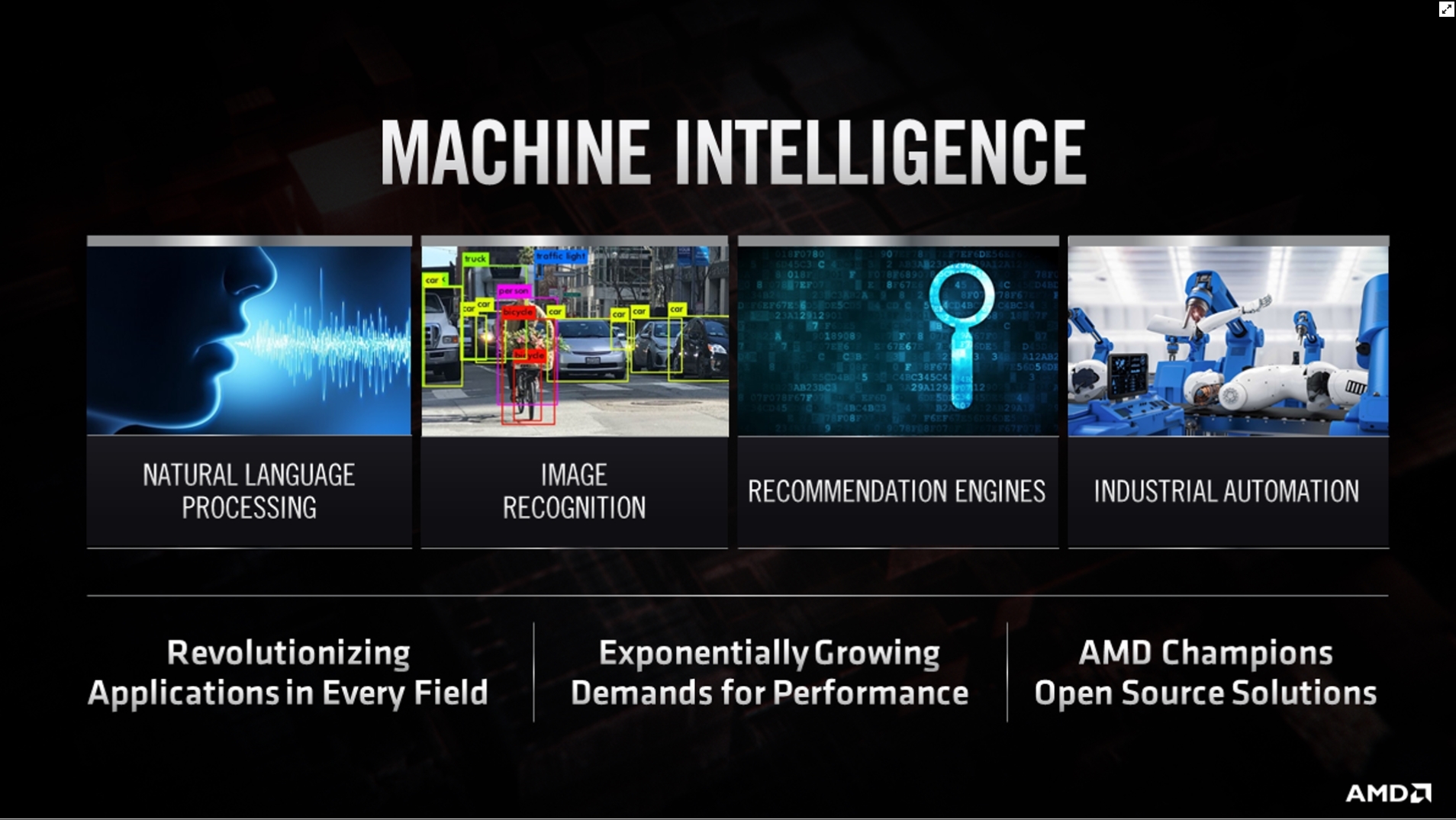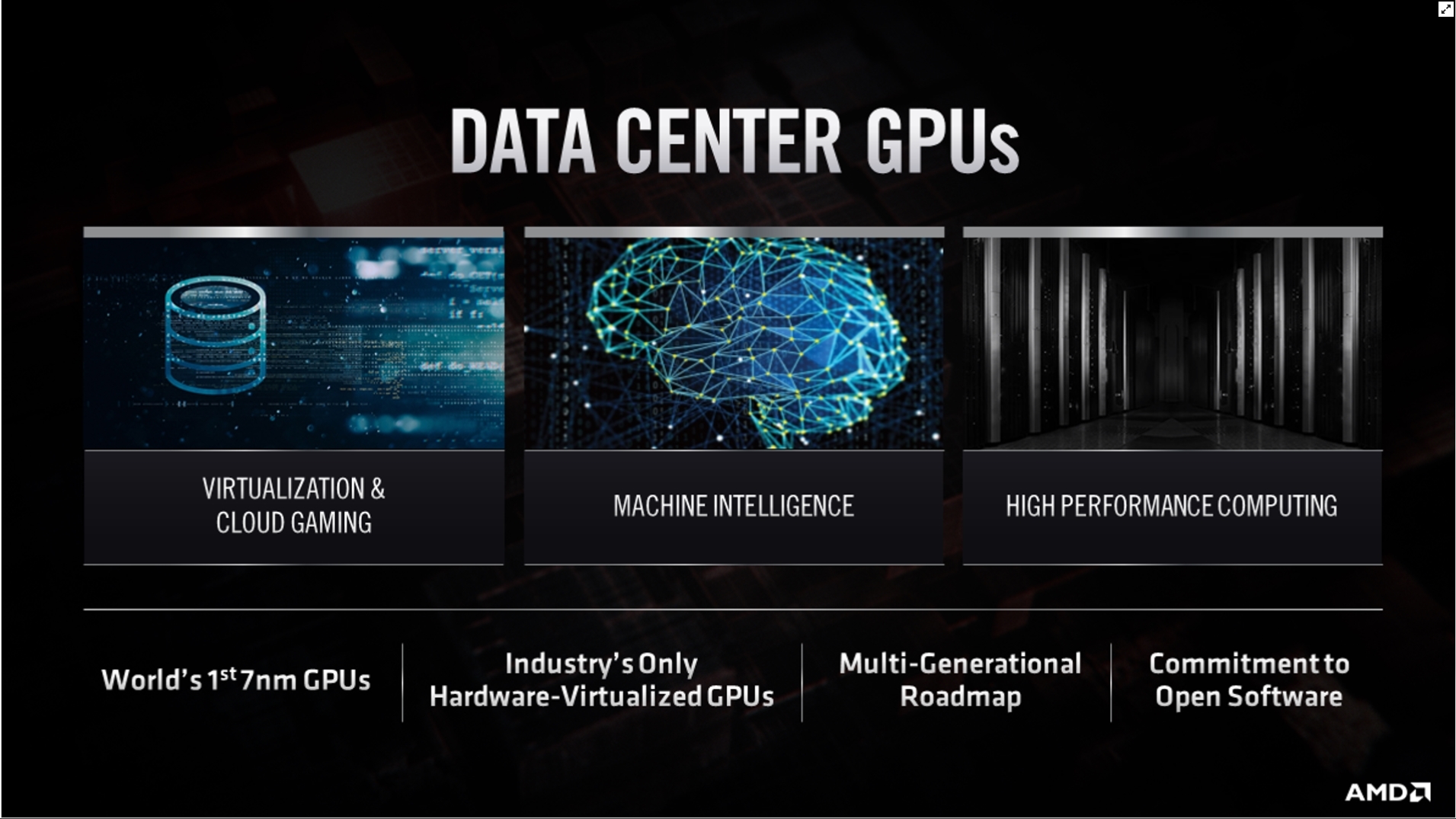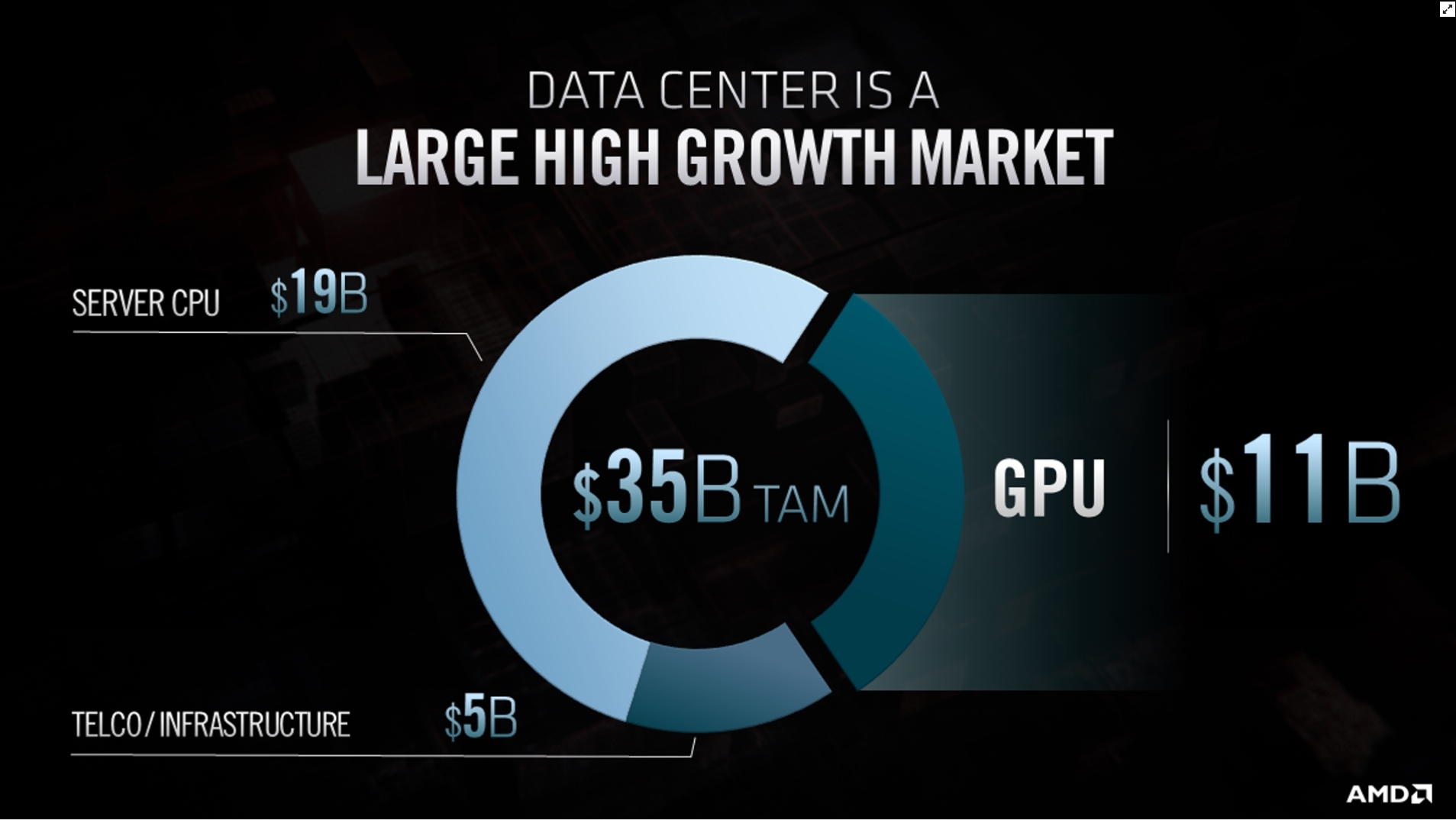 Did I detect a slight downplaying of Milan there?
By the way, we're pretty sure after Genoa comes Turin, but it's hard to tell when it's 2+ years out.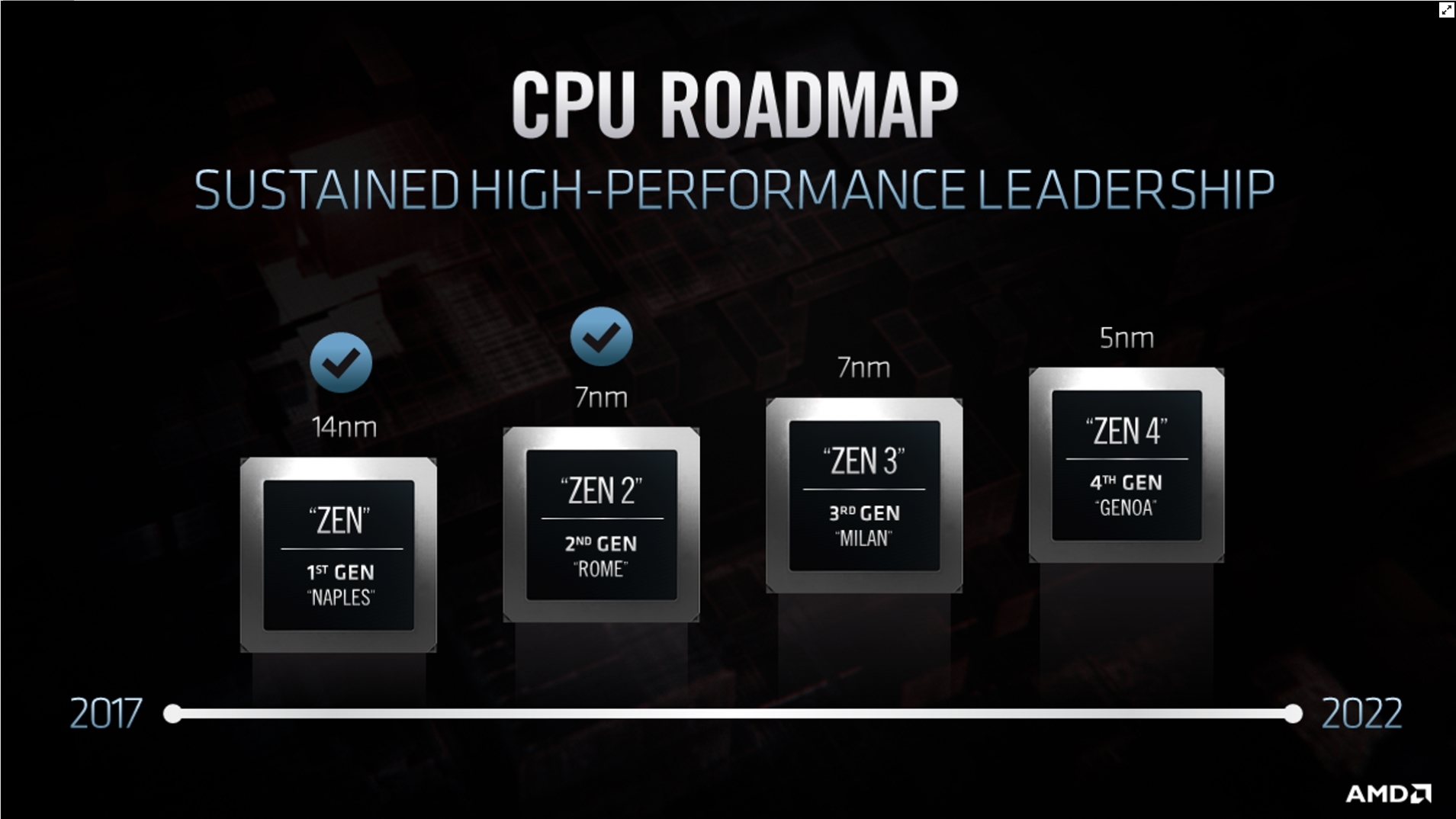 I called it, 100% coverage. That's the power of machine learning.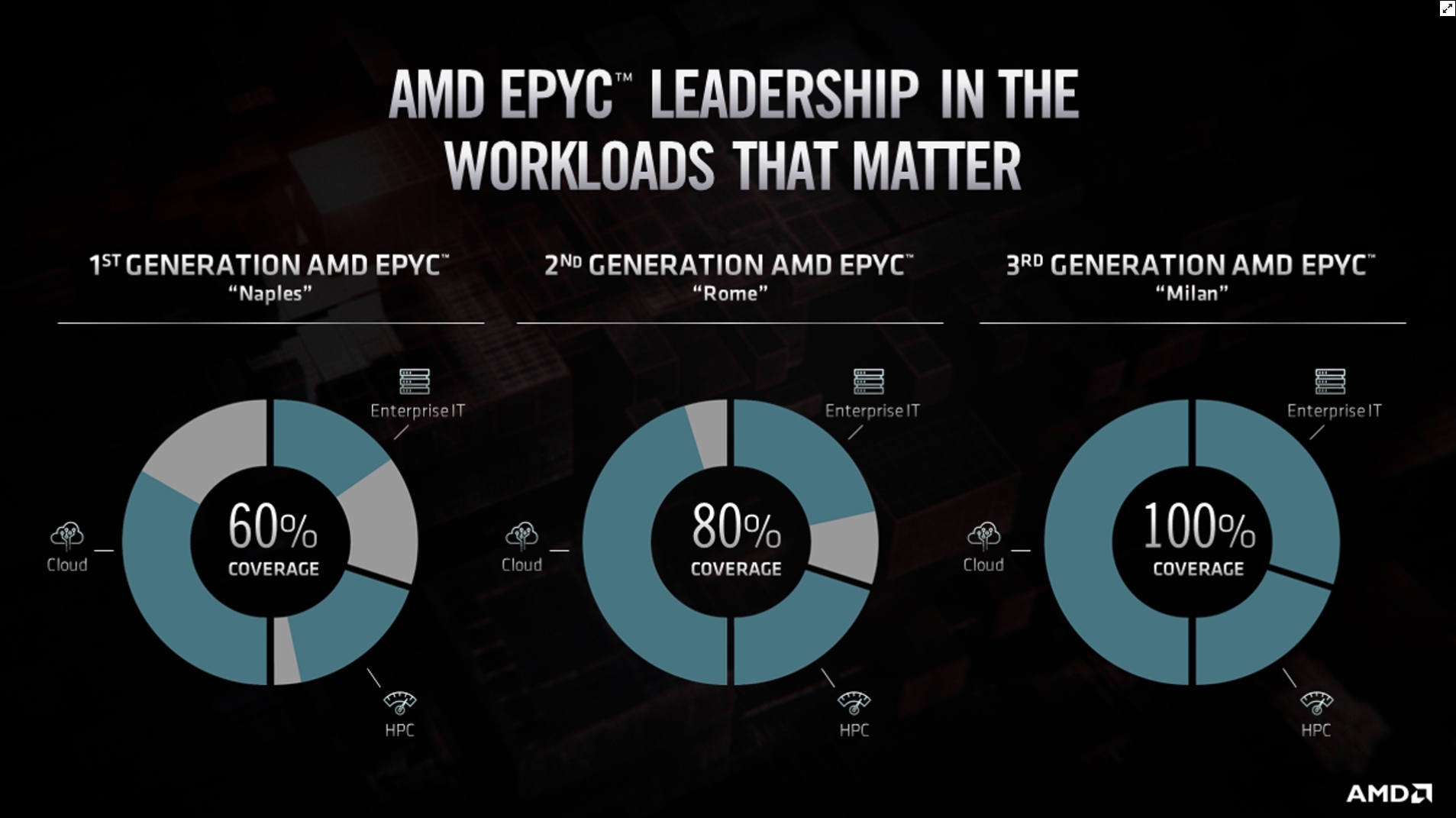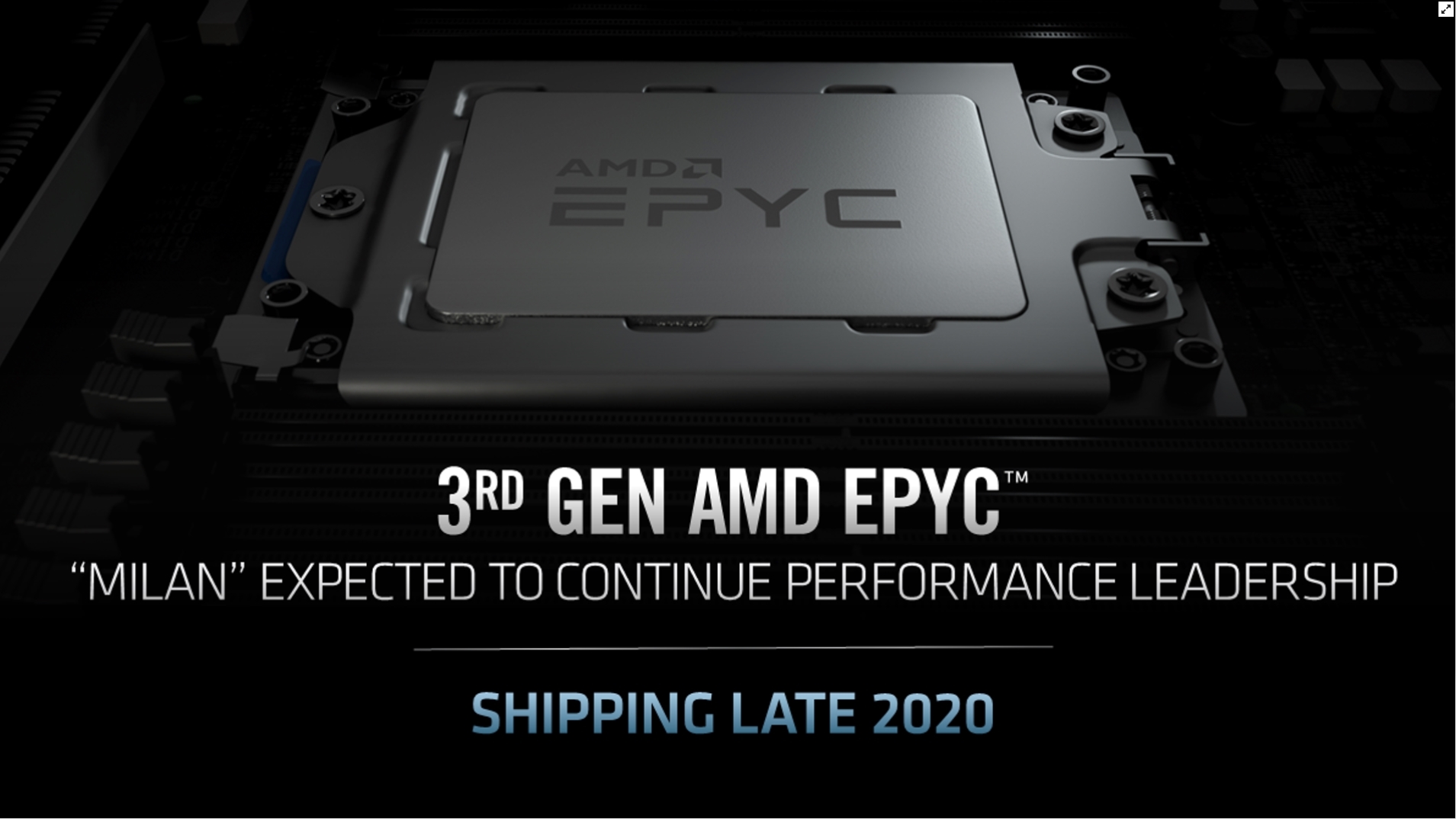 Intel's 5G parade might be getting rained on...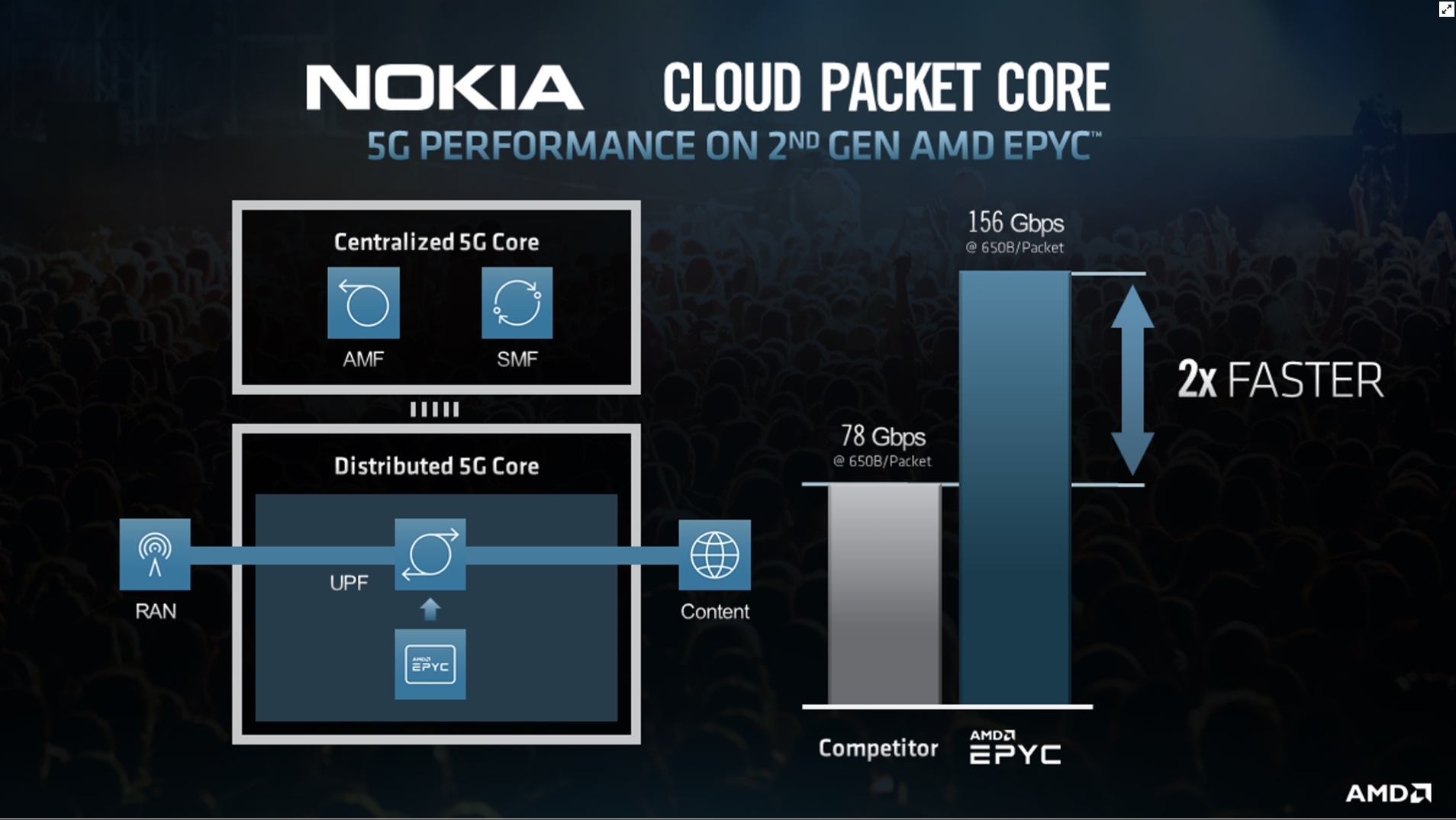 I'll say this - for a day that is aimed at the financial sector, it's actually a bit light on details.  Lots of talk on tech, as is the normal from AMD, but not enough on how they are gonna turn that into money.
Man I can't wait until I get 400 Gbps networking.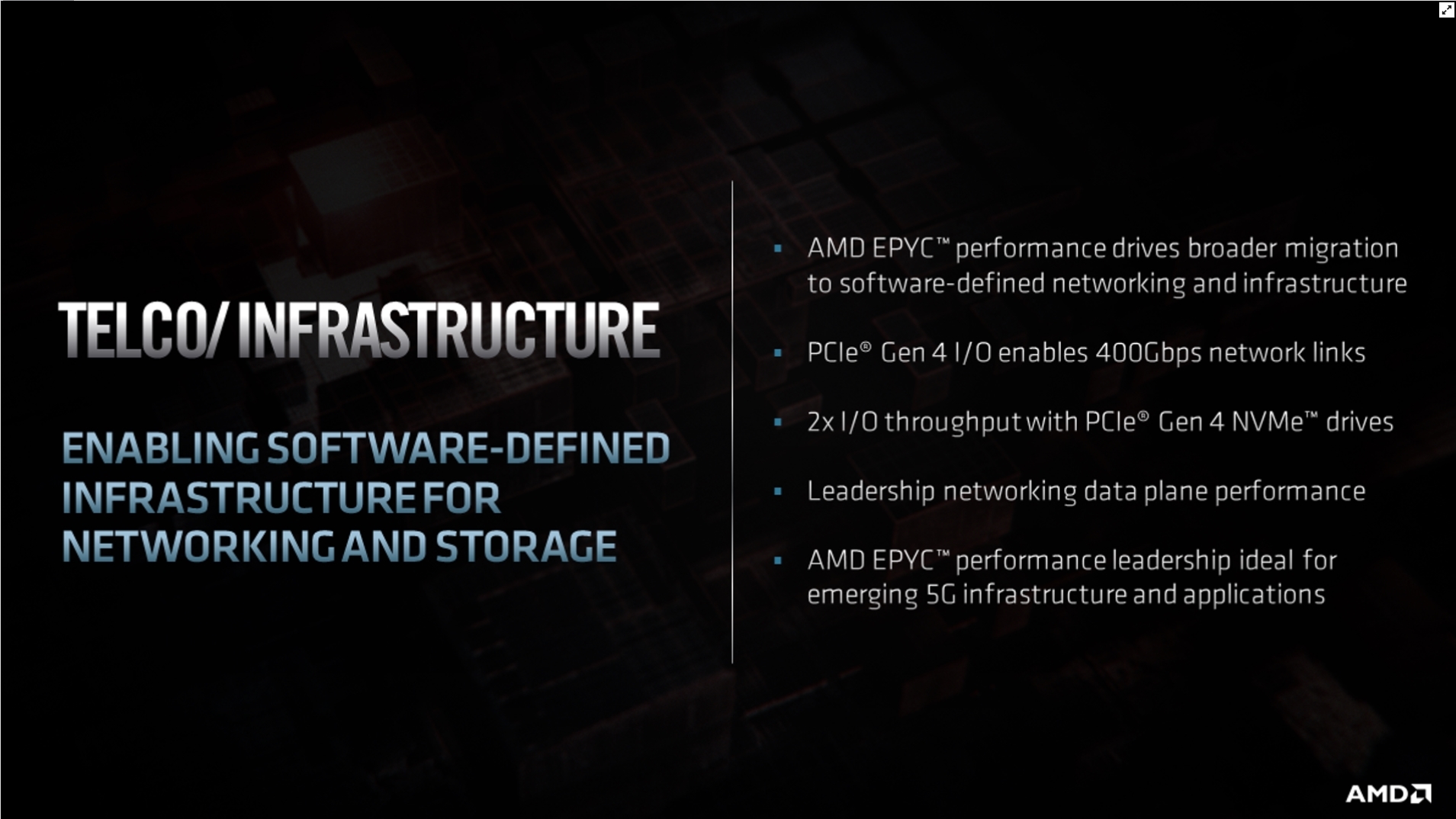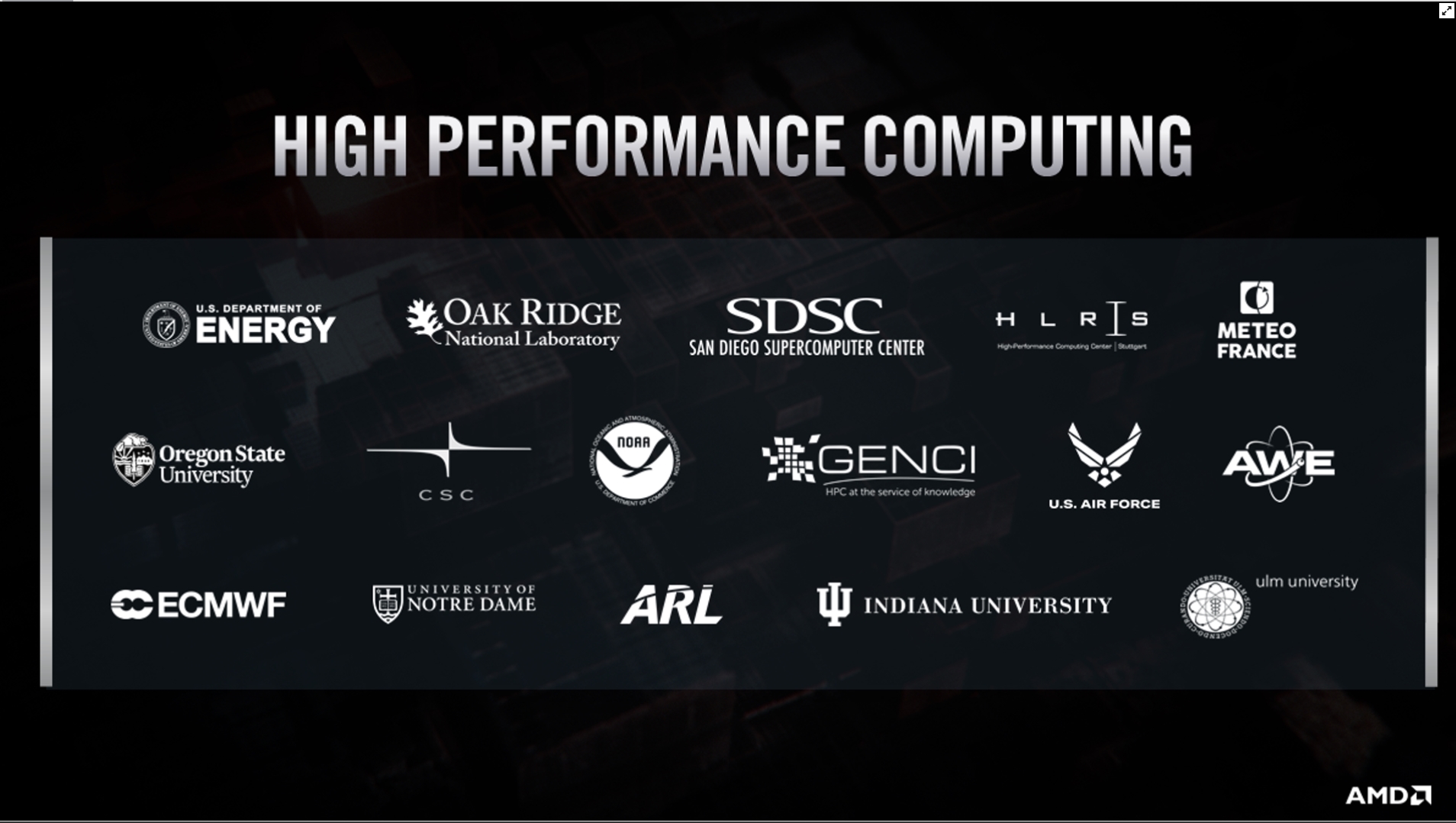 Like I said before, AMD is just pumping out supercomputer wins, and has almost wiped out Intel in this space.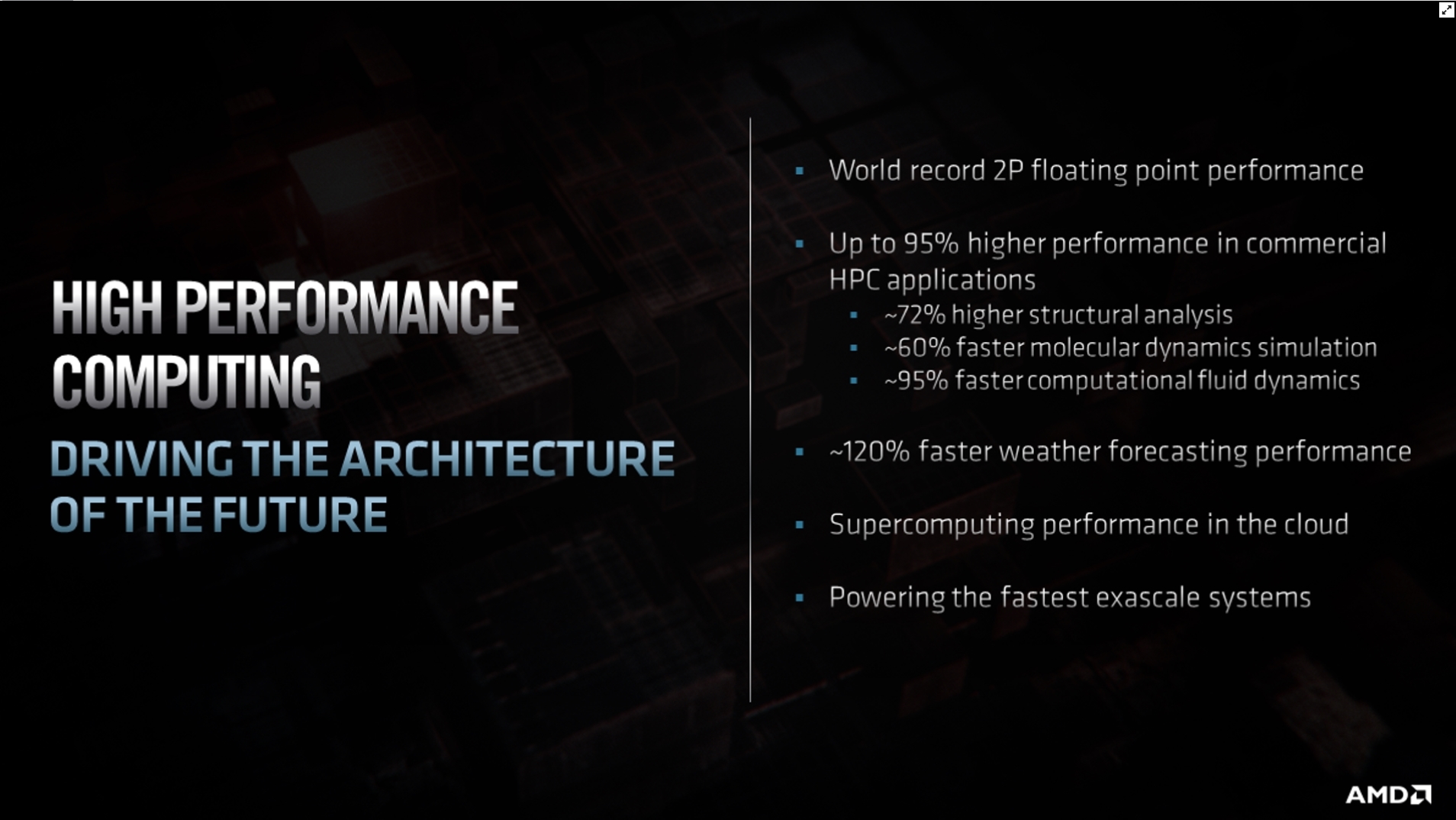 Oh and AMD got a deal with Cloudflare very recently too.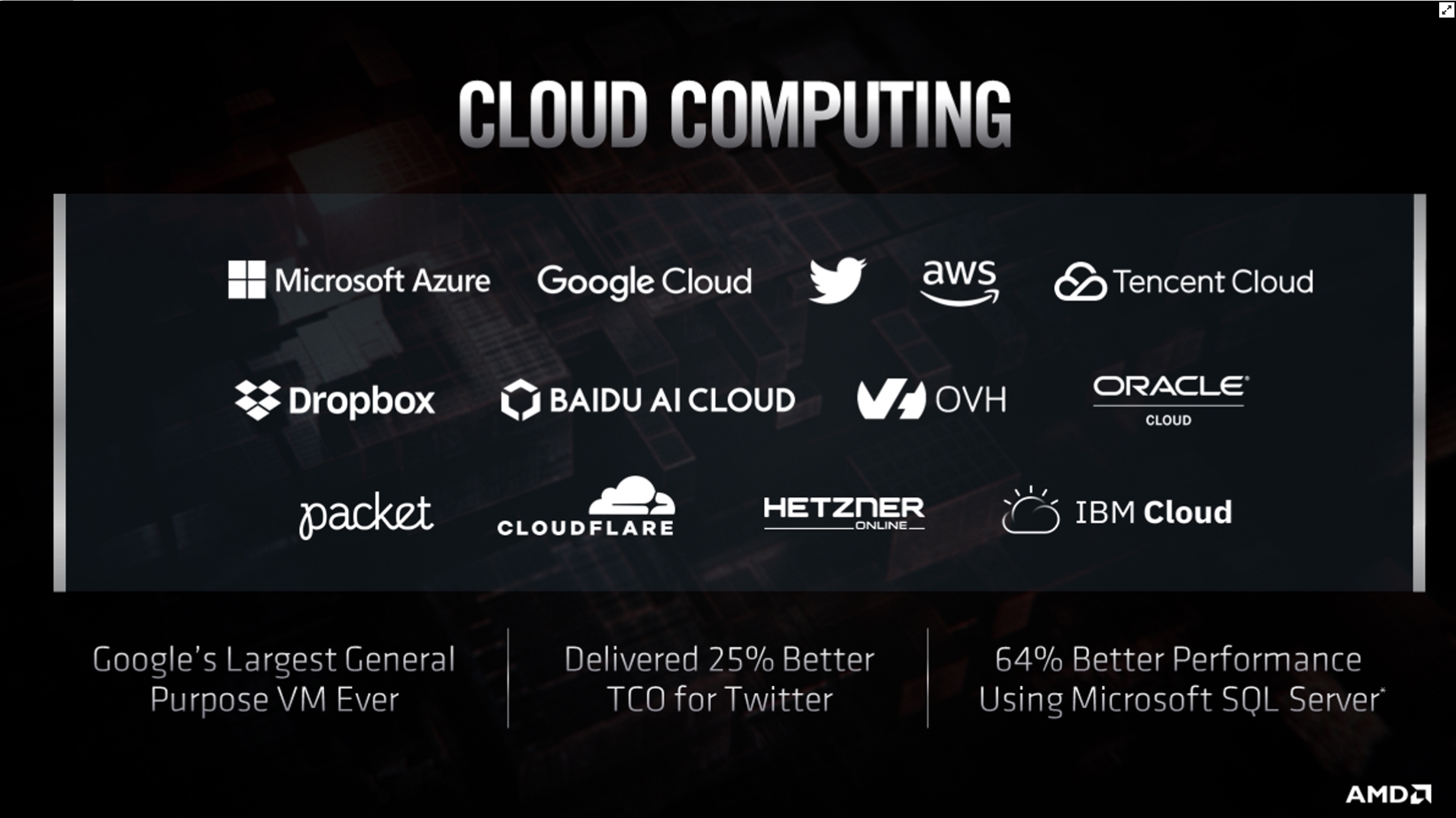 AMD recently scored a big win with Tencent on cloud, by the way.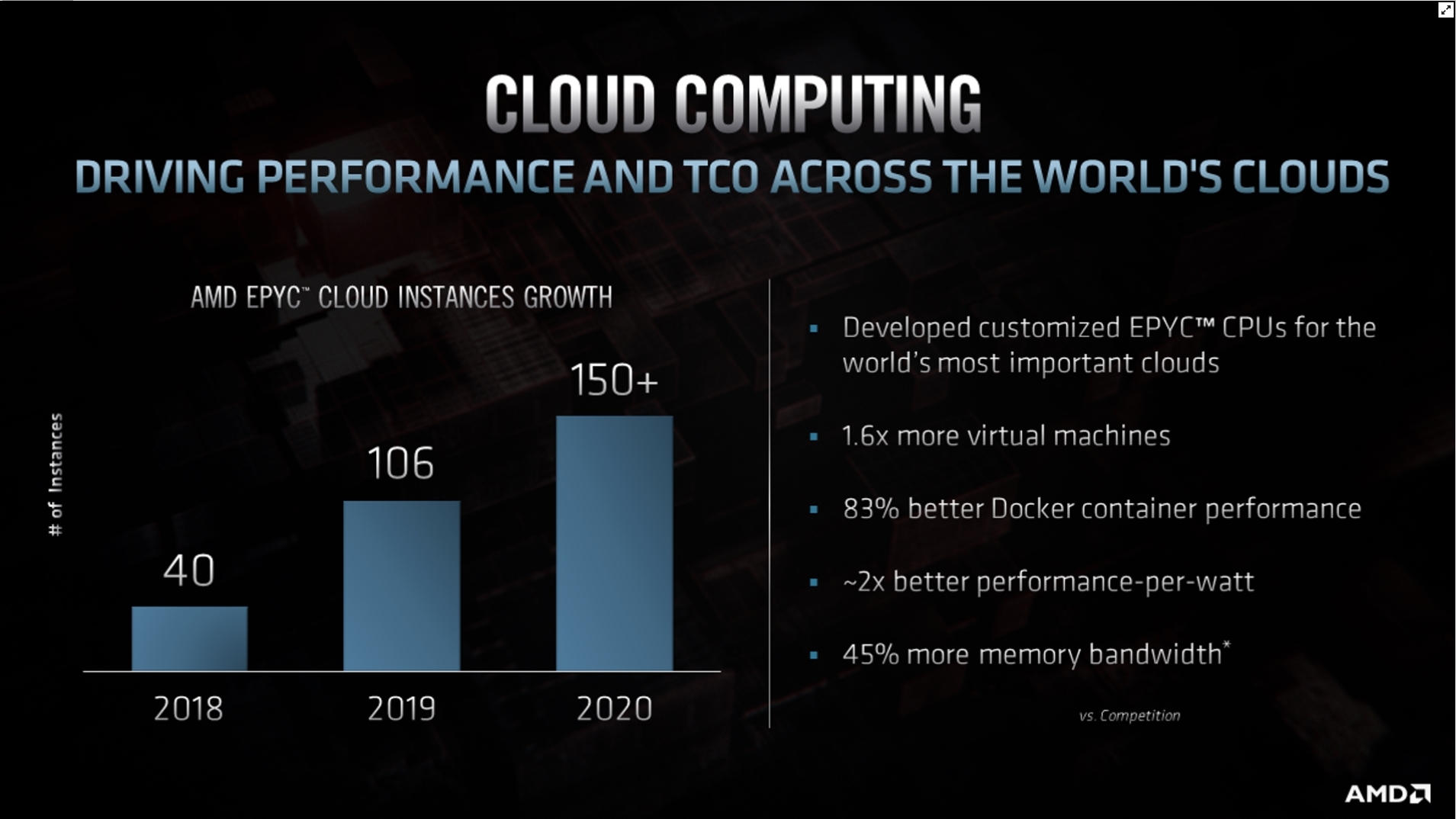 I guess AMD isn't including Cascade Lake dual die in this. I don't blame them.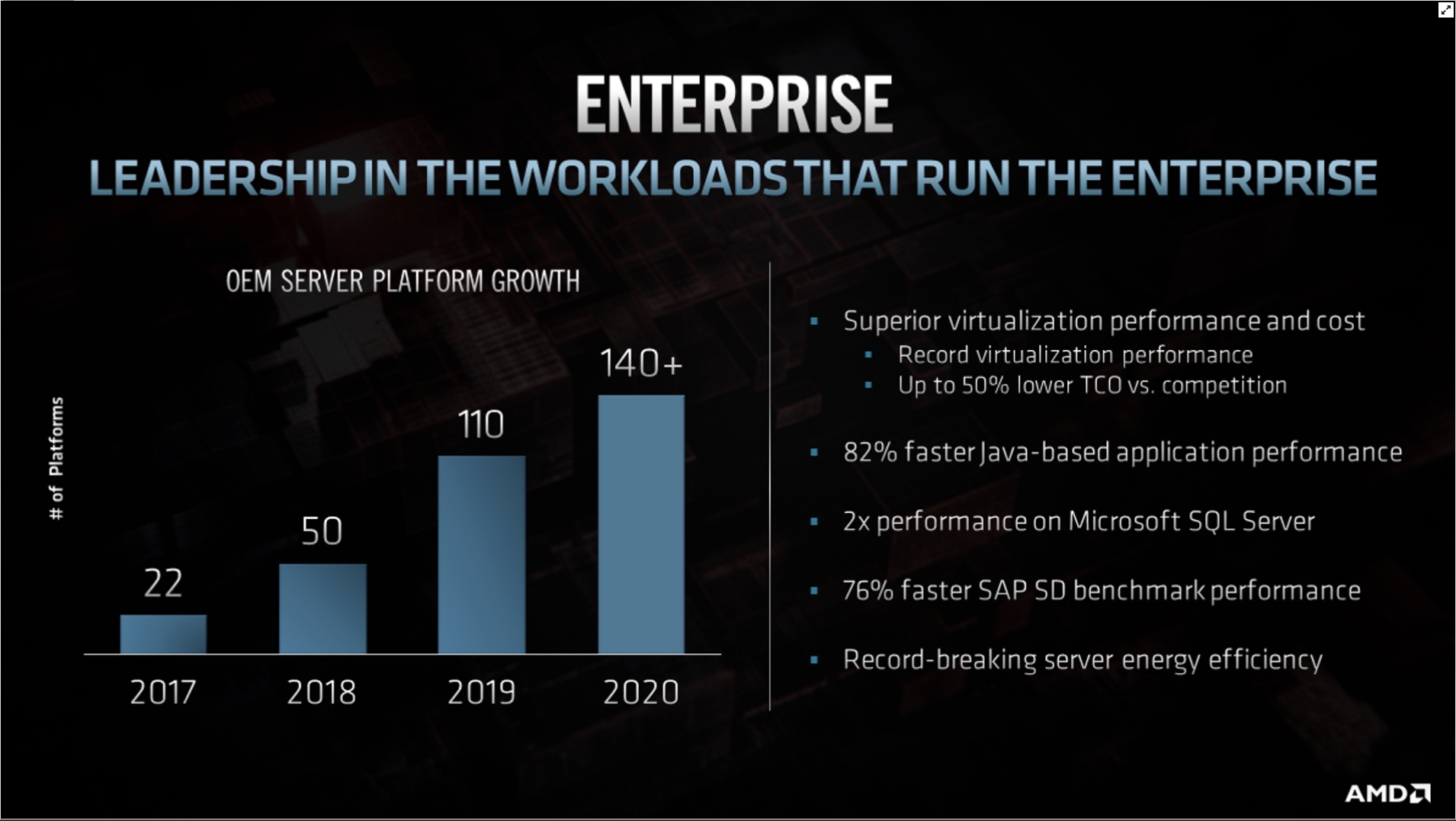 Milan I suppose will have 100% coverage?
"We believe we will hit double-digit server market share in Q2 this year".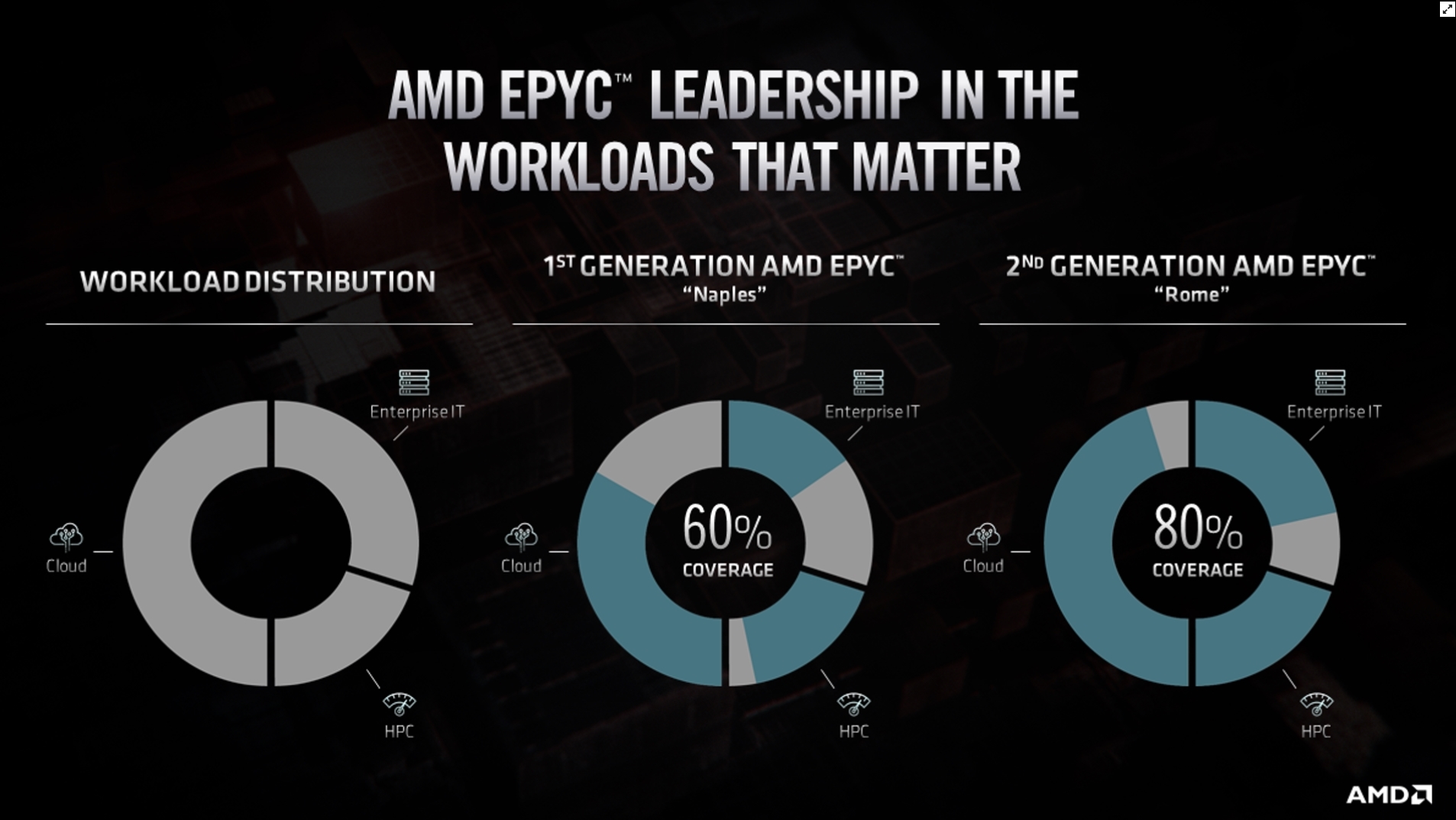 When was the last time AMD had 10%? 2008?
10% market share to be achieved in less than a year since Rome launched.
10% market share in less than a year since Rome launched.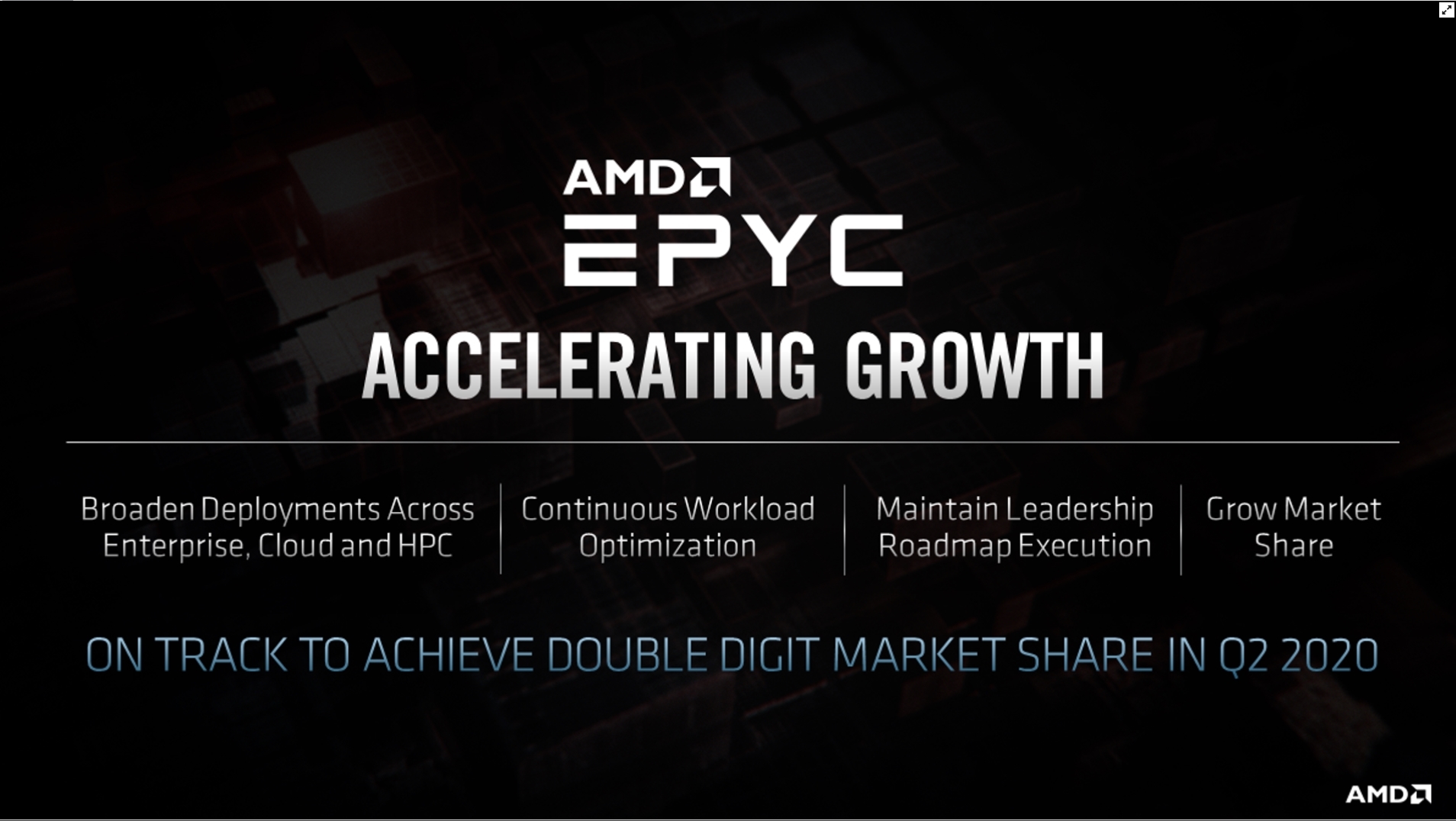 AMD is aided by Intel's "uneven execution"
They are hitting this execution point hard now.

And also bringing attention to the fact that Intel have been a disaster on execution recently.
They are hitting this execution thing hard now, finally.

And also bringing attention to the fact that Intel have been a disaster on execution recently.
They are hitting this execution thing hard now, finally.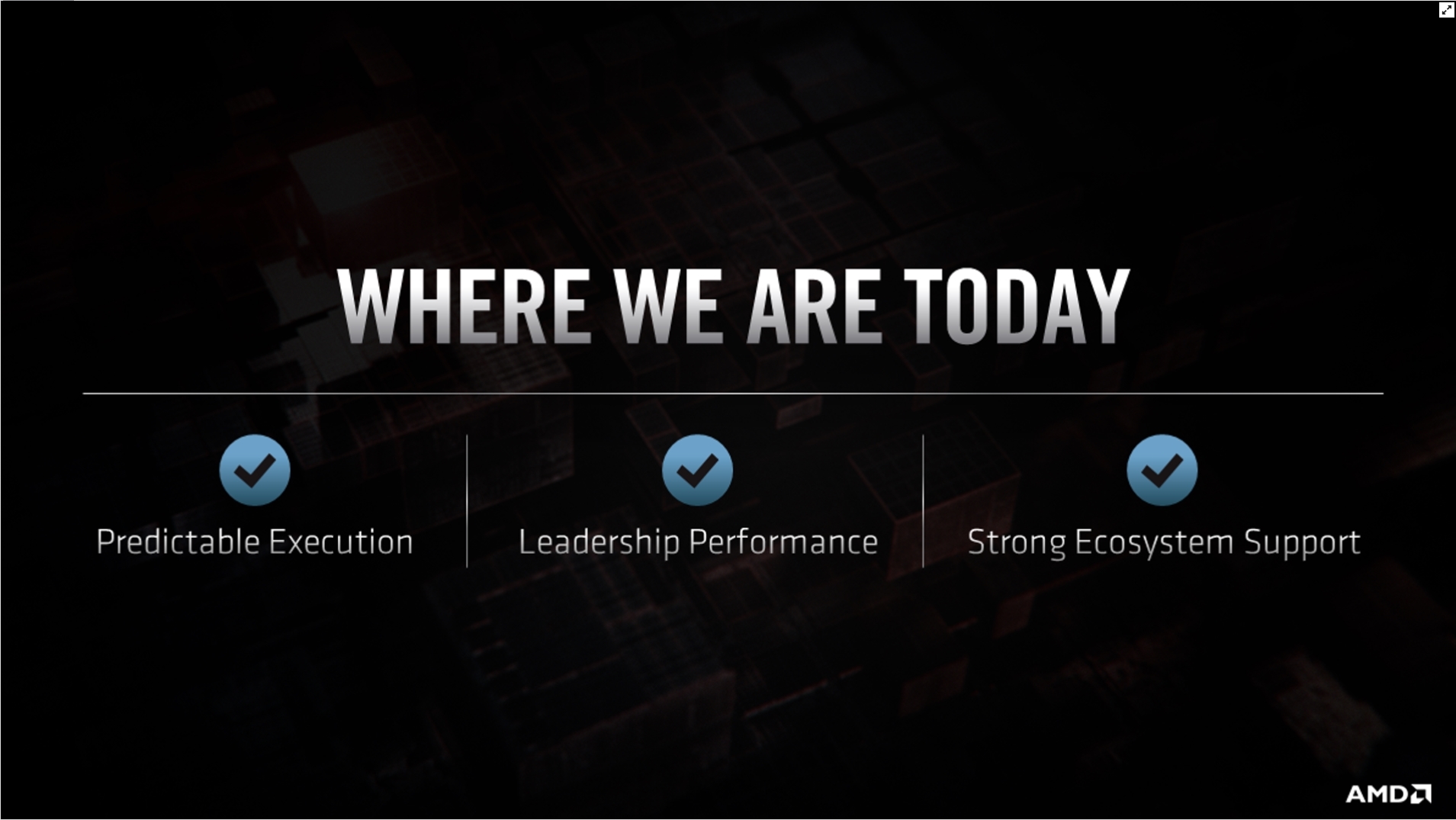 Yes these are the new ones.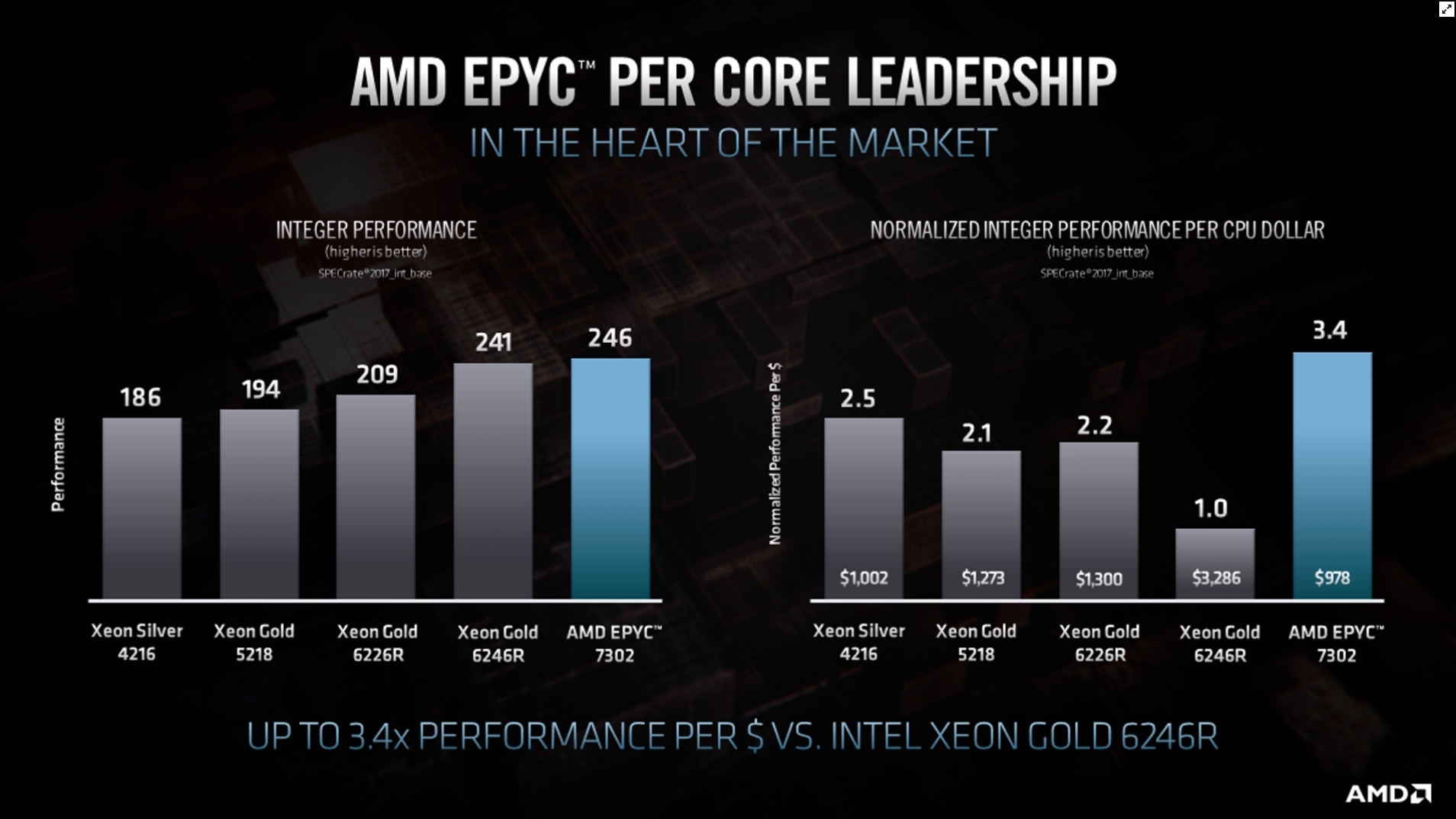 Anyways, it seems AMD has the datacenter on lock down when it comes to performance.
Is this "estimated" thing including the new Xeons?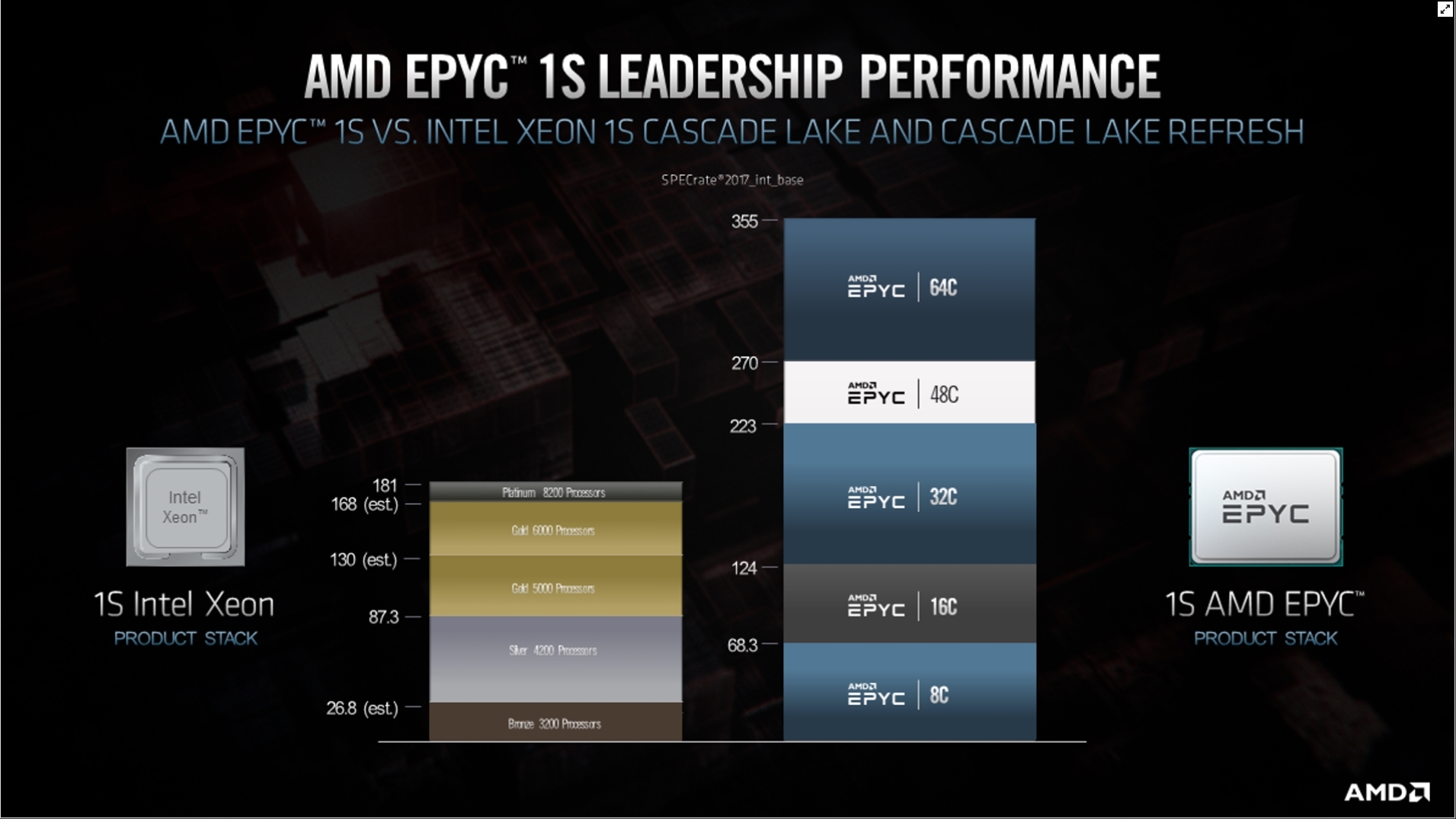 AMD has to be appreciated for not meeting Intel's ridiculous marketing, the whole bronze, silver, gold, and platinum thing is pretty dumb.
It's important for AMD to keep talking about security so long as Intel keeps having problems.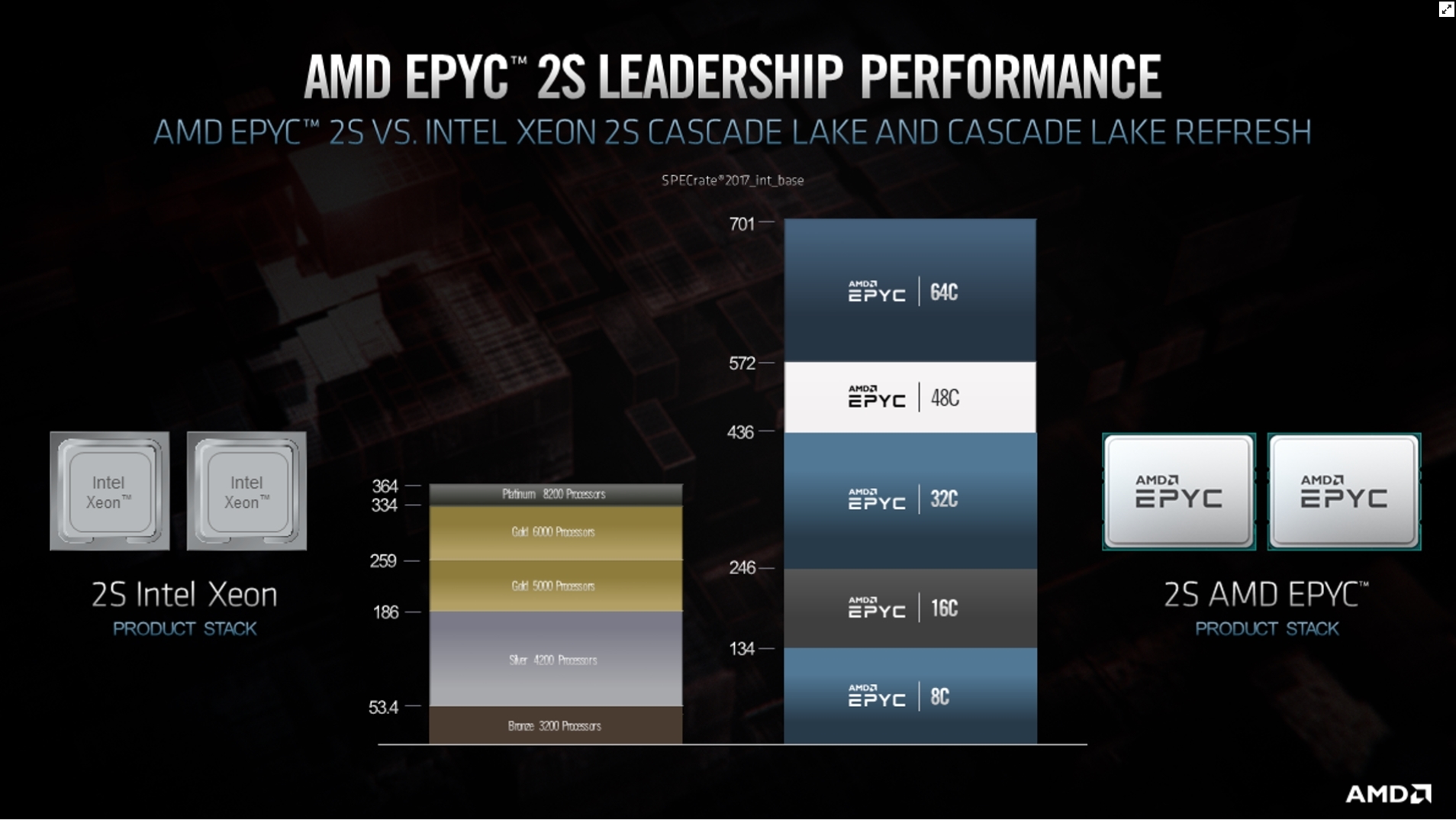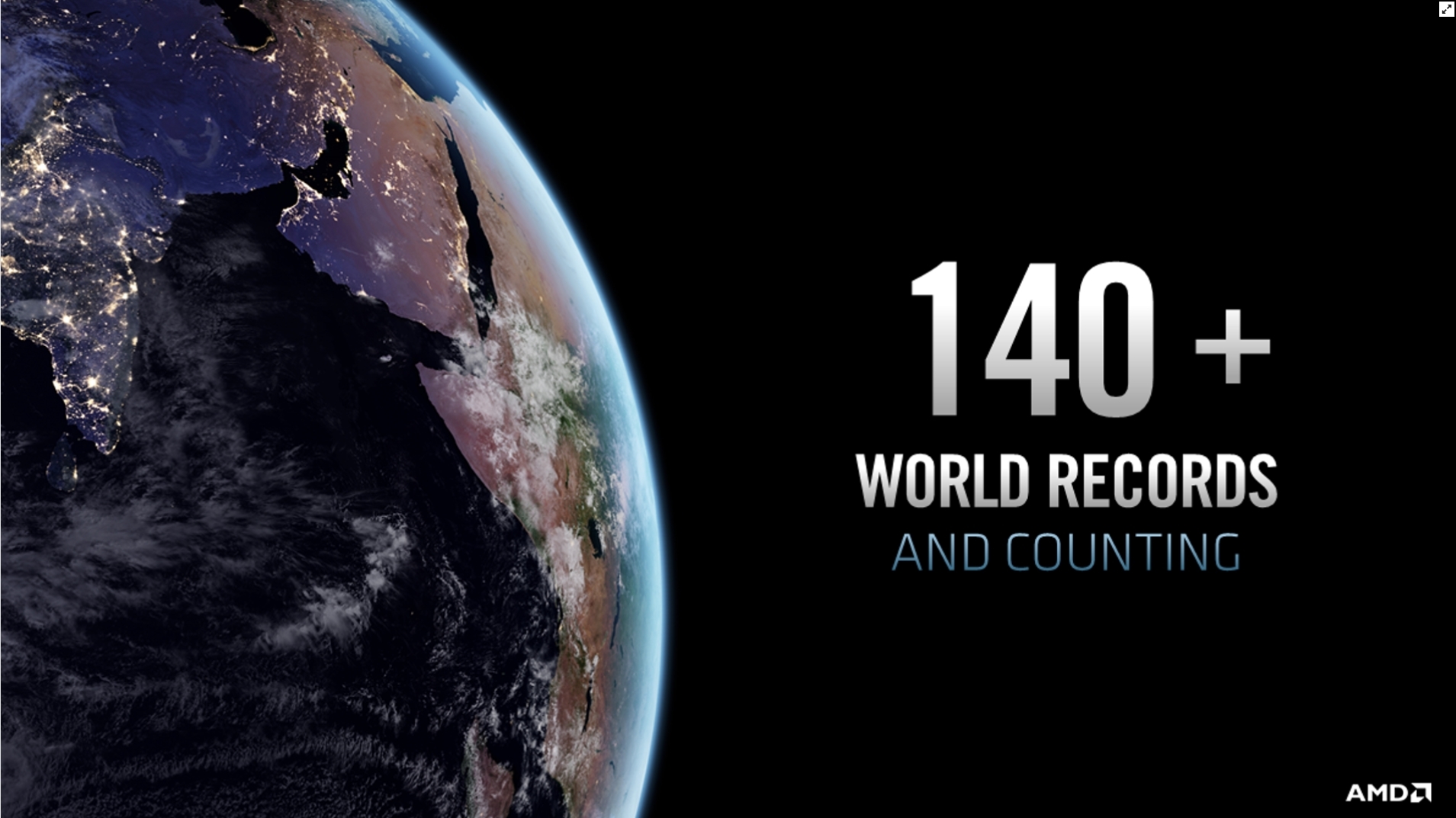 I think the security issue is a really important point for AMD.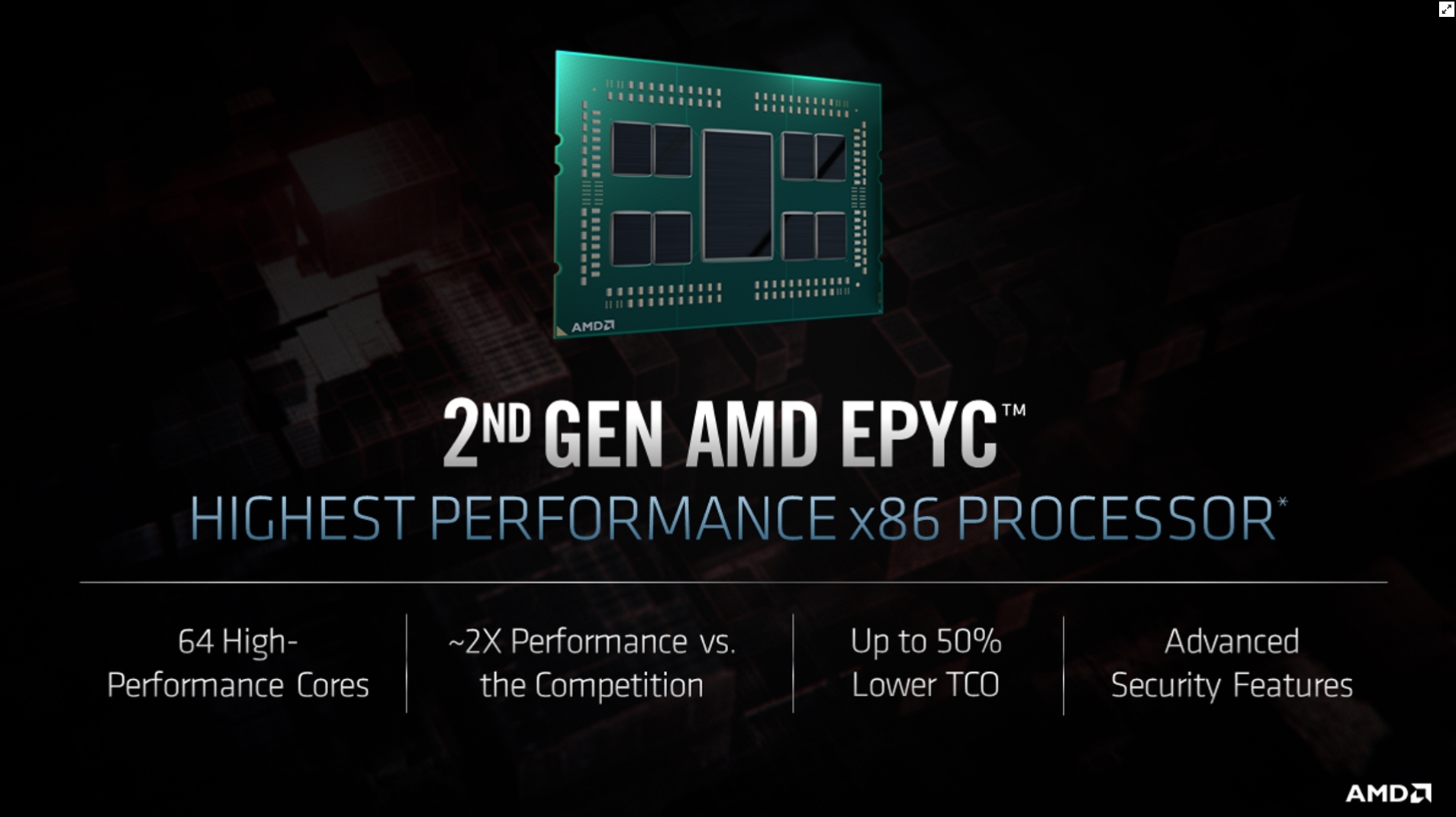 "The teams have delivered with metronomic regularity"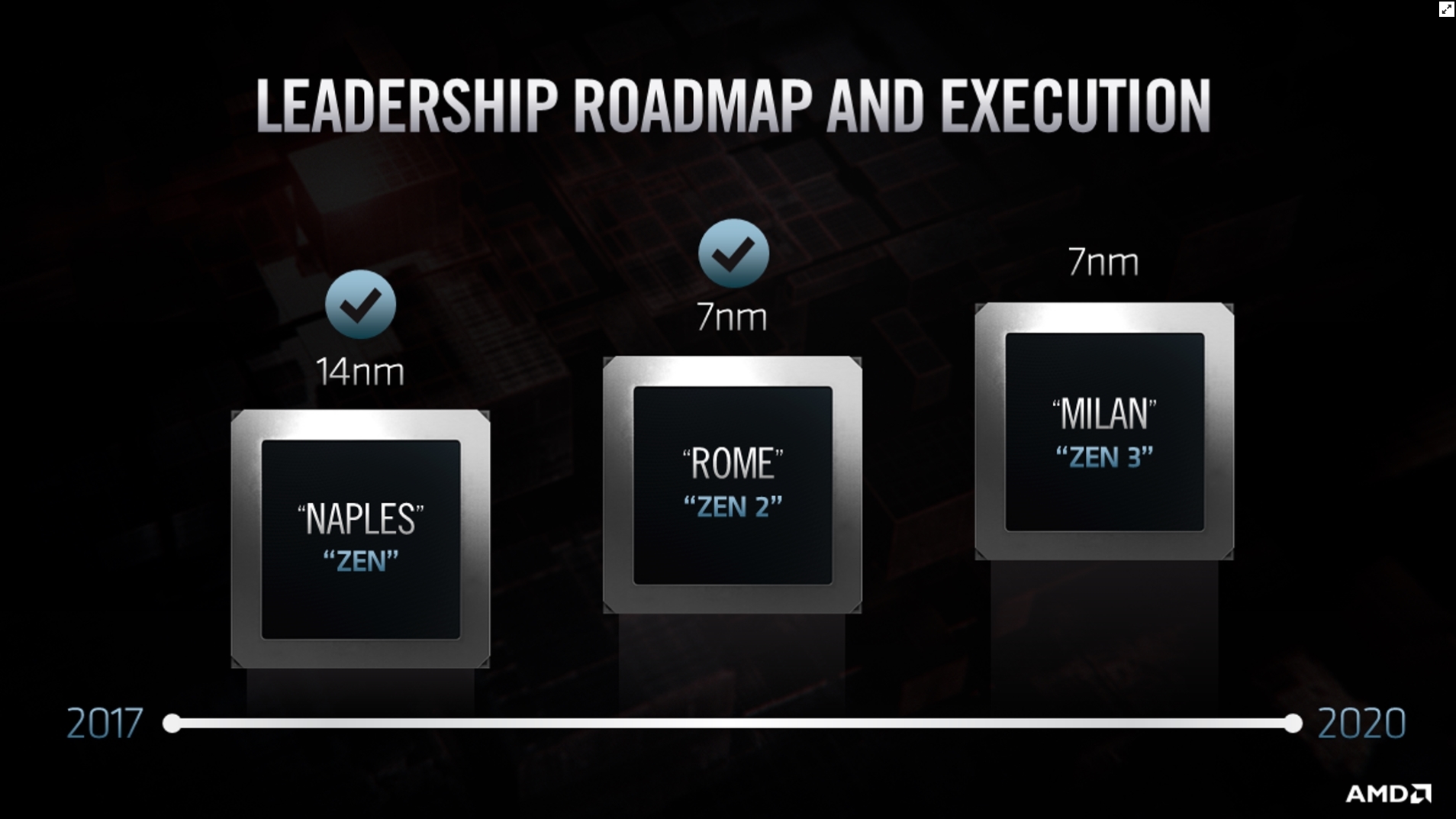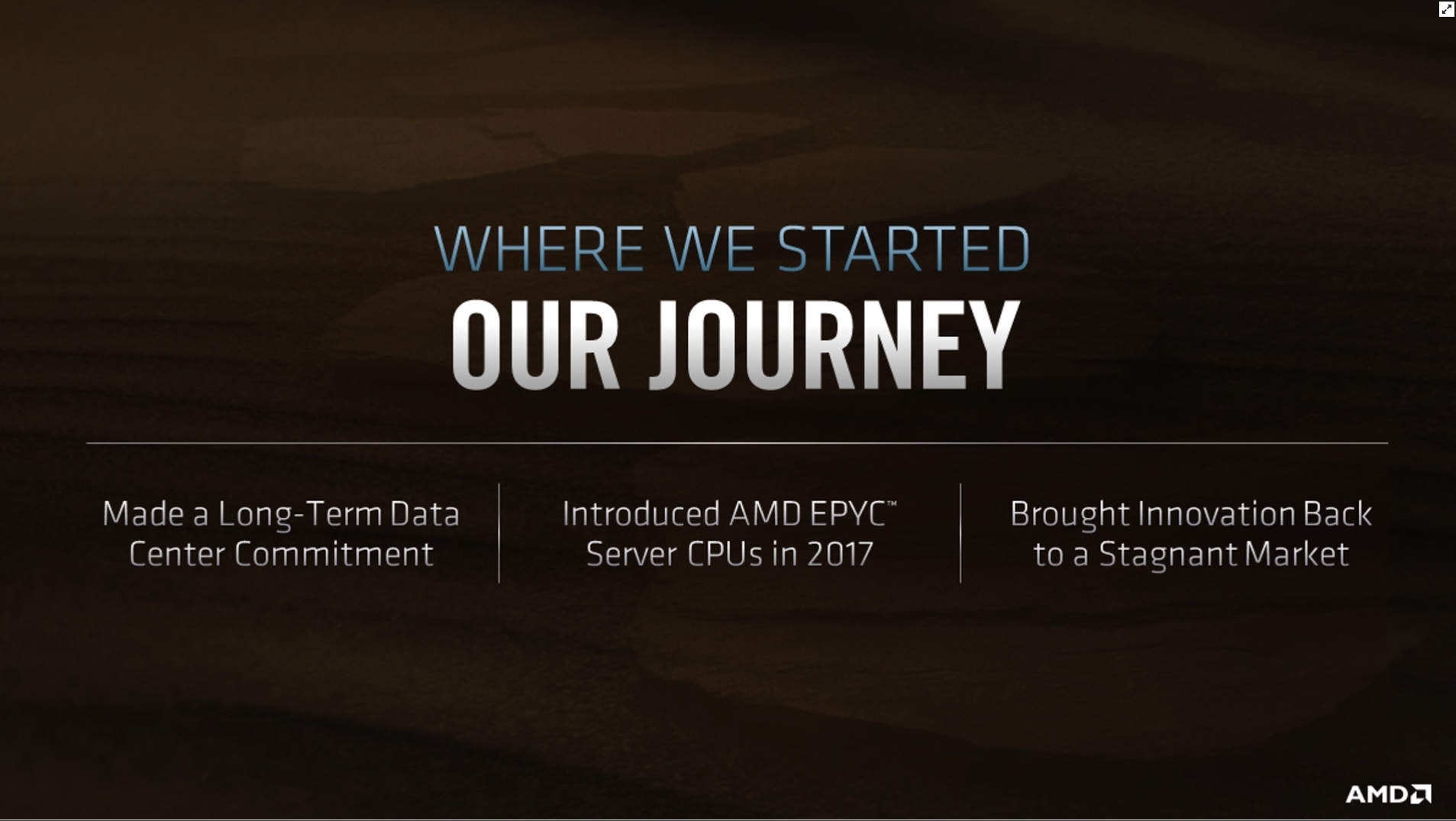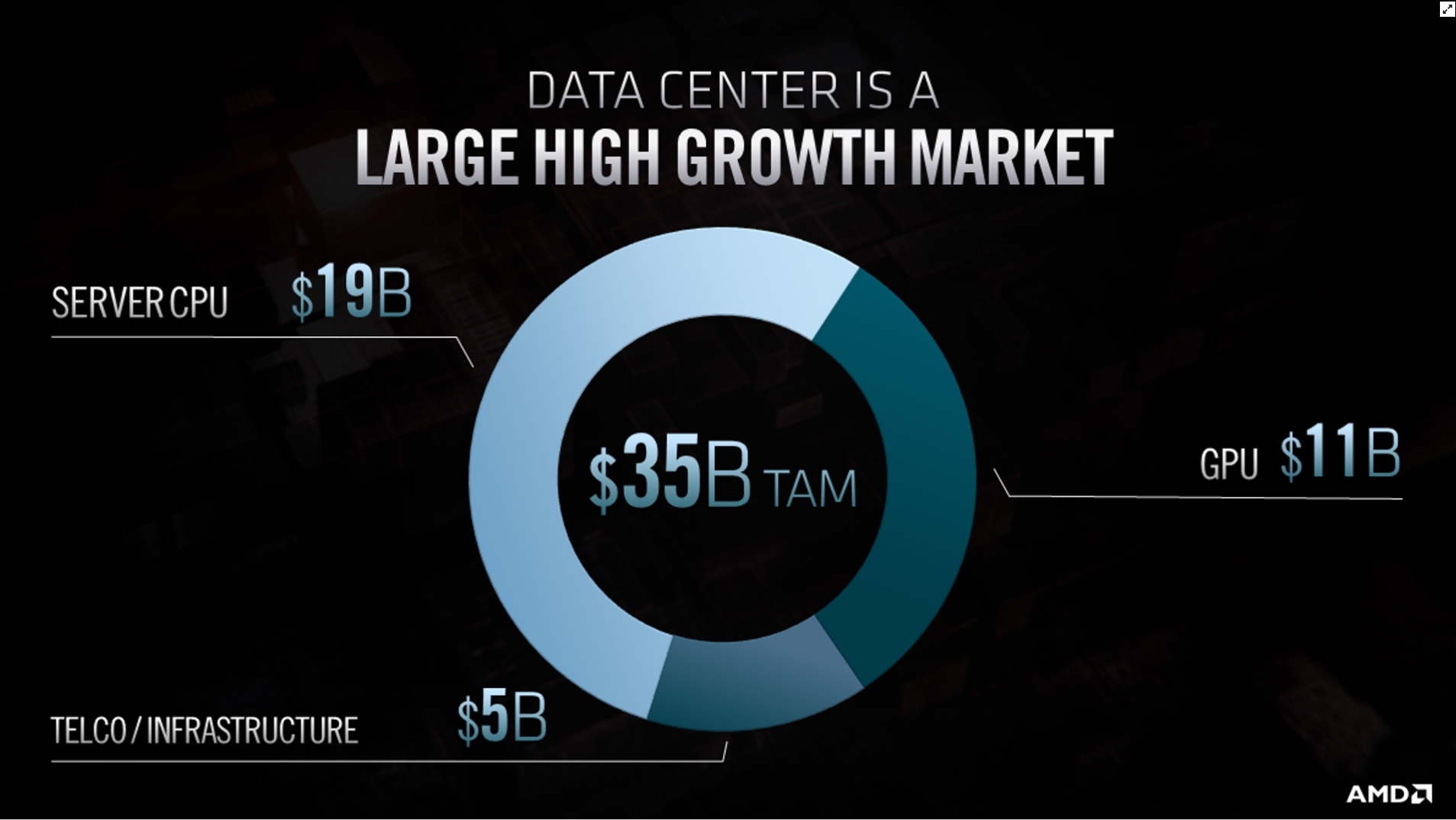 "Endless need for high performance computing"
Captain EPYC is up - AMD's SVP and GM of data center, Forrest Norrod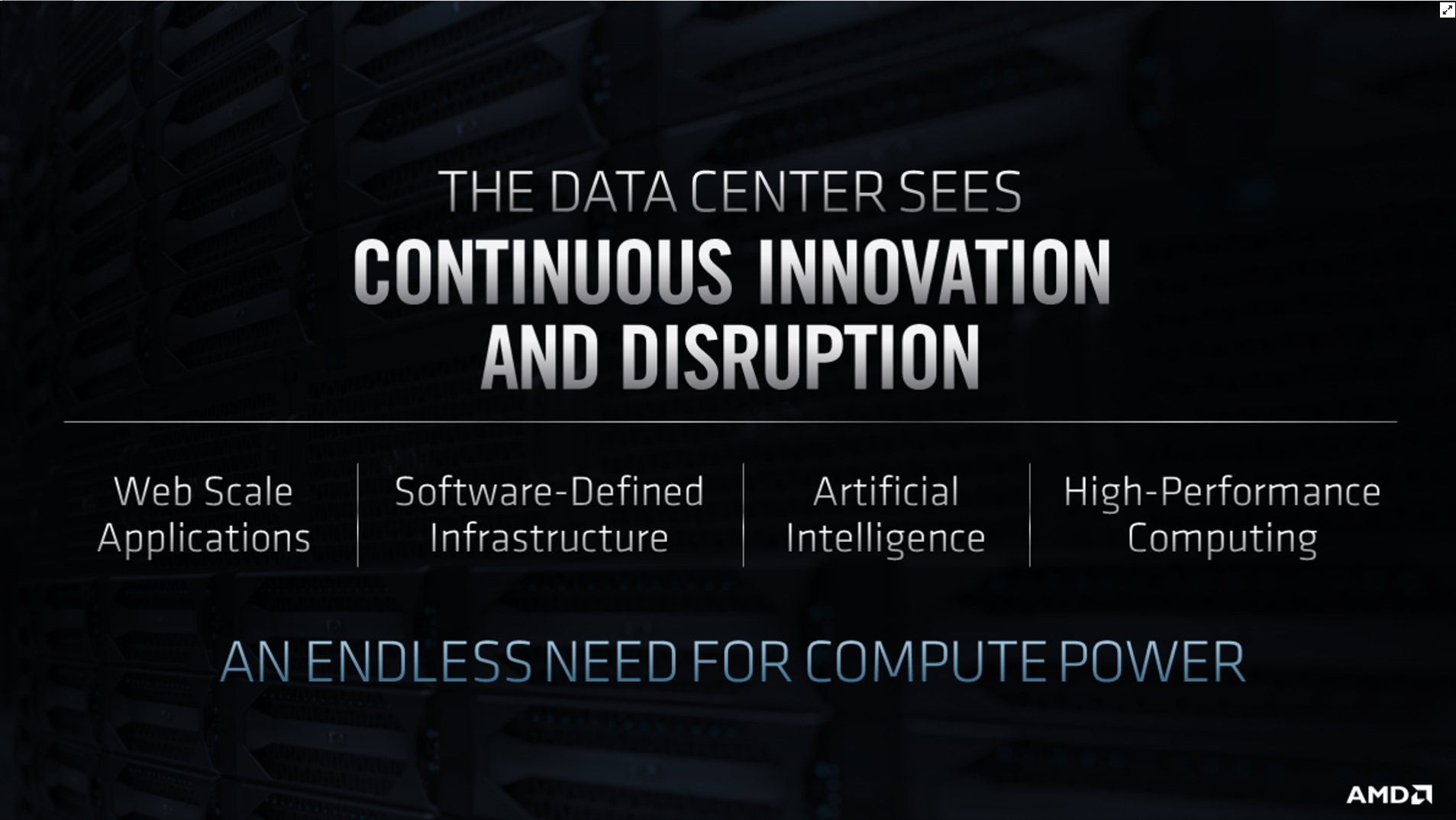 Forrest Norrod is on the stage.
I can't imagine what else AMD has to cover other than the deep financial stuff.
Time for a break in this very long presentation...5 hrs apparently!
Brief break then Forrest Norrod with the datacenter.
"Our employees are maniacally focused on our roadmaps"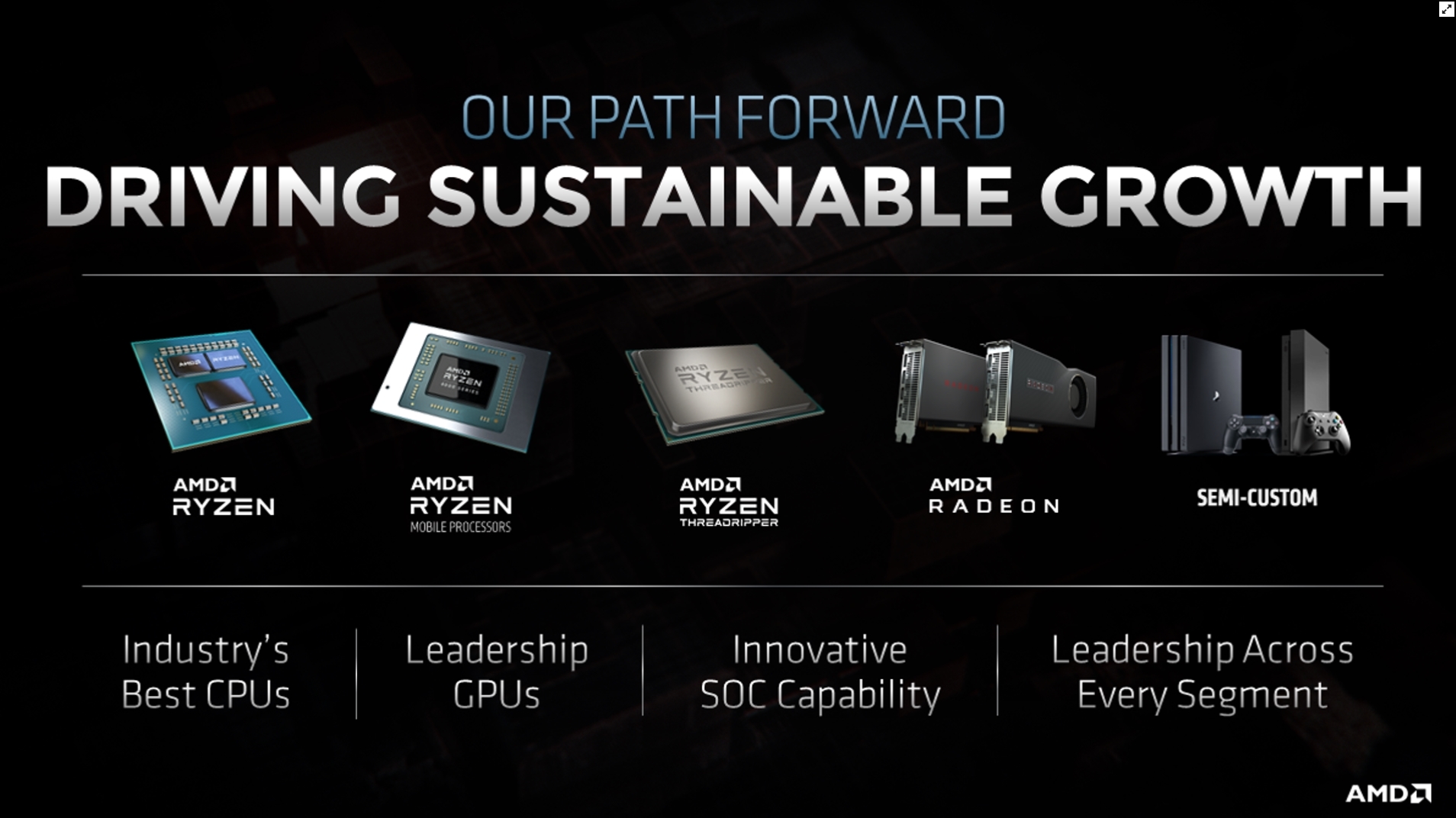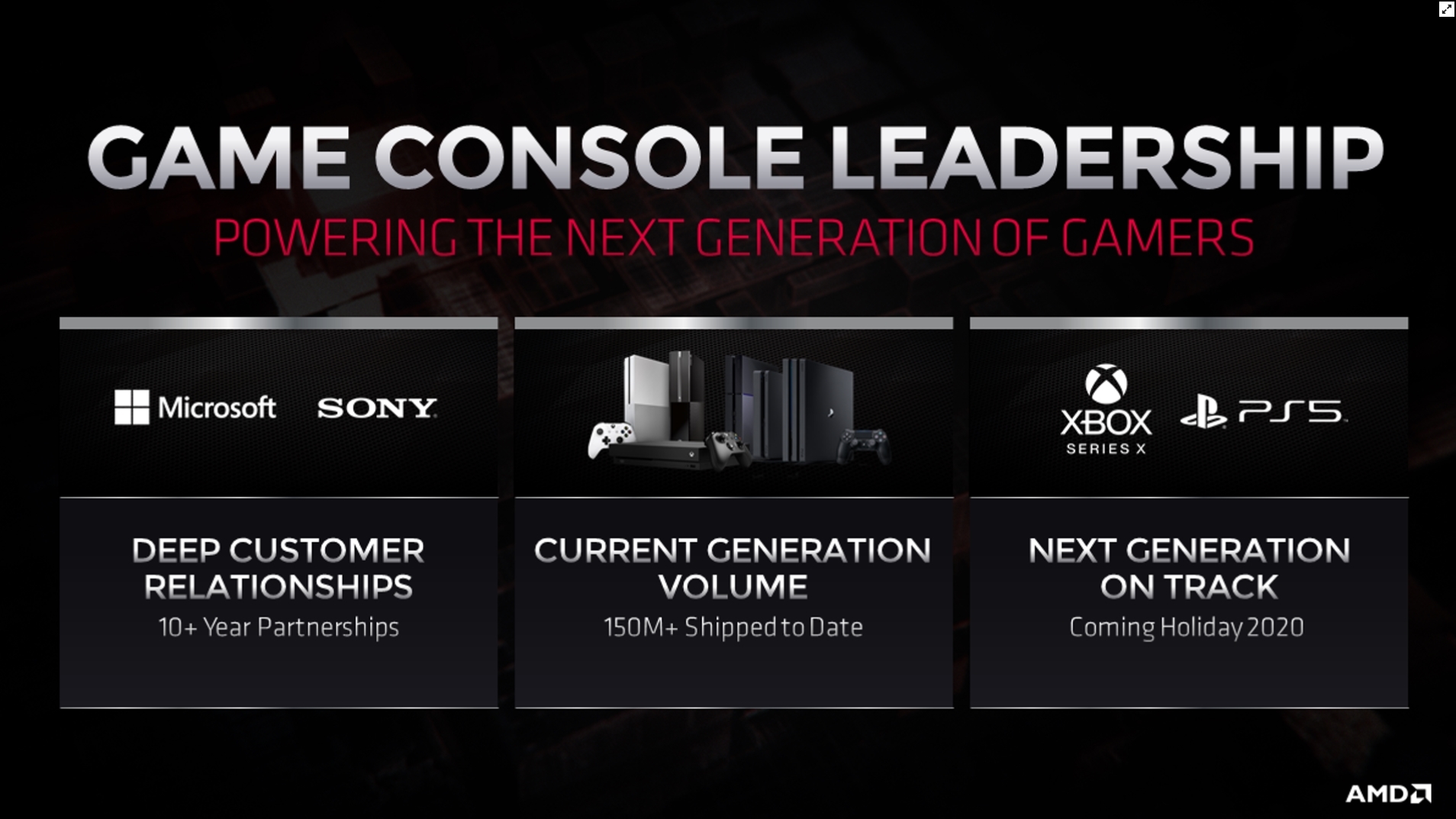 So if Navi 20 is later this year and Zen 3 is later, could this be due to 7EUV falling a little behind schedule?
AMD is talking about winning with GPUs?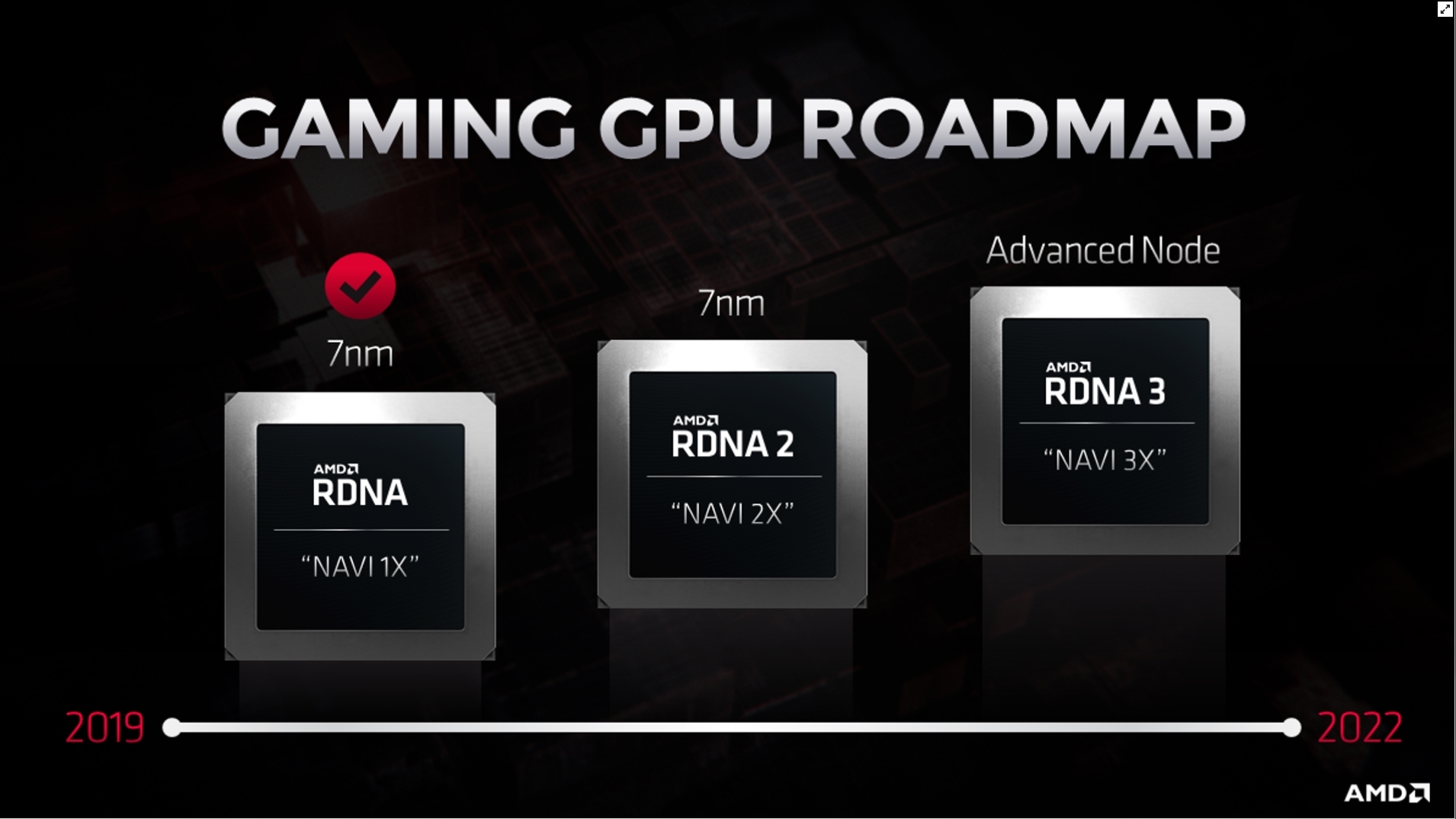 I wouldn't even say that the 2080Ti can do uncompromising 4K so this boast is quite great.
"Navi 20 at the end of this year"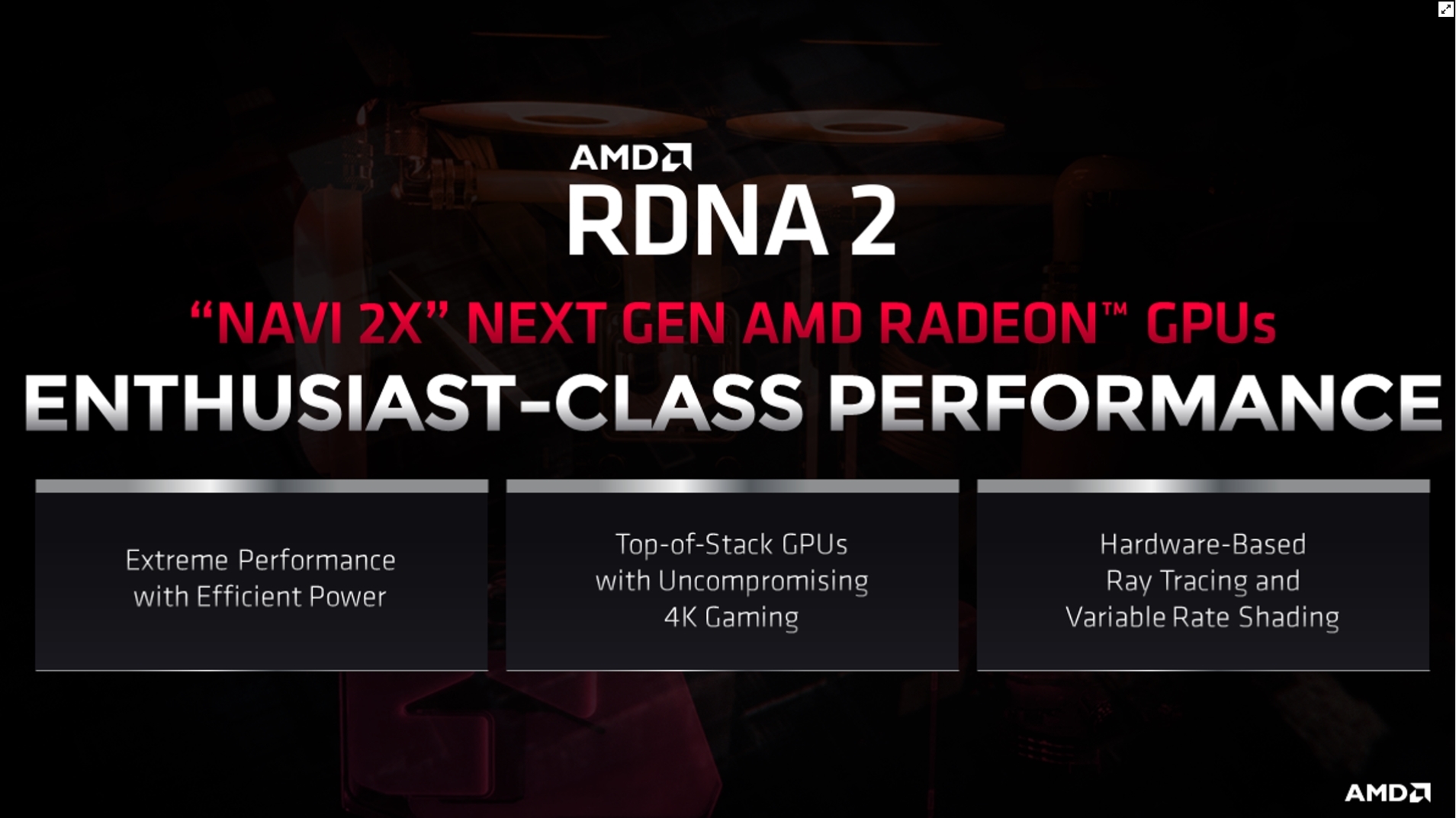 I wonder how many people are actually using these features.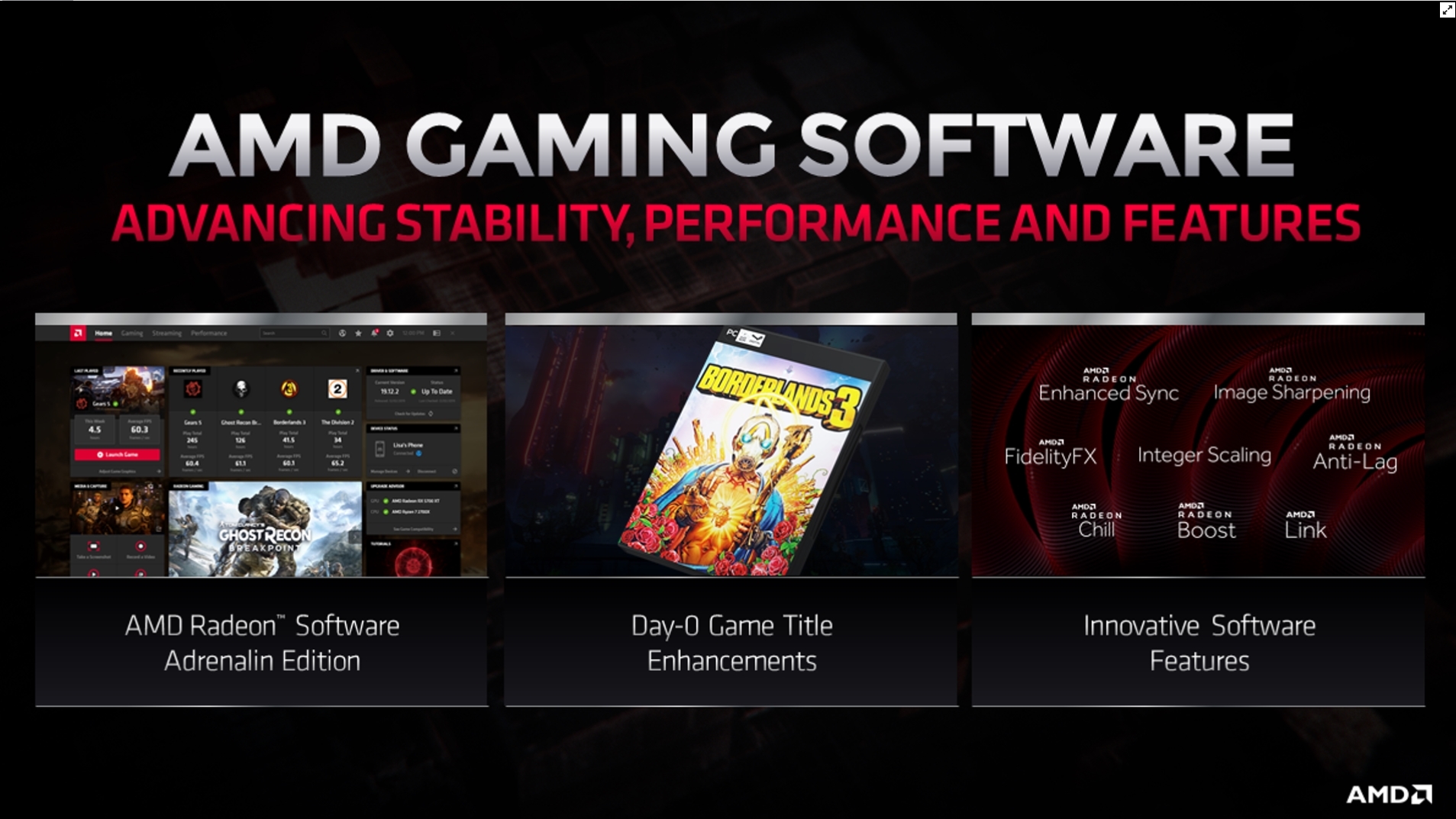 Why is AMD comparing to a previous generation Nvidia GPU?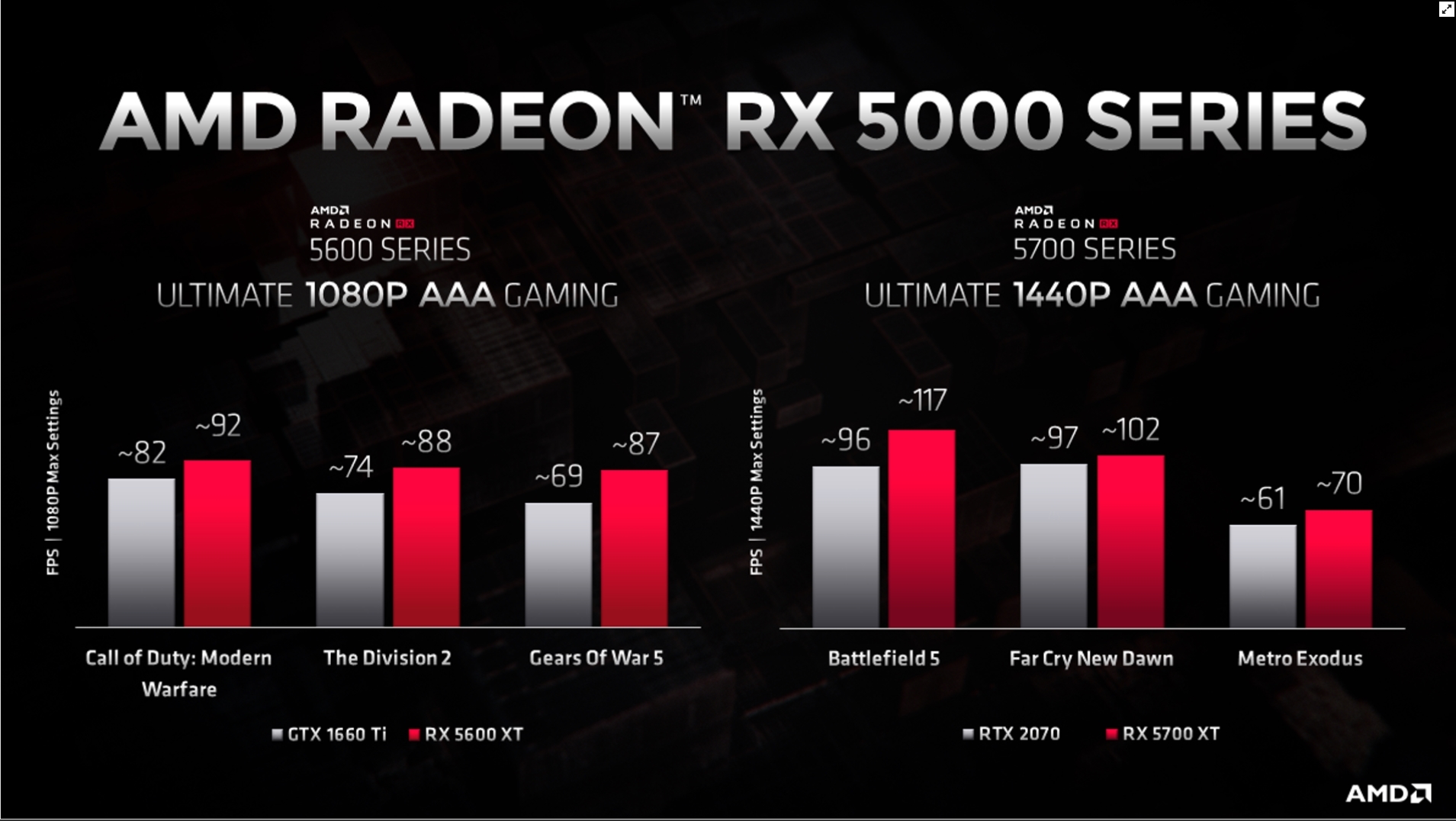 There's a real difference in attitude over Radeon, I haven't seen this level of talk in years.
Navi has 3x as many SKUs as Vega.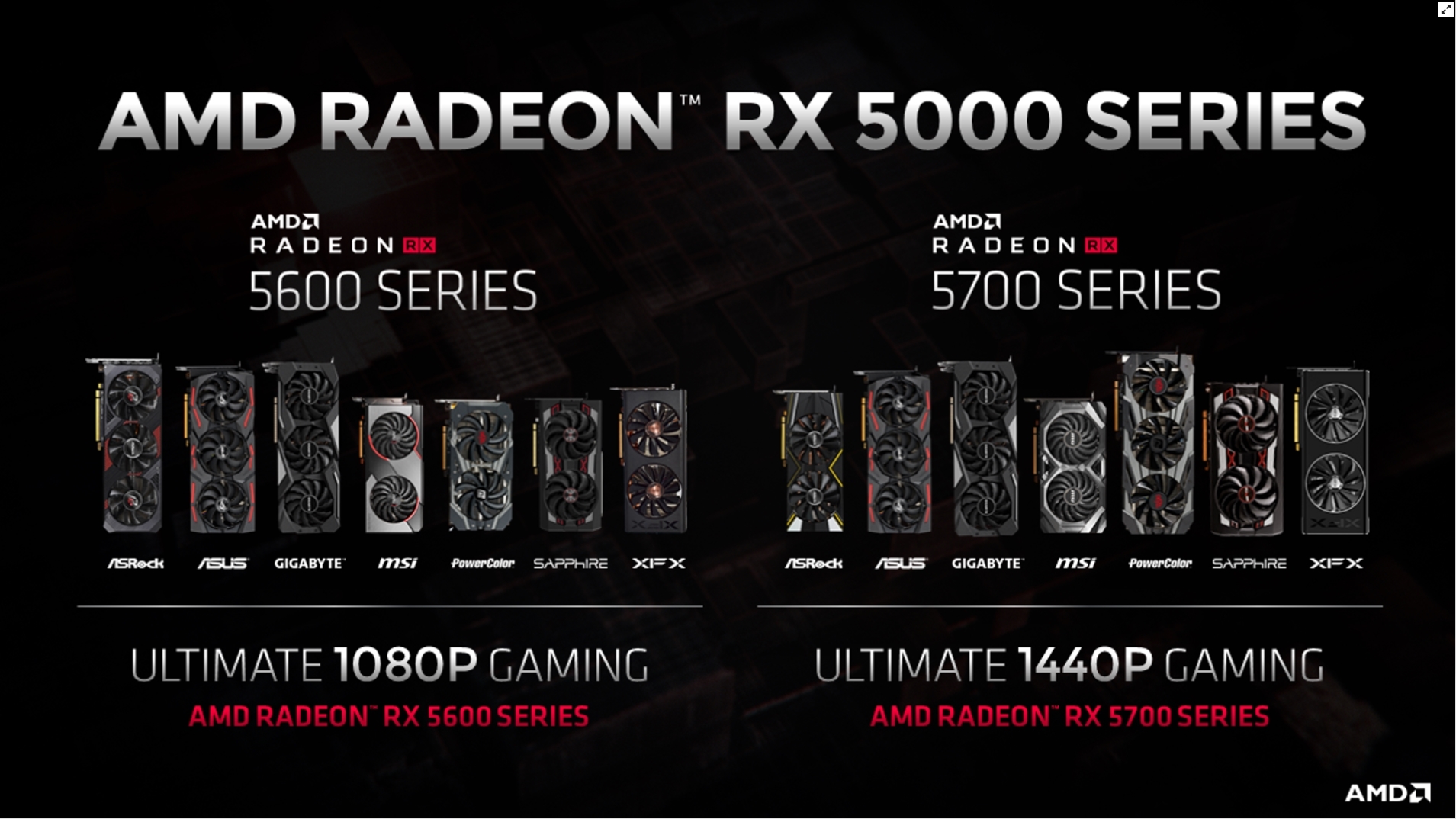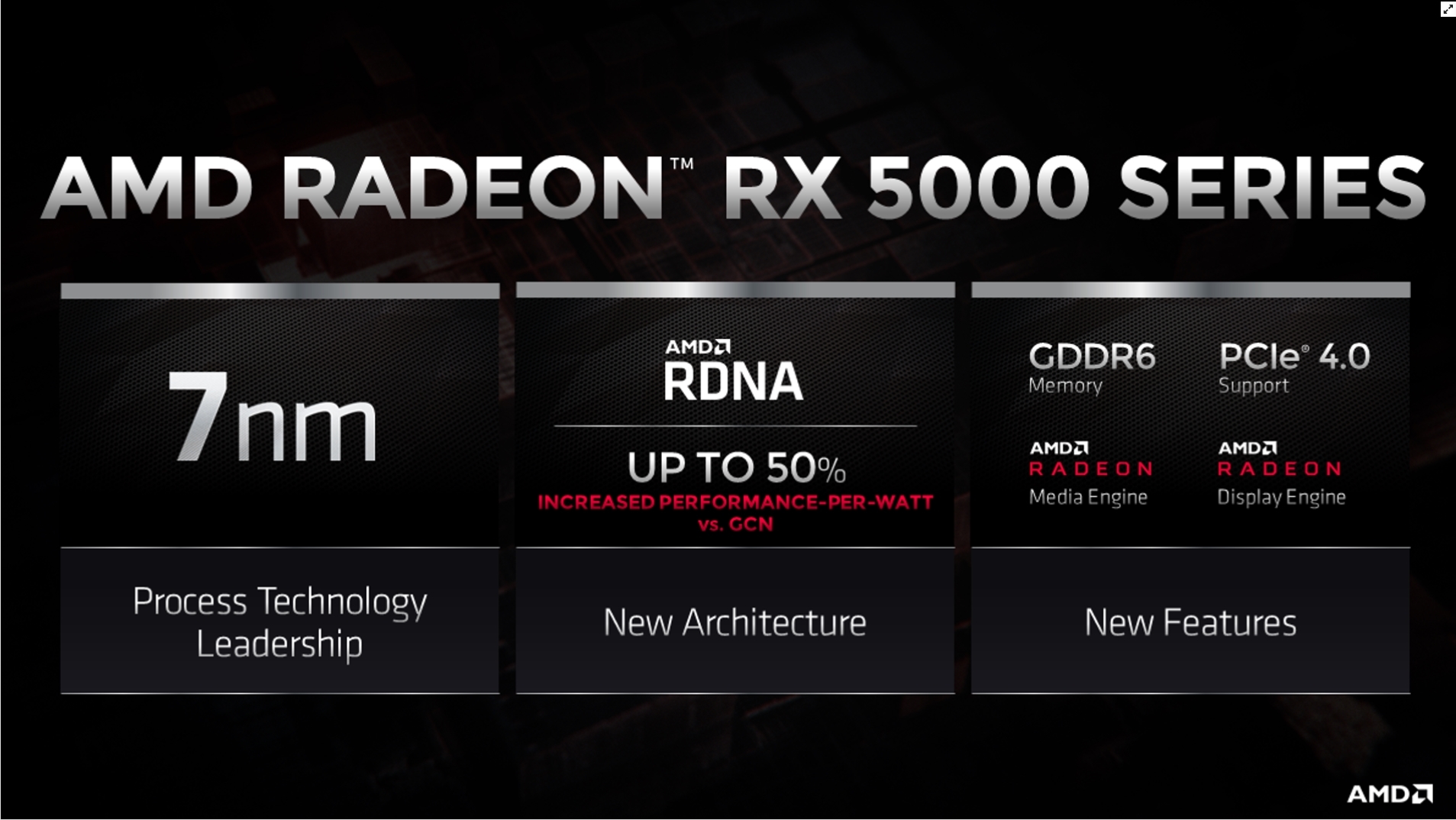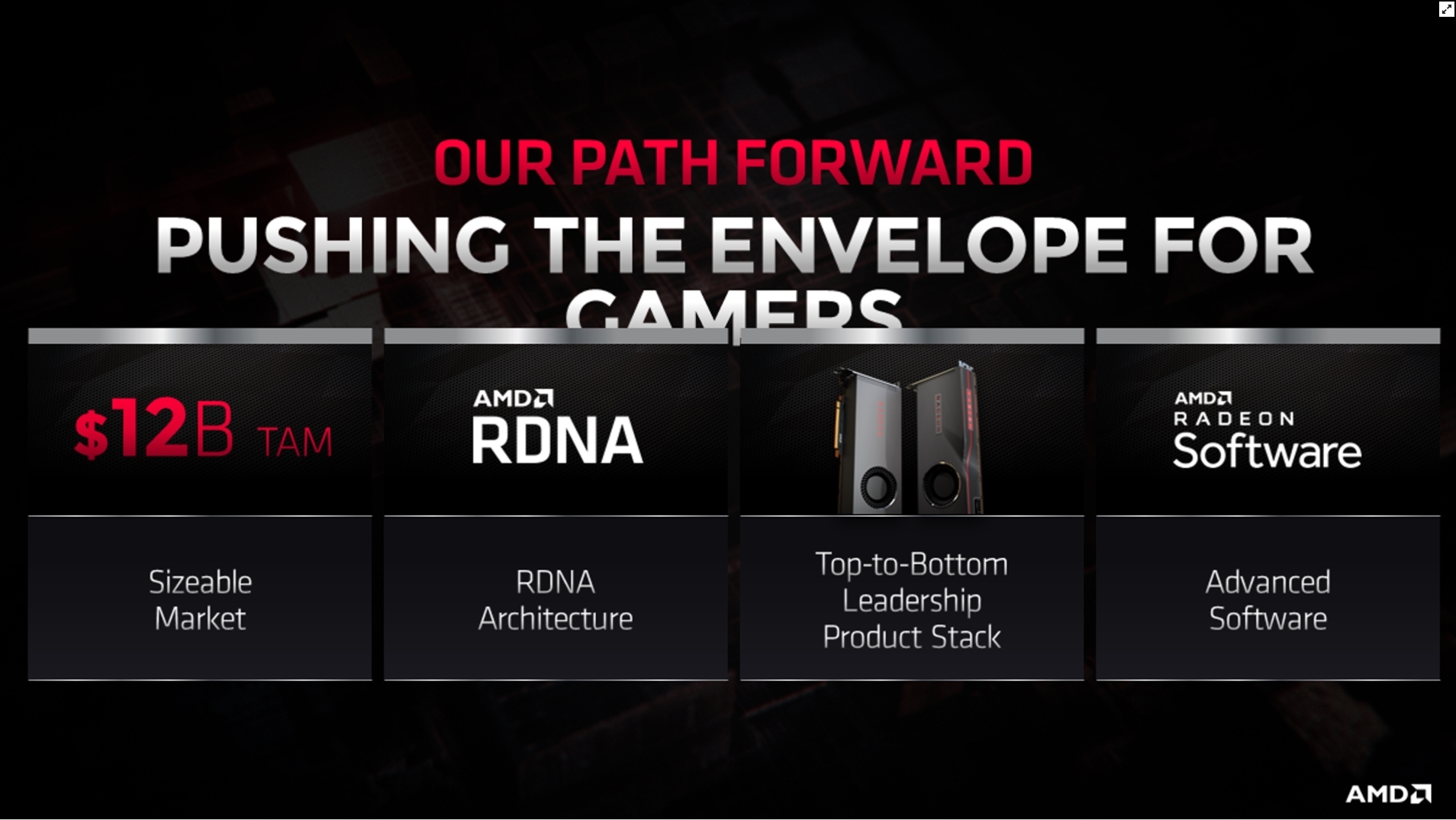 Including console, Stadia, and mobile on there is kind of misleading, they're not buying these devices because it has Radeon graphics in them. I feel like they're trying to mask their poor performance in PC.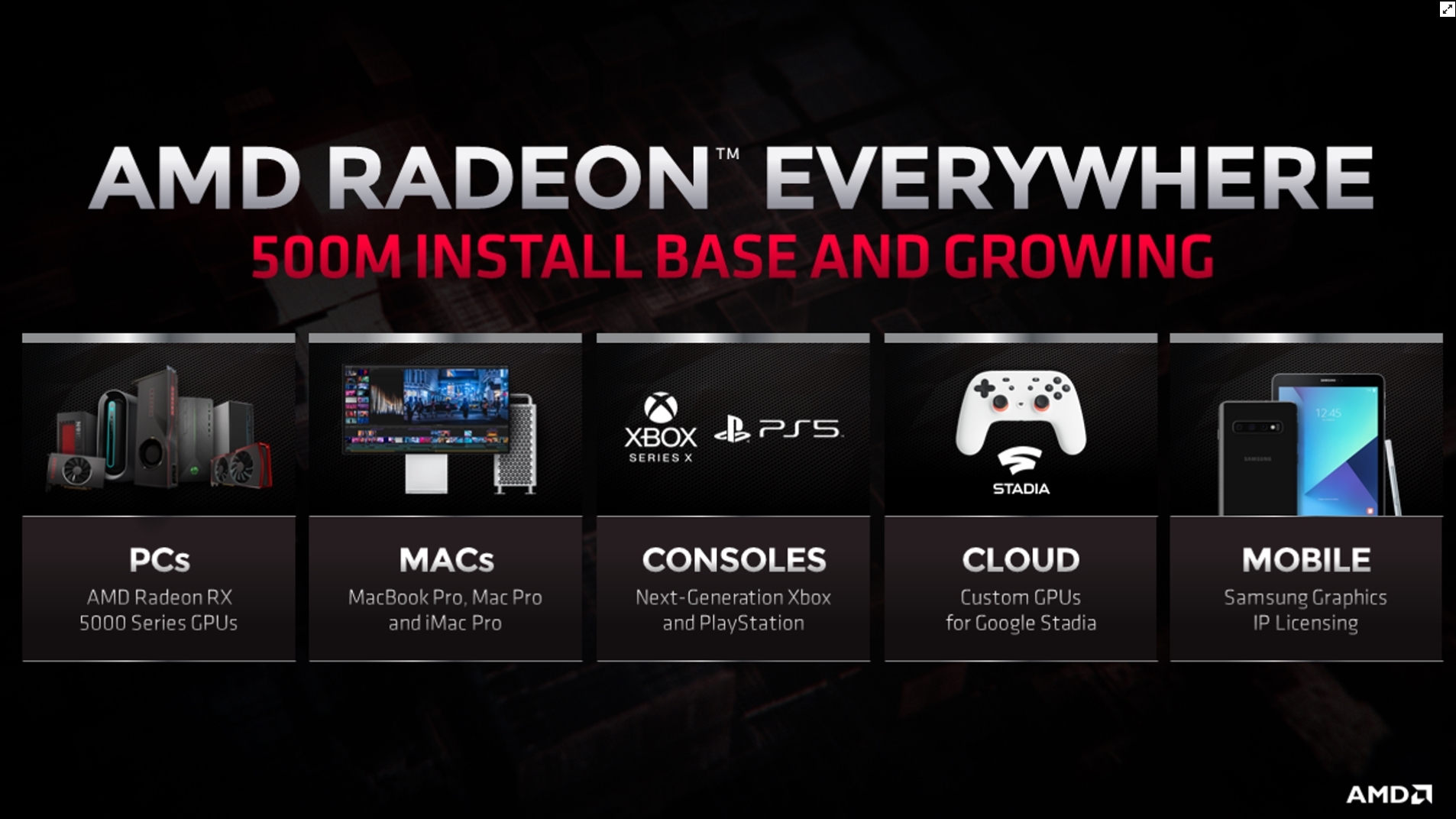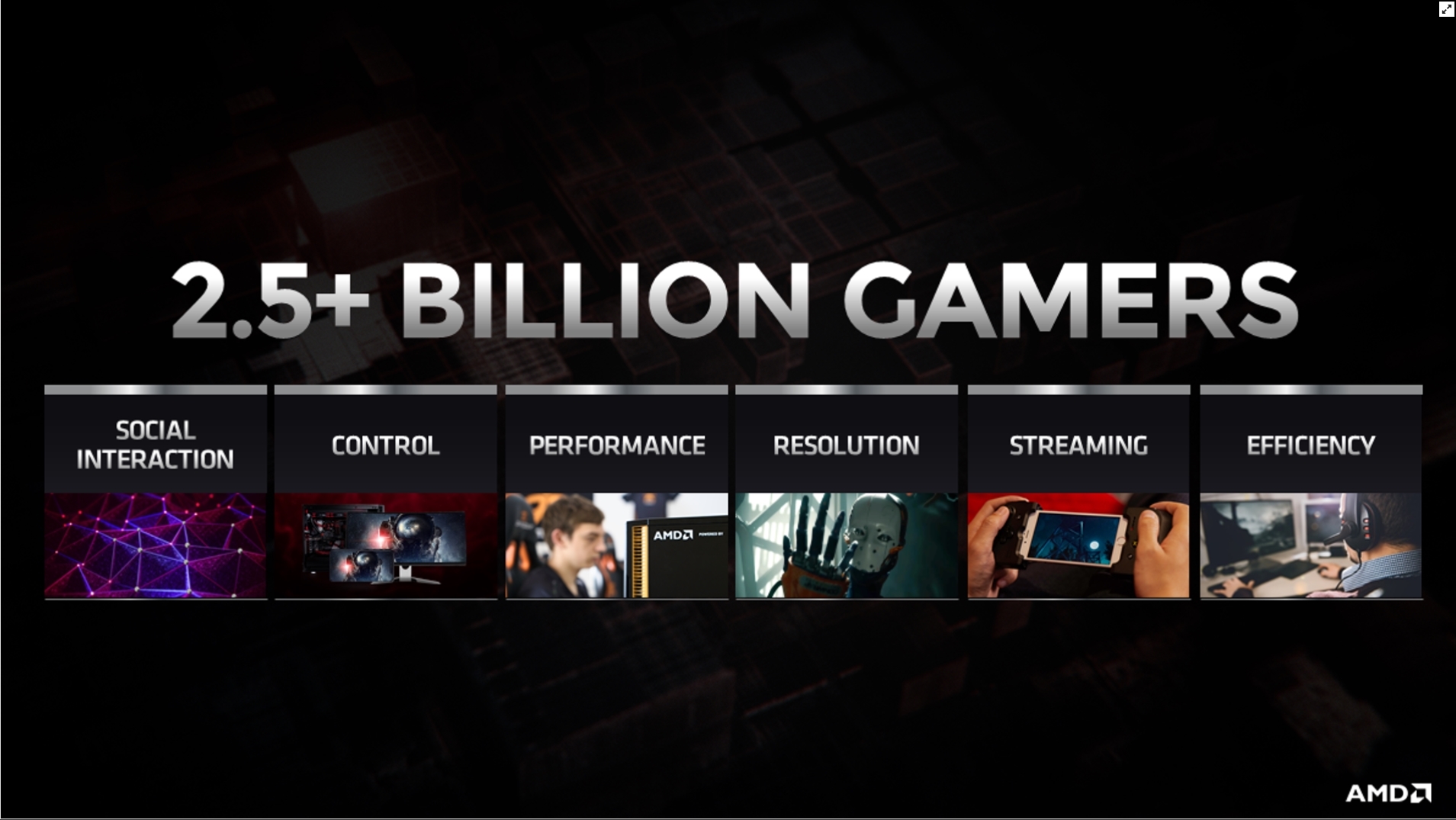 Does this indicate Zen 4 for 2021 and not 2022?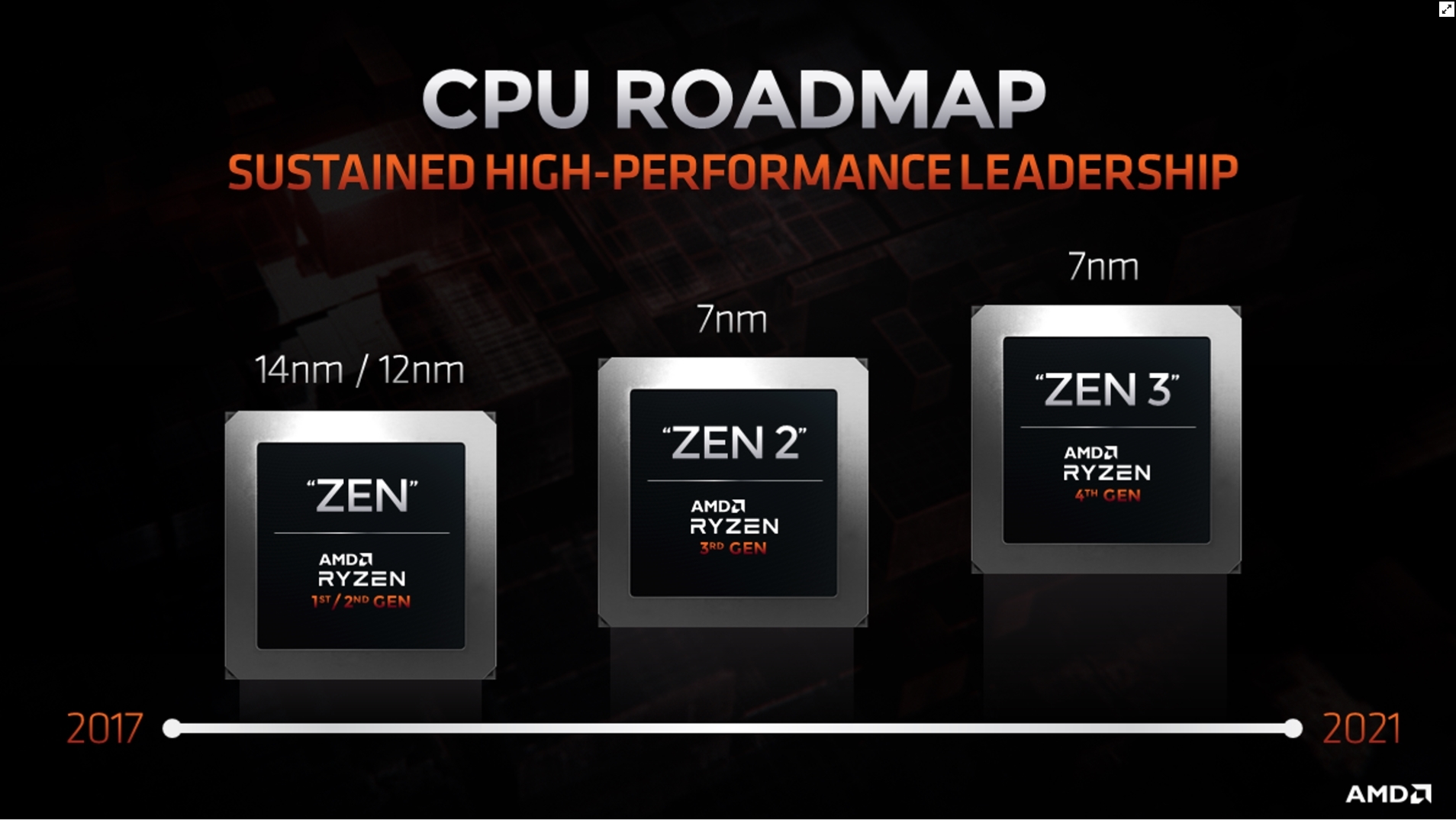 This is all without 7nm Ryzen by the way.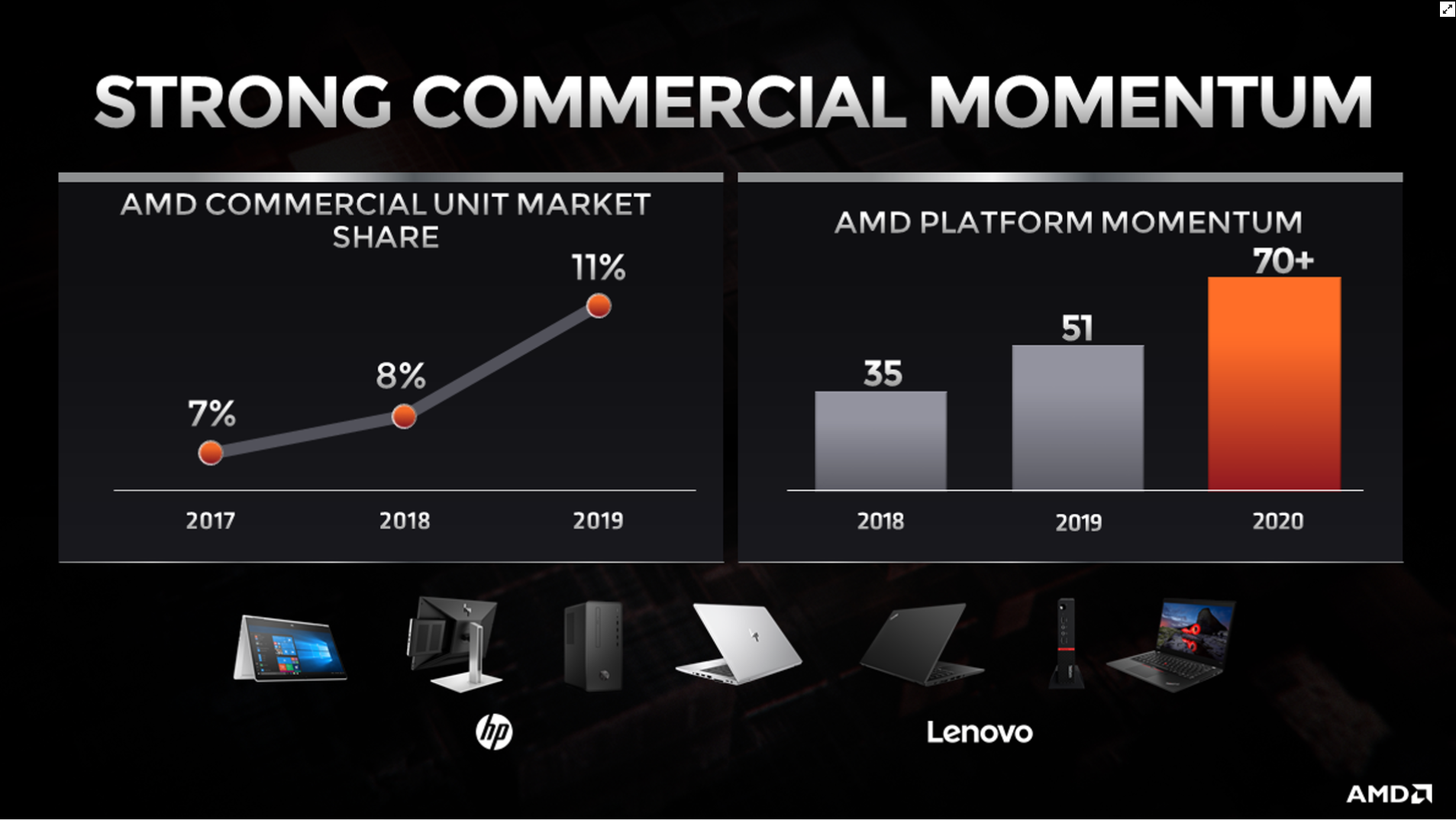 Looks like someone really messed up this slide...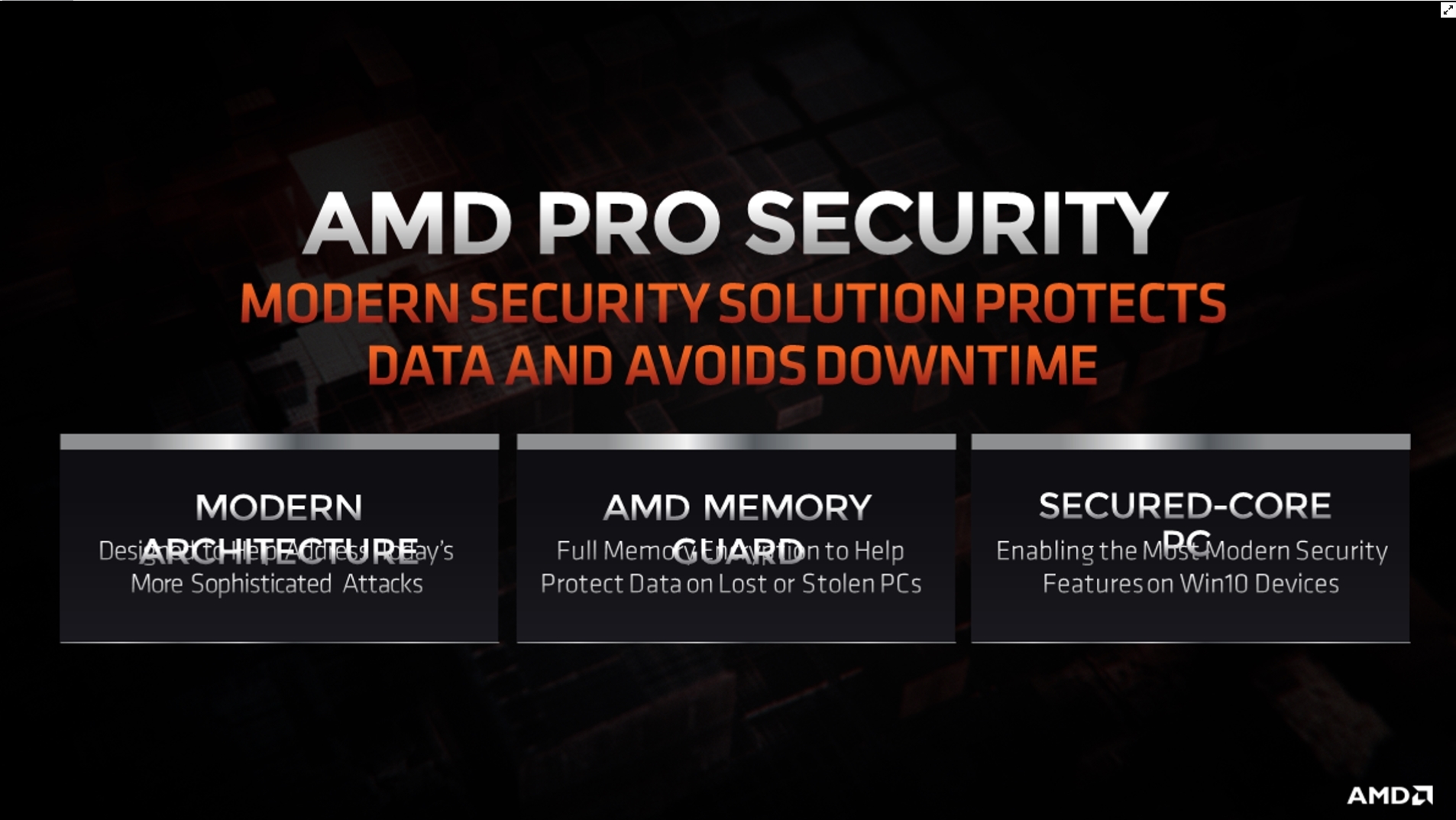 Not at 15W Matthew? (regarding the 1065G7)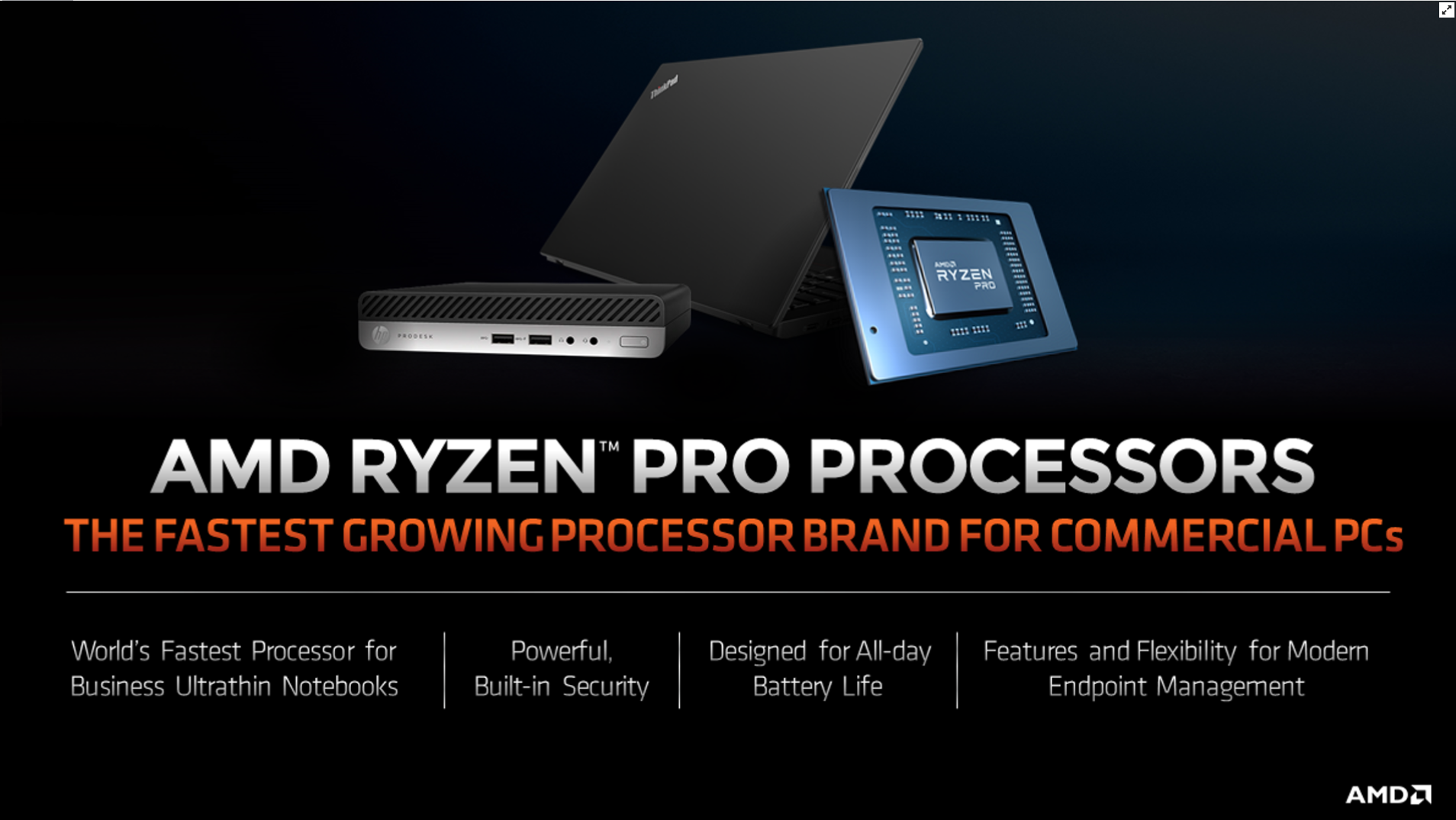 Surprisingly, mobile has been AMD's fastest growing segment.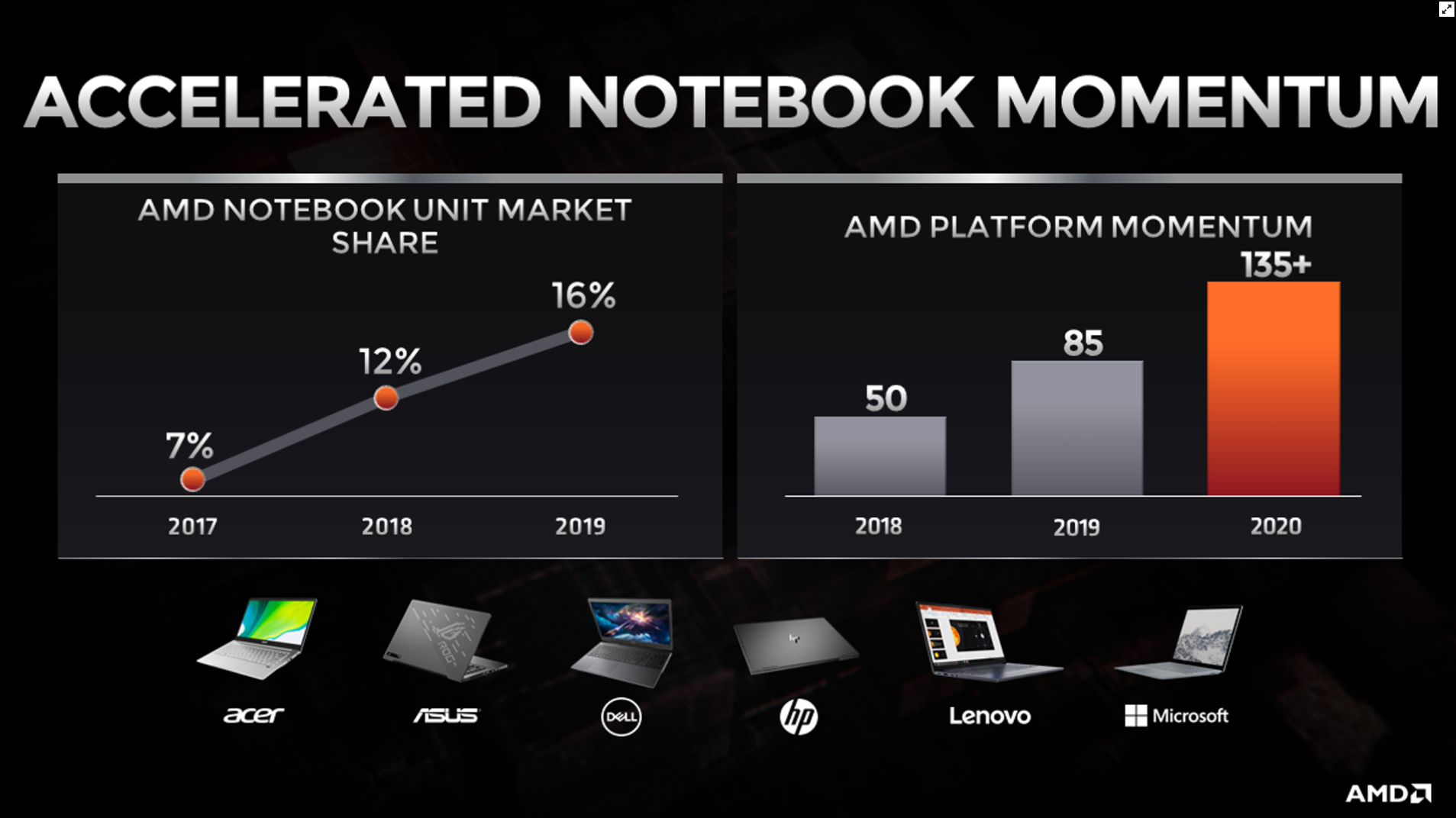 Multi thread is a little misleading since Intel does have faster CPUs than the 1065G7, faster by far.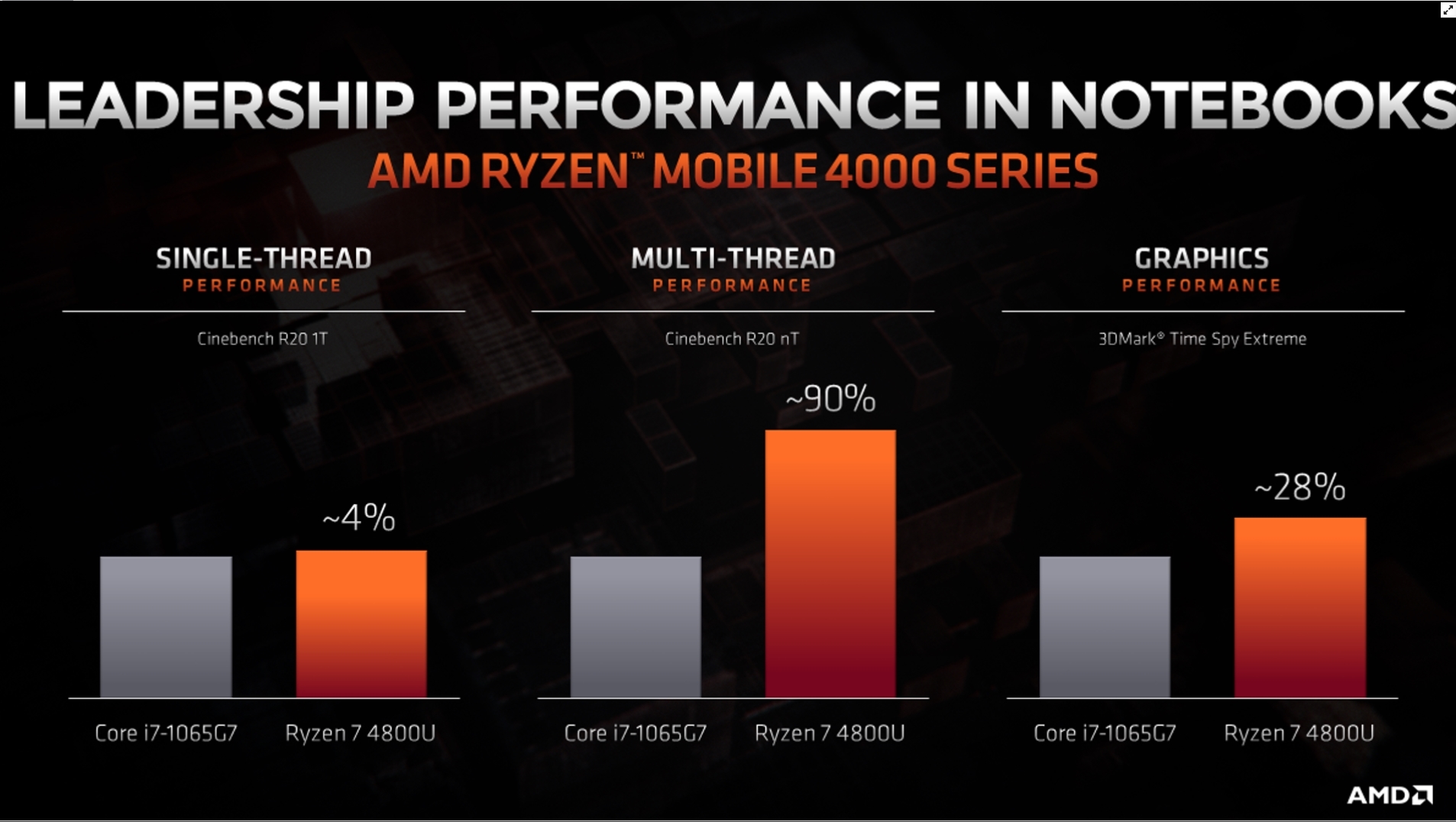 Though the speaker says this is the first 8 core mobile CPU, I don't know if that's true. I know Intel has an 8 core mobile CPU but I can't remember if it's launched yet.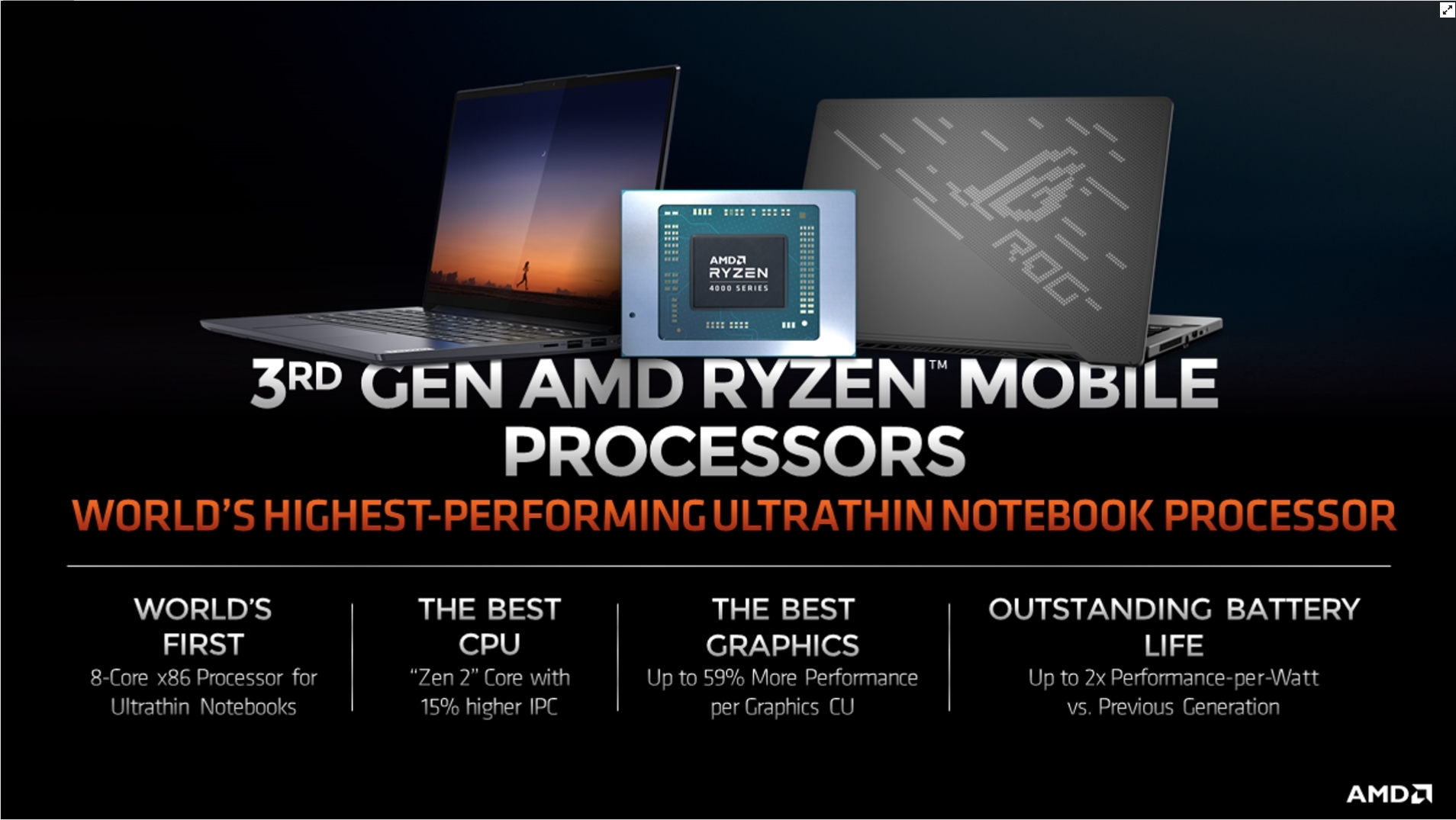 Battery life was a big downside for previous Ryzen APUs, hopefully they really have fixed that.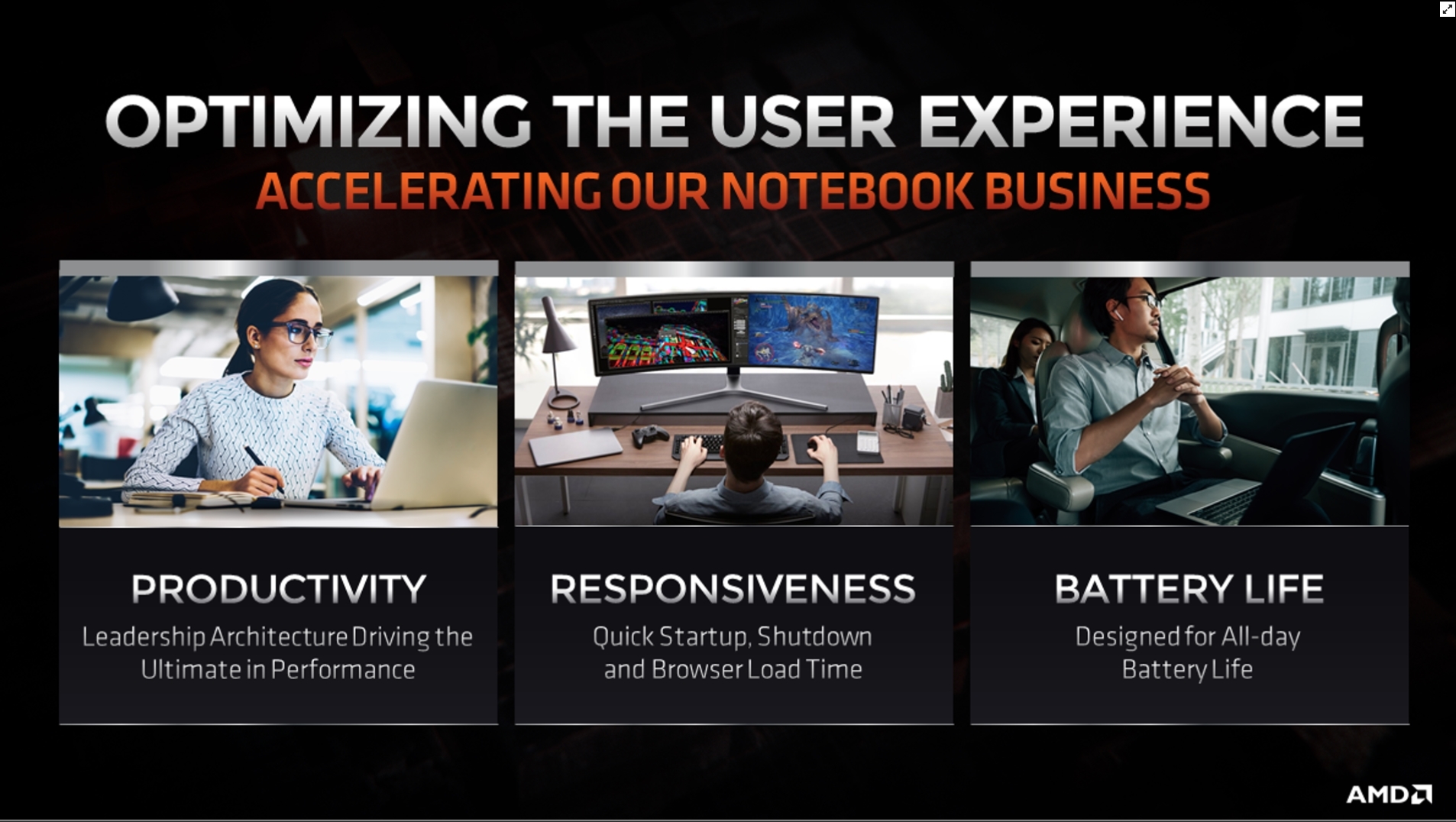 "Virtually any workload, AMD is beating the competition"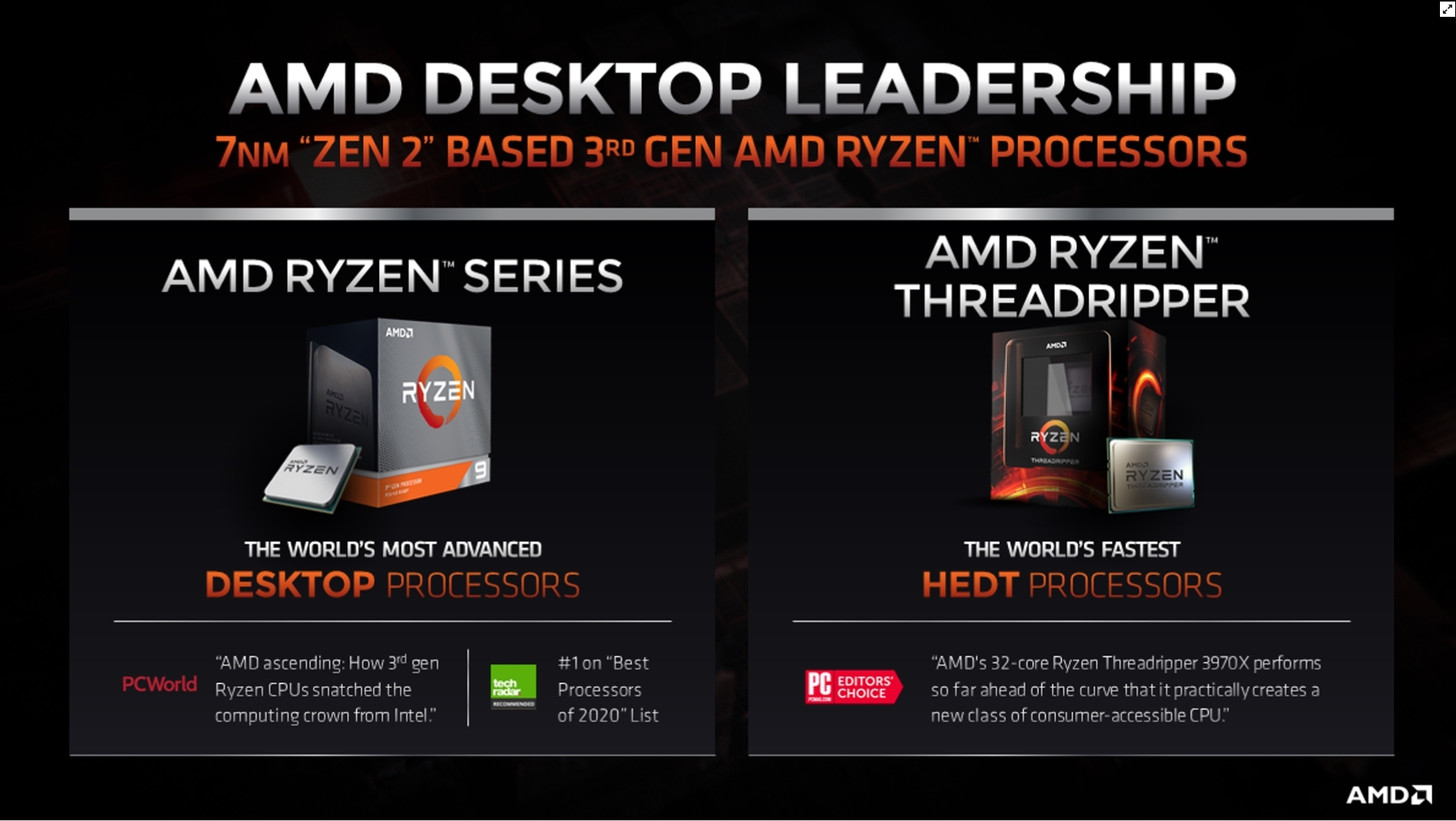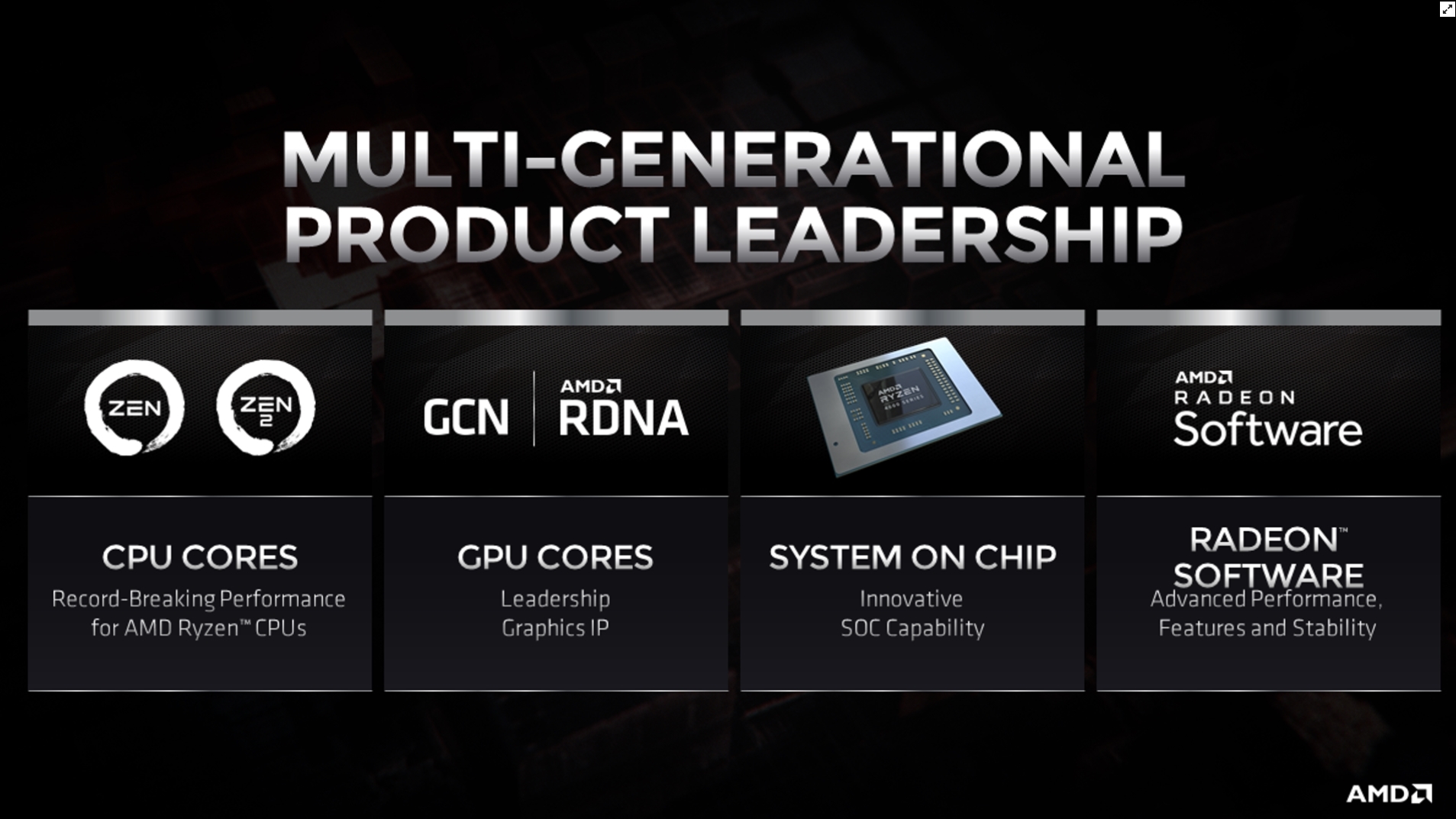 I thought Bergman was ATI, I missed his current position at AMD but it's EVP of Computing and Graphics.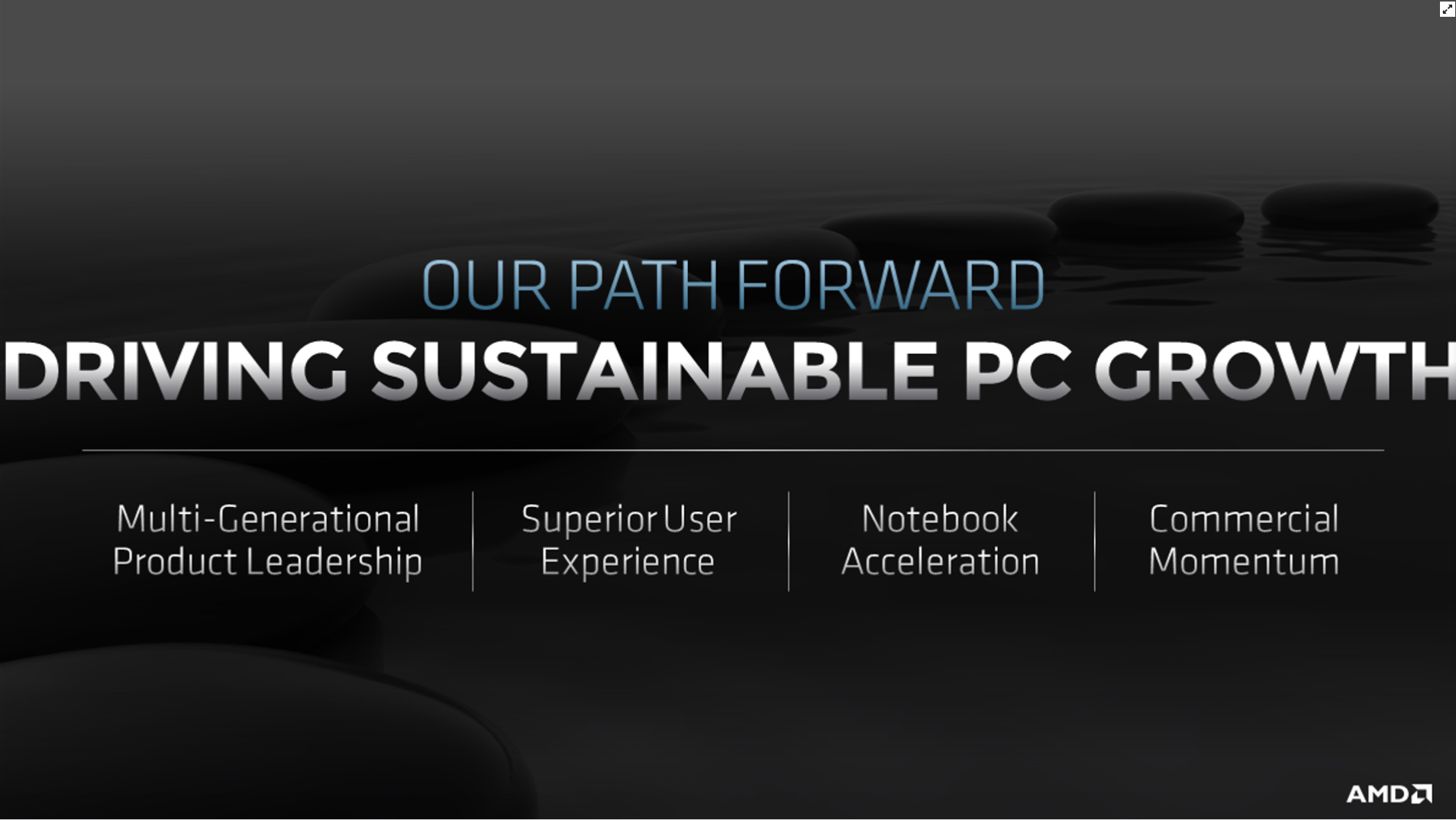 "We're moving into the premium segments of the marketplace"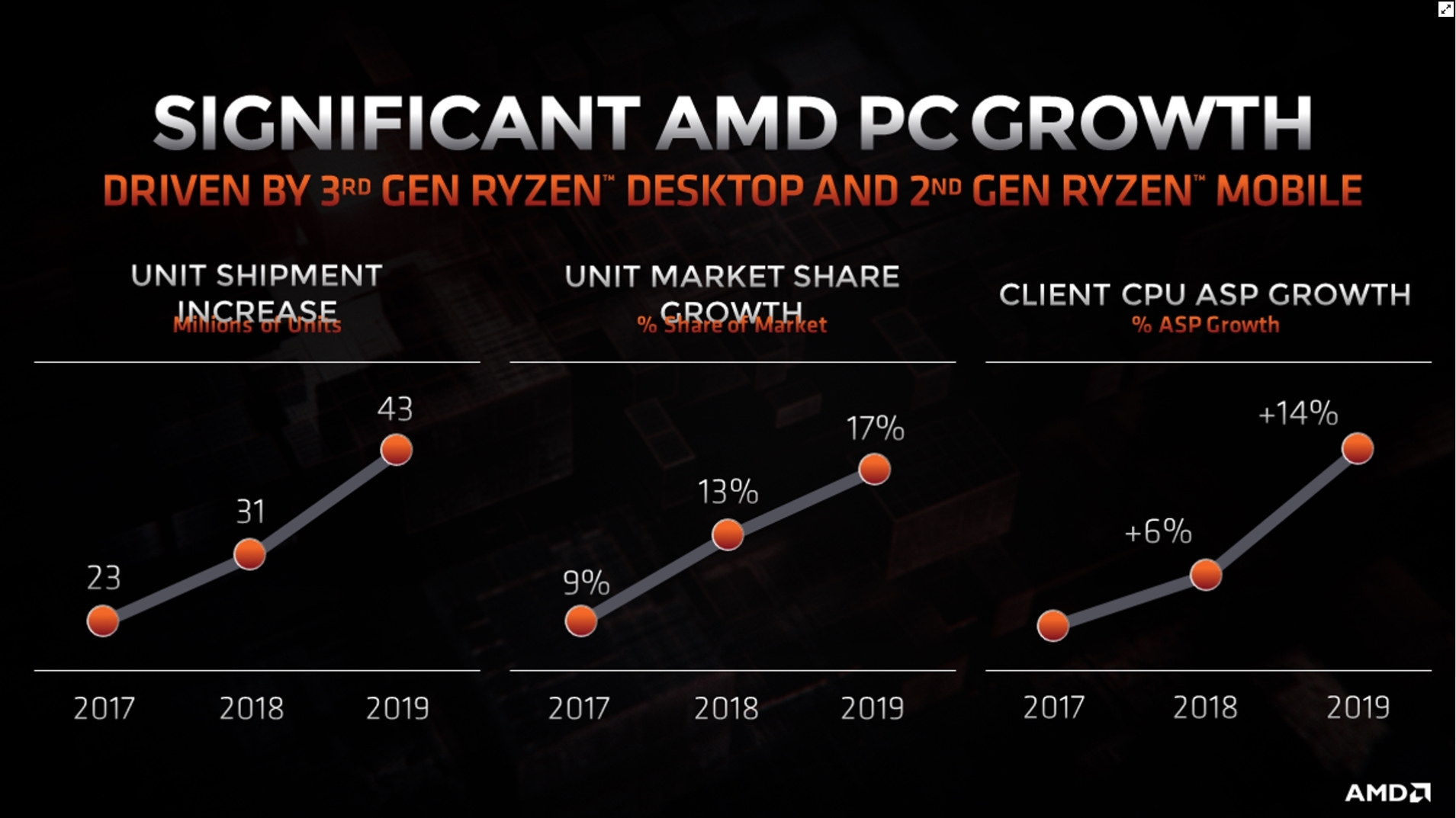 Although I don't disagree with it, calling Renoir the world's fastest laptop CPU is a little too soon given that the laptops aren't actually out yet.
Although I don't disagree with it, calling Renoir the world's fastest laptop CPU is a little too soon given that the laptops aren't actually out yet.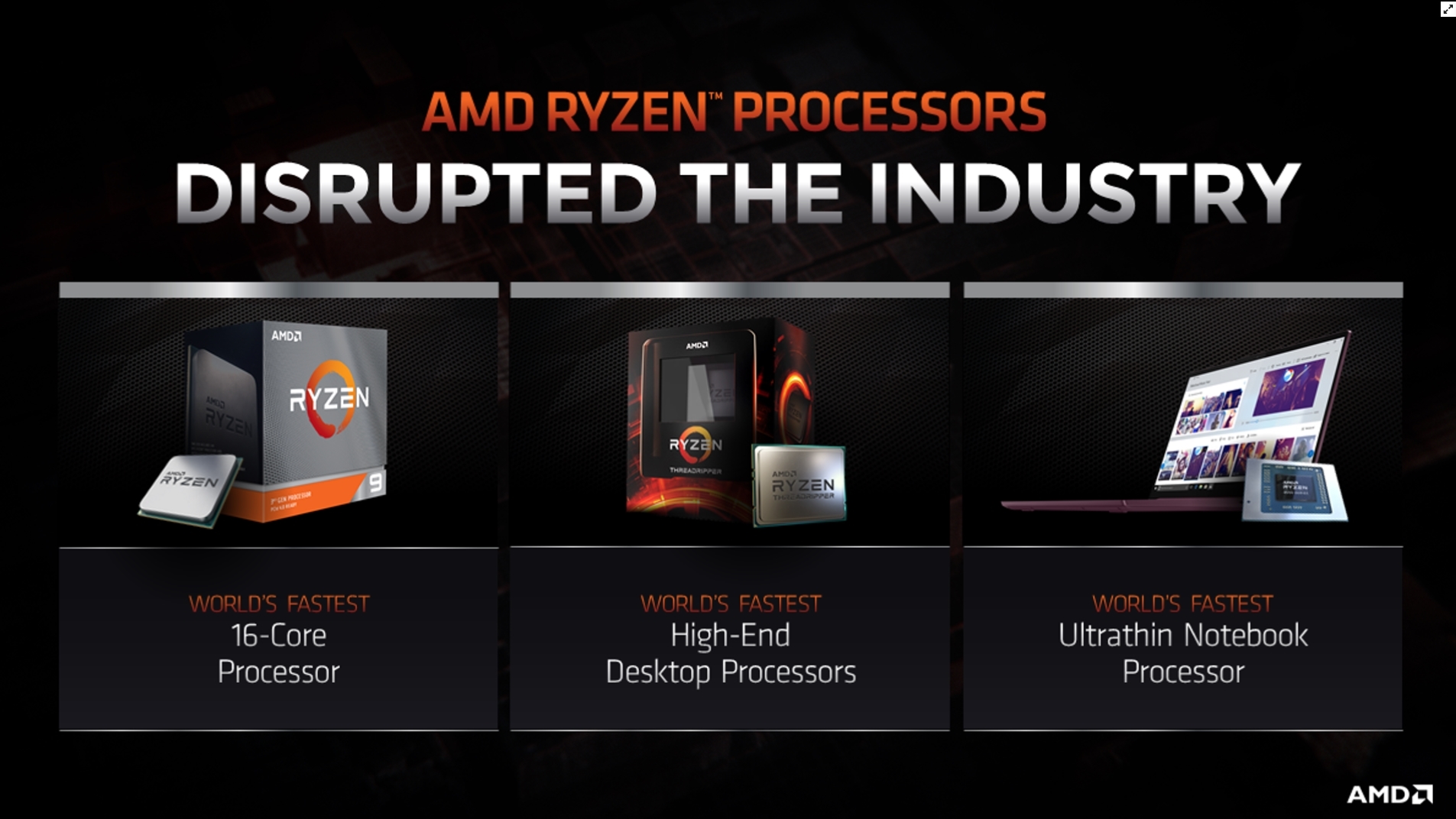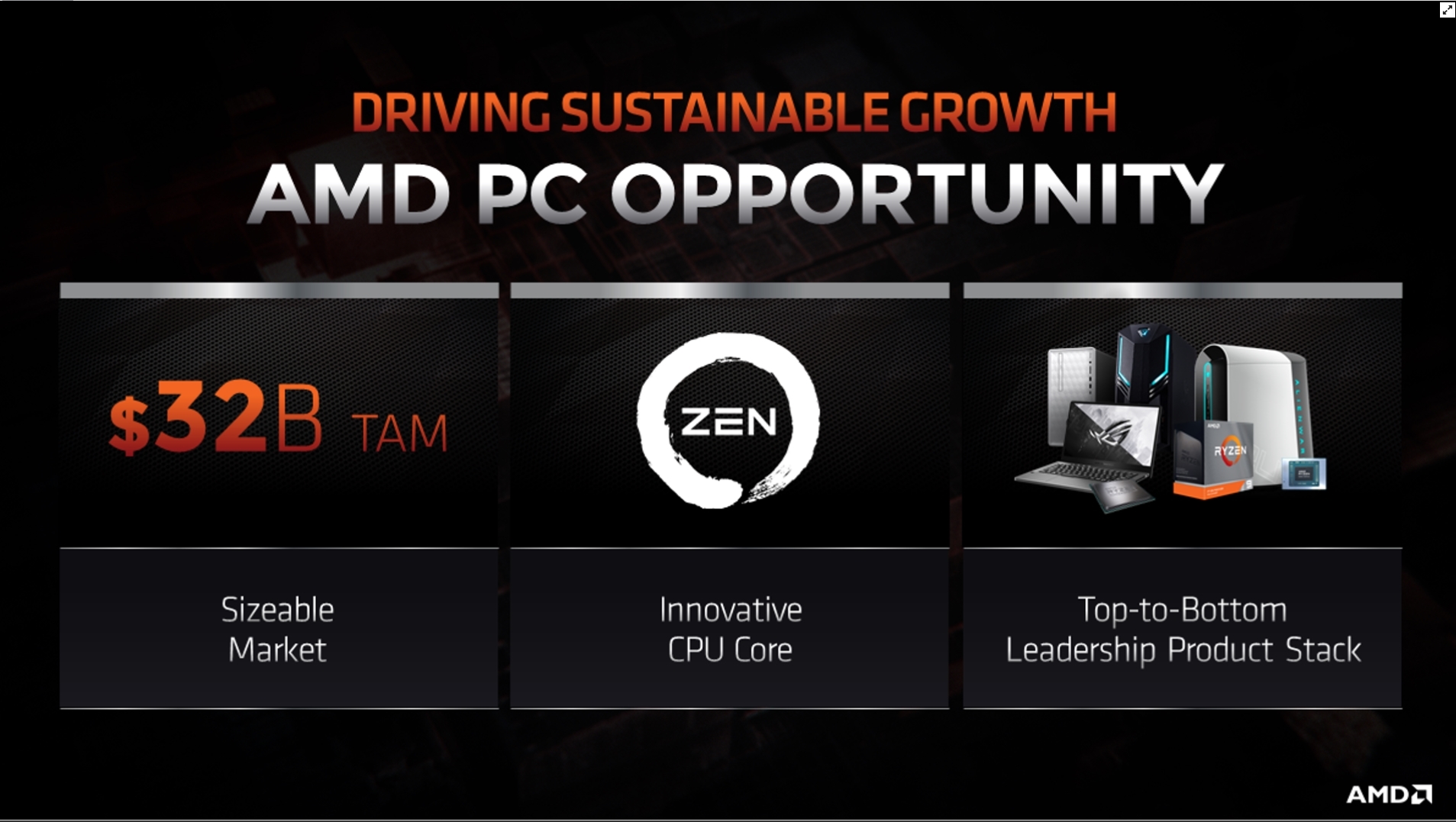 I feel like AMD too often justifies the position of their GPUs by pointing out they have CPUs as well.
So this is the PC segment, Wang had little for us on RDNA2 but maybe we'll start getting some 6000 series info now?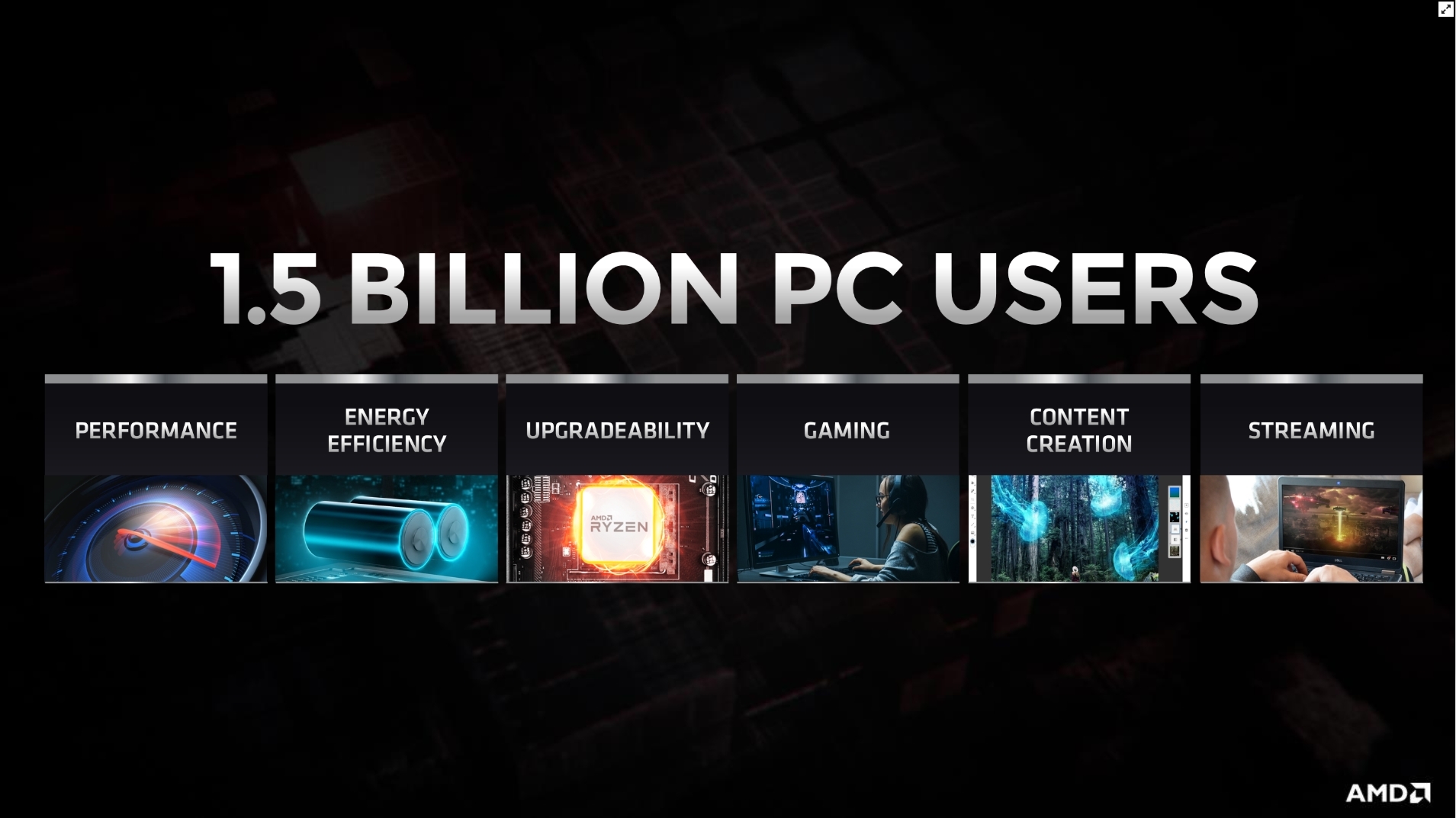 Rick Bergman (?) is up now.
Decent presentation from David Wang, his delivery is improving with each one.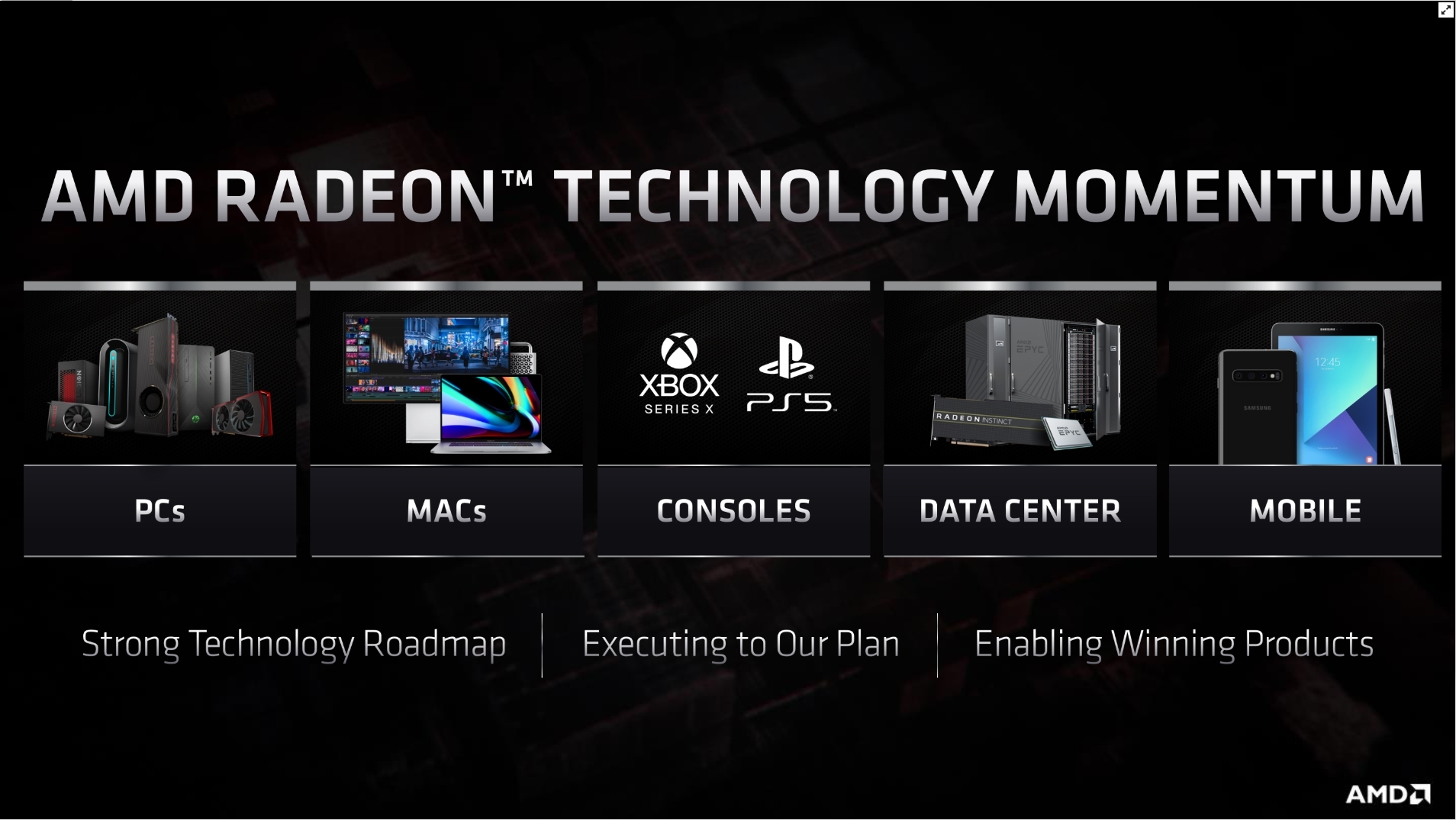 Keep in mind the 7742 is 64 cores each.
Interesting that this isn't a head to head GPU comparison. AMD is throwing in their clearly superior Rome chips in as well.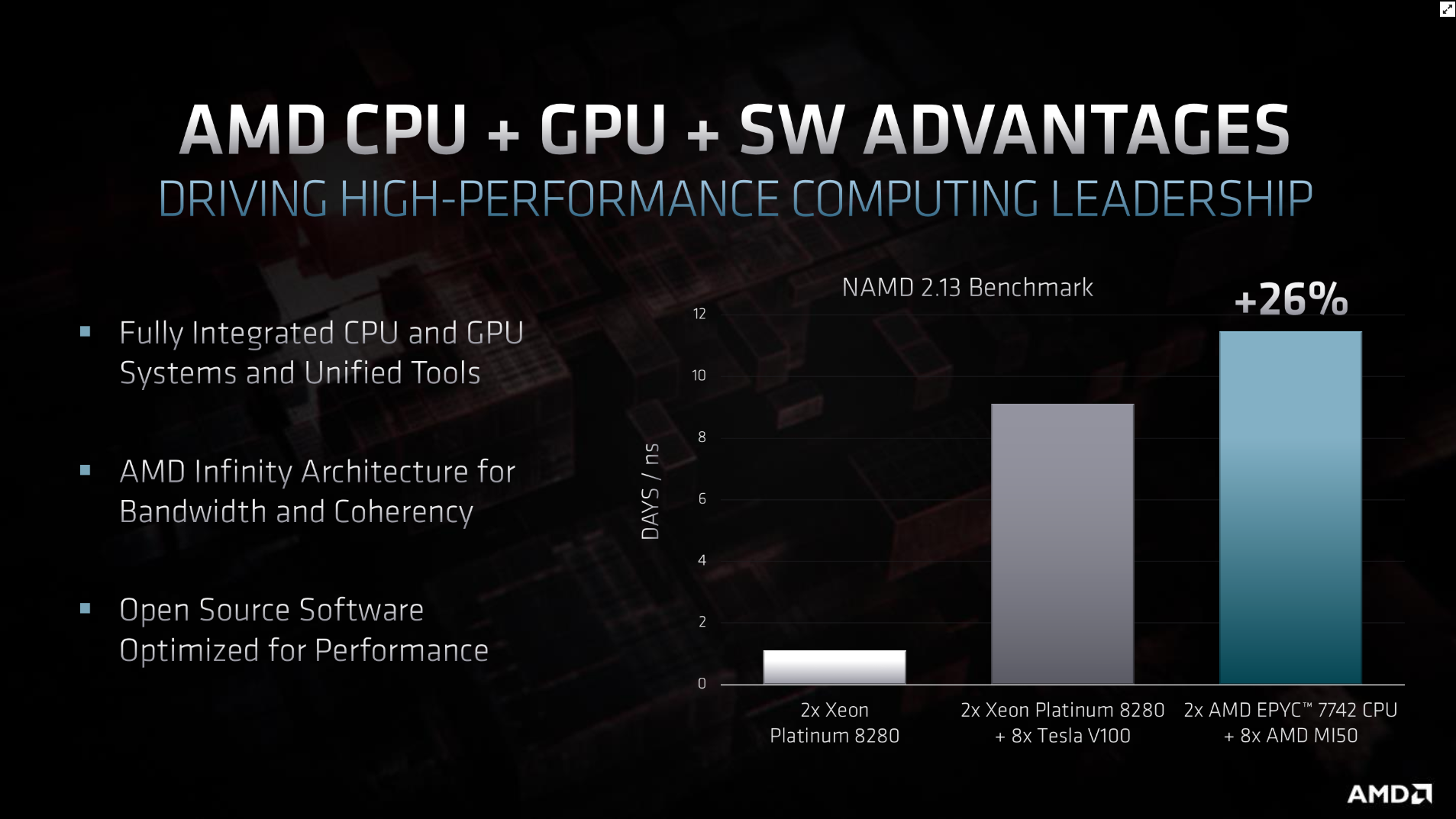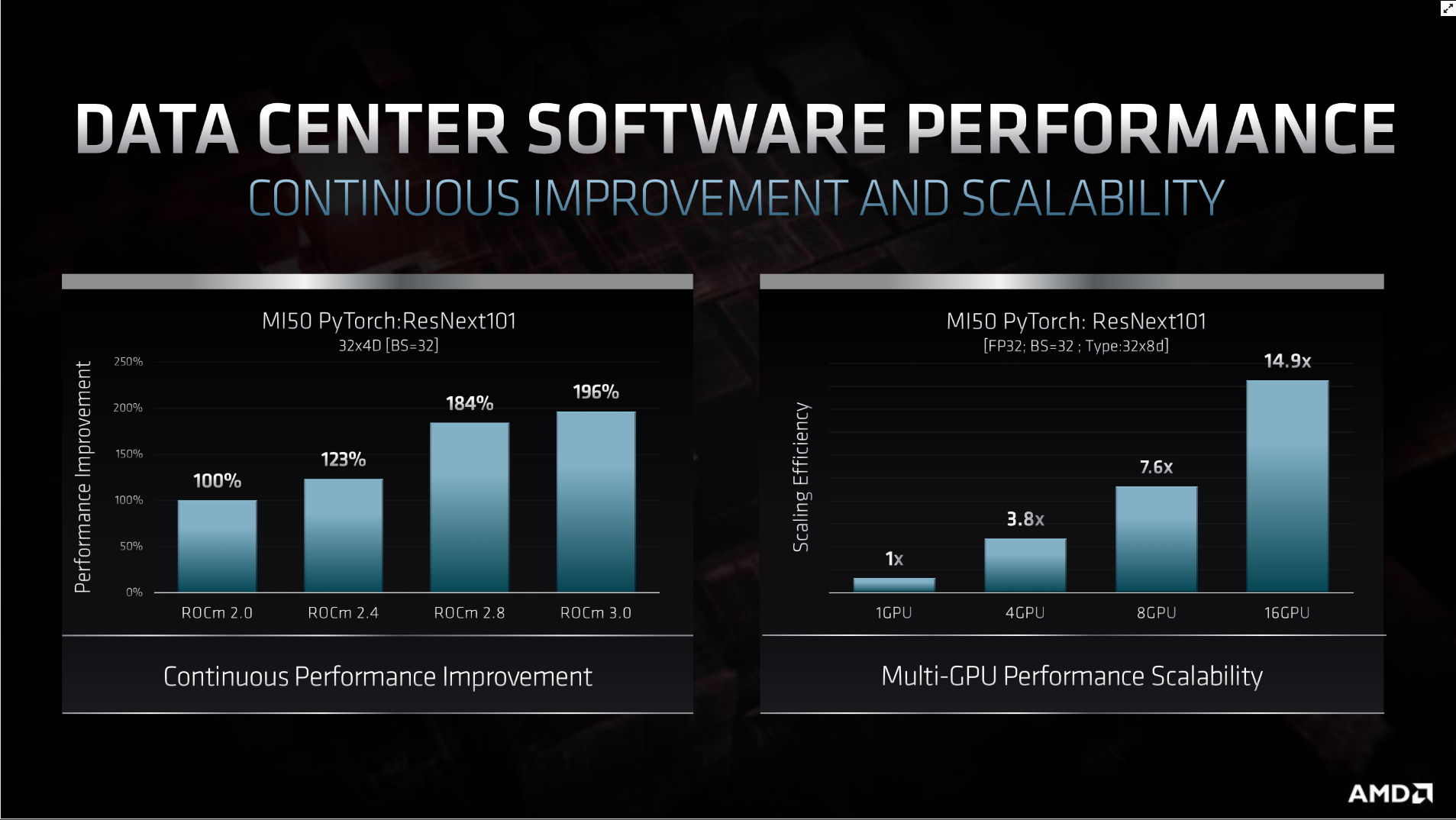 ROCm 4.0 for 2020. "Complete exascale solution for ML/HPC"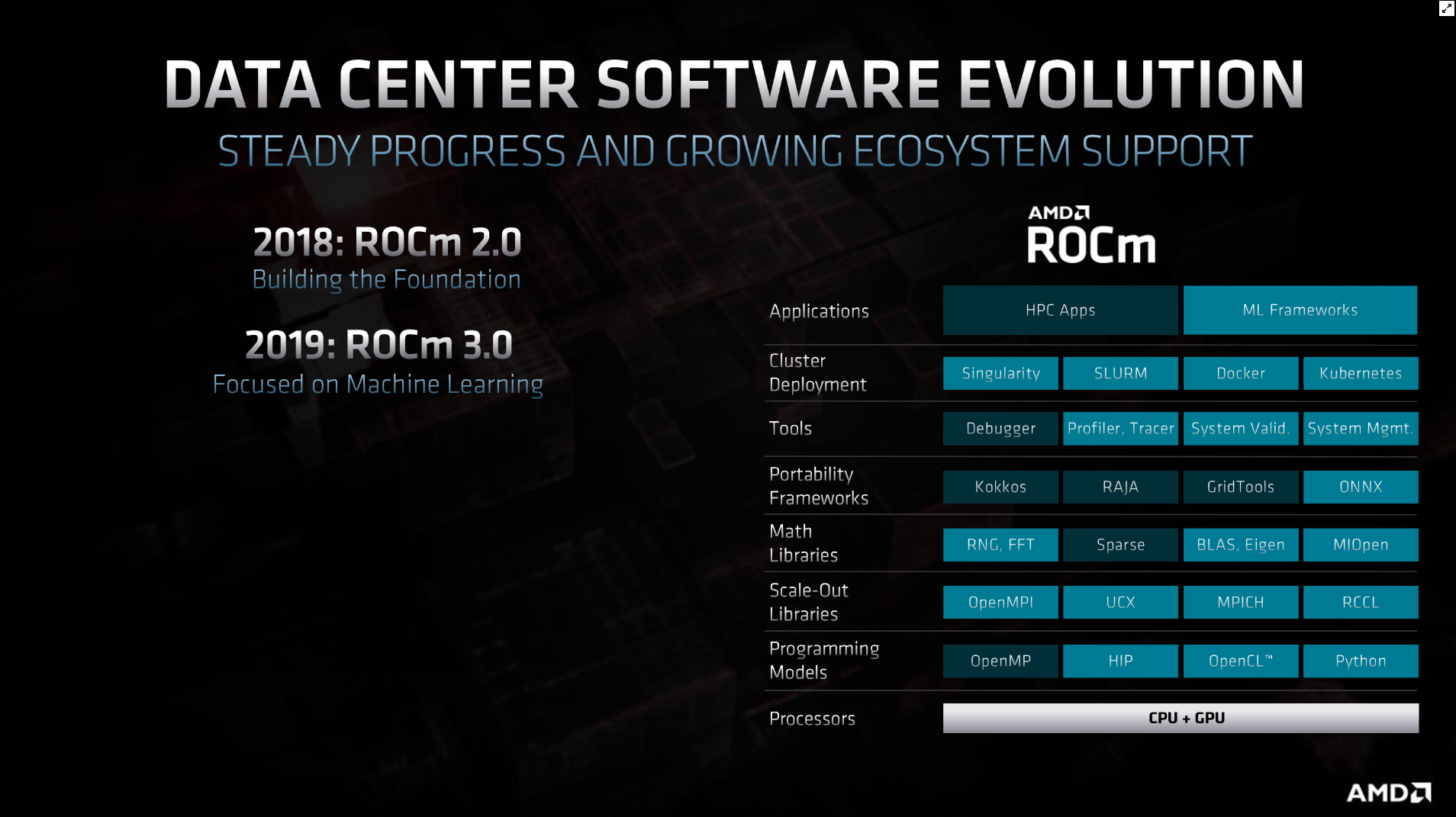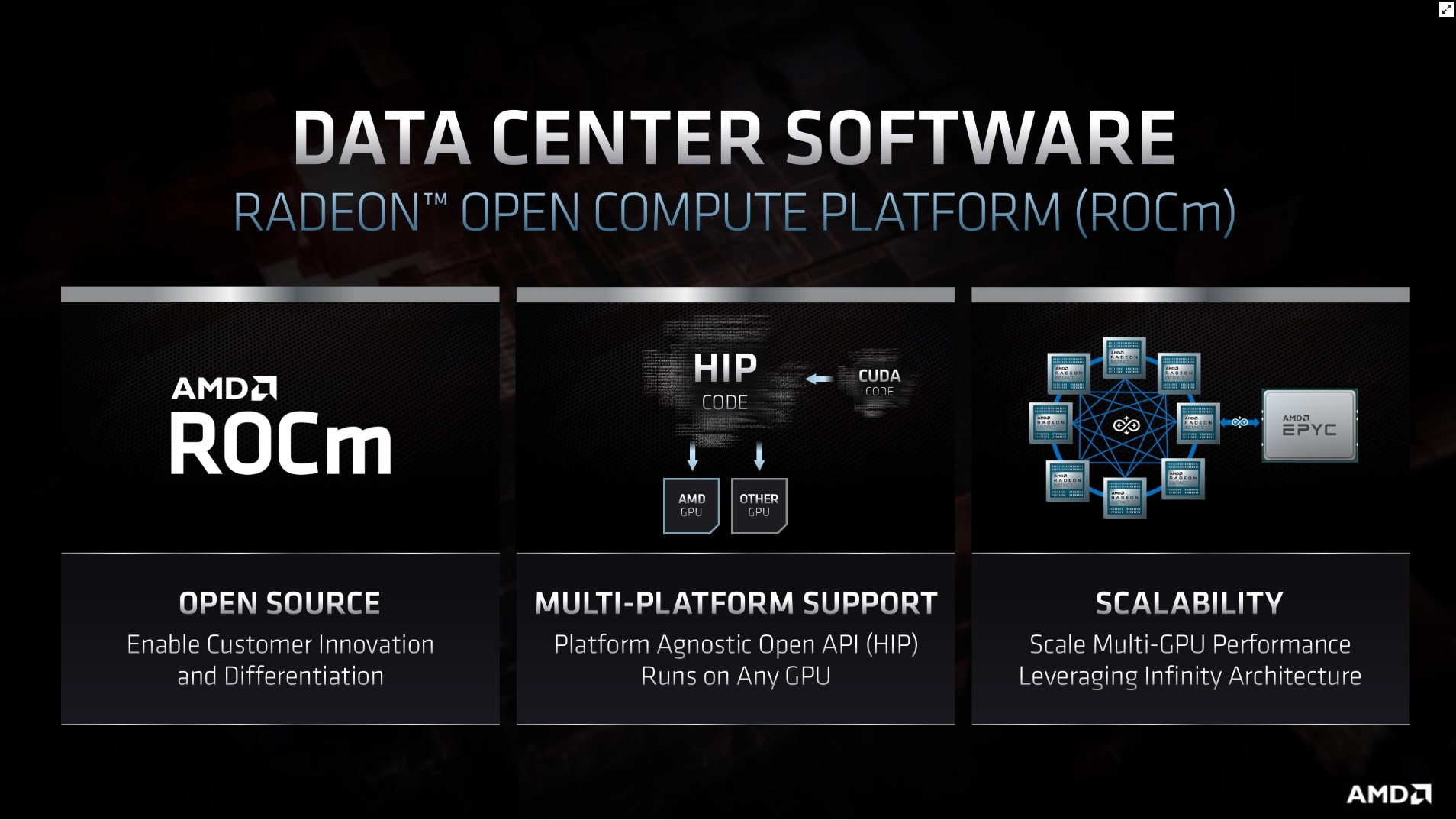 And again "advanced node", no explanation on what that means so far.
It sure seems implied that GCN is a more direct predecessor to CDNA than it is to RDNA...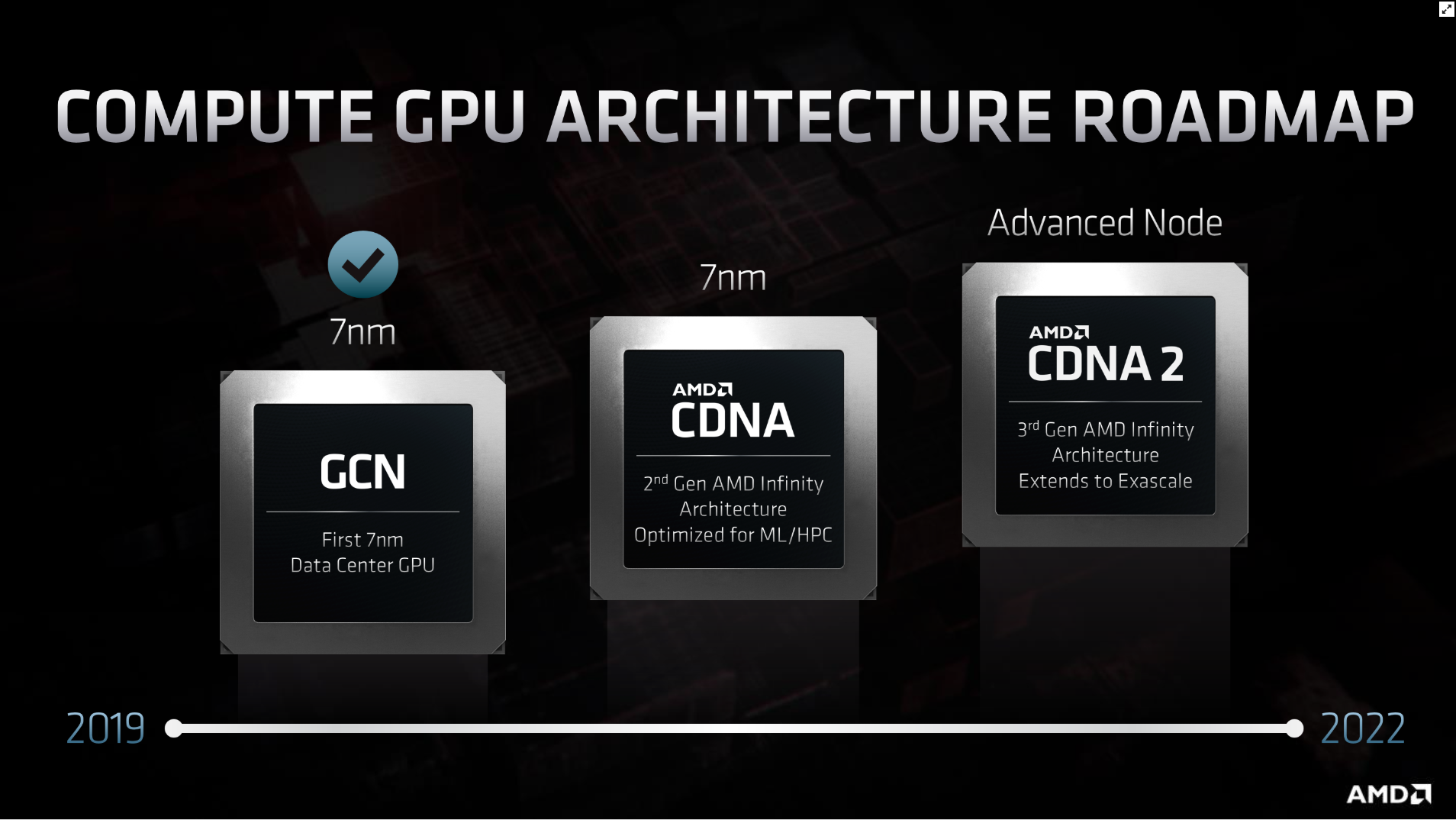 I imagine CDNA is about Arcturus but I figured it was just a Vega derivative.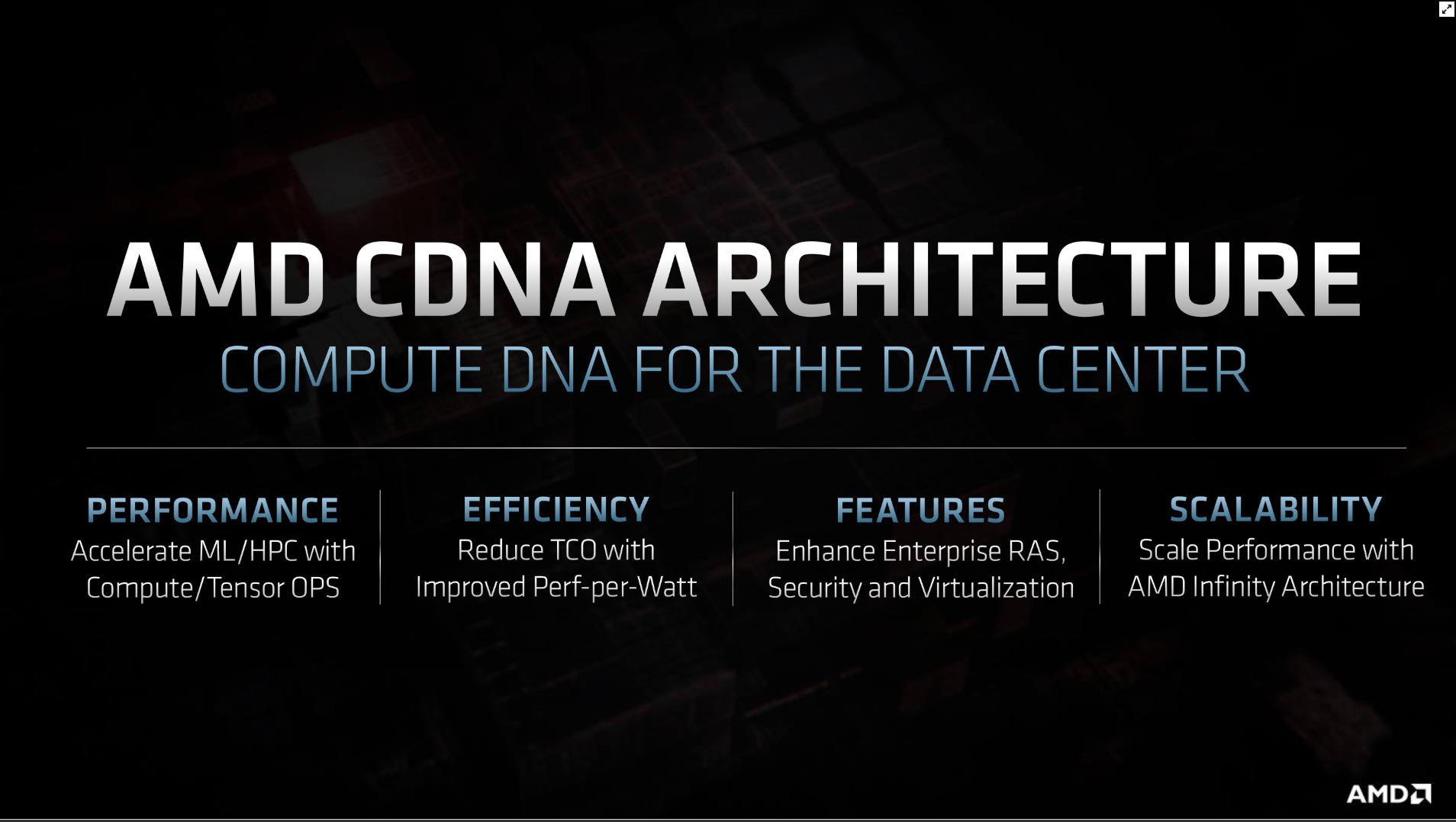 Oh it seems like they have an RDNA2 demo for ray tracing on site.
Is this a signal that Vulkan is getting support on XBox SX and/or PS5?
"Ray tracing adoption has been slow due to lack of software and performance"
50% on top of RDNA is massive, absolutely massive on the same node.
That's not an easy feat given AMD's going from 7nm to just 7nm+ which isn't a huge leap.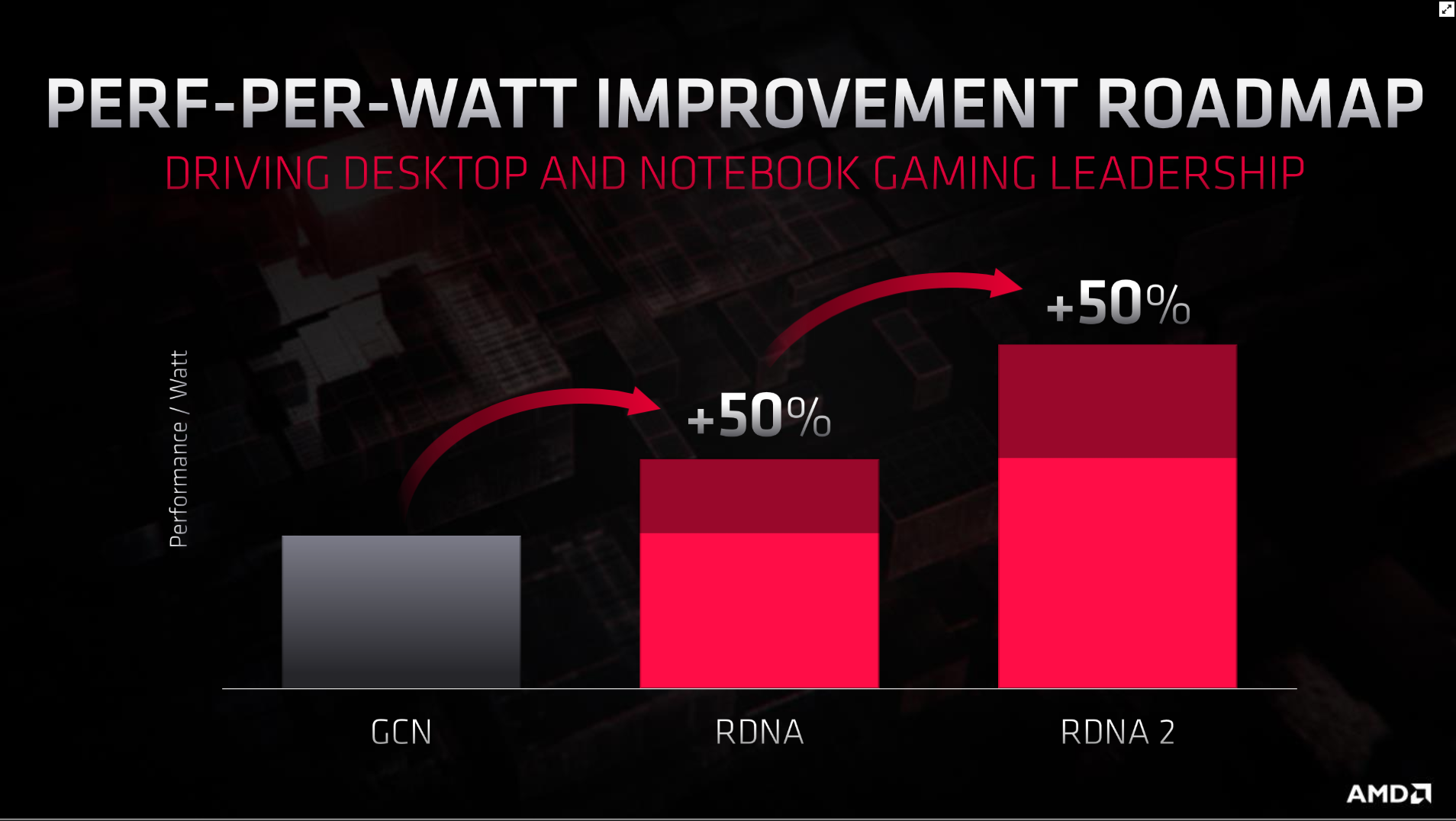 If that slide is legit, we're looking at an enormous perf/Watt improvement with RDNA 2.
I am very skeptical of RDNA2's position on this graph but hopefully it's true, for AMD's sake at least.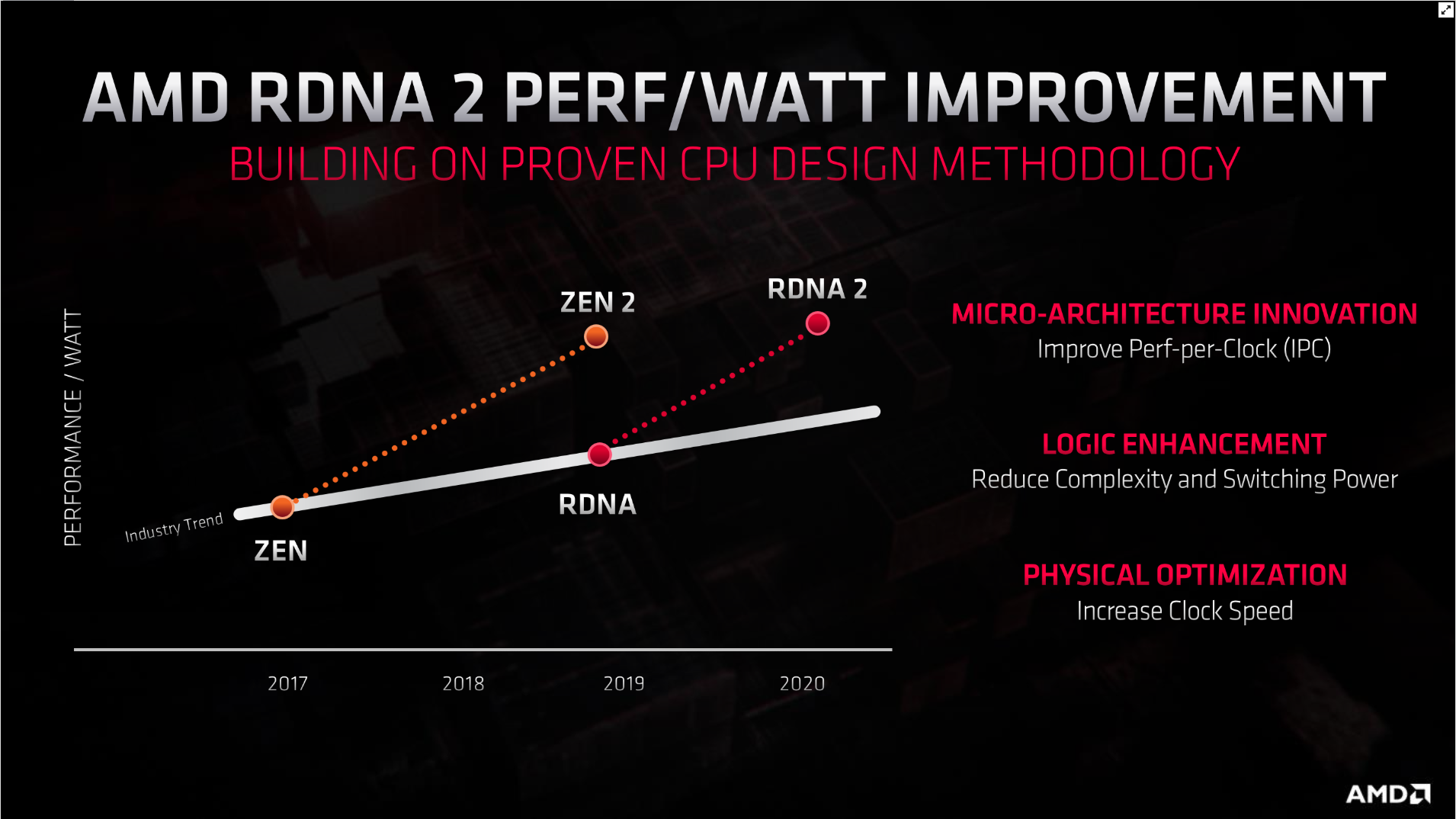 RDNA3 to have better efficiency and more features, not shocking.
Wang couldn't hide his smile while talking about RDNA 2 there.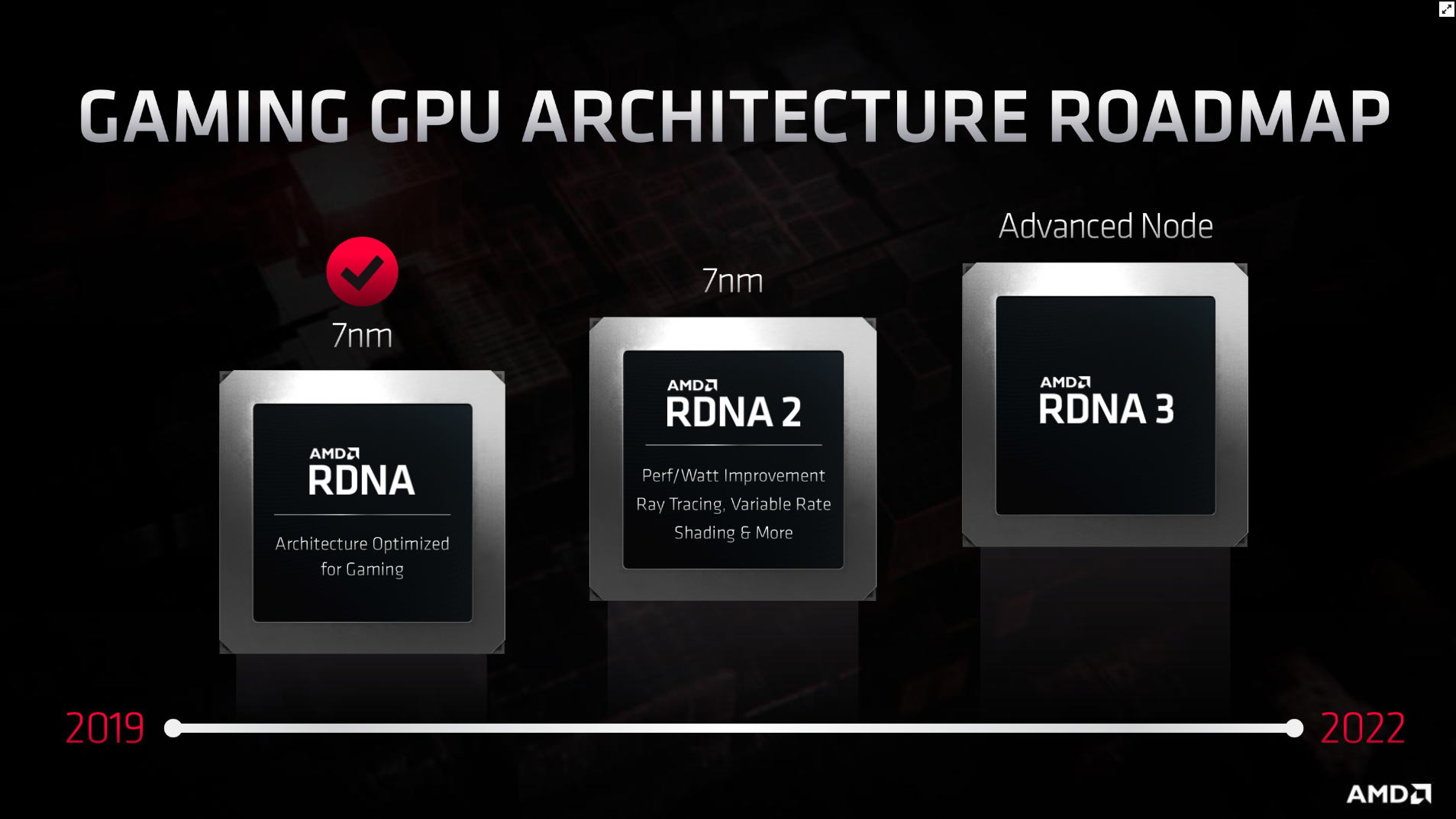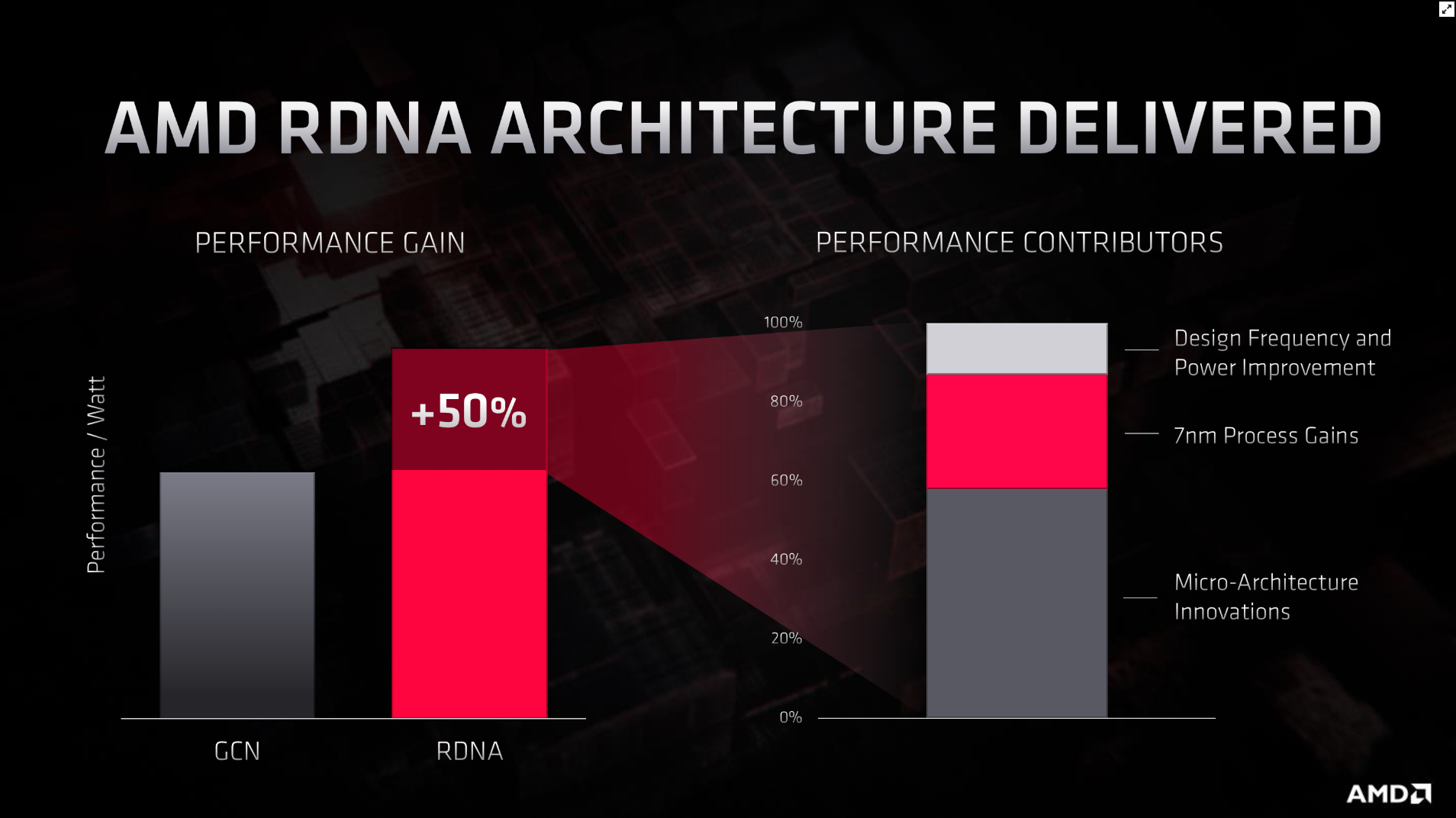 I talked about this stuff 3 years ago.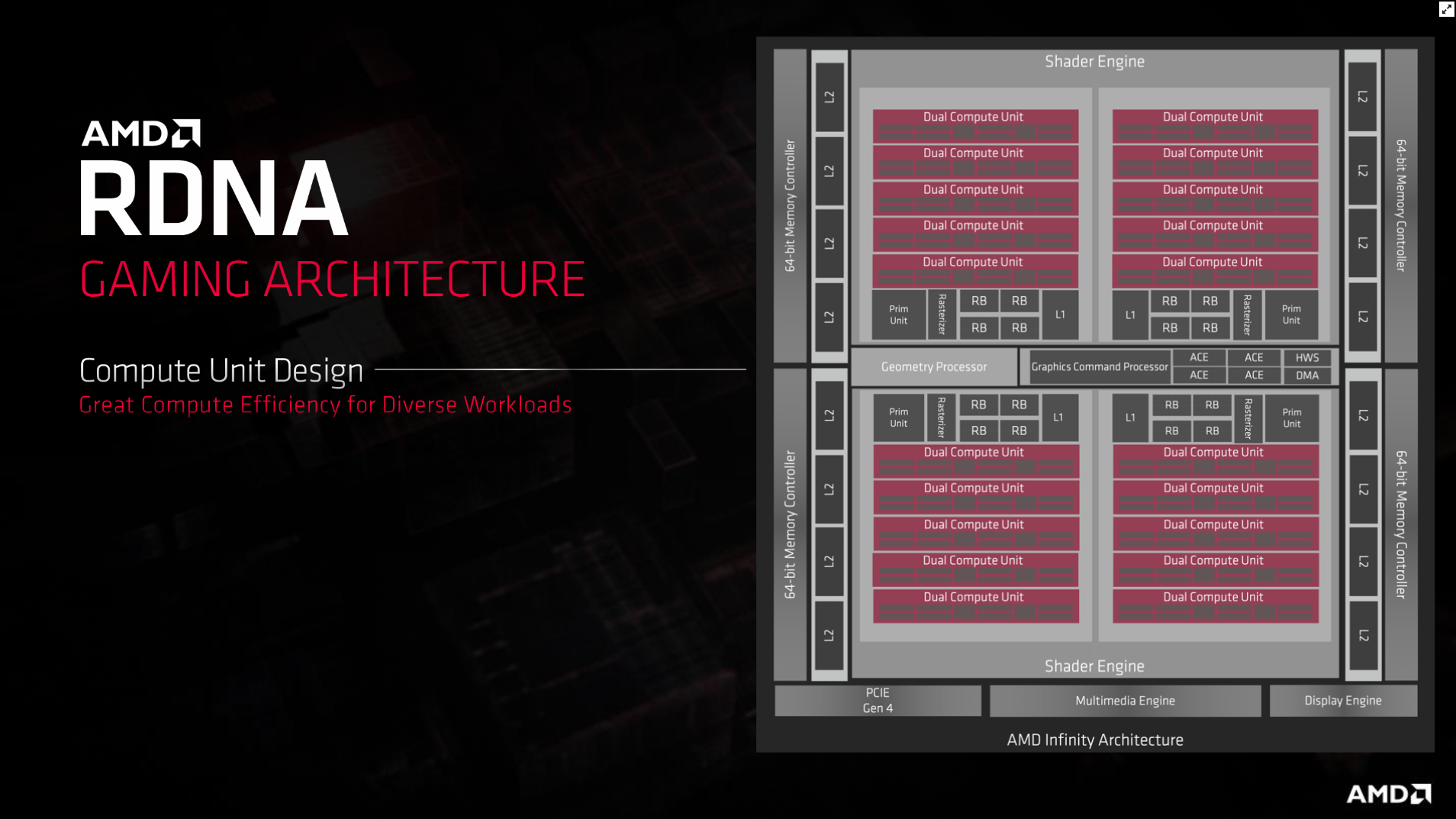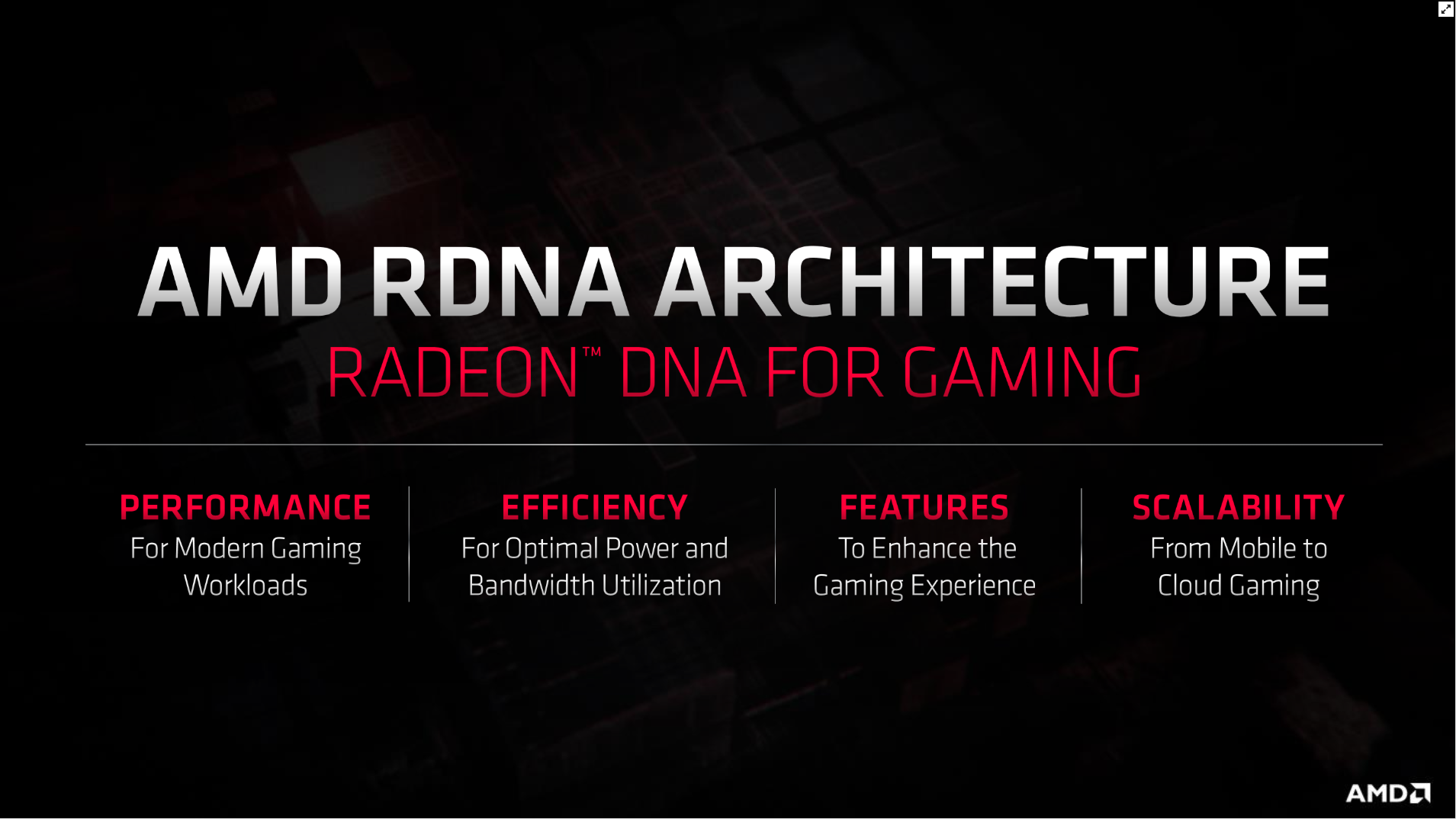 This stuff blows my mind.  Imagine two separate targeted architectures being better than one general architecture at both?

No wonder Nvidia has been ahead so far since Maxwell...
I really wonder what's separating RDNA and CDNA.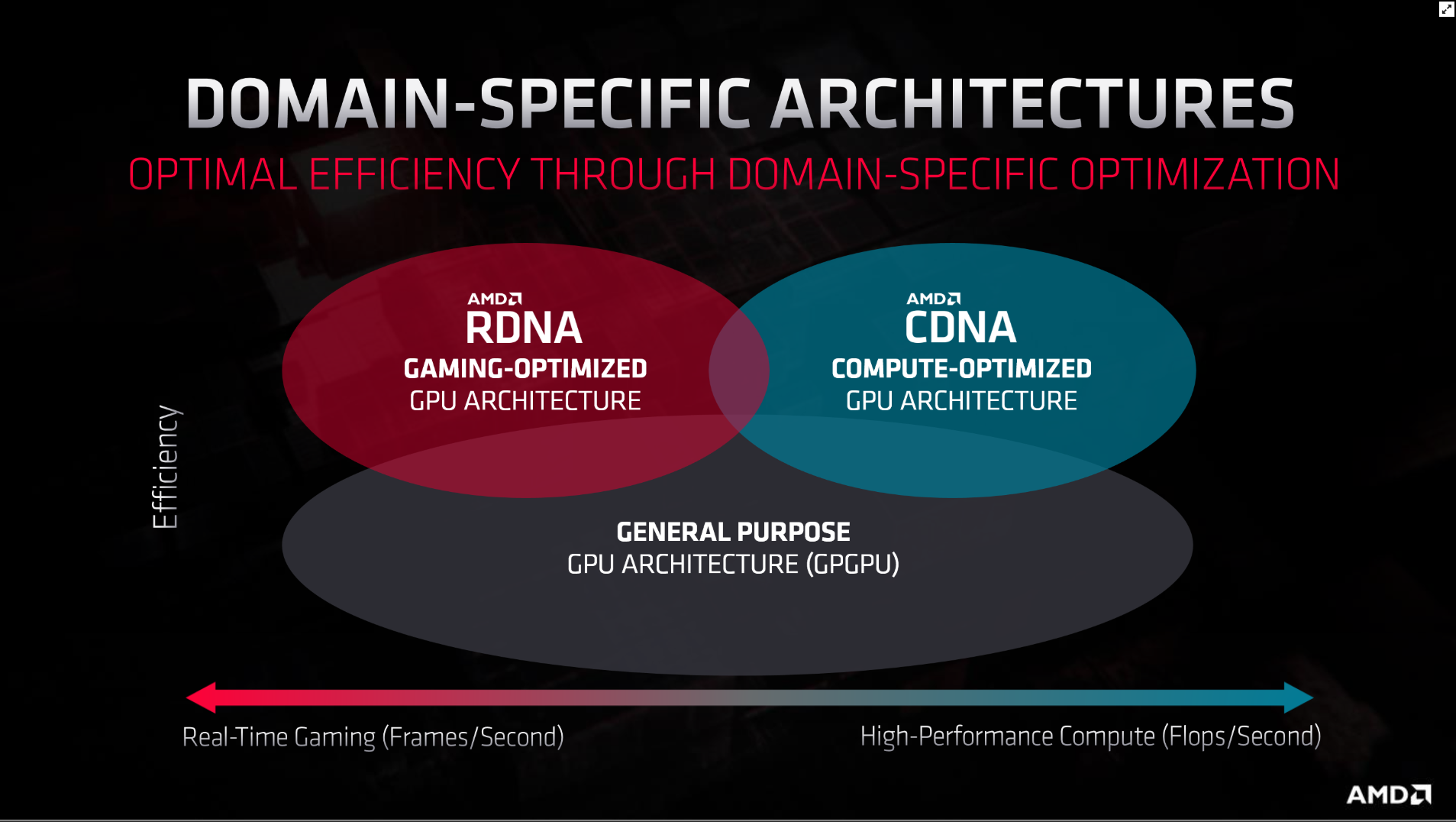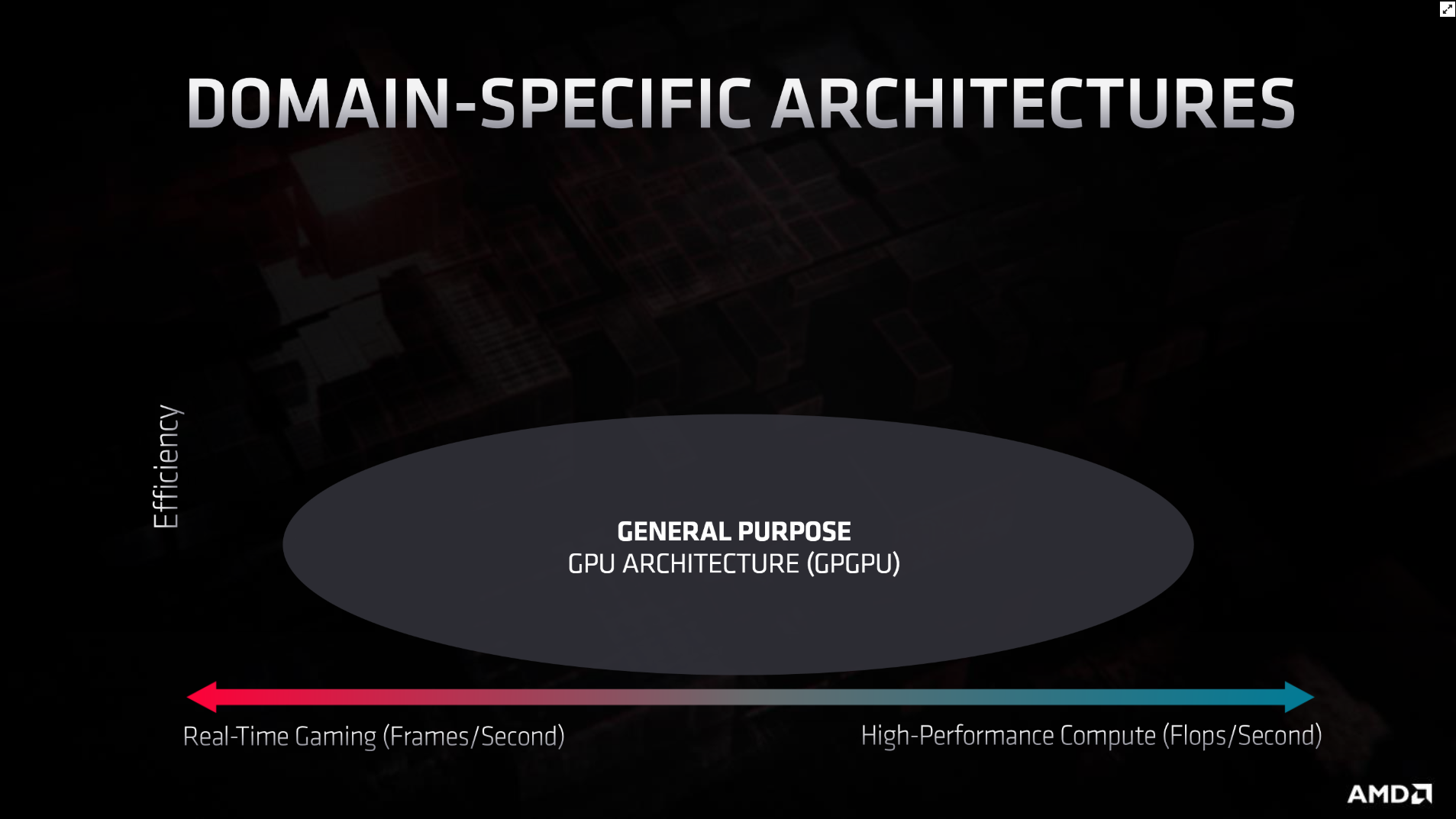 It's good that Wang wants to focus on architecture too since AMD has often struggled with Nvidia despite usually having the better process.
"Domain Specific Optimization", guessing this is CDNA for data center and RDNA for gaming.
"Process is the foundation, but it is not enough"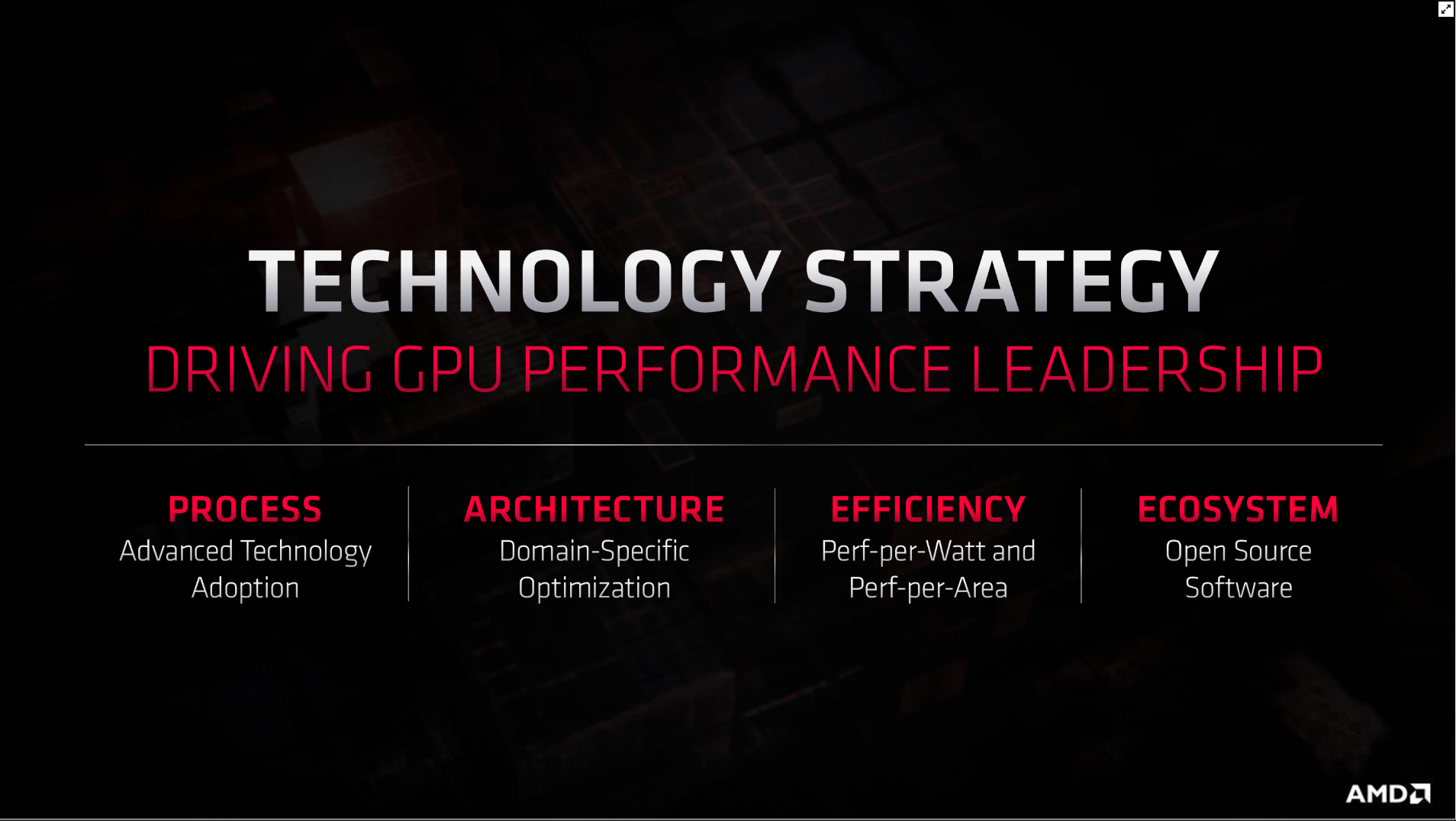 "This is a very, very broad ecosystem"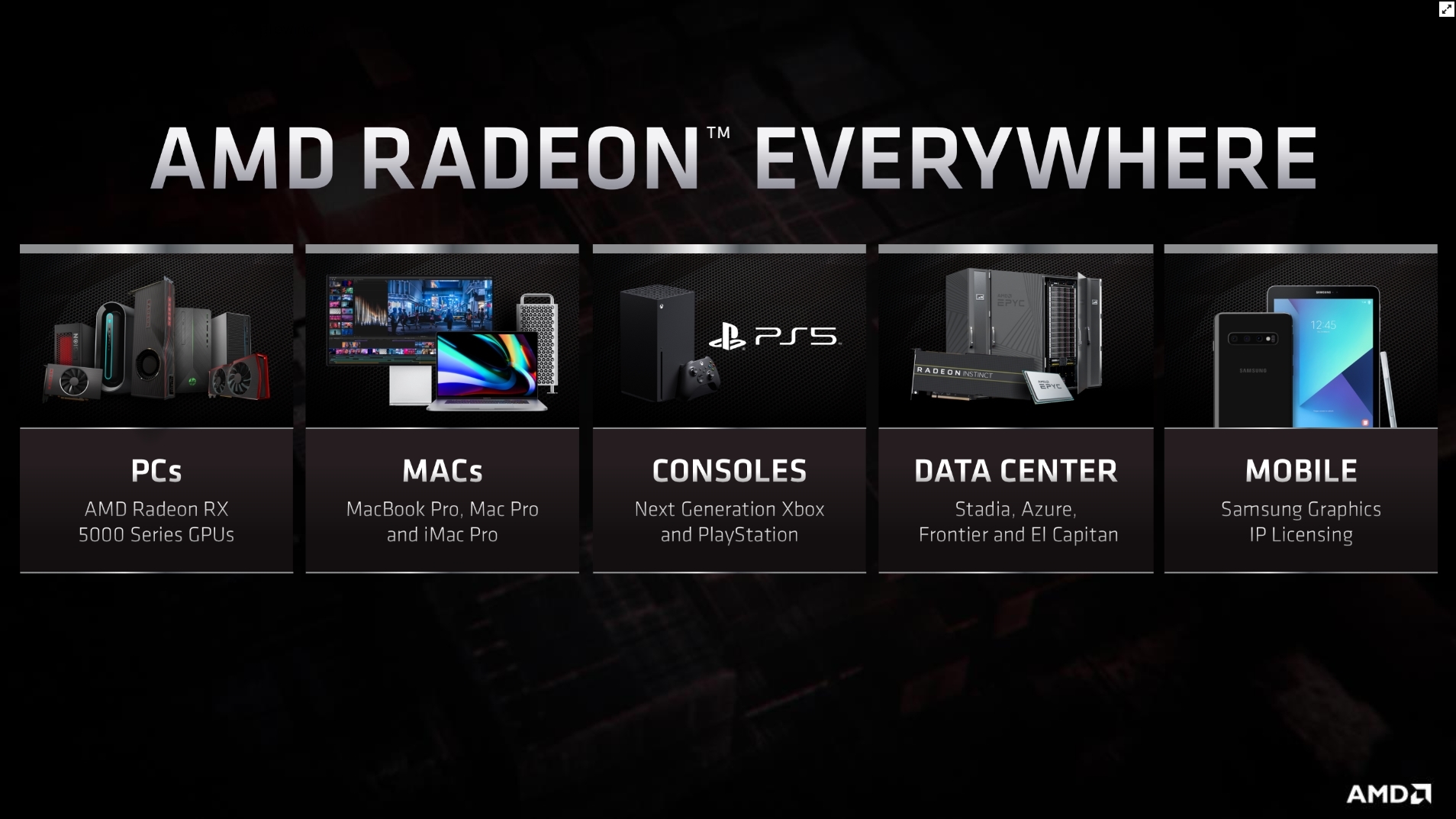 David Wang is on the stage, head of RTG.
I love listening to Papermaster, he's in complete control but never sounds arrogant.
"Our core roadmaps will be relentless"
Looks like David Wang is up next soon.
"We love the fight at AMD"
It really speaks to AMD's growth that this all is so unsurprising. AMD has just been pumping out supercomputer deals.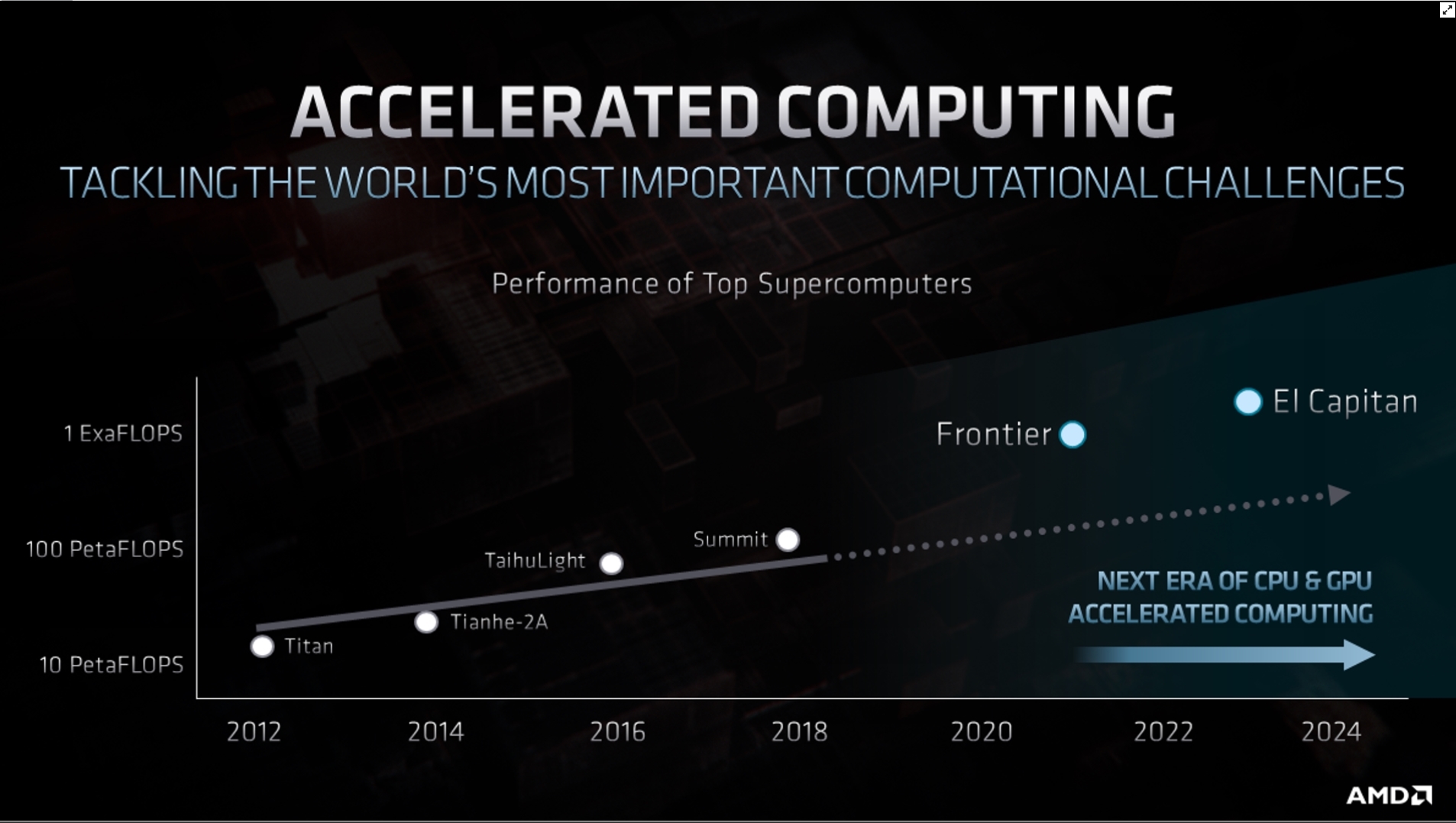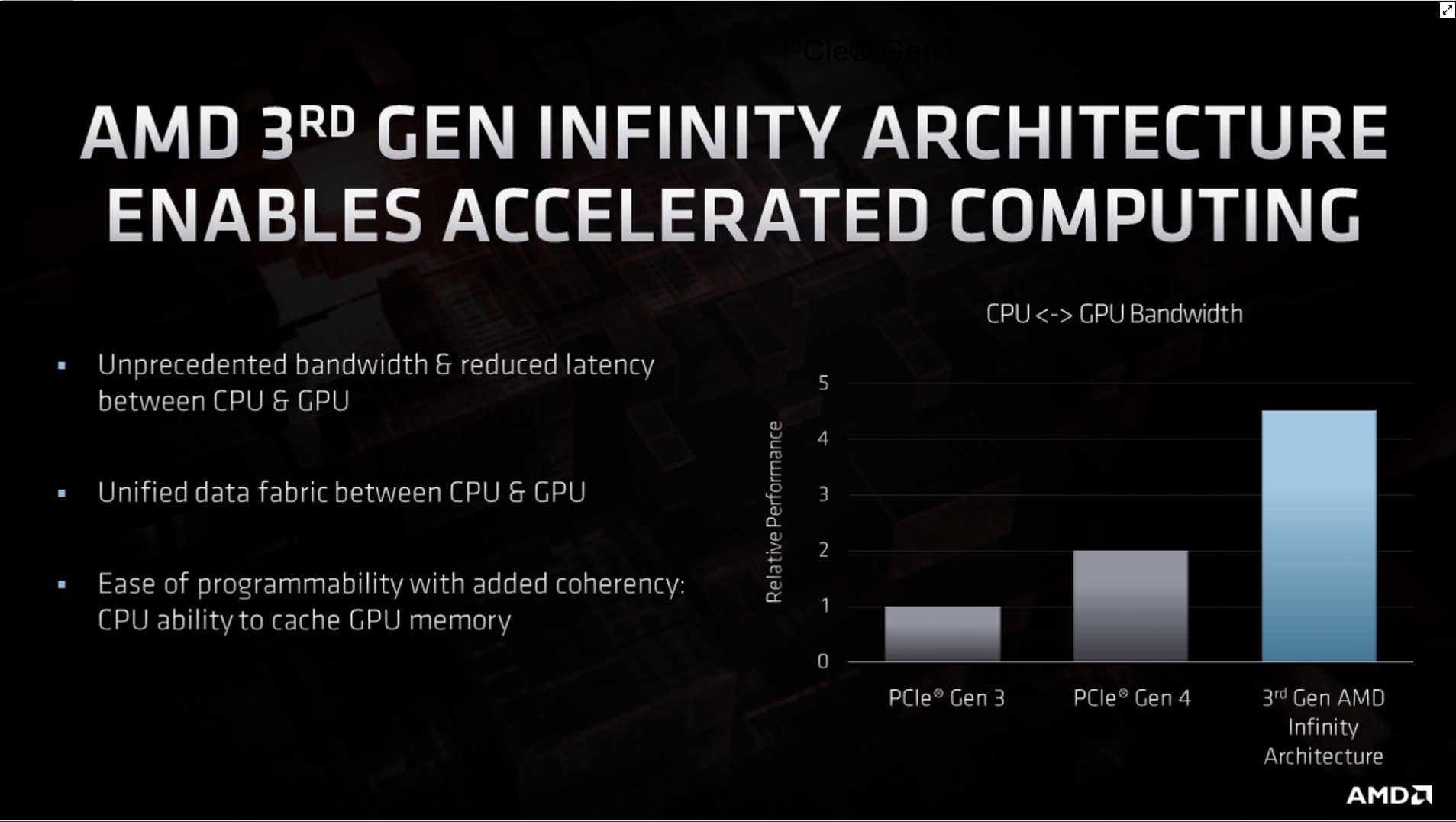 So Infinity Architecture is how other devices connect with each other, Infinity Fabric is more internal.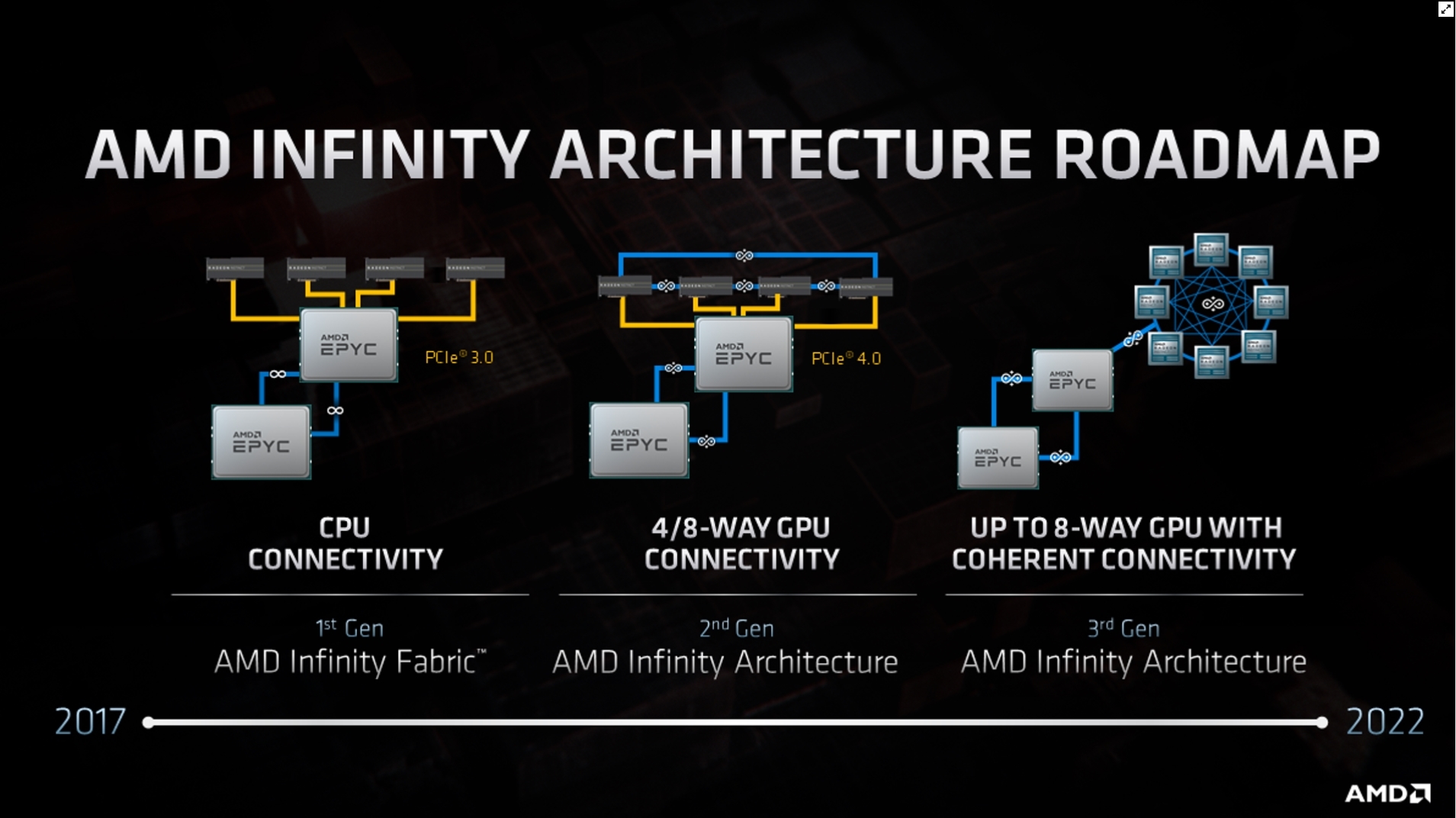 Yep, Infinity Architecture.
Looks like AMD is going to be stacking memory and not processors.
I always liked how Fiji looked, but it's a good thing we've moved on from single GB stacks of HBM.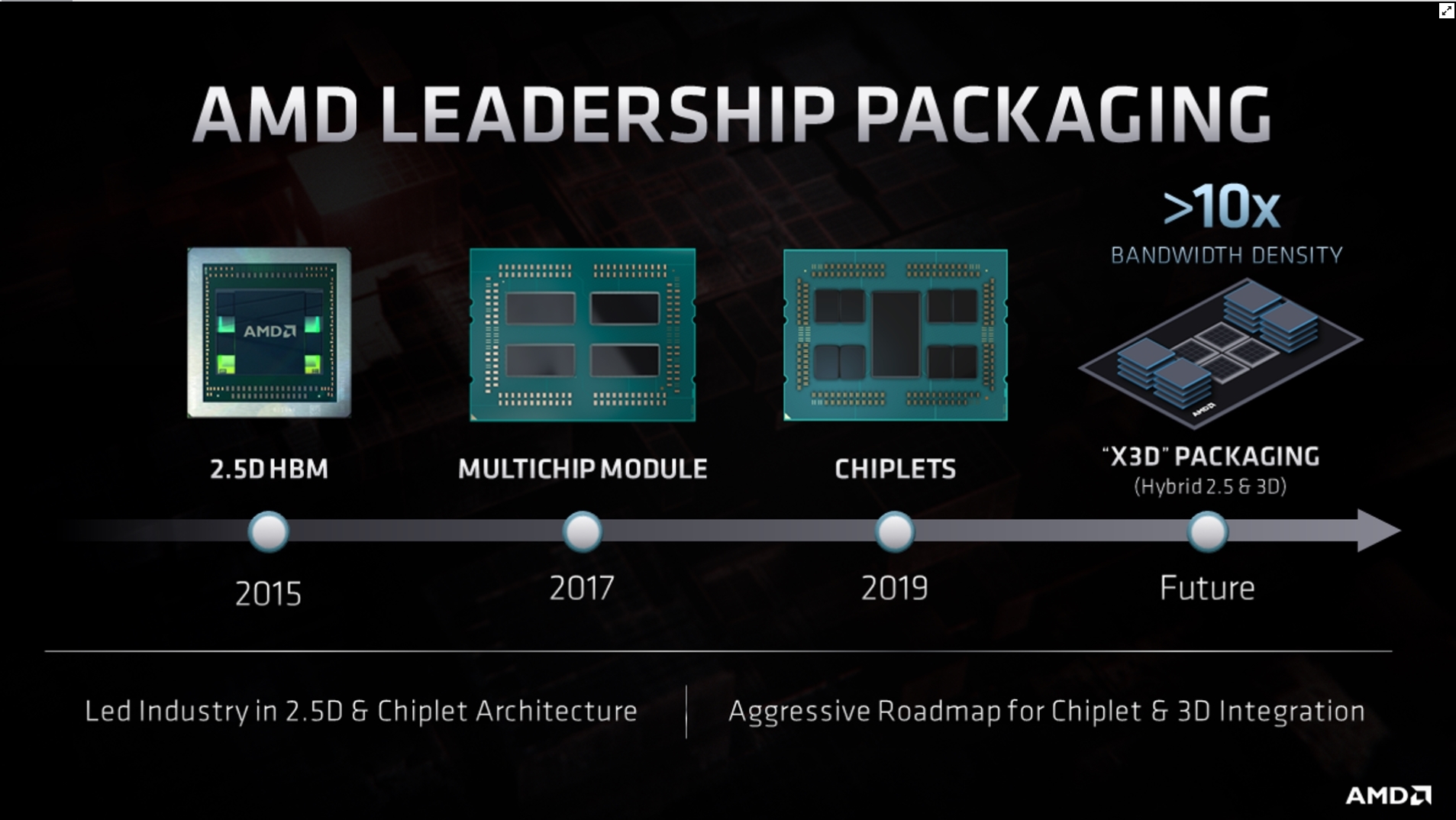 Good that AMD won't be getting complacent, or at least that's what Papermaster promises.
"Competitors will come back at some point"
TSMC (and AMD who uses TSMC's nodes) are in a position of dominance thanks to Intel's failure to keep up.
I would definitely agree with this chart, Intel is mostly done here. Intel recently said 5nm would reclaim their leadership but I'll believe it when I see it.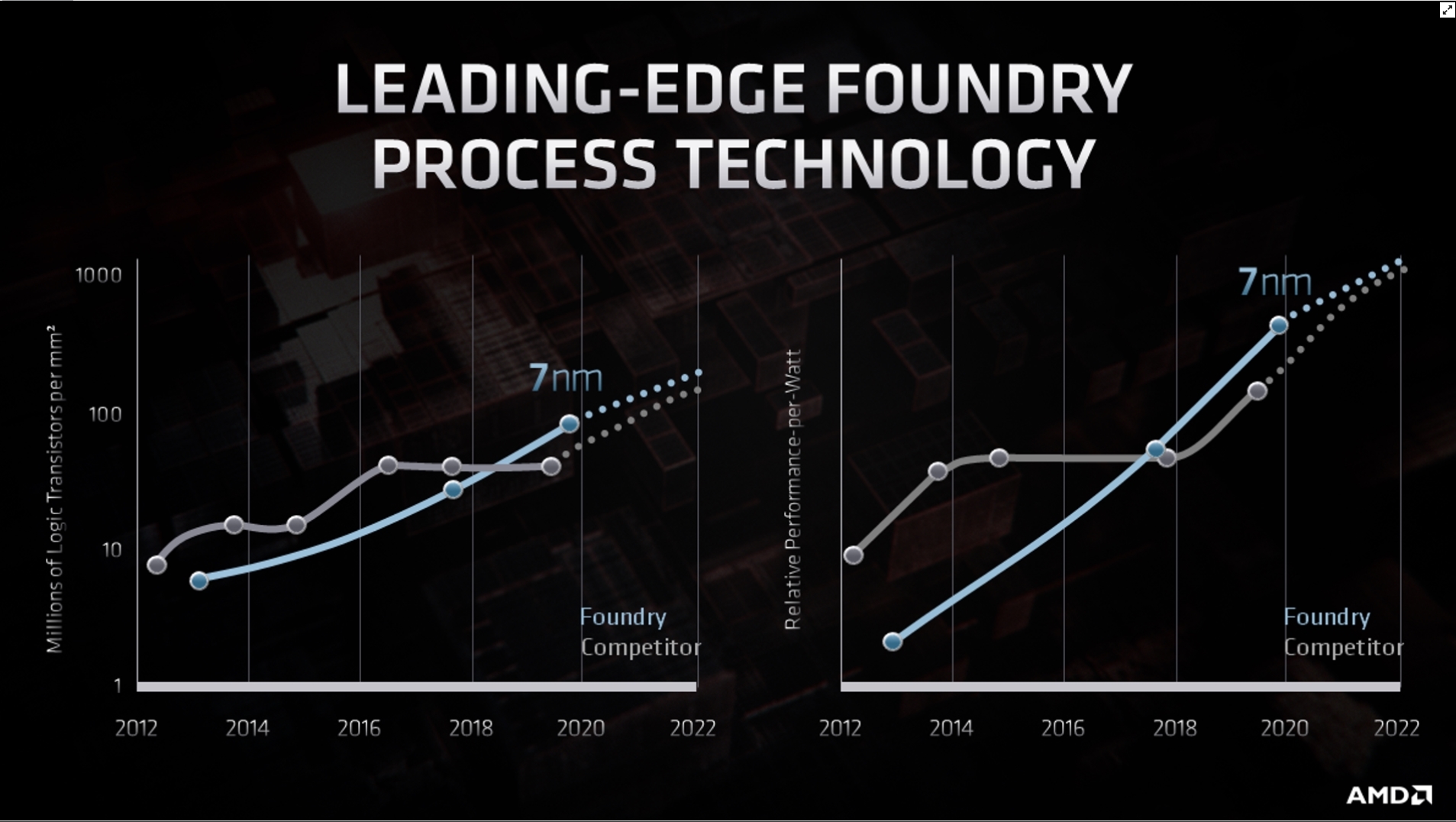 We could be seeing Zen 3 in Q4 or maybe later in Q3.
Zen 3 on track for delivery late this year.
Zen 3 is late this year, not later this year. Interesting.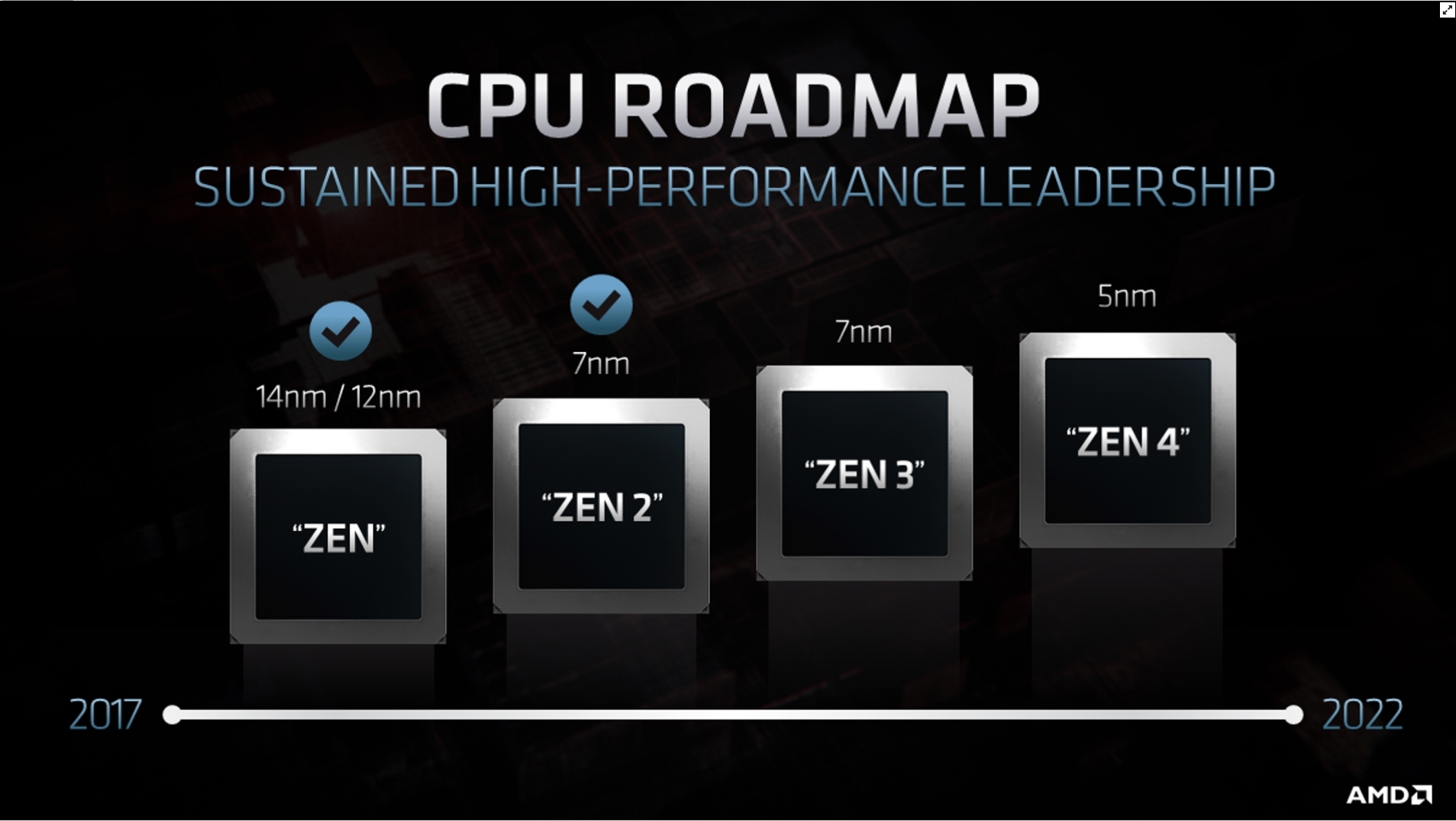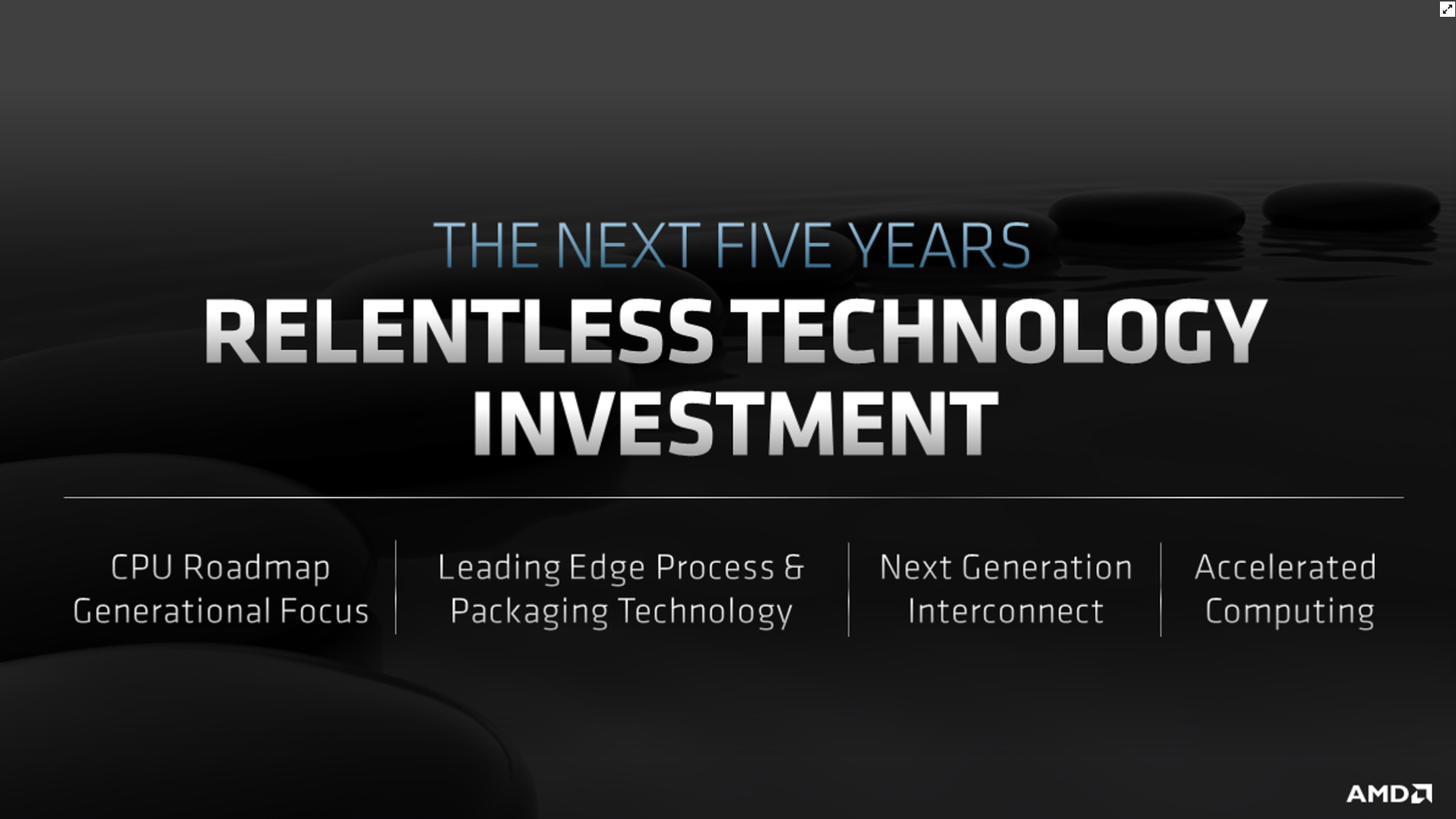 Zen "cores" seems like marketing fluff to me, with a doubling of cores last generation...
AMD has remained far away from virtually all of the CPU vulnerabilities in recent years but who knows if that will persist.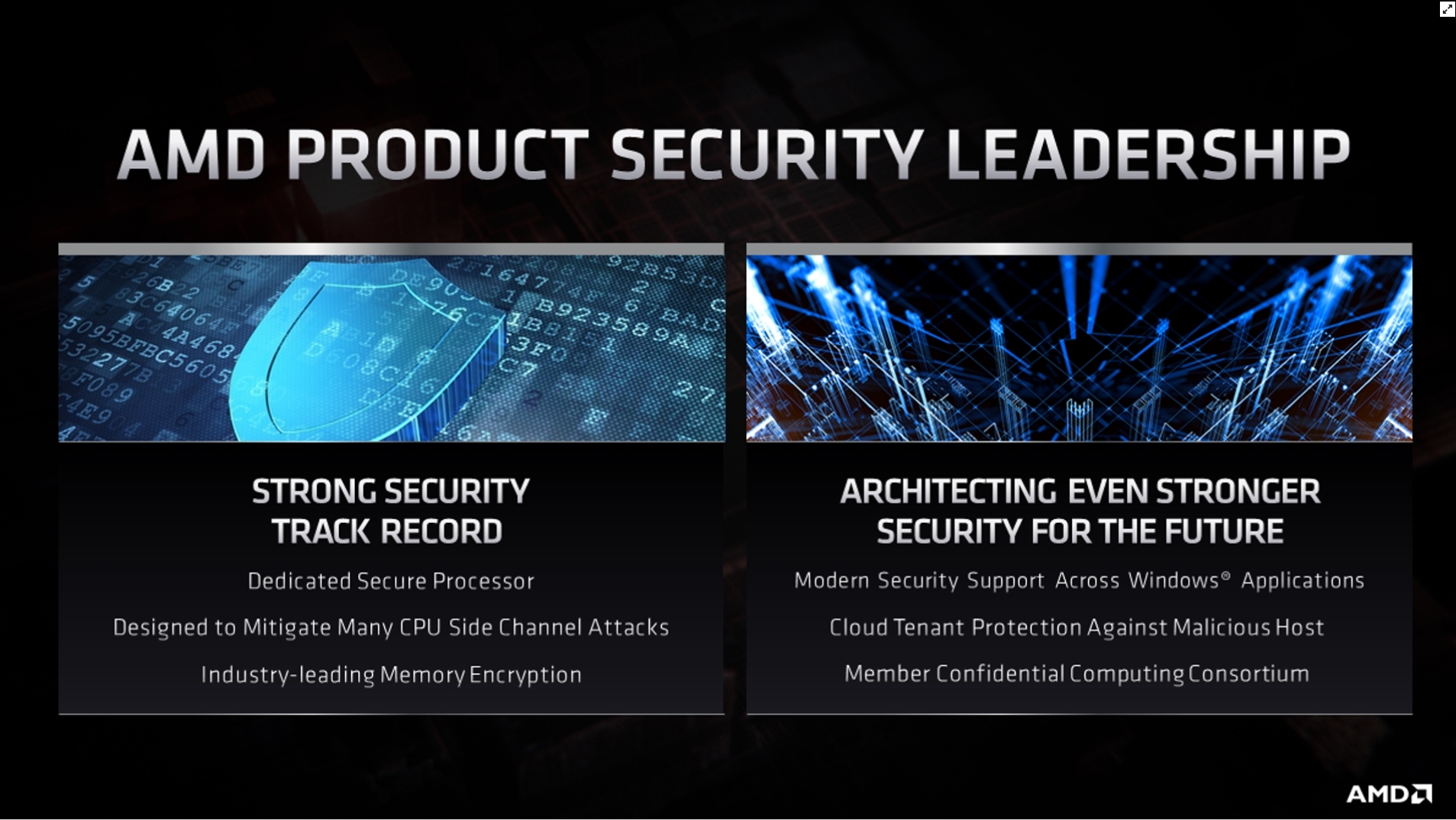 Unsurprising that Zen 2 has accelerated AMD's rise given the increase in core count and the high demand for those cores. Just look at retailers, AMD stuff is everywhere.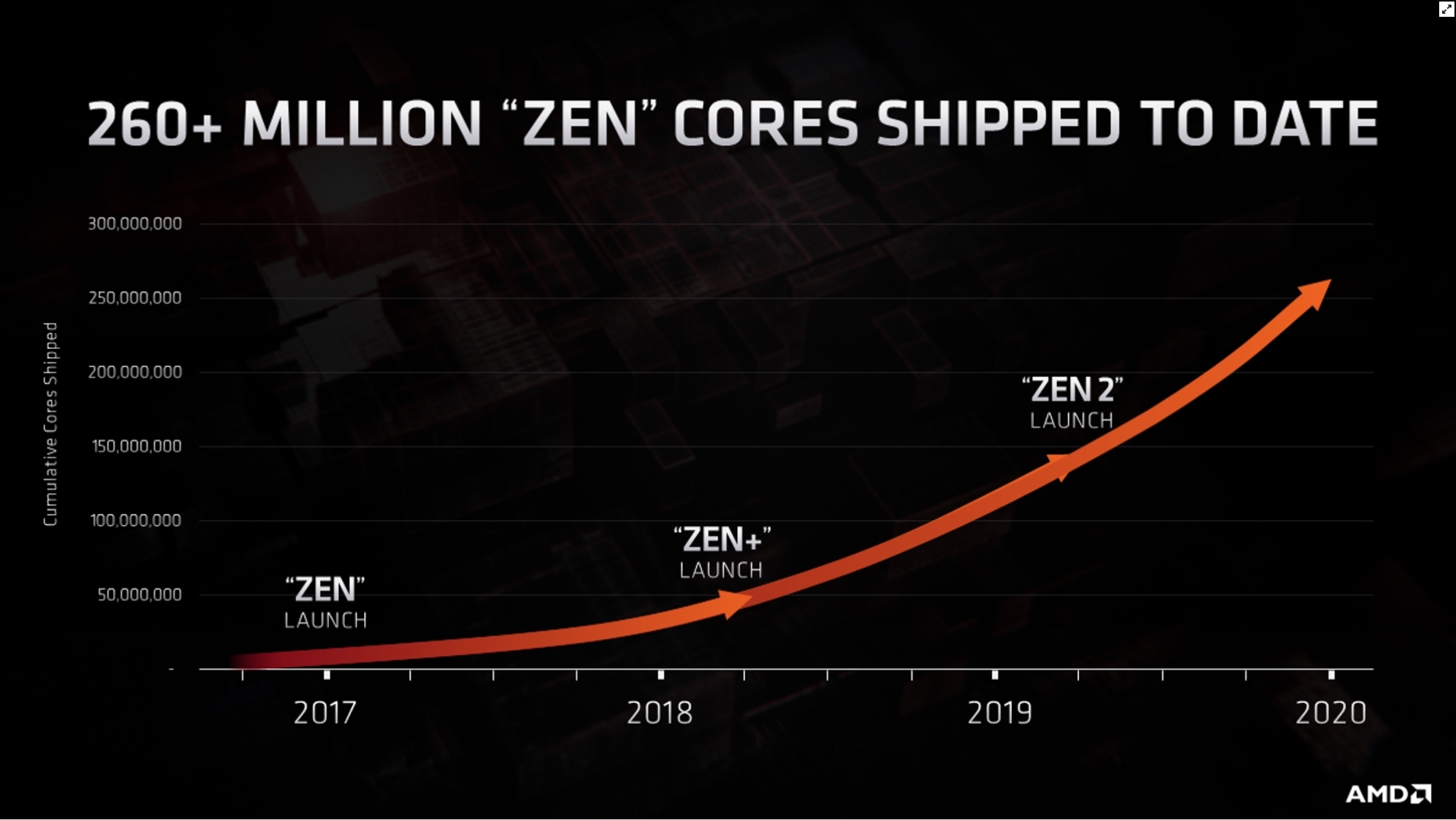 I fully expect Zen 3 to beat that 21% figure, too.
Zen 2 over Zen+, a 21% single thread improvement. And that was higher than AMD was initially going for, too.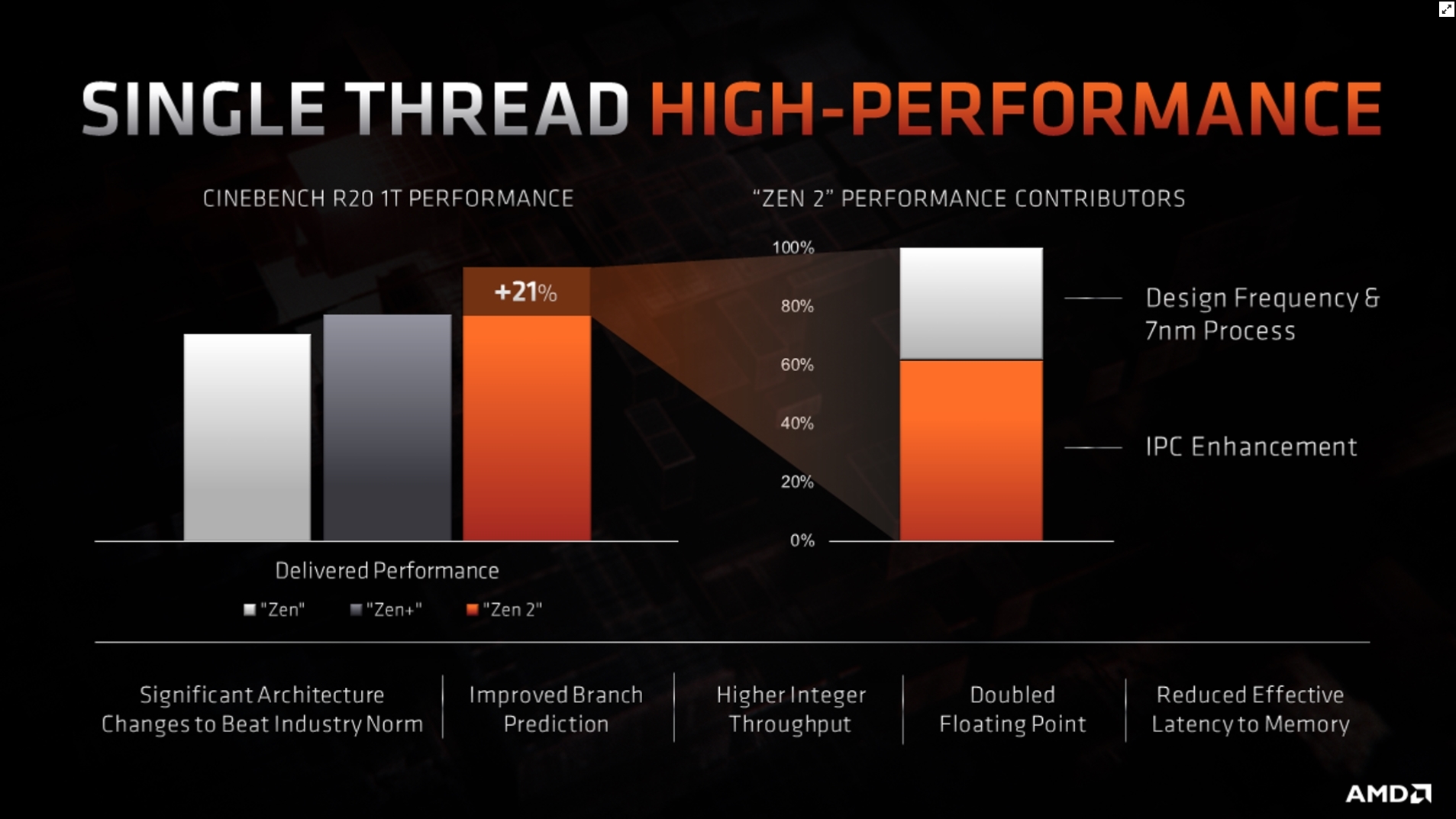 Did they rename Infinity Fabric to Infinity Architecture or something?
Hopefully this is a jumping off point into Zen 3 (and maybe 4) but I have a feeling Papermaster's segment is mostly focused on summarizing the past year for AMD.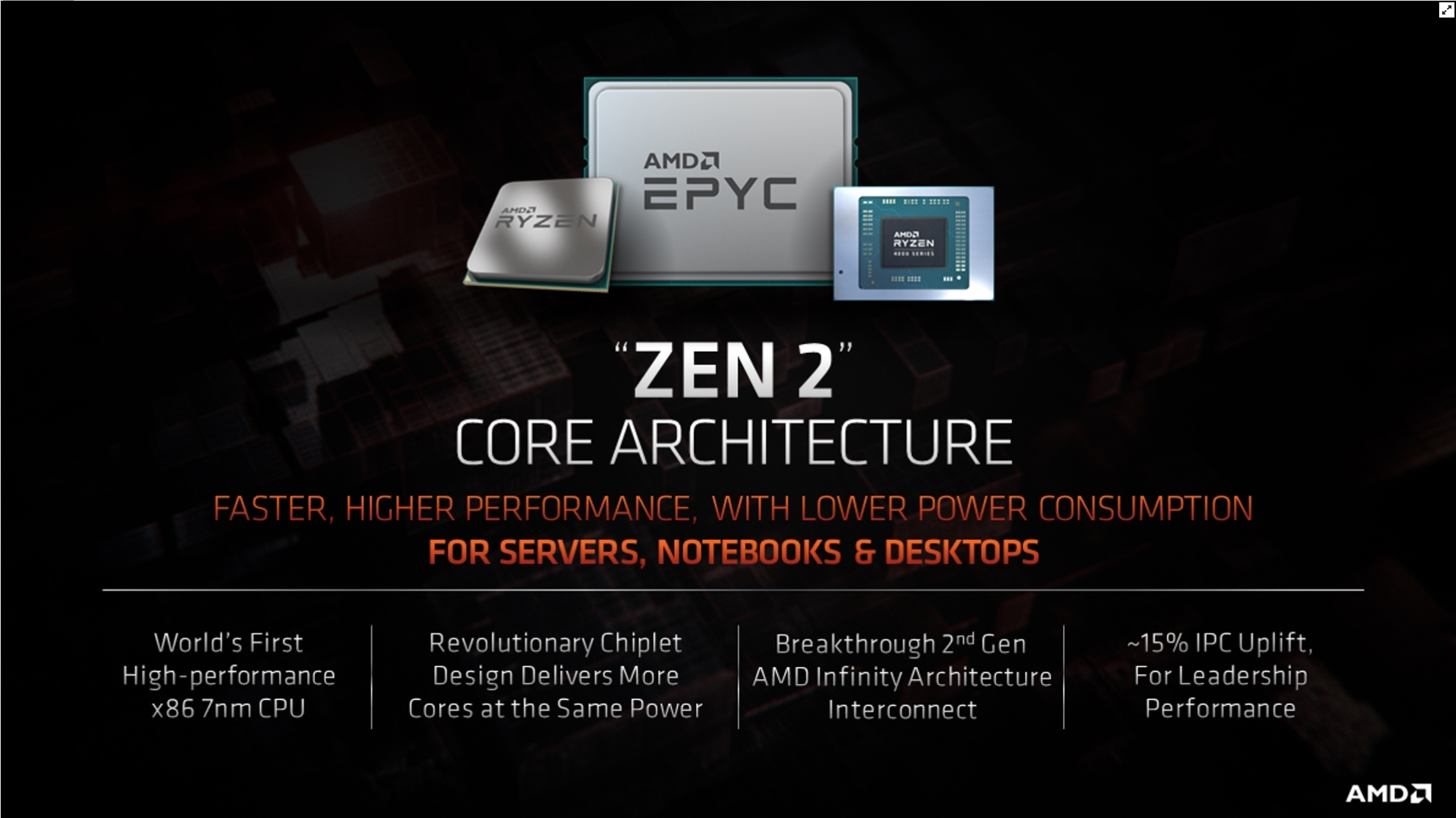 They've done an incredible job on 7nm, there's no denying it.
AMD really pushed 7nm forward quickly, Summer 2019 was pretty crazy from what I remember.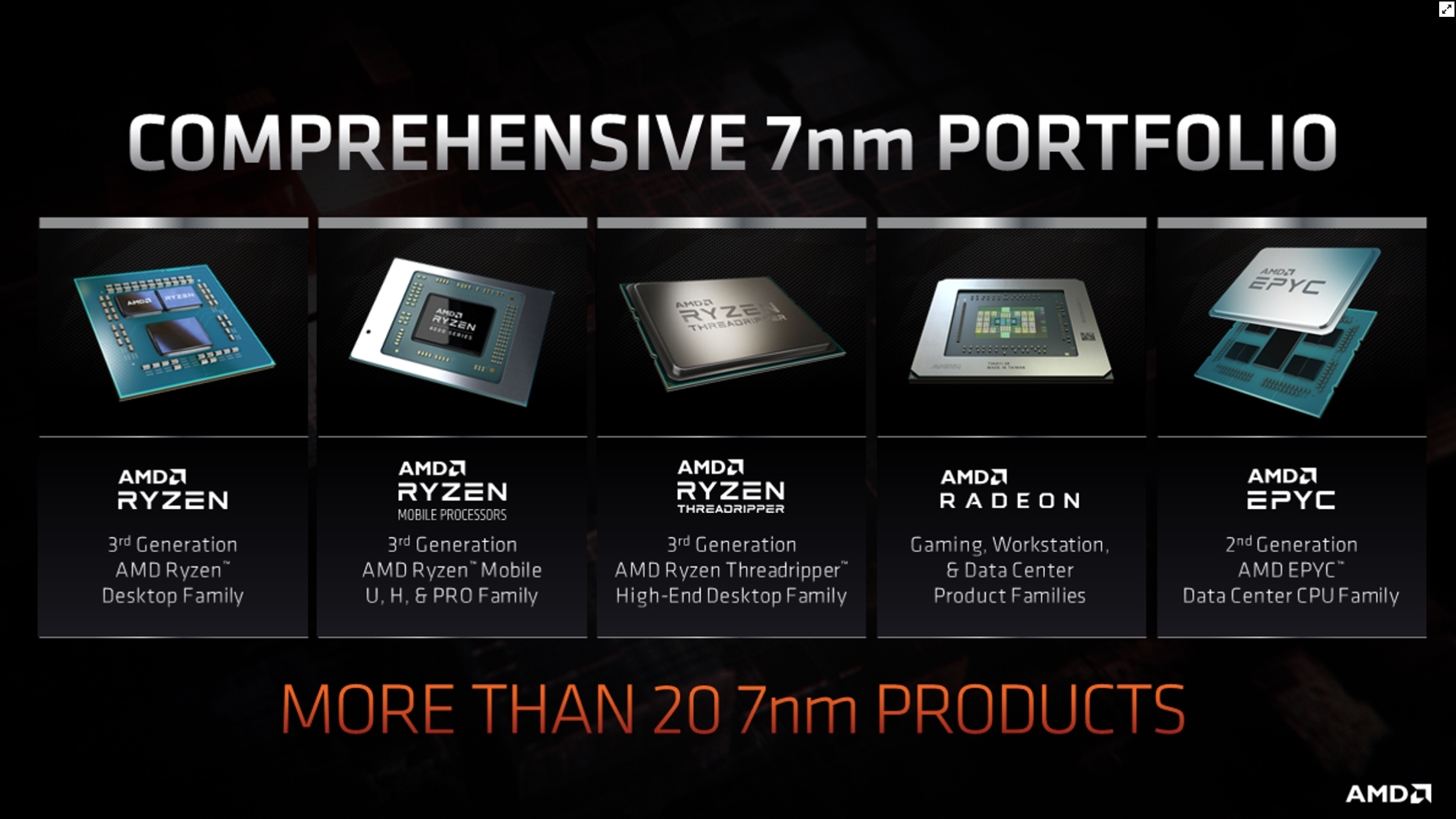 "This is the new normal at AMD"
"We can evaluate features before silicon even arrives by simulation"
The leapfrogging idea has worked very well for AMD, Zen 2 came out recently and we're already looking to Zen 3, for example.
"A shift to a culture of high performance, collaboration, and top flight engineering execution"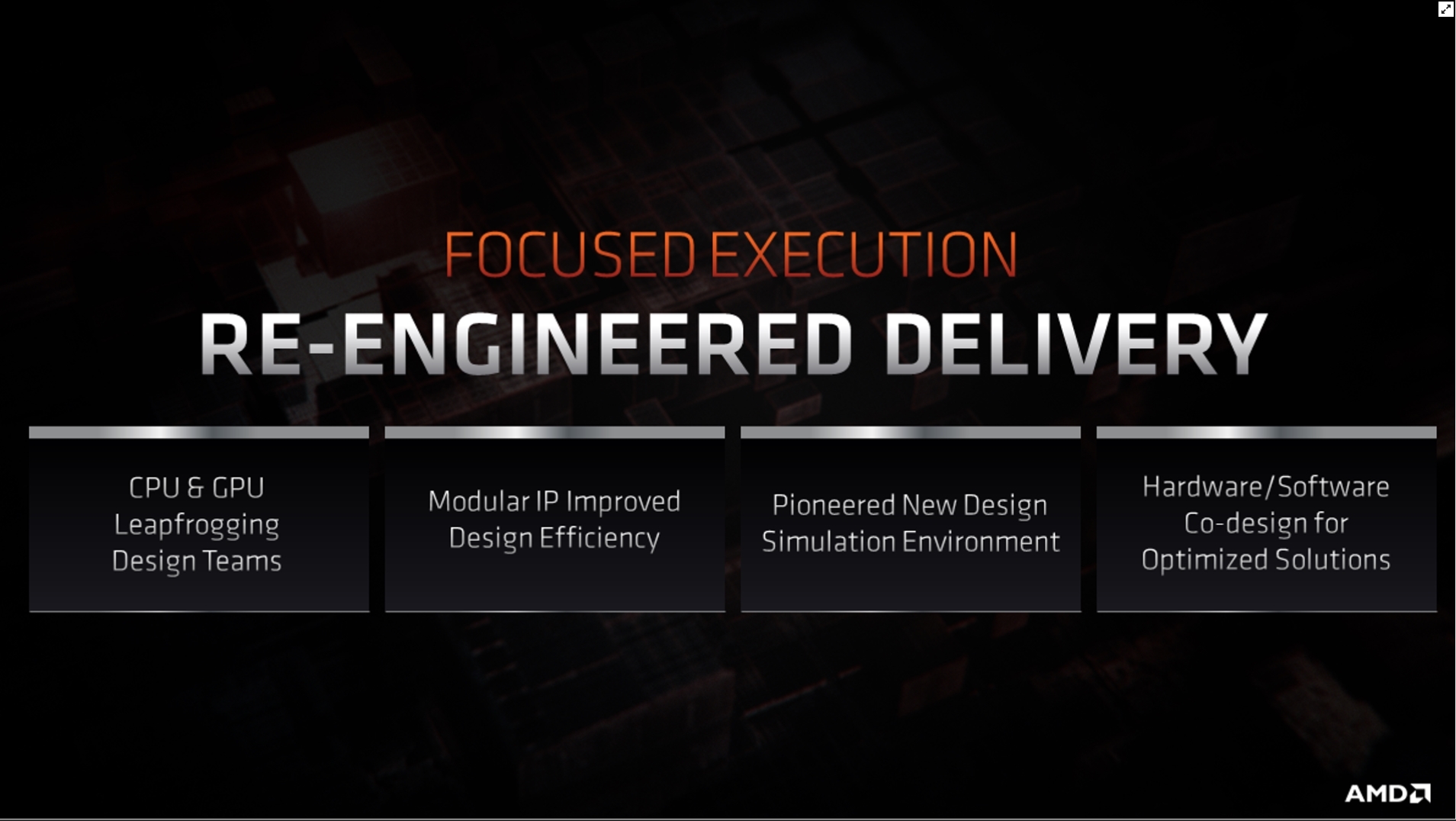 Seems like everything AMD bet on turned out well.
"We made a set of tough calls on investments"
It's unsurprising given many of these segments were stagnant for so many years thanks to an uncompetitive AMD and Intel until 2017.
"There is incredible demand for more power in each of these segments"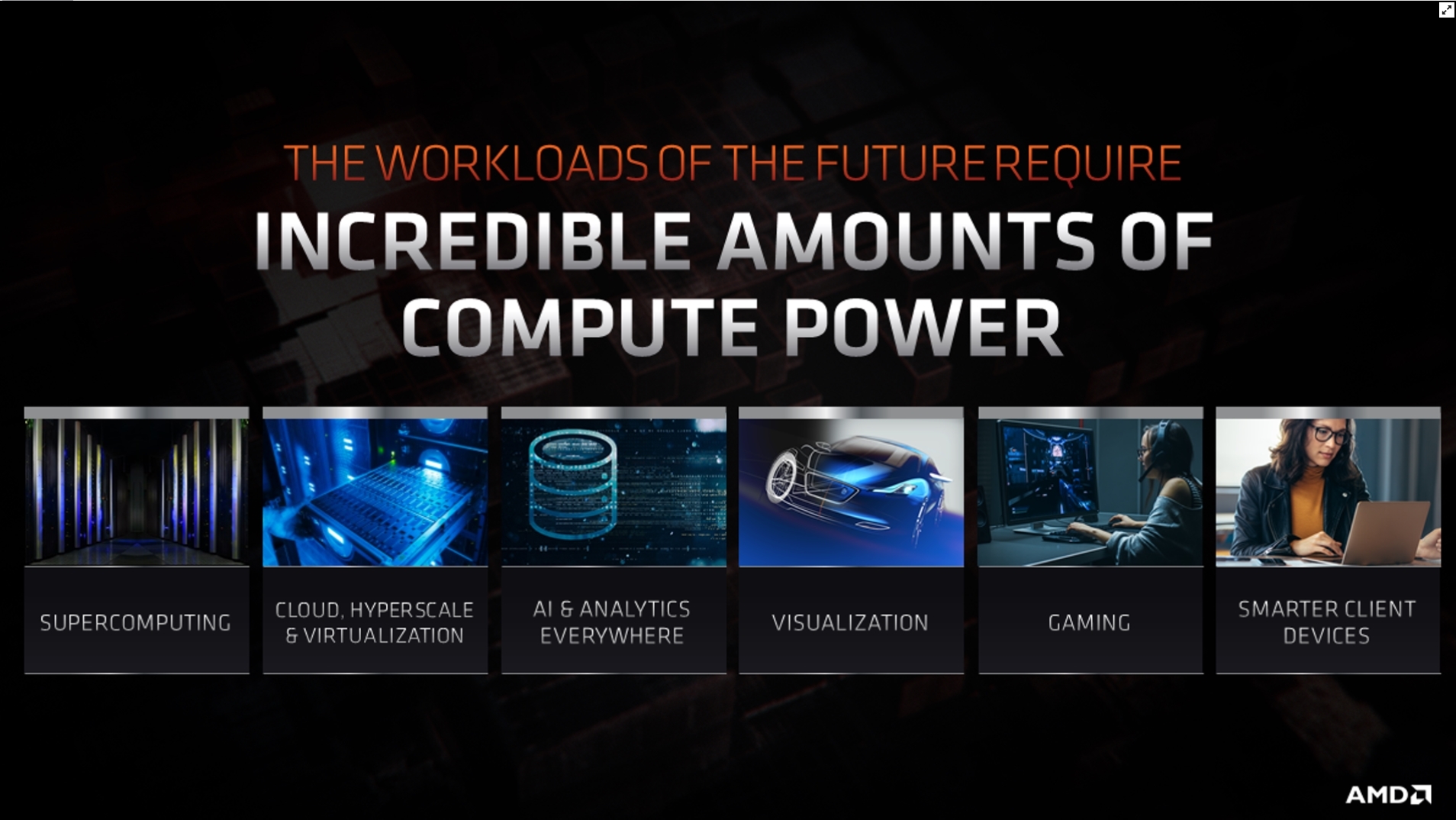 Mark Papermaster on the stage.
So Su's part is coming to a close.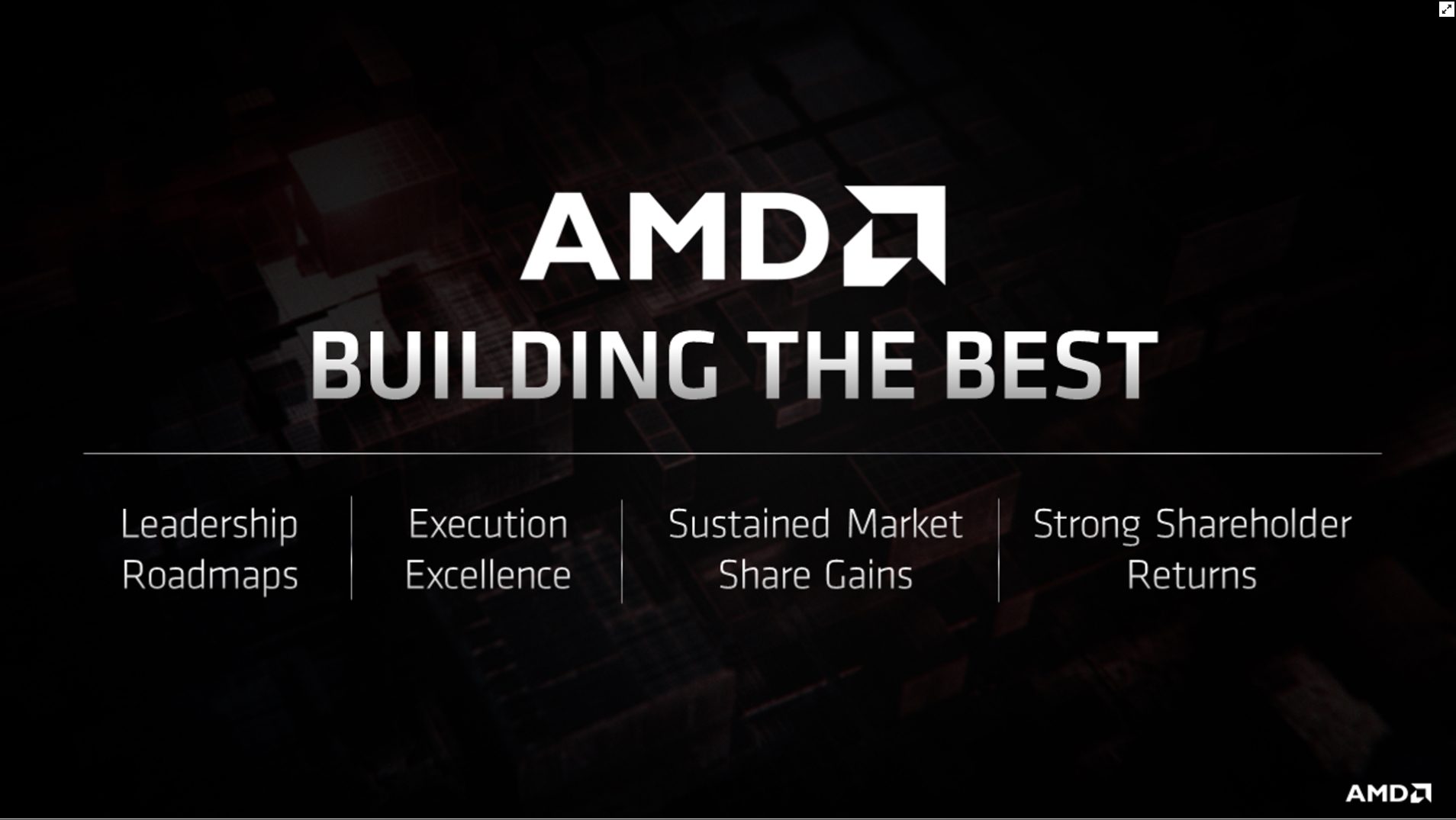 Unsurprisingly AMD is doing well financially.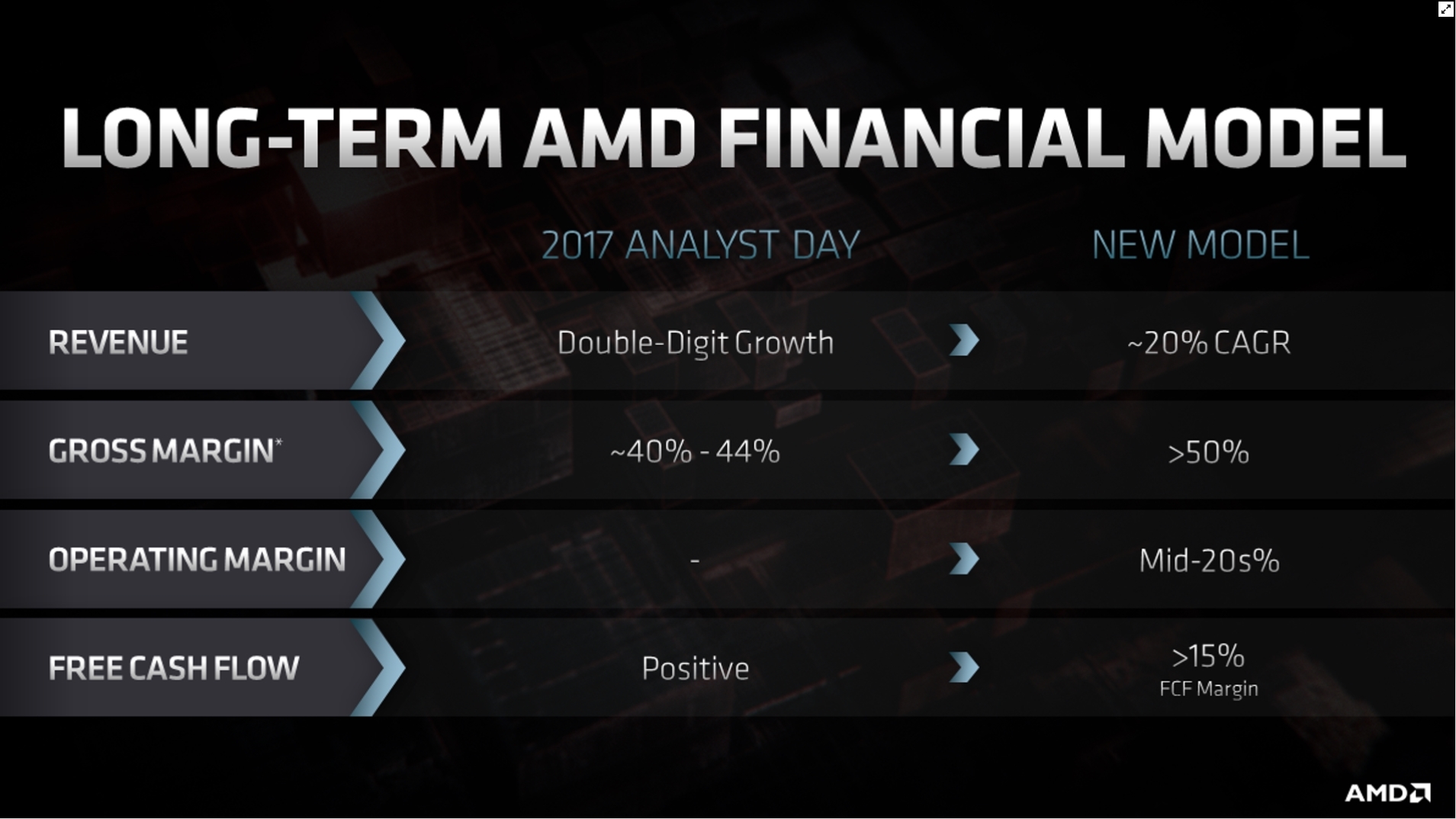 Su is shifting towards the more financial part of the presentation but there could still be some good info here.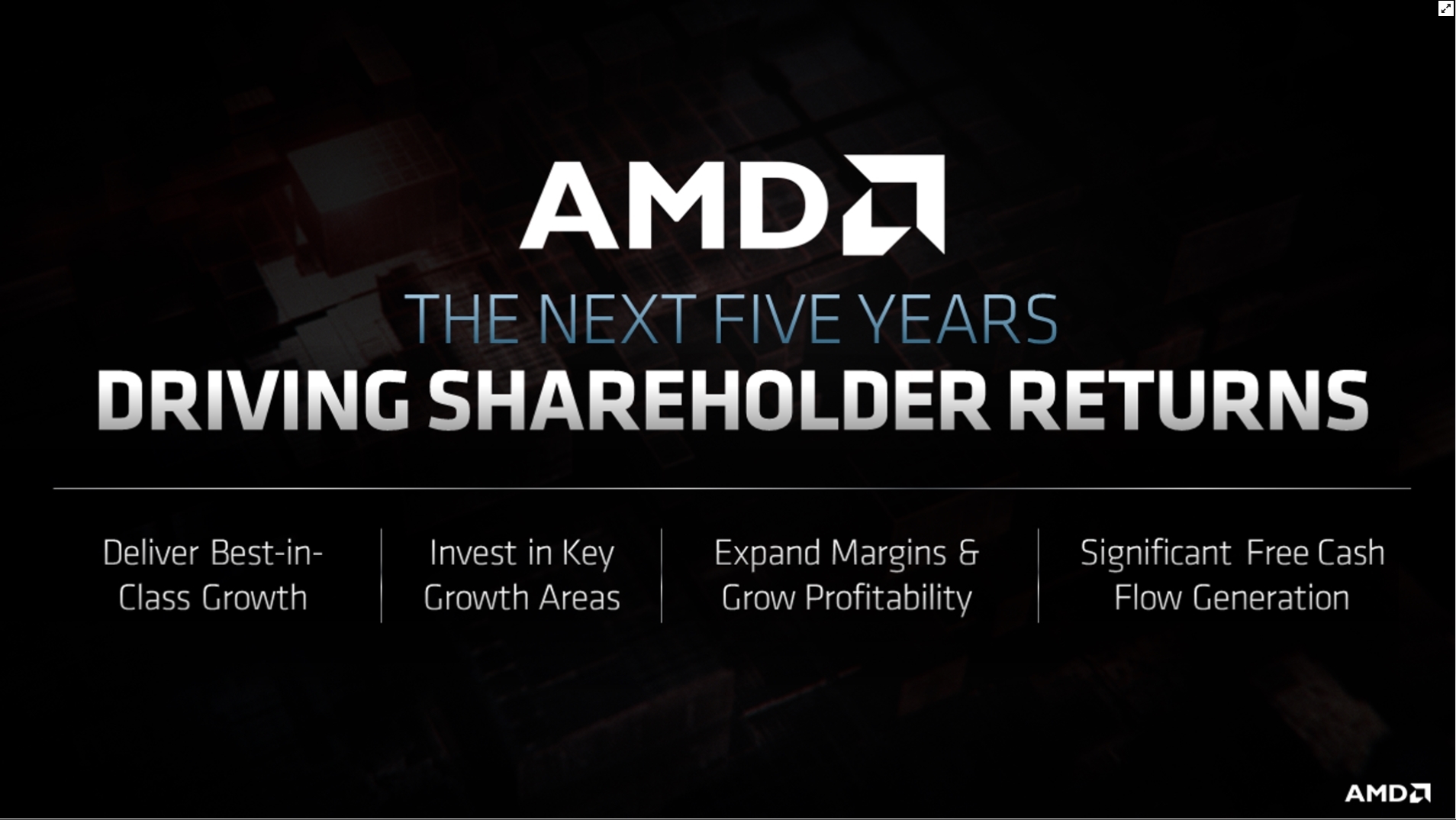 Big Navi better be good if Su wants to fulfill that promise.
"We are committed to a top to bottom gaming portfolio"
AMD doesn't seem to aggressive in graphics yet but maybe RDNA2 changes that.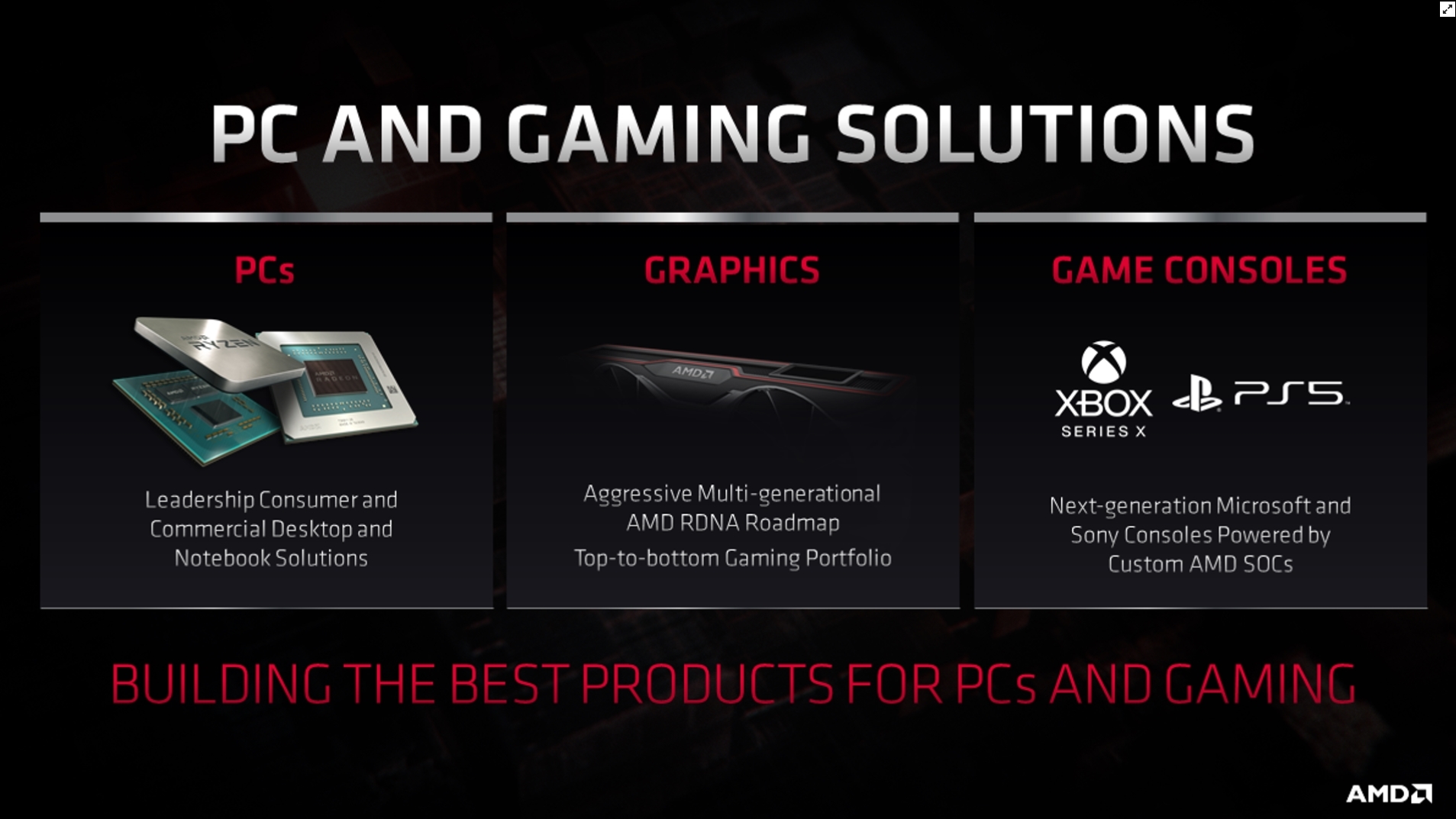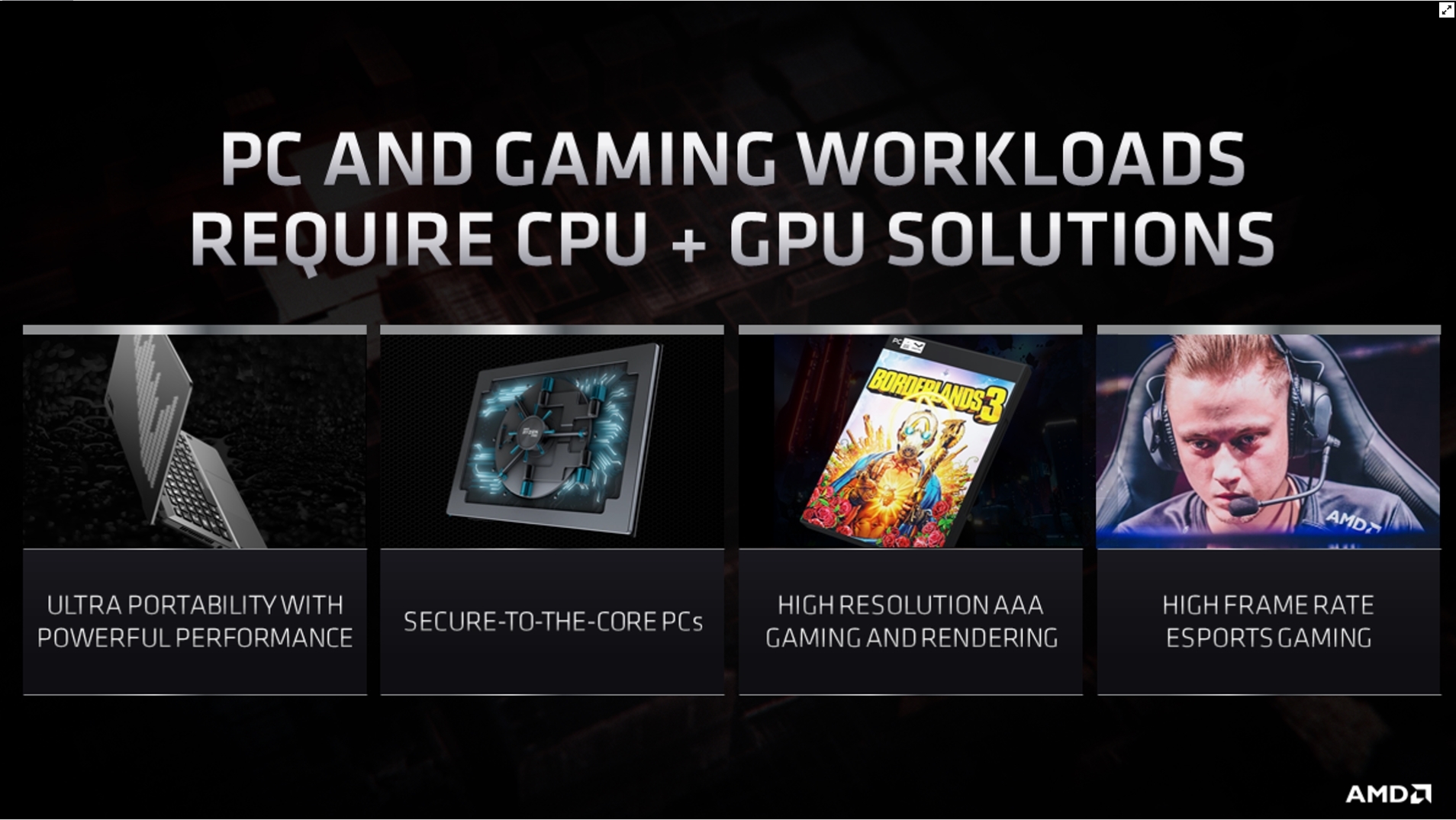 CDNA, let's hope that's the replacement for Vega then.
Not sure how CDNA related to RDNA yet.
CDNA is the compute focused GPU arch.
CDNA is the compute focused GPU arch I suppose.
"GCN was shared between consumer and datacenter, but there's an opportunity to optimize"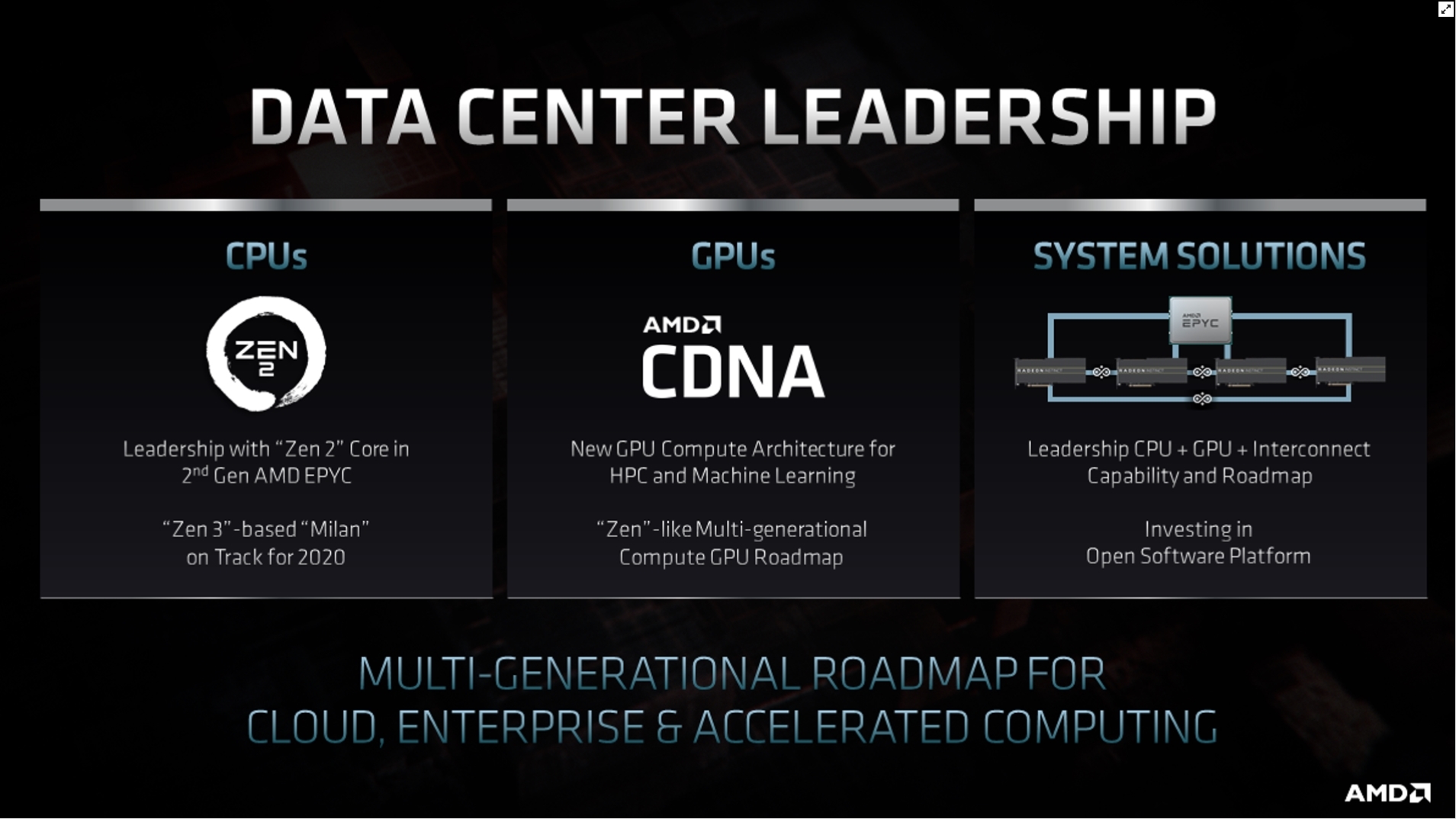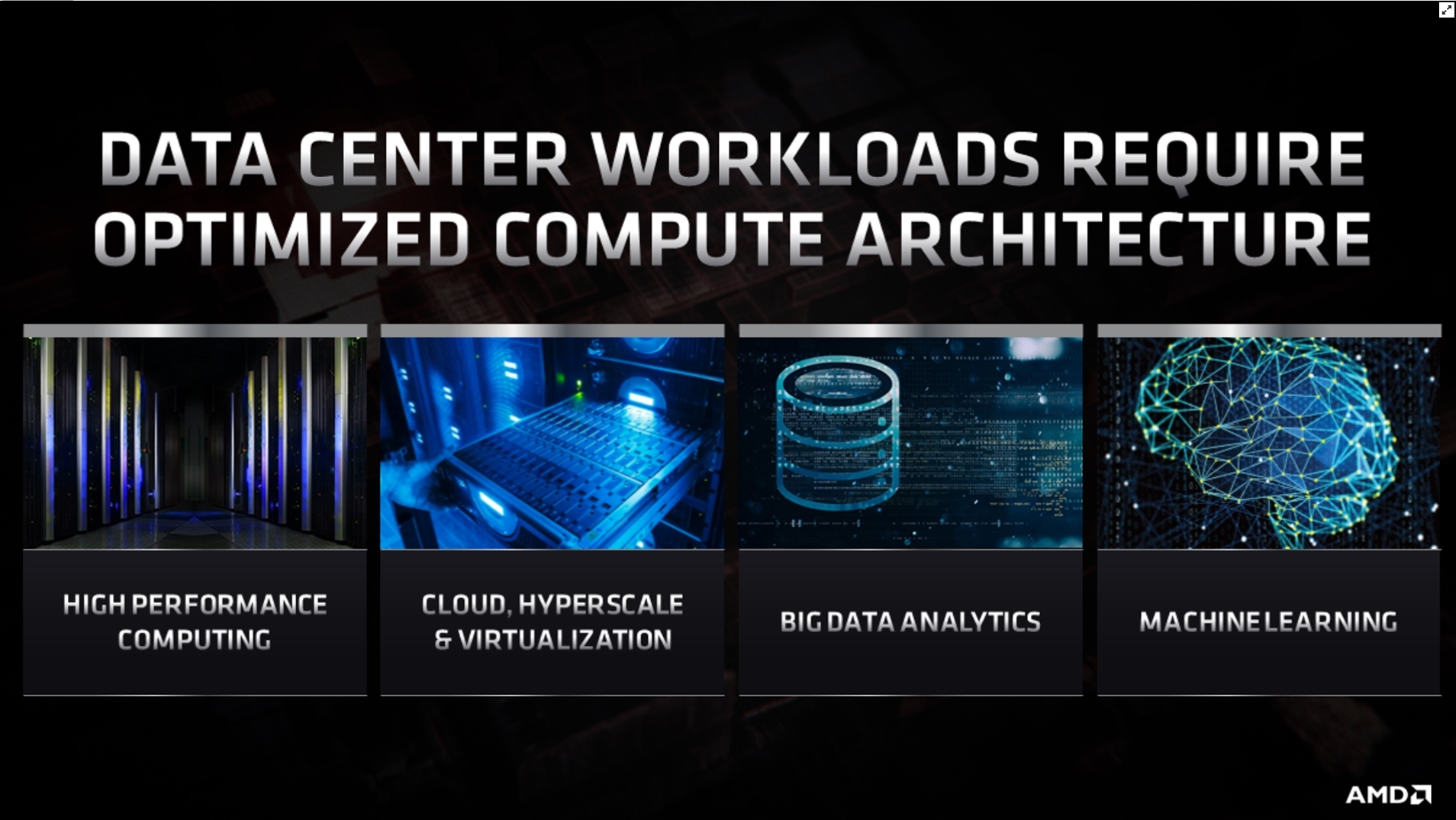 "Next generation chiplets"...tell me more Lisa.
"Interconnects are underappreciated"
"Moore's Law is slowing down, packaging breaks some of those constraints."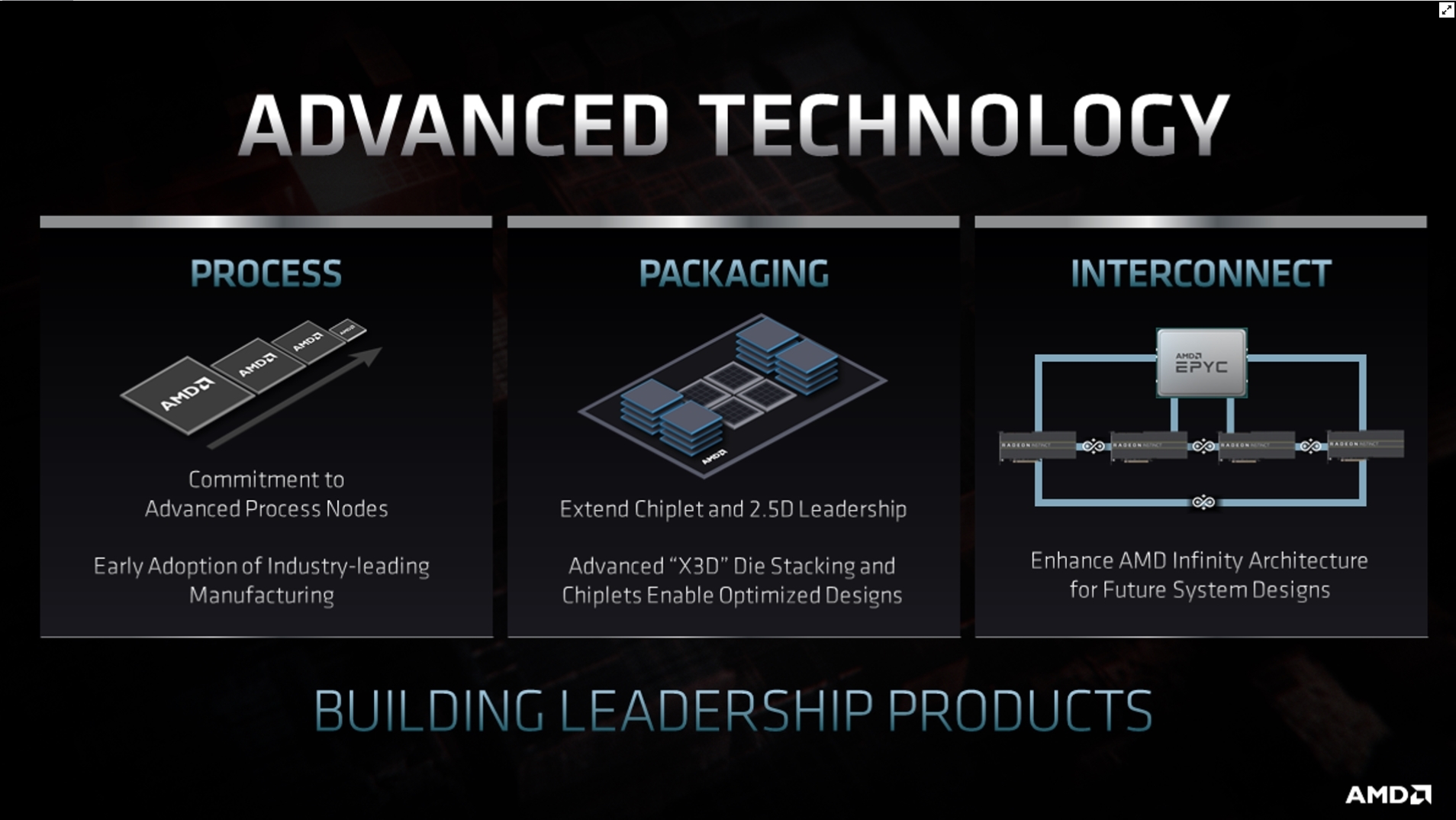 Perhaps RDNA3's node isn't decided yet.
RDNA3 not 5nm? "Advanced node"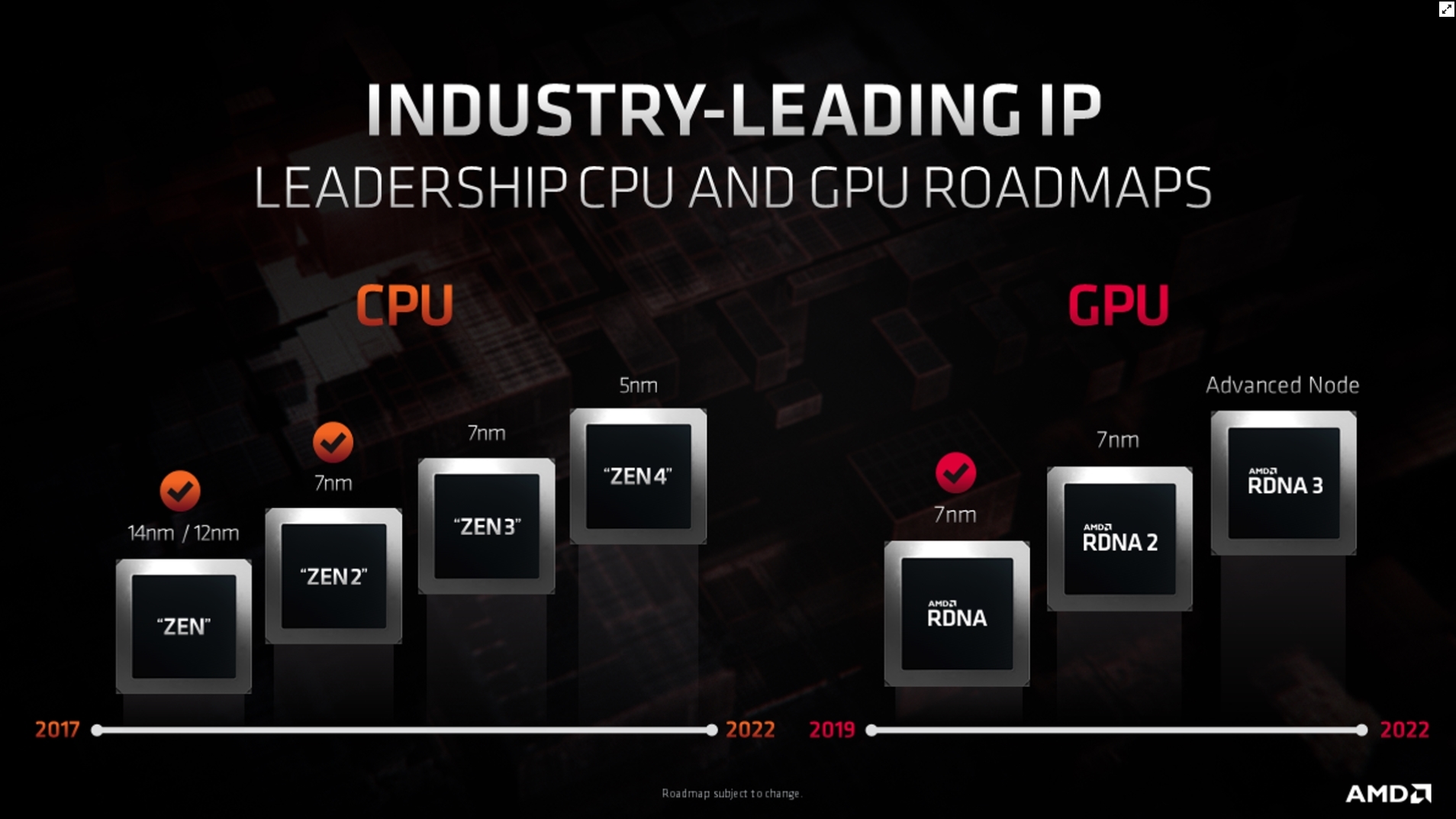 Zen 3 and RDNA2 are coming up it seems, then we're also going to get a look at nodes and chiplets, data center stuff, and gaming.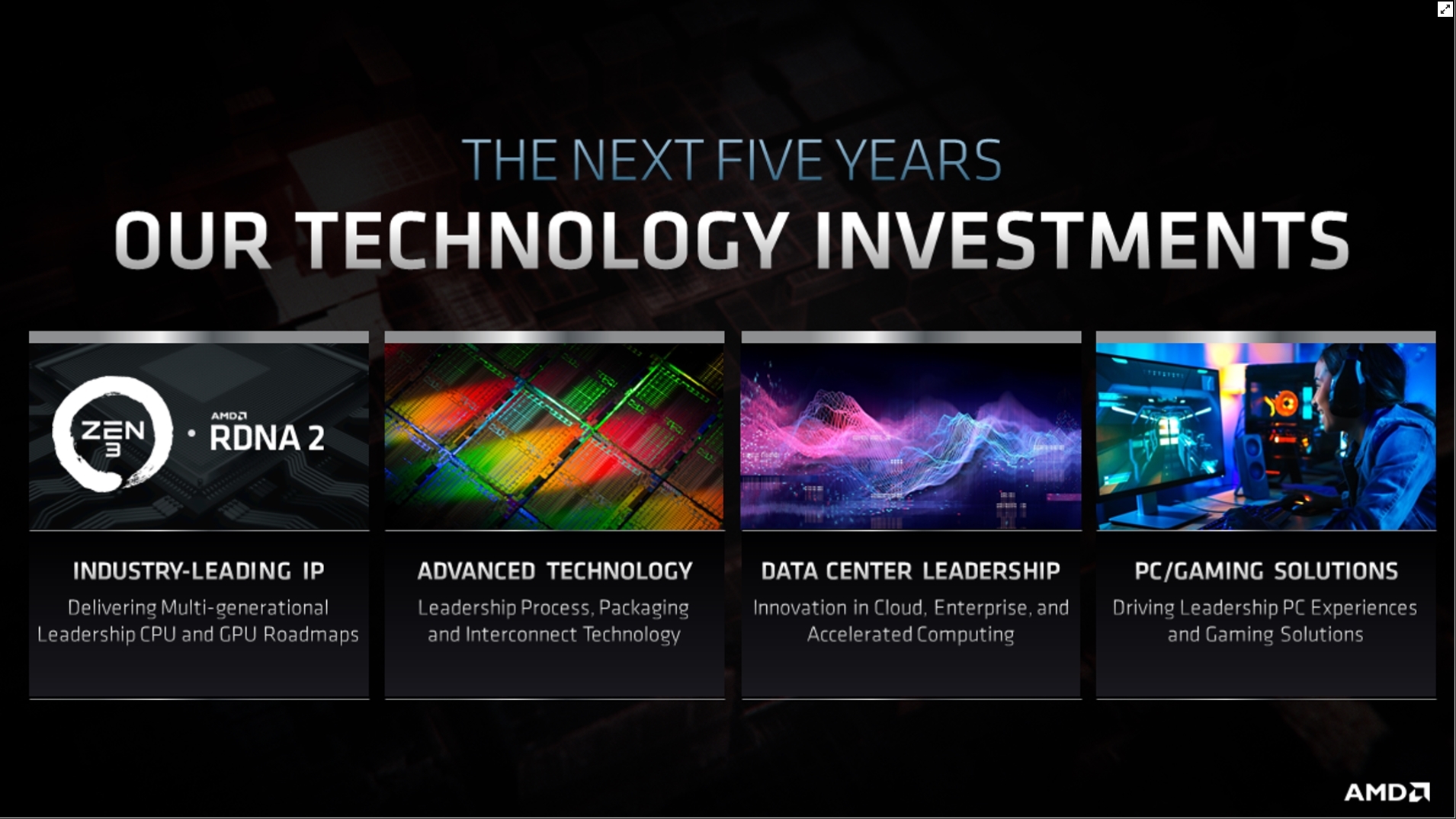 "PC is not necessarily growing but it is large"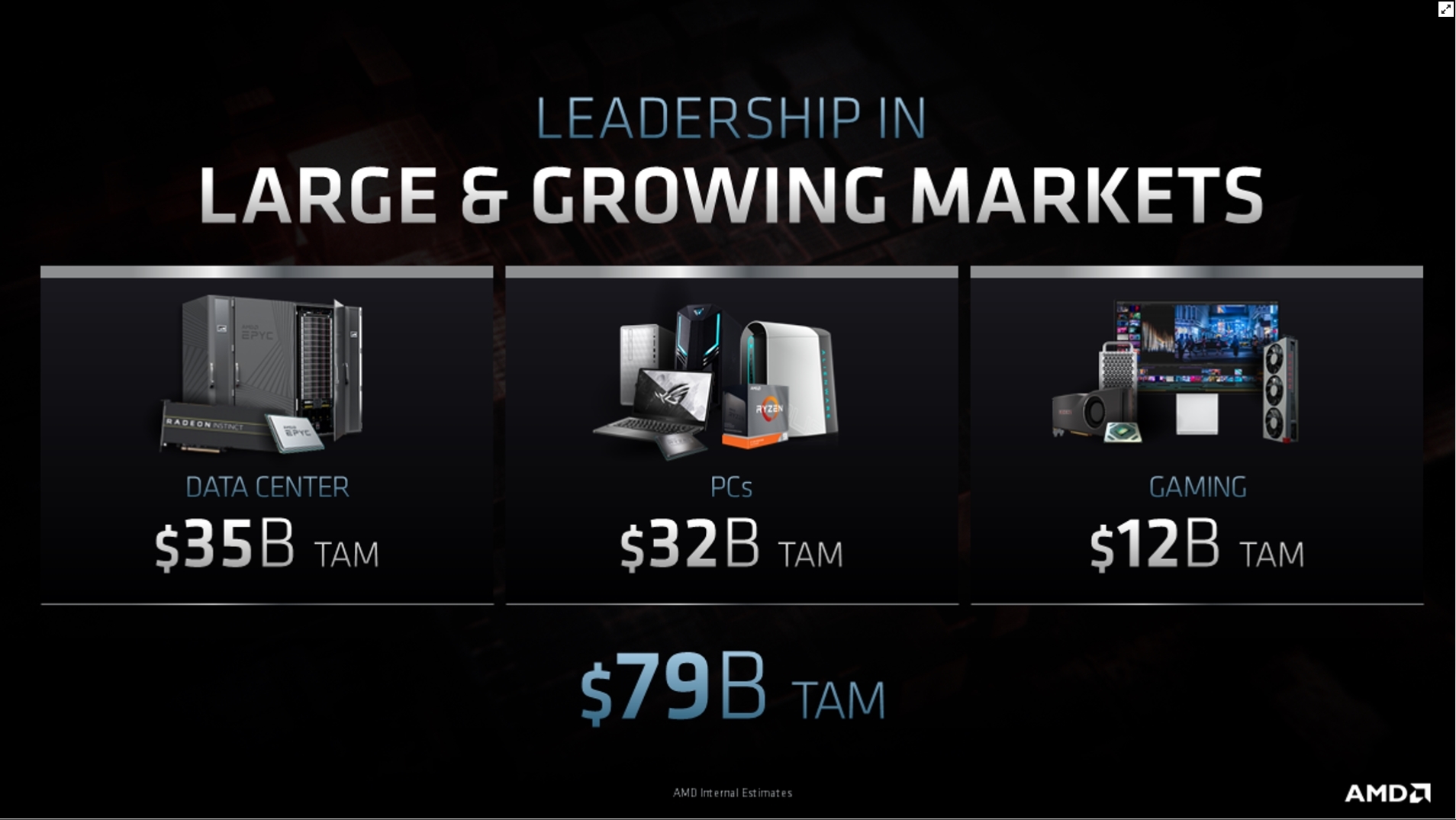 "We are uniquely good at [committing to high performance leadership]"
"We are even more excited about the coming journey in terms of what we can do"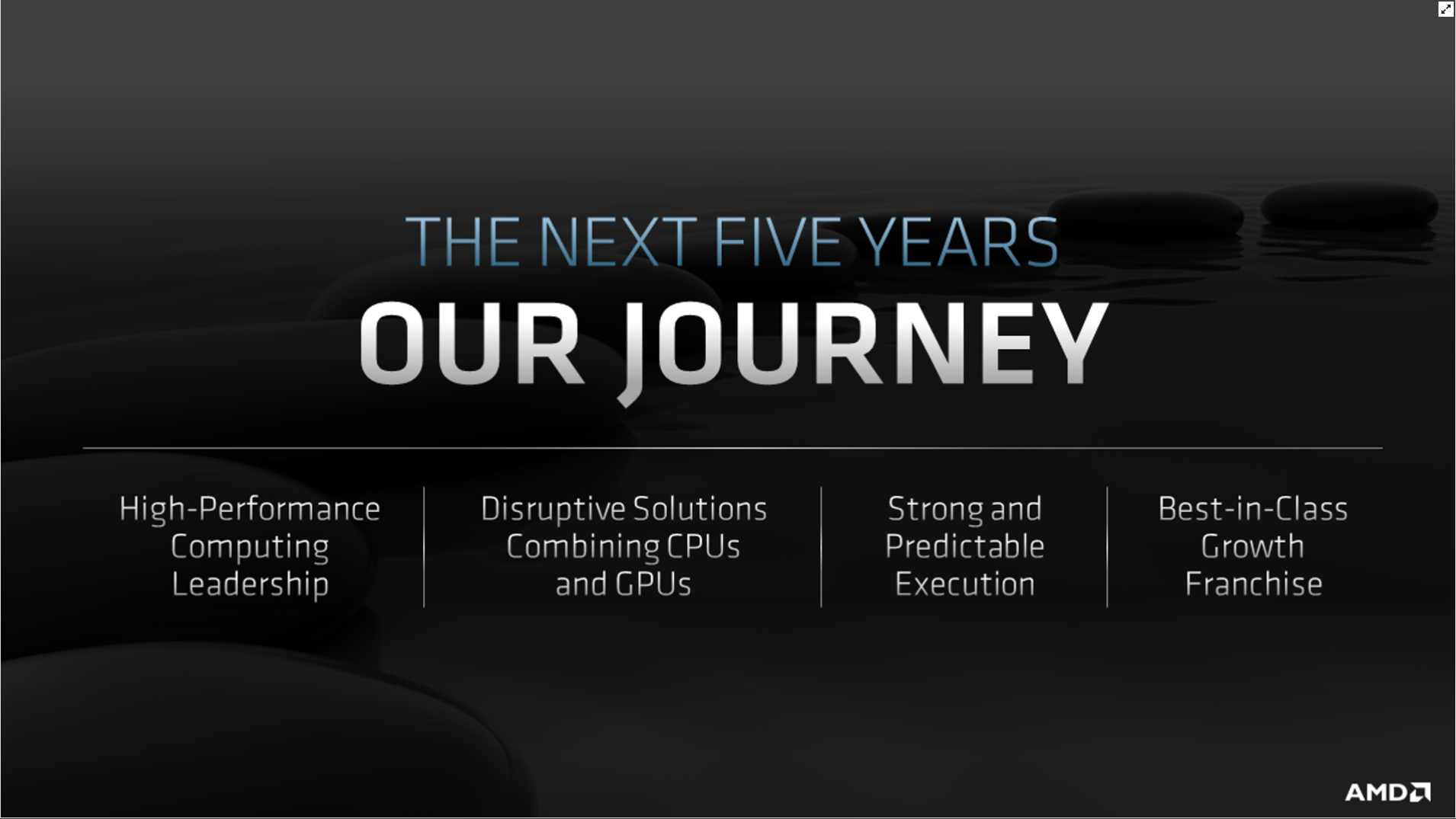 Margins up by 10 points, impressive.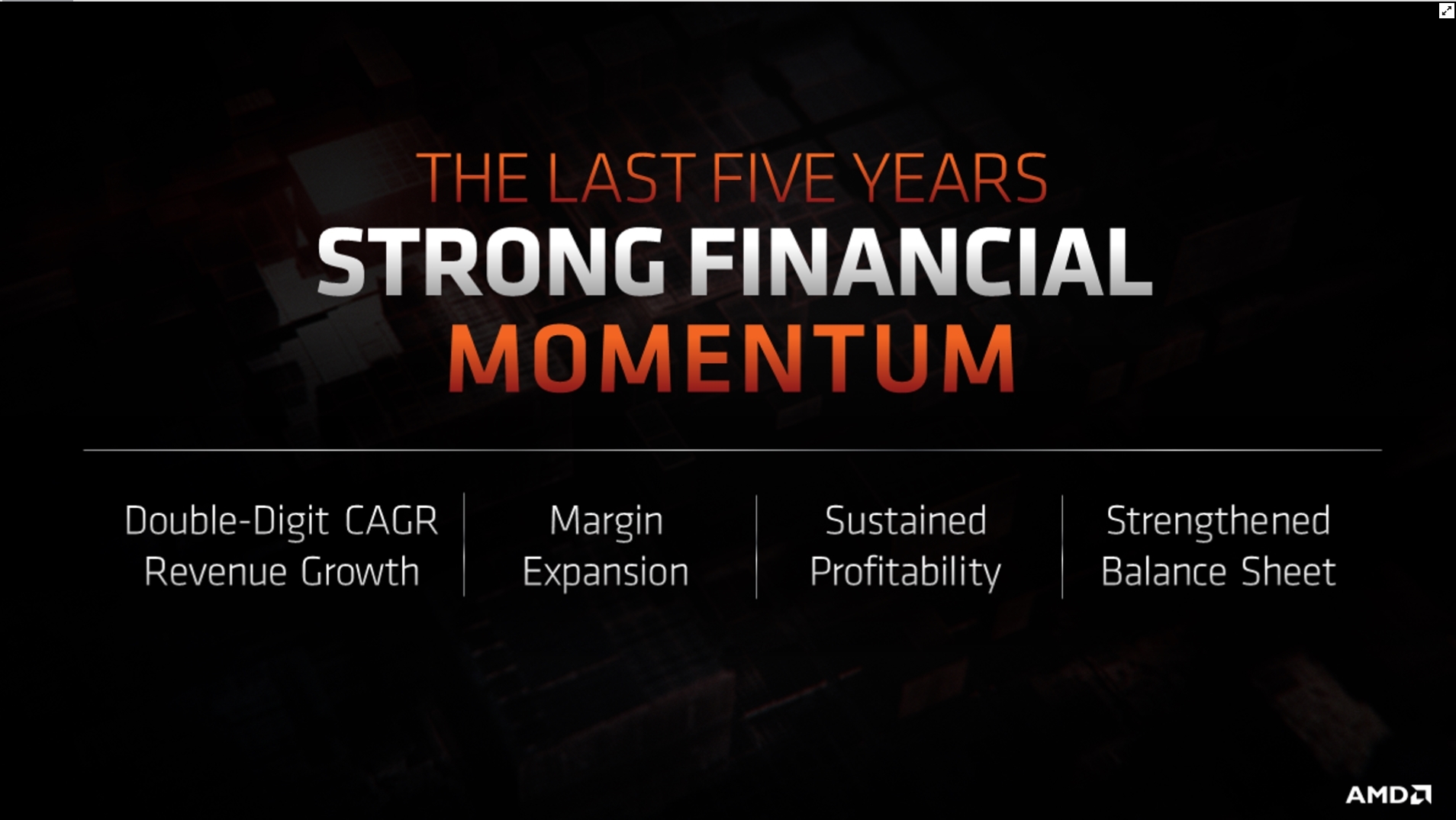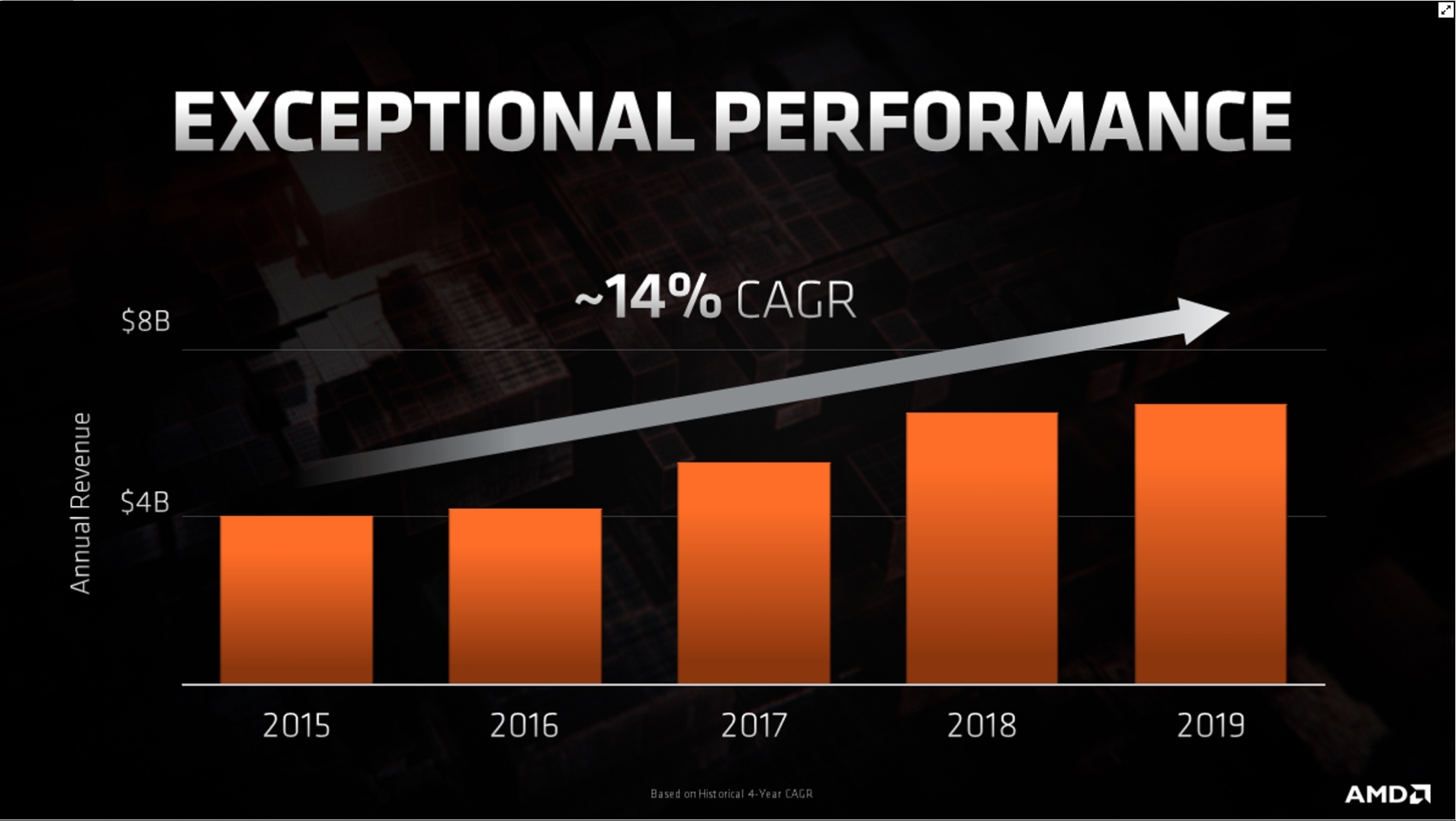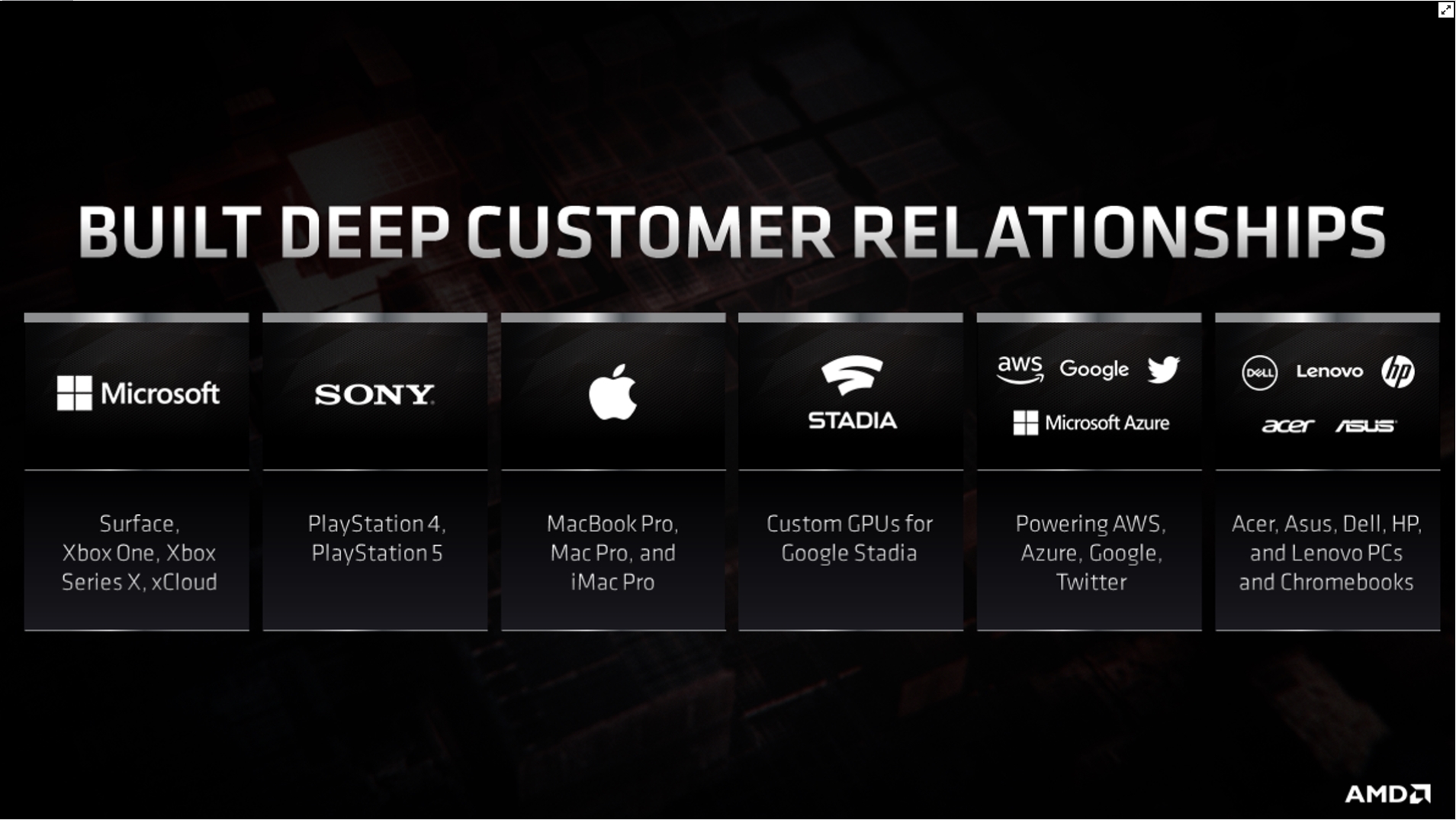 Winning at 1440p?  Wouldn't mind seeing a disclaimer after that one.
Macs are an interesting point, surely AMD is wanting to get into iGPUs as well, and some driver leaks for Mac indicate that maybe some APUs are coming to Apple.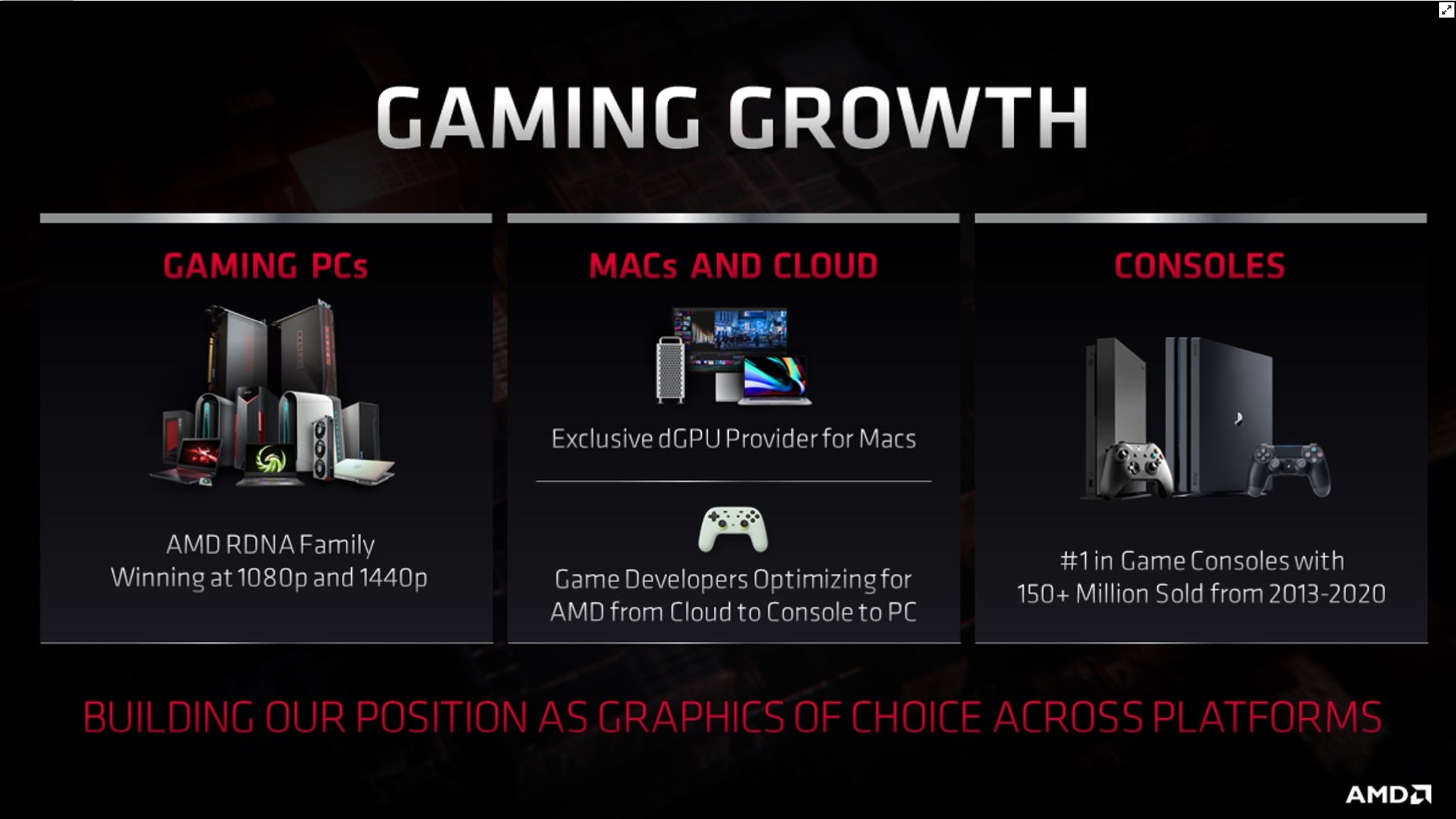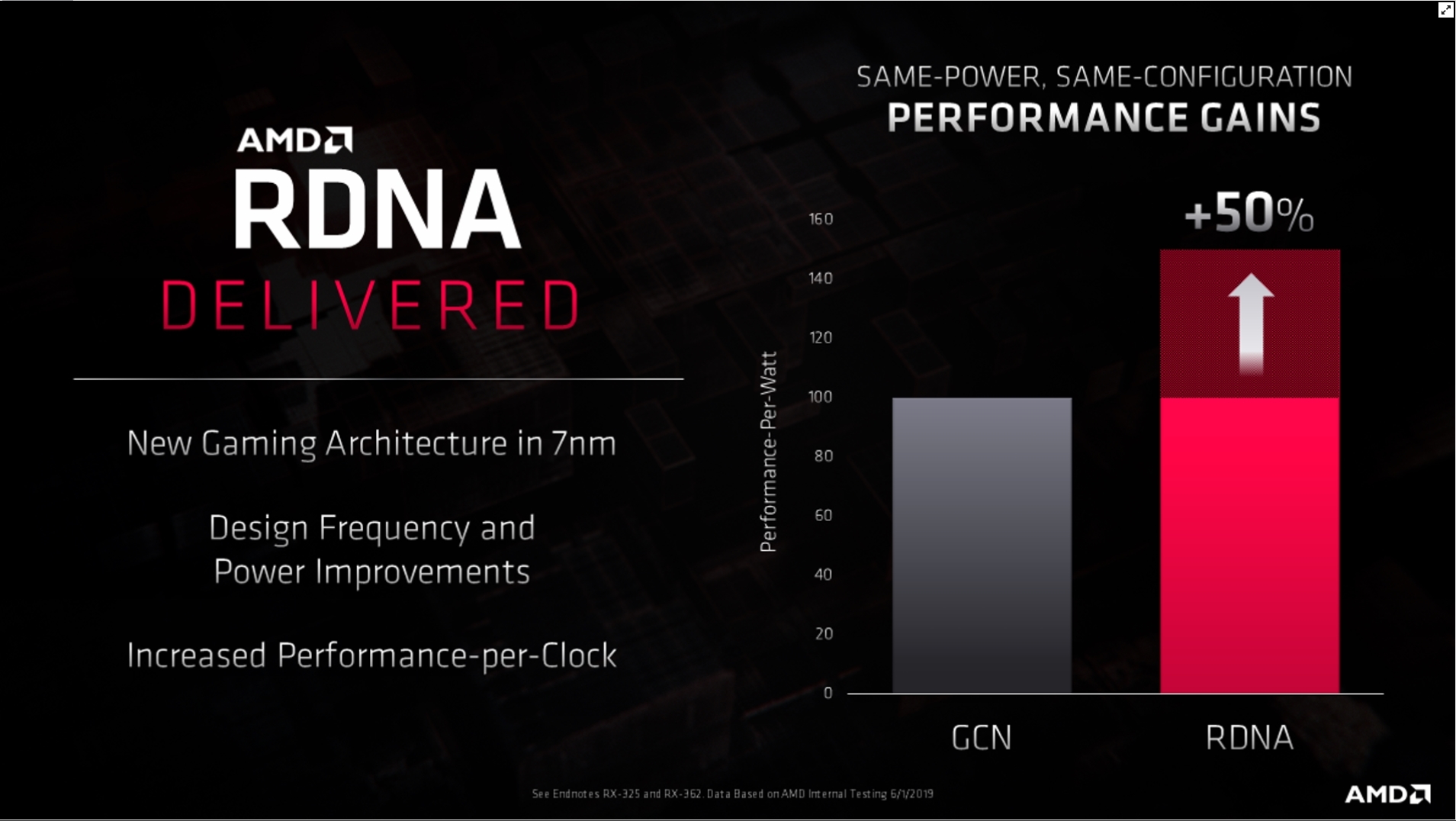 El Capitan was a recent AMD win for supercomputing, both CPUs and GPUs too.
AMD's HPC wins are enormous and Lisa expects that to continue "for 3 or 4 years"
"Supercomputing is a really good area for us, we are consistently winning deployments"
Su is plowing through this presentation, hard to keep up with all the slides.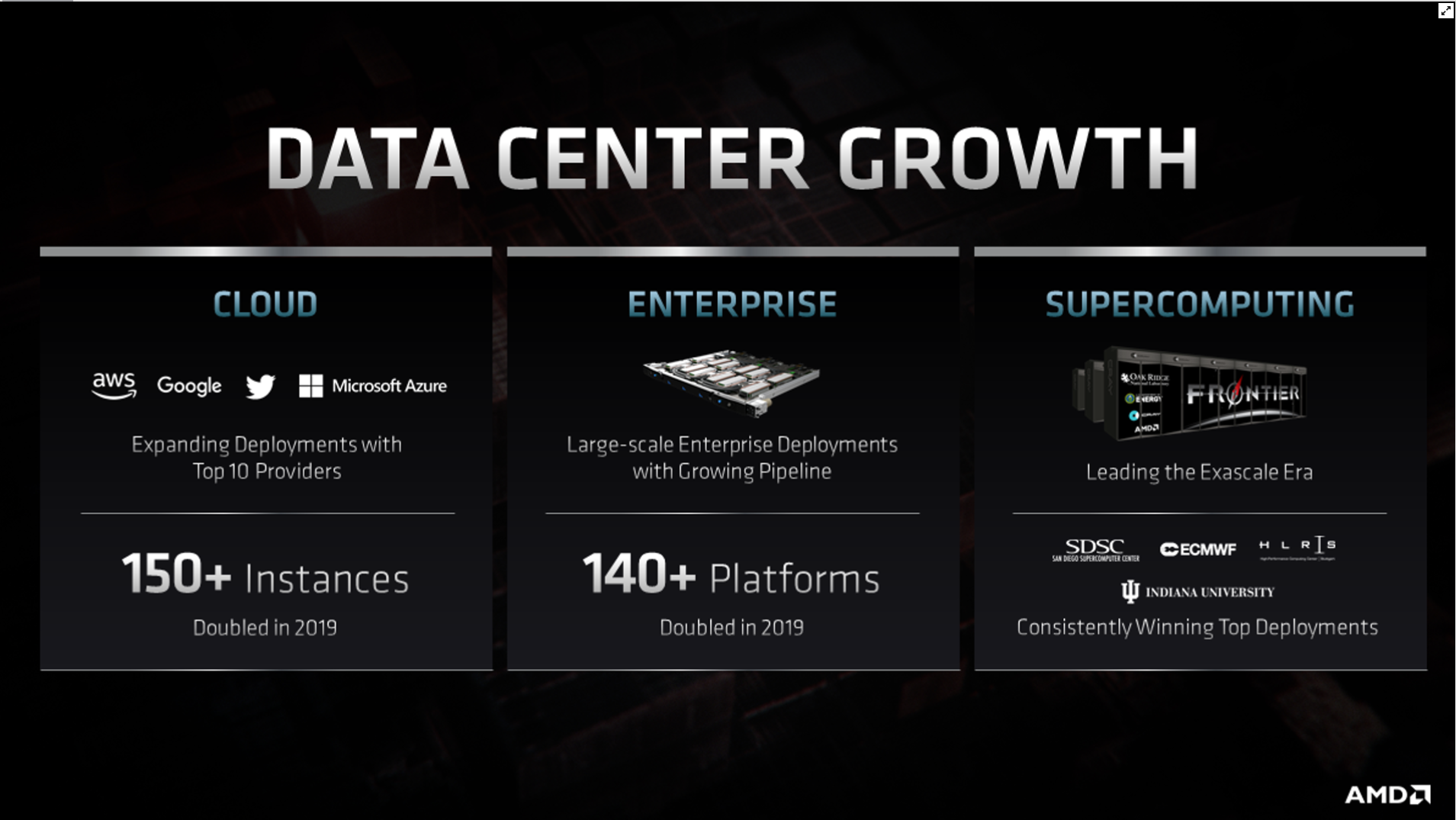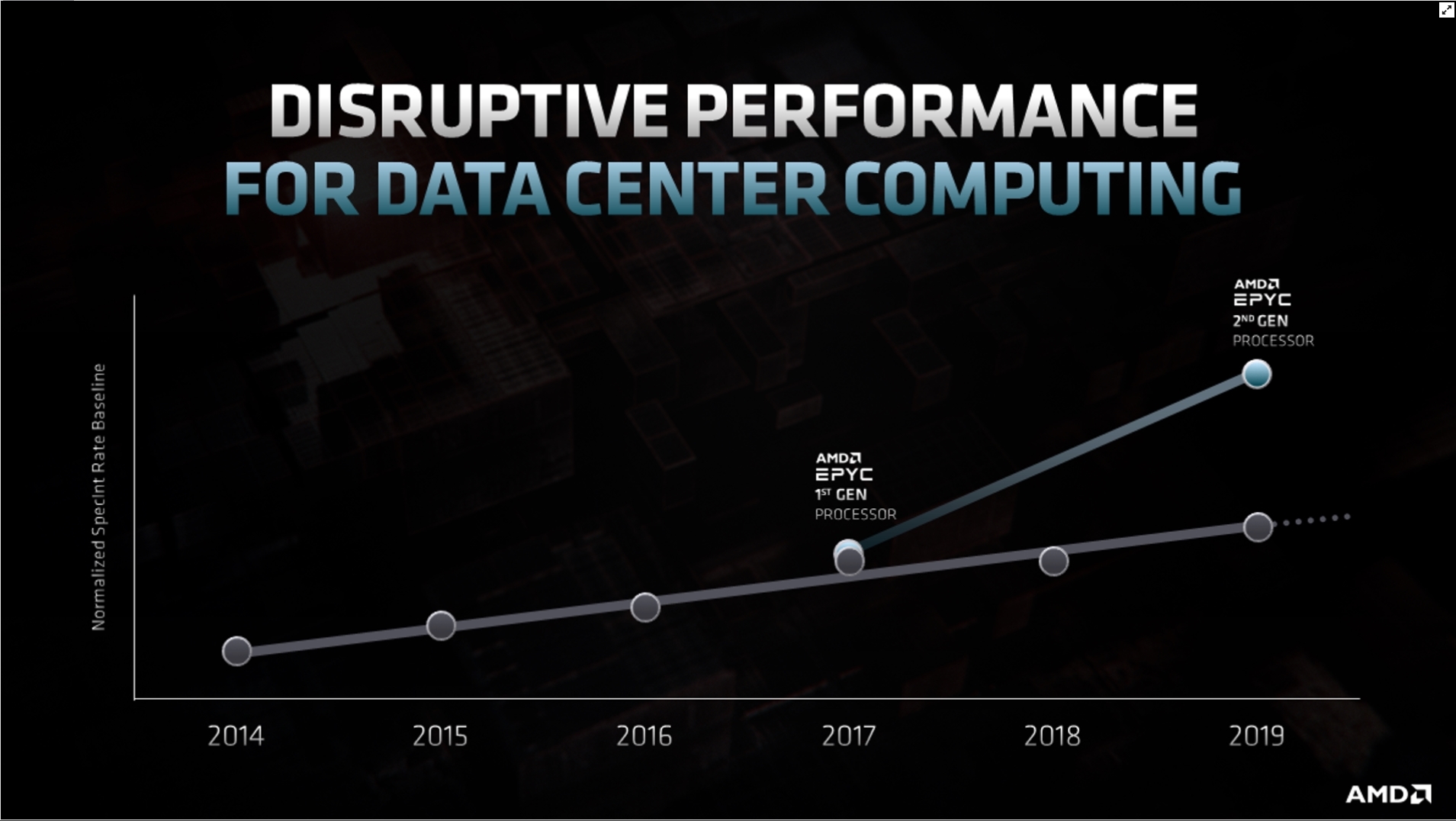 "We have consistently gained share in each quarter for the past 8 quarters"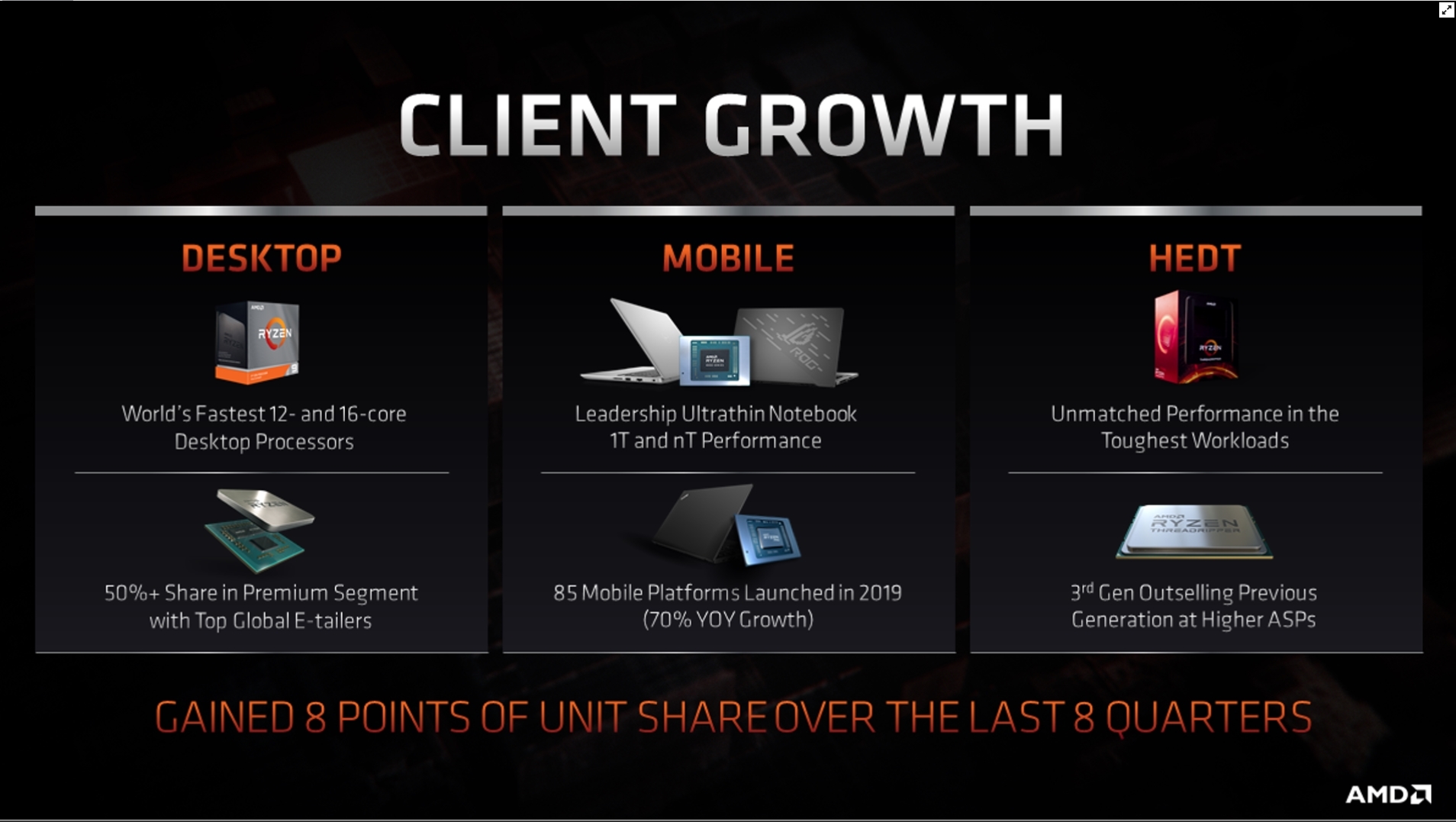 These graphs are really weird, why is Intel and AMD Ryzen Gen 1 and 2 so low while Ryzen Gen 3 is so high?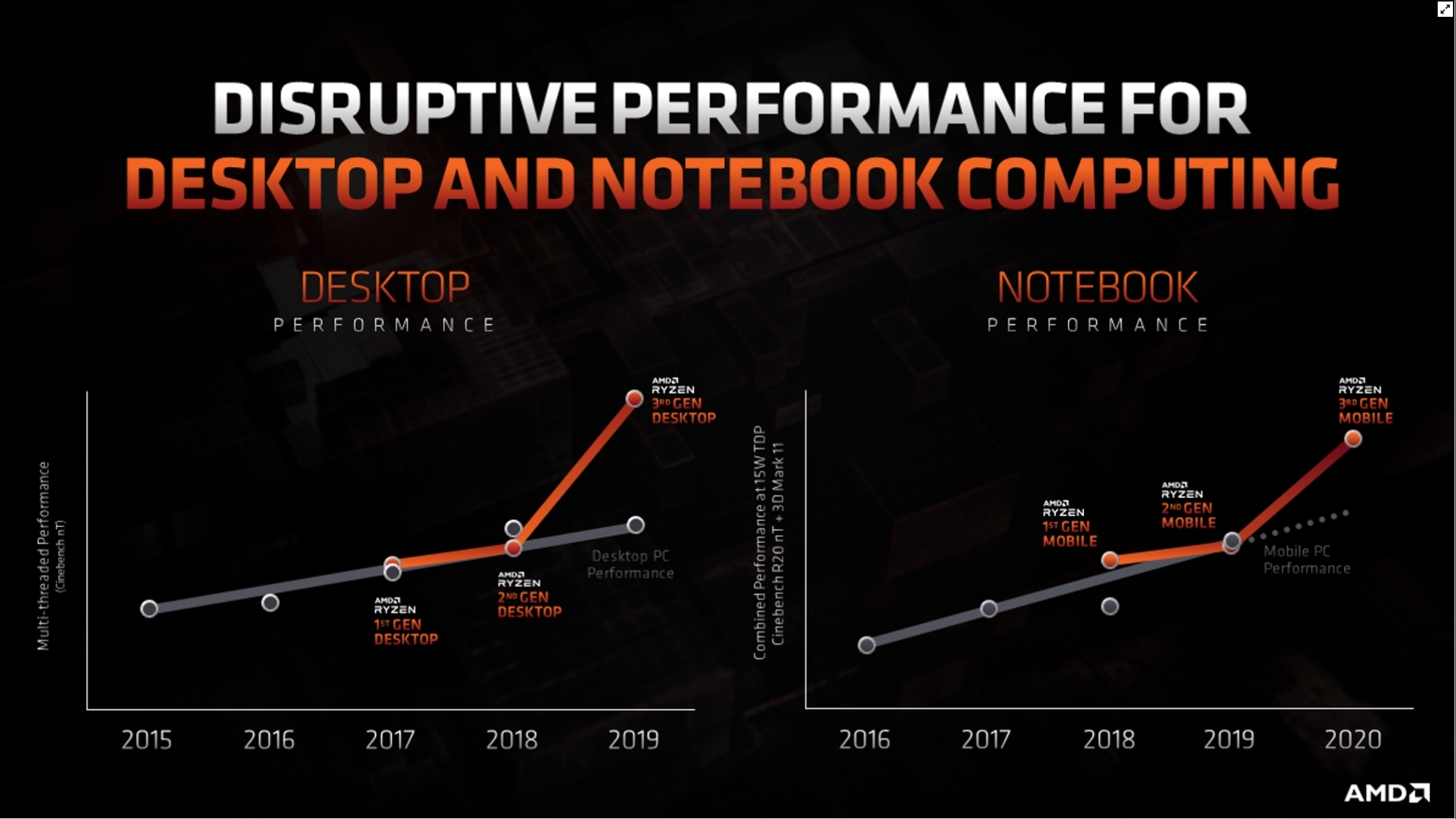 "This is performance leadership"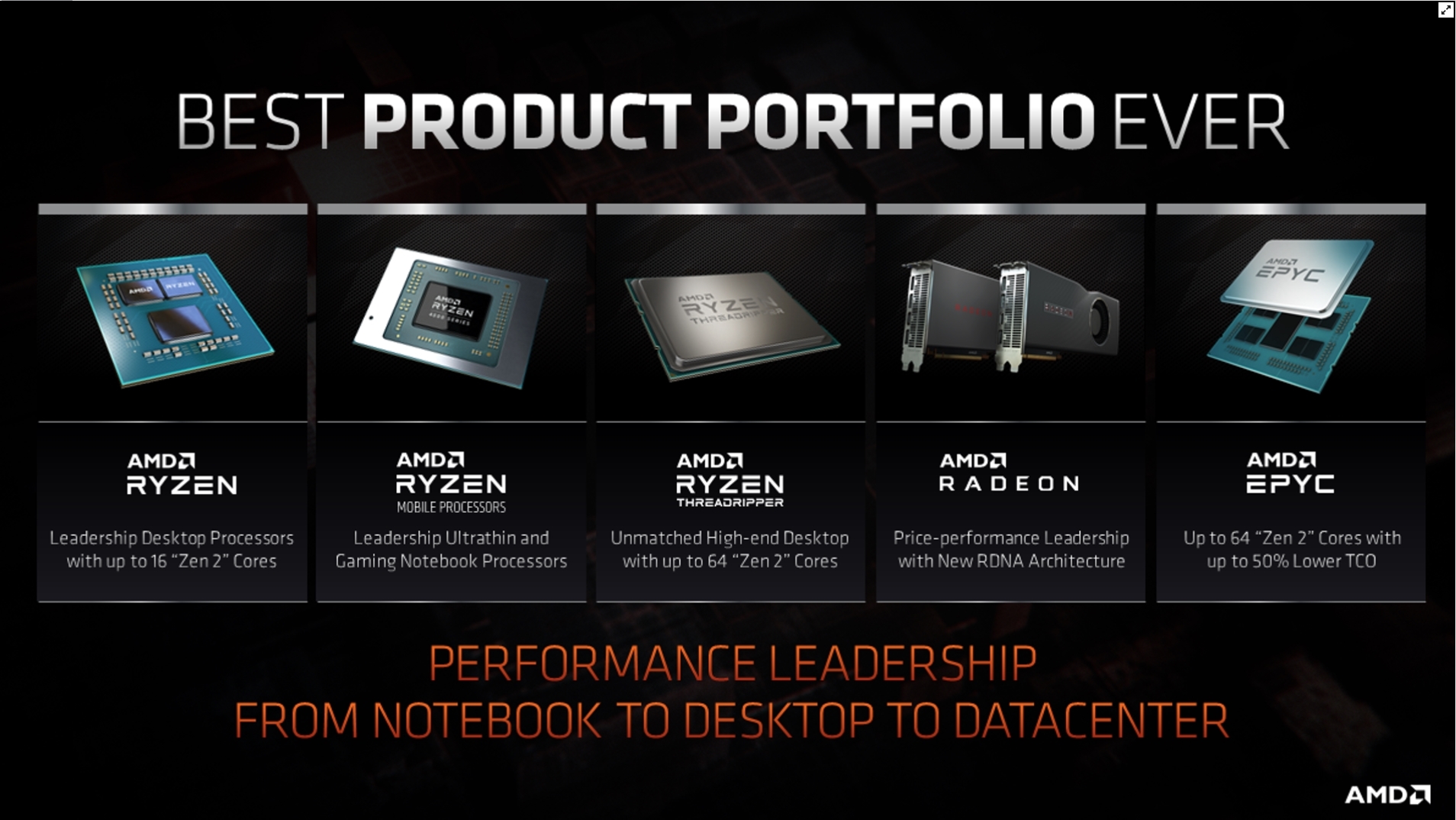 Alright guys...

This could be a long night...5 hrs long I heard?  Seems a bit excessive but I'm up for it, at least until bedtime.

It's 22:10 here right now but I'll chime in with the odd passing thought when I remember.
Interesting that AMD claims notebook leadership without any AMD Renoir laptops available yet.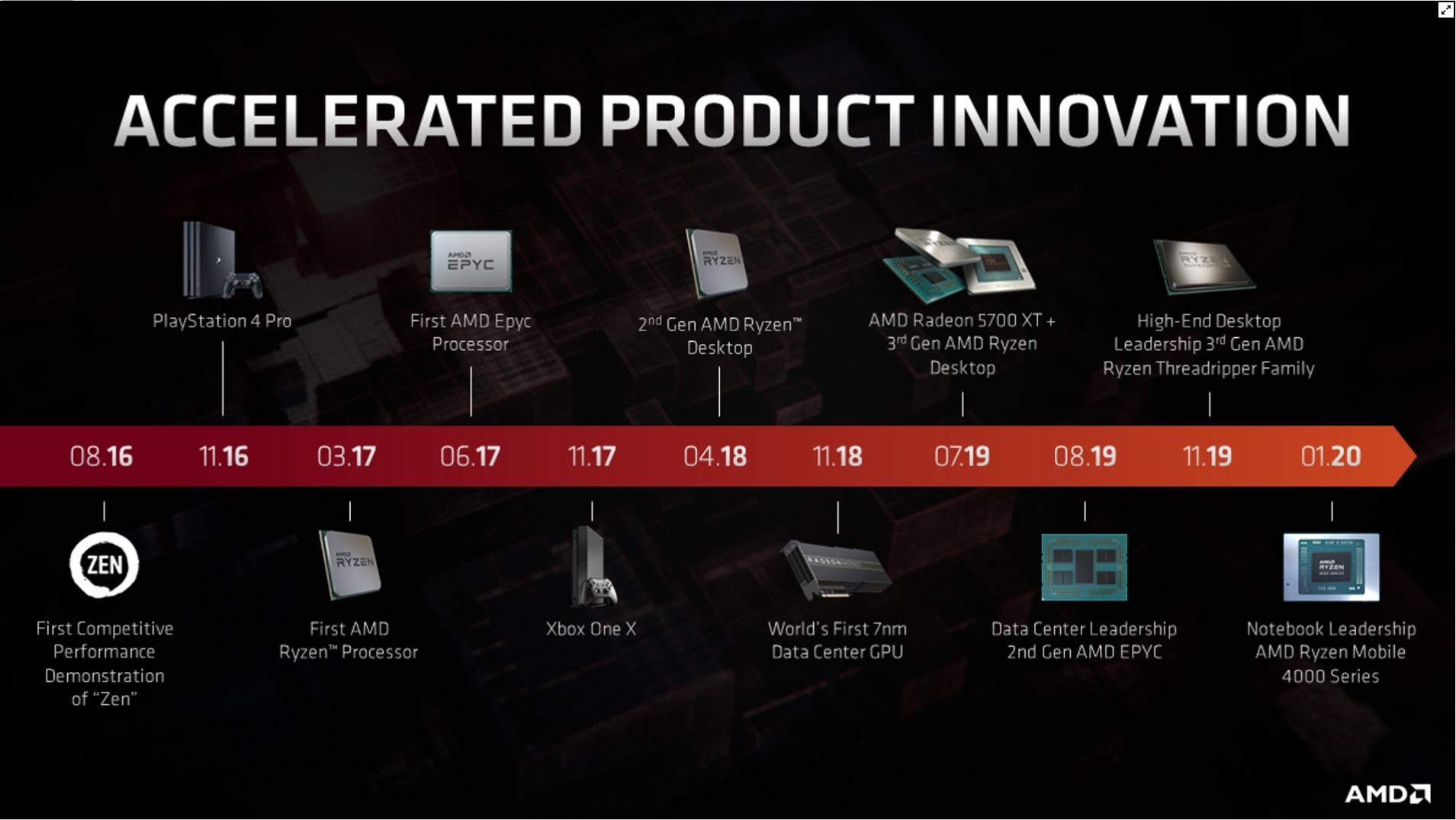 "5 years ago these things weren't so obvious" is an understatement, 2015 was the year AMD was supposed to die.
RDNA is expected to span all of AMD's lineup it seems. From mobile to consoles to PC gaming. So maybe the Vega derivatives will be replaced too even though it seems like Vega is better at compute right now.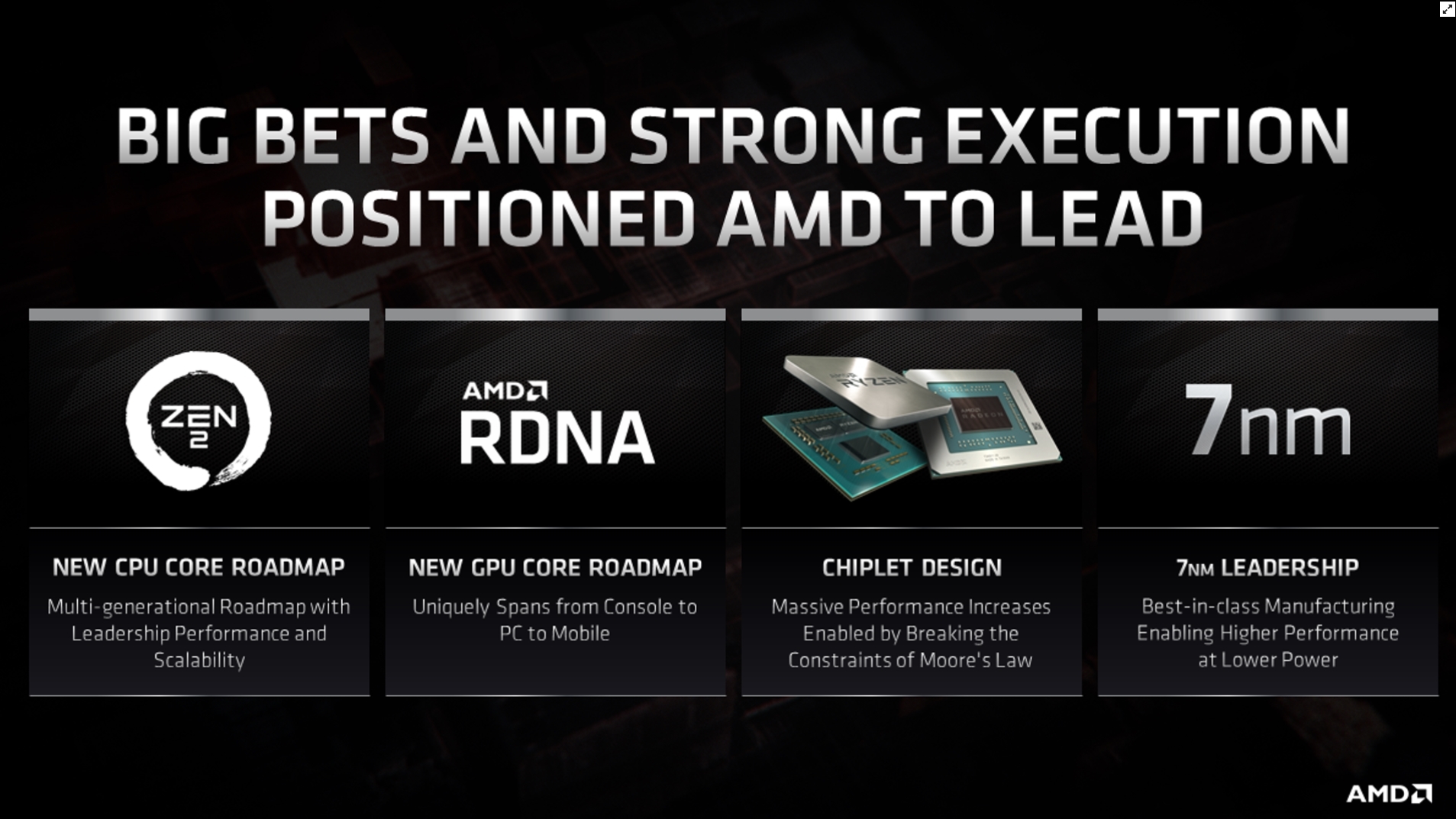 Now CPUs are in first place on this new slide but that doesn't mean graphics won't take center stage today.
Interesting that AI is a focus for AMD since they aren't huge there yet.
"We also invest in CPUs" is really weird to have after graphics since AMD is increasingly more successful in CPUs rather than GPUs.
Su is just focusing on their main technologies right now, but it's interesting that she started off with graphics.
Lisa Su is taking the stage now.
We're likely going to get Zen 3 and RDNA2 news but I don't expect any actual silicon or projects.
So far this is just a montage, but it's really adding alot of hype and tension I did not expect for "Financial Analyst Day"
So Financial Analyst Day is just starting. Link to presentation is here - https://twitter.com/AMDNews/status/1235655470586658816