This is a live blog for AMD's CES presentation. AMD is expected to reveal details about Ryzen 4000 mobile APUs, 48 and 64 core Threadripper CPUs, upcoming Radeon GPUs, and the Zen 3 architecture. See details here.
Event
AMD CES Presentation
Cheers guys, catch you later.
Alright guys, looks like that's it for AMD's presentation.
I wouldn't mind a 3990X to be honest, wonder if I could even make use of 128 threads though.
I think desktop 8c/16t APUs would be wildfire.
So Renoir seems to be what I'm going to go for in my next laptop, unless Intel shows Tiger Lake doing some really good gaming in their presentation later today. However, it doesn't seem like Intel will be talking about Tiger Lake since it's a ways away.
I liked the APUs the most, everything else was kind of boring or in line with expectations, which is crazy since AMD revealed a 64 core CPU.
288MB Cache, 2.9GHz base, 4.3GHz boost for 3990X
Enthusiasts are gonna be disappointed but this is everything I had expected from CES this year.
Well, that's it, decent show I guess.
"Committed to delivering the best in HPC"
Question is...will there be one last reveal like last year?
If you bought a Xeon in 2019... you're burned.
Intel grimacing at that demo, 64C Threadripper trouncing dual Xeon 8280's.
"It also might be slightly cheaper, just slightly"
TR3 64core destroys Intel Dual Xenon 8280 (1h:03m vs 1h:30m)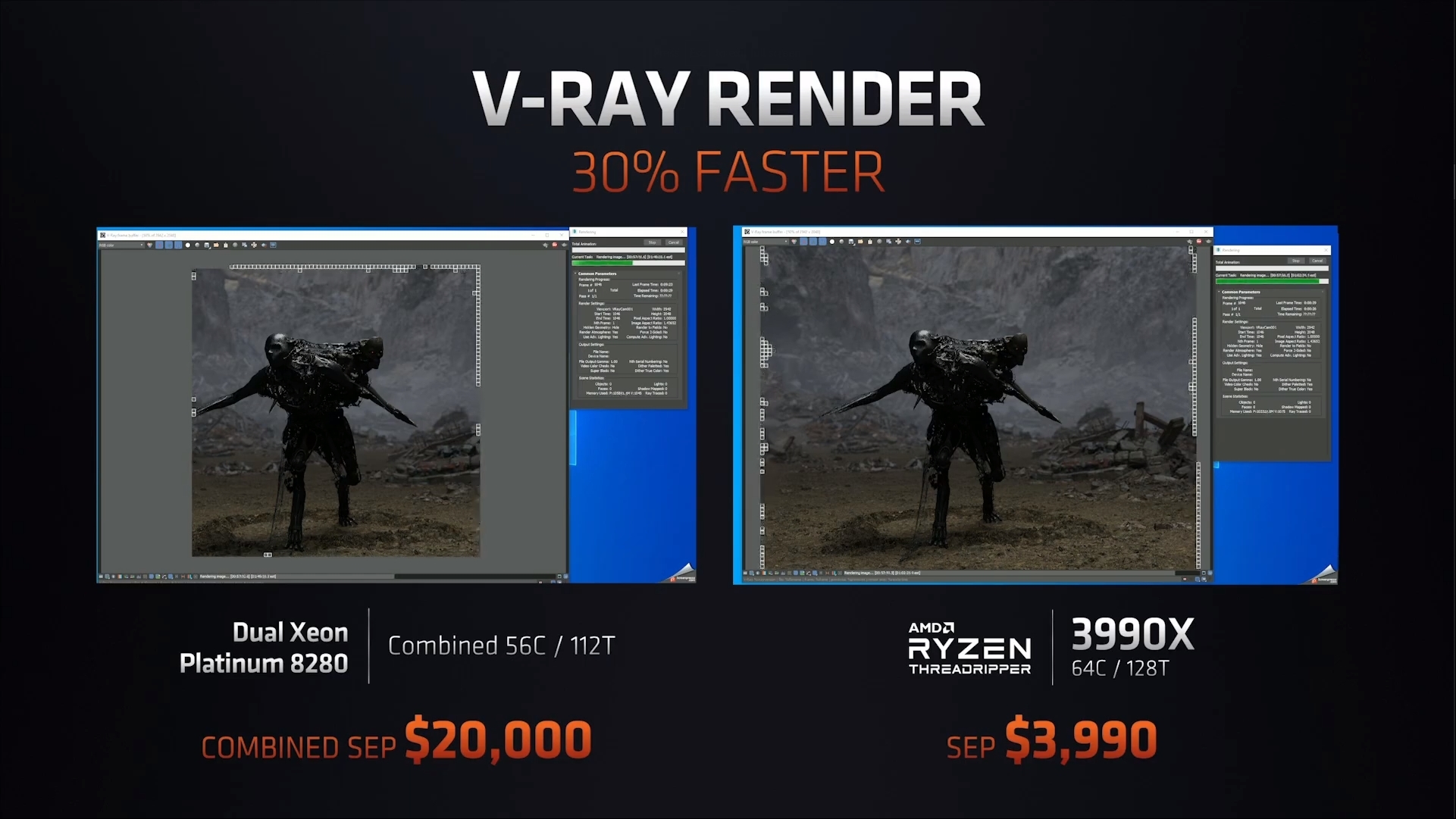 Took all three screens to show the width of the bar for 3990X in Cinebench R20.
$4K Threadripper beats $20K Xeon.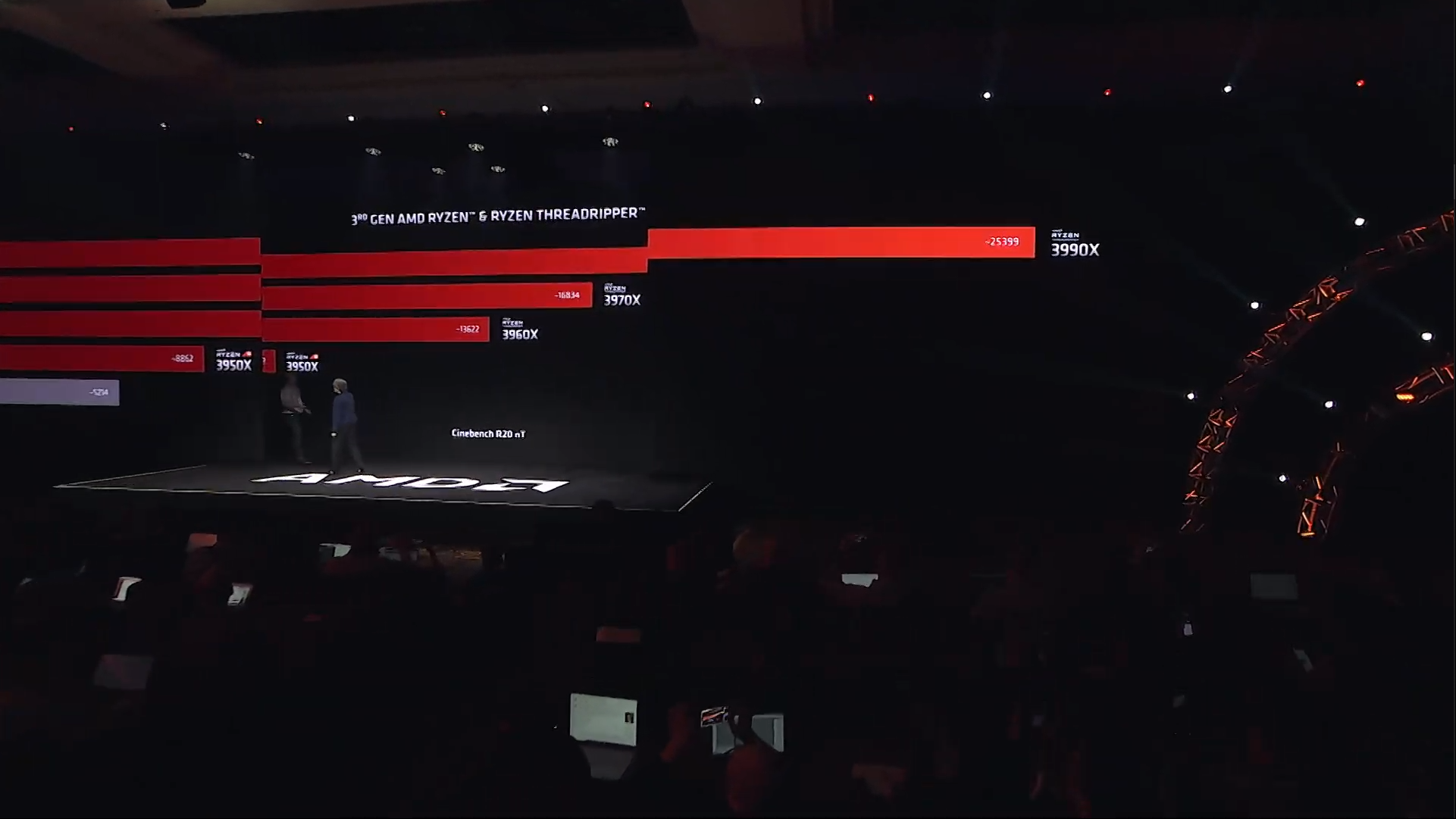 Gonna be seeing this chart a lot tomorrow.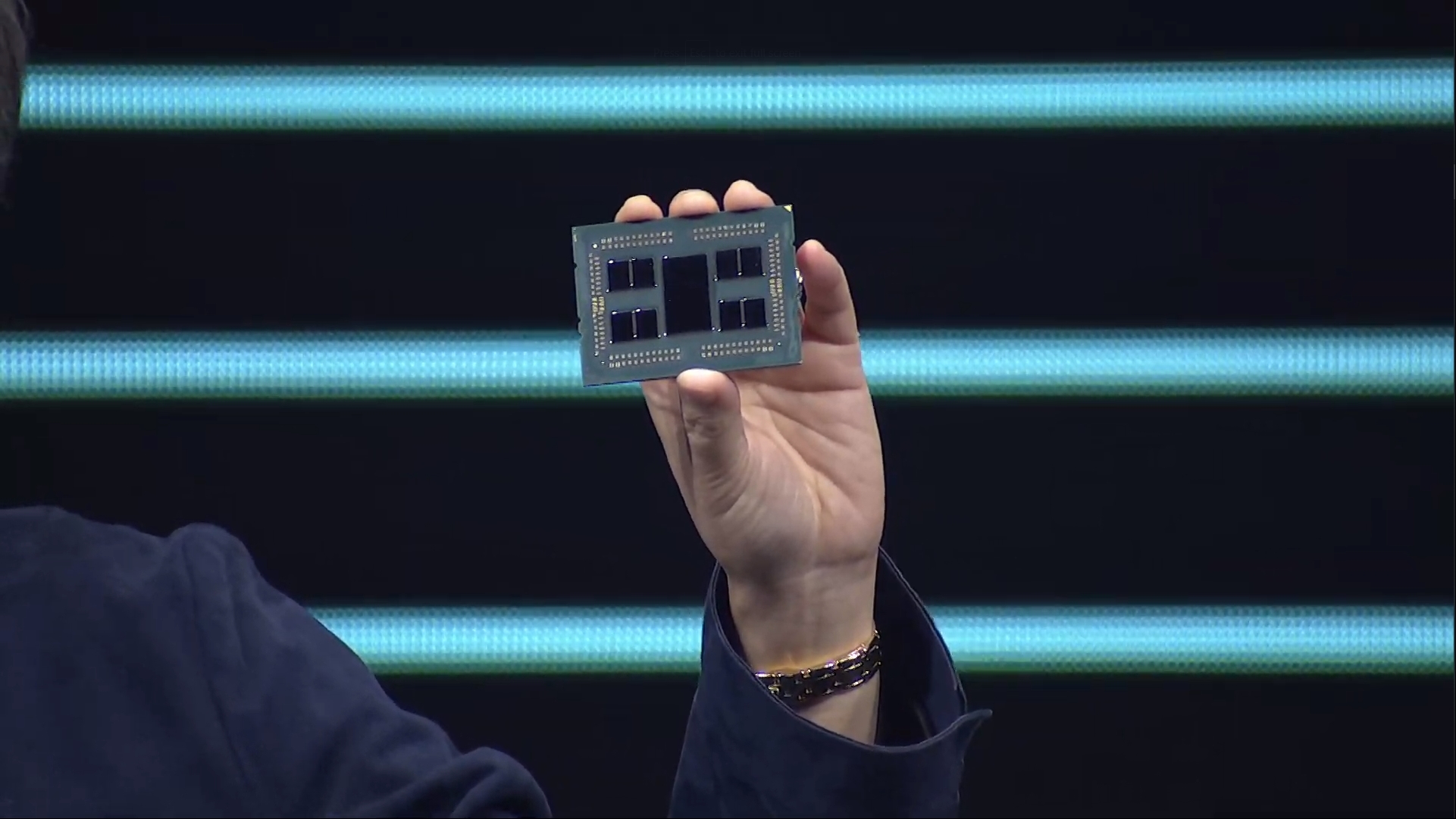 Yes, 64C Threadripper is coming for the Desktops. I lived to see this too
Good call @Anubias - $3990
There's another slot for this graph... 64 cores.
AMD reeling out Cinebench R20 again...
9900KS at the bottom of this graph, oof.
Pictures of lots of queue lines for launch of Ryzen 3000 and Threadripper.
Hope it's more than just "one more product" 🙂
So what are we ending with, 64C Threadripper?
I'm waiting for the 64 core TR3 being announced...
"Triple A (AAA) Advantage" is quite a catchy line I must say.
Dell G5 "special edition" with a Ryzen 4000 APU and SmartShift for $749 "starting"
Lisa's back, 3990X announcement I bet.
Dell also has this Switch looking PC device that has no confirmed specs, I'm interested in that too.
@Matthew I think you were right before, it's just more aggressive power management between the CPU cores and GPU cores.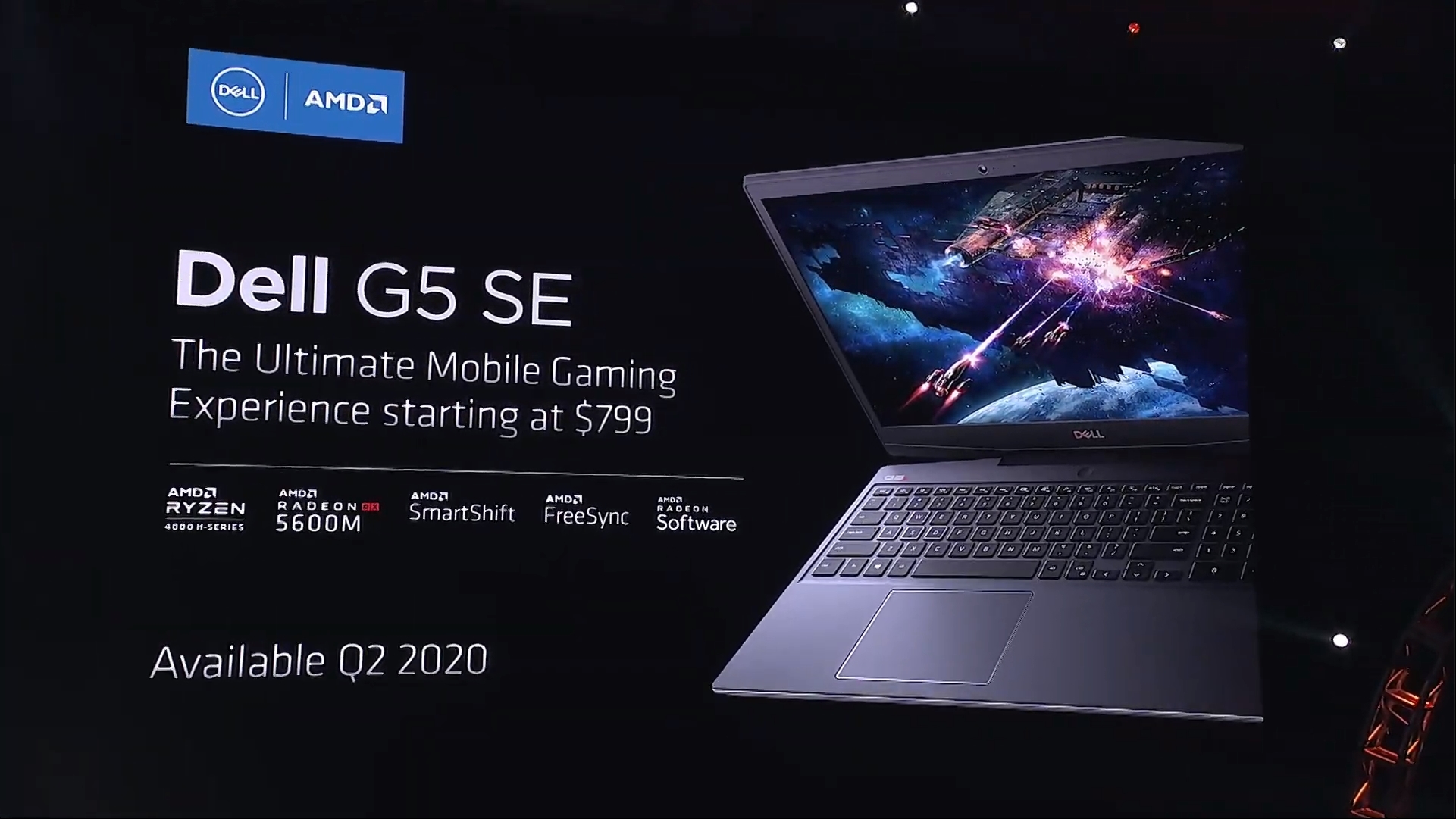 Maybe it is just AMD fixing its power management issues...
Or is it mGPU? I don't really understand exactly what Smart Shift is but it looks cool.
"Smartshift", sounds like marketing nonsense for a problem they should have fixed a while ago.
10% performance improvement with SmartShift on, likely sacrificing available CPU headroom to give the GPU more OC.
Actually it looks like mGPU using the APU and dGPU graphics at the same time. Cool.
SmartShift technology presented, which allows the CPU and GPU parts of the APU to be individually clocked to save energy
So this Smart Shift thing is like Nvidia Optimus?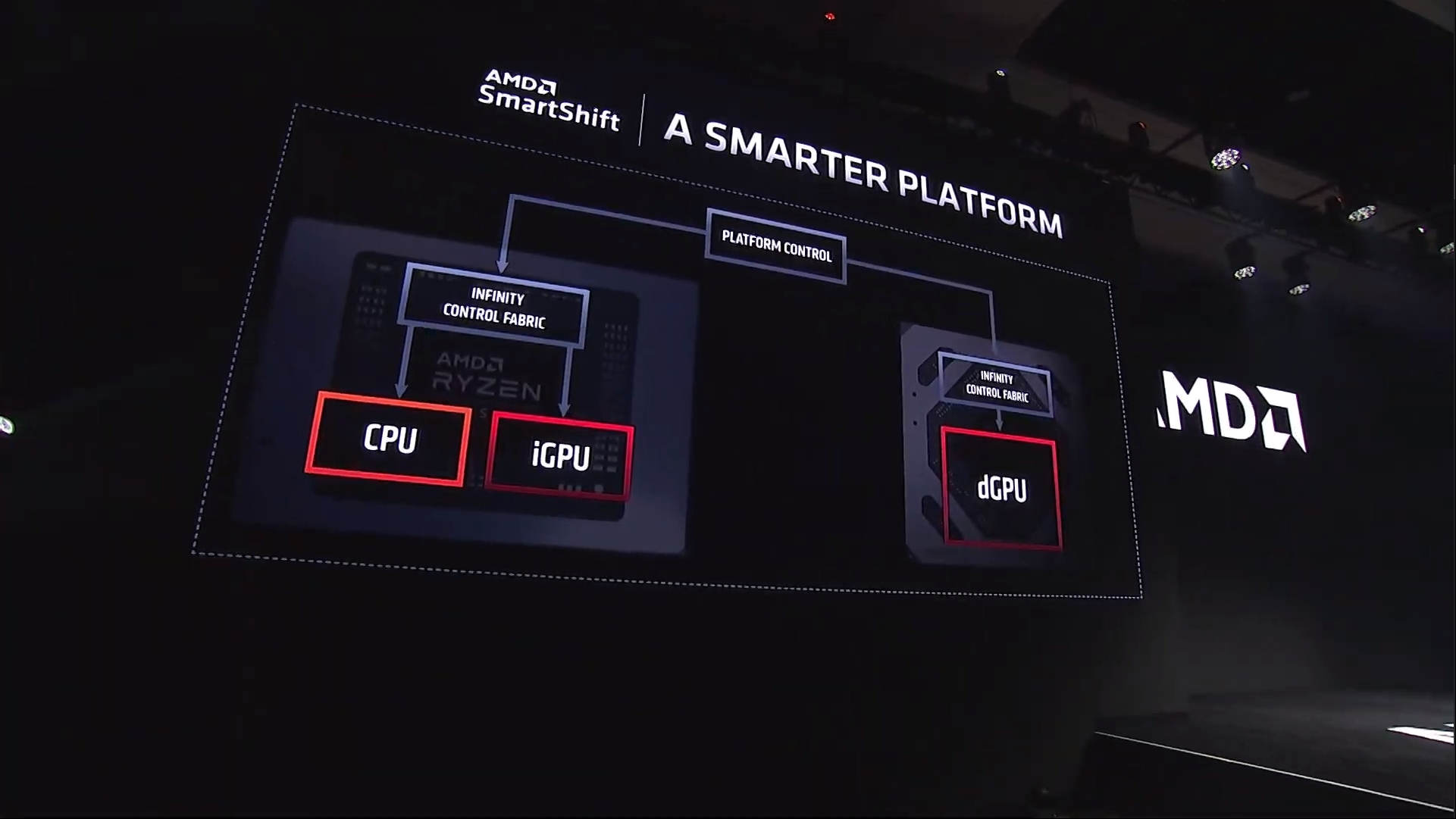 Oh AMD has finally managed to fix its power management issues.
Oh god what is this AAA advantage thing?
Gimmicky ASUS laptop showed
Faster than the 9700K, half the TDP. Impressive. I guess it's desktop class for Intel.
This is lining up nicely for AMD to compare the most efficient Zen 2 mobile silicon vs the extremely inefficient 3800X.  Not cool, AMD.
If you compare it to an Intel 9700K it will... 🙂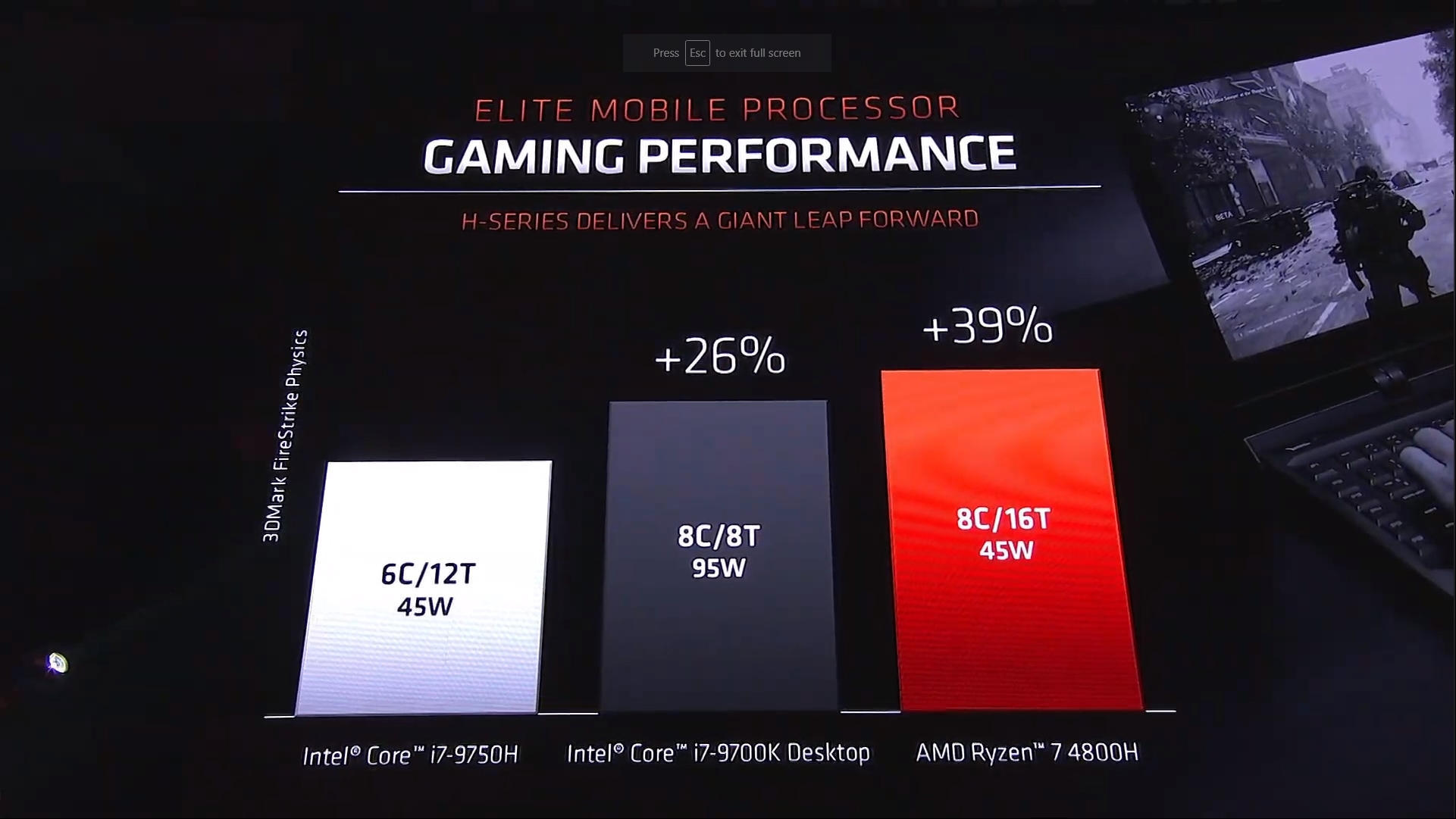 Intel vs. AMD comparisons coming up.
I mean it has a 45 watt TDP, I don't think it's gonna be desktop class despite Frank's insistence...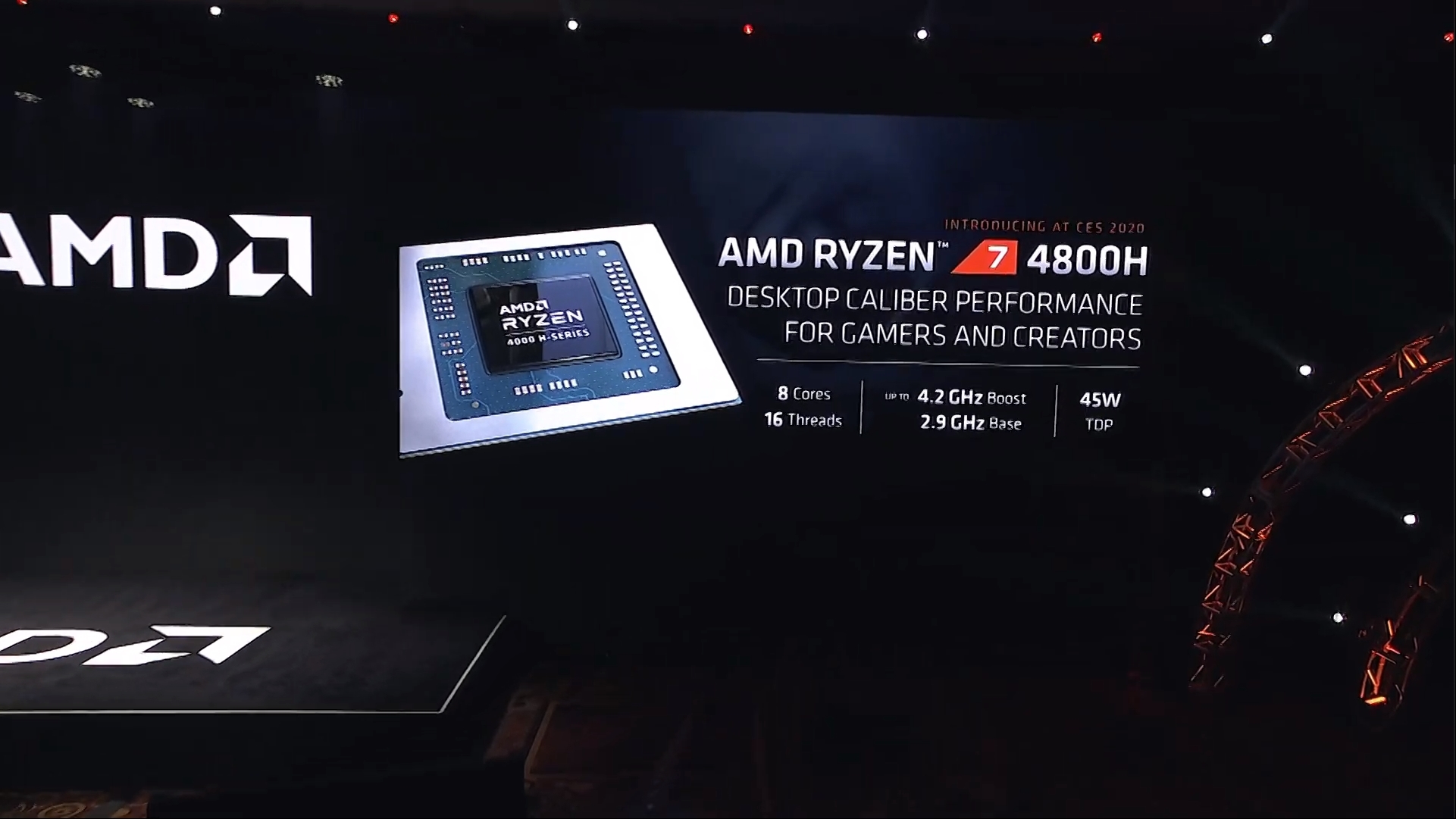 Okay, gaming laptops up next.
Again emphasis that AMD has both CPUs and GPUs.
Nothing about 4K, I wonder why...
Frank Azor, ex-Alienware General Manager
And now Frank Azor, formerly of Alienware now AMD.
Frank Azor takes the stage
"2020 is the year of the gamer"

Rise up please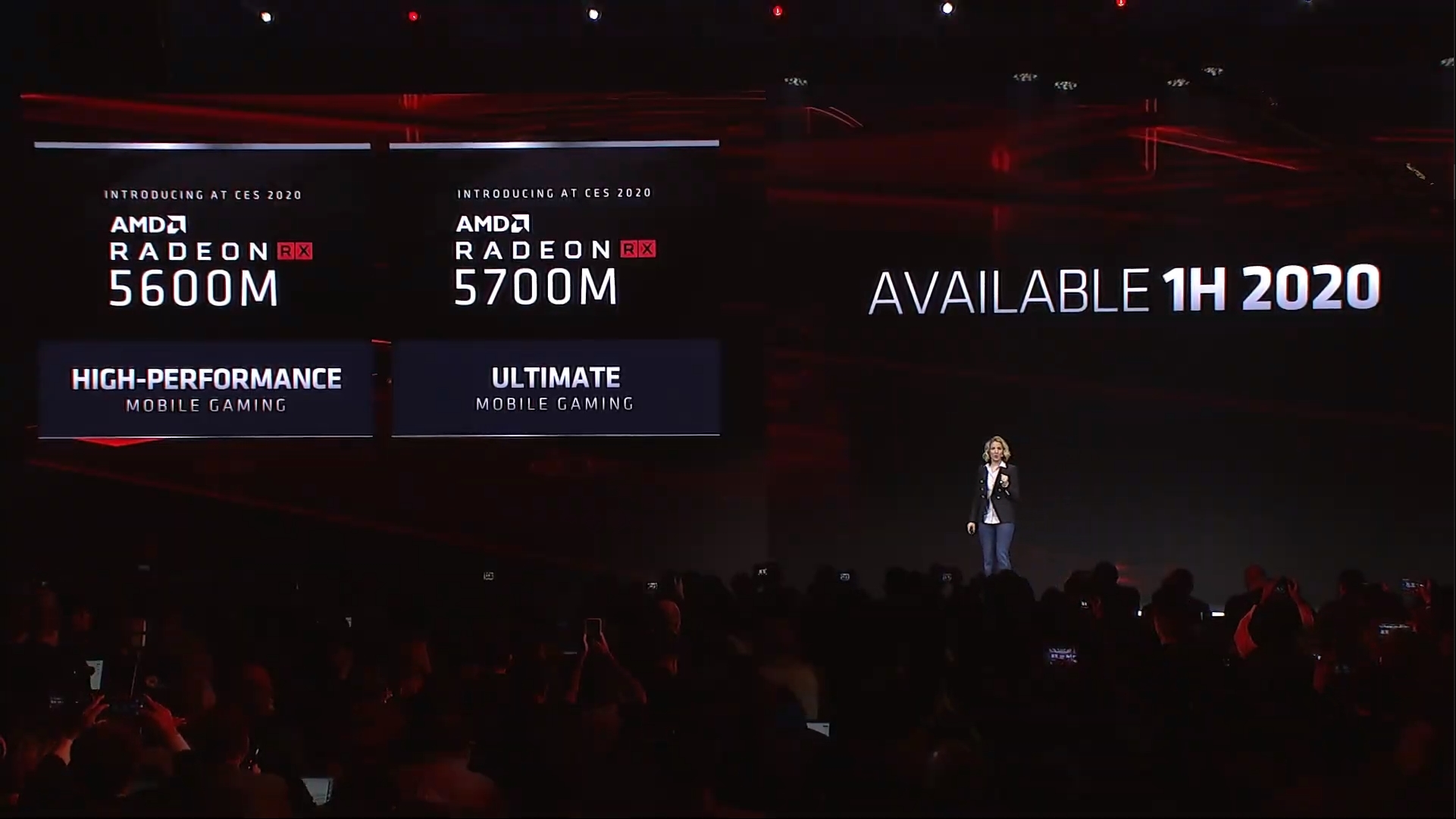 Very muted applause for the card.
5600 Jan 20, 279$ worldwide
5600XT is gonna be available Jan 21. $279
"5600XT is the clear winner"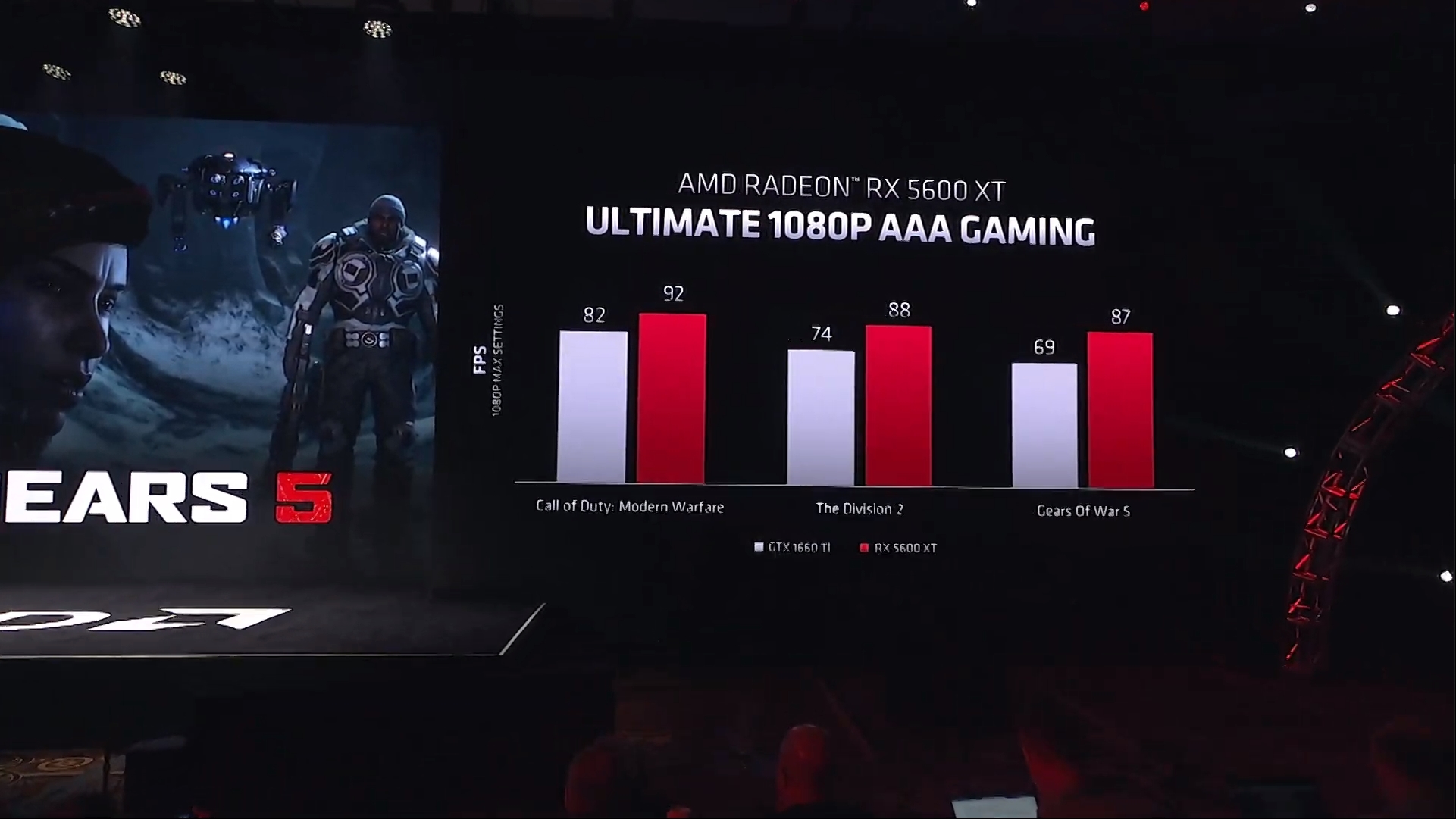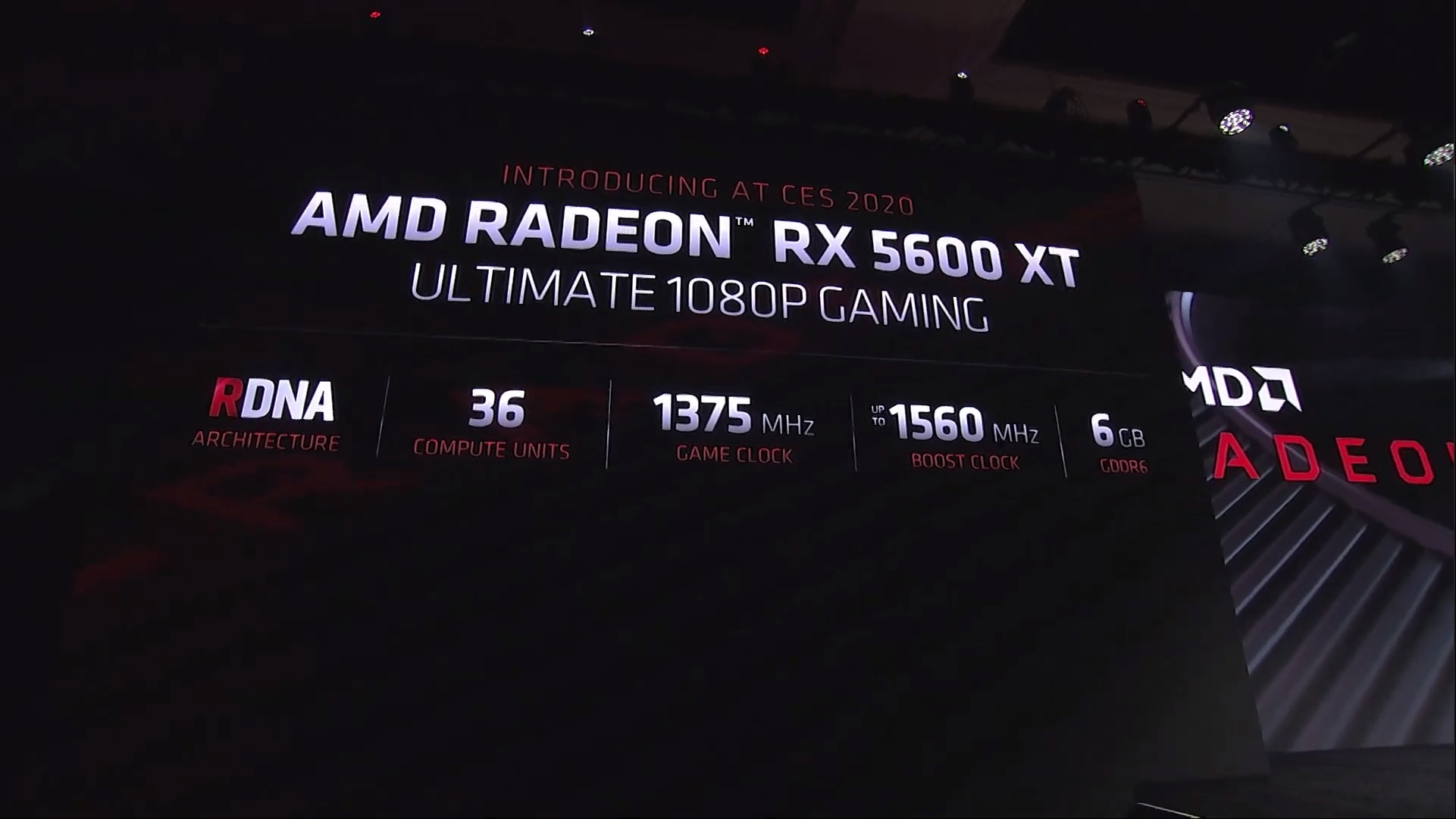 Okay, 5600XT announcement.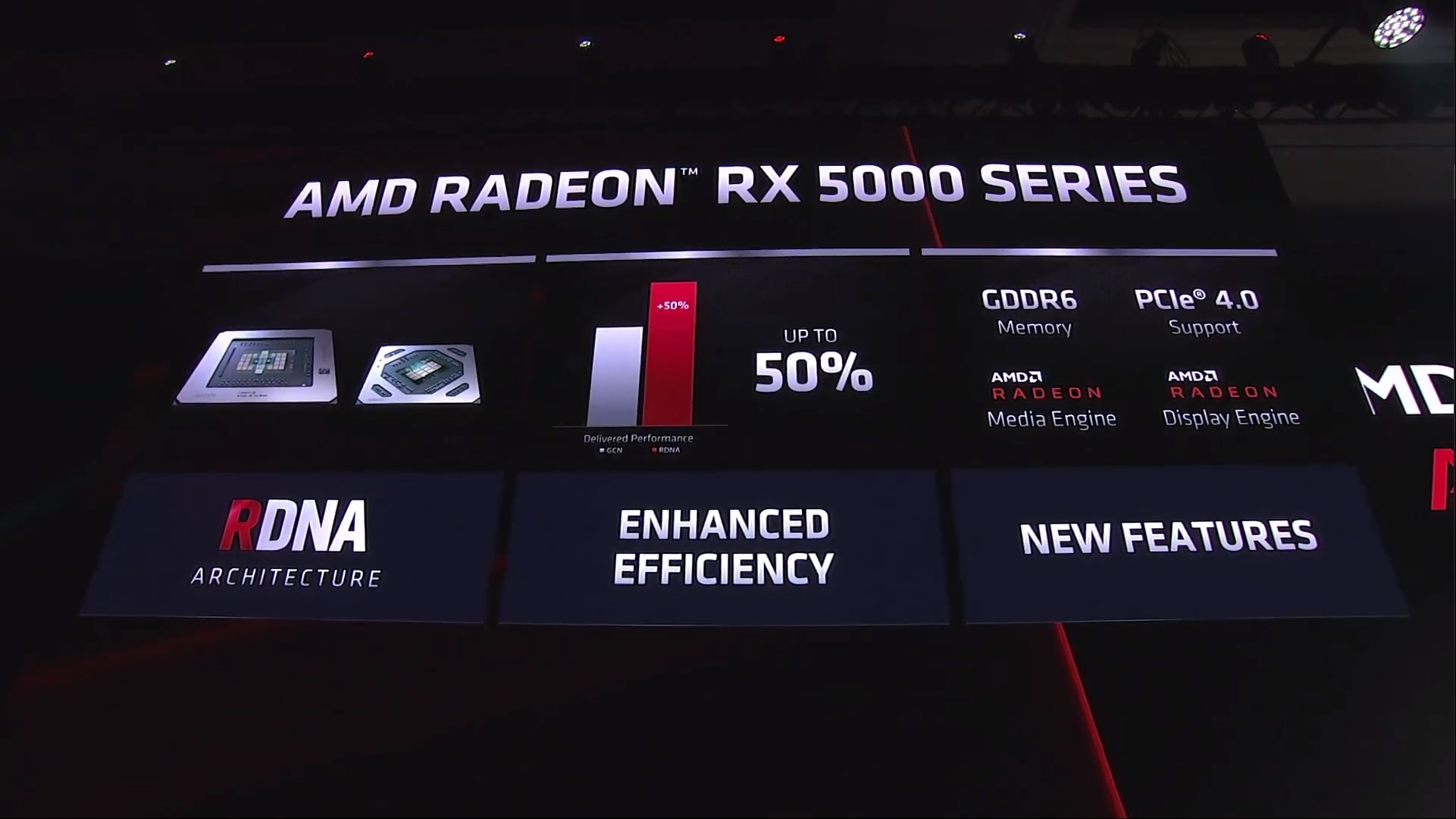 Also worth remembering that CES is very much for "normies" more so than enthusiasts, so we'll see a lot of stuff we know about already.
Finally onto the hardware, that driver section was pretty boring but it was brief at least.
AMD/Lisa tends to save the best for last in these presentations.
Now onto Adrenaline drivers.
So AMD is wanting to fix its branding issues and refresh FreeSync.
Oh, FreeSync 2 has been axed and replaced by FreeSync Premium and Premium Pro.
I don't think I see anything about FreeSync 2... is it dead?
Looks like this section is about FreeSync, Radeon, and the drivers (?).
So AMD's now talking about PC gaming, seemingly to do with Radeon.
"Transforming the laptop market"
Great, Q1 availability and over a hundred laptops available. I needed to get off my Kaby Lake G laptop.
Lisa Su announces over 100 different laptops with 4k CPUs in 2020
8 GPU cores was the last leak (which I missed in the latest video).  That's very aggressive cutting on die area.
Hmm, I don't know, I think the cores are just disabled for segmentation and power.
Lenovo Yoga Slim 7, one of the Laptops to boast a Ryzen 4000 CPU
So I wonder if there are gonna be two different chips for mobile, perhaps a larger one too?
2x more battery life, that was really needed.
Vs. Ice Lake, Renoir is the obvious victor. About 40% faster than the 1065G7.
59% more performance per GPU core even though it's still Vega... interesting.
Here's the 4800U: 8/16, up to 4.2 GHz, 1.8 base, 8 GPU cores, 15 watt TDP.
R7 4800U: 8 Zen cores, 4.2 GHz, 8 Radeon cores, 15W
AMD is saying they're on par with Intel right now but that might be a little generous.
The performance is of course determined by Cinebench.
So AMD is putting themselves above Intel on this performance graph for performance in 2018.
Lisa holding up Mobile Ryzen 4000, looks like a pretty small chip.
Ryzen 4000 APUs, 8 cores, 16 threads. Monolithic.
I am excited about Renoir but Intel's Tiger Lake could provide a tough graphical challenge too.
8K content creation capability is a big ask.
AMD wants to take a bite of the 180 million units per year laptop market: Zen2, 7nm, power efficiency
"Building the best laptop processor"
Renoir incoming.
So this will be Renoir coming up...
"There hasn't been alot of improvement in the laptop form factor"
8K is going to be a big theme for AMD's CES it seems.
So now the focus is on gamers and creators, which I guess is PC.
"2020 is gonna be a bigger year than 2019" - Lisa Su
"2020 is gonna be a bigger year than 2019"
Dr. Lisa Su mentions over 20 7nm products, in production or development in 2020.
2020 seems to be the year of the partner products.
Yea, they've implied stuff about PC but nothing explicit yet.
Lot's of emphasis on everything outside of the "PC" there.
Montage of alot of partner made products: consoles, Surface, iMac, etc.
Some impressive partners - of course all these companies are partnering with AMD's rivals too in some fashion.
AMD's partners: Microsoft, Sony, Apple, Google, Amazon, Twitter, and more.
2019 was hyped up, how can AMD hype up 2020 even more?
AMD summarizing new Ryzen, Threadripper, Radeon, and Epyc products launched in 2019 on 7nm.
"It's about making the right bets 3-5 years in advance"
So seems my stream was lagging and I'm a little behind...
HPC is up first it seems.
"Our focus"
The presentation is starting.
How poetic would it have been if it would cost 3990?
Apparently the 64 core 3990X is coming this February for $3950, alot lower than I expected.
There seems to be interest in the stream. More than 11K are watching already.
I also have to wonder if Phil Spencer or some other Xbox person will be on stage given the recent teaser we got of the Xbox processor.
https://adoredtv.com/phil-spencer-teases-upcoming-xbox-processor/
Haha I forgot about that mess-up at Computex where they ruined the whole show before it even started.  Surely not a repeat of that this time!
We're being treated to some really bad elevator music while waiting on the show starting, should be 5 minutes but it's not unusual for AMD presentations to run a little late.
The stream has started but it's just background music for now. Hopefully we see an accidental preview of what's to come like we did at Computex last year.
Yea I think it's still too early for Zen 3.
There was talk of a Zen 3 reveal however I think it's a bit too early for that and they'd perhaps just end up "Osborning" their current lineup.
Anandtech also reported on the first laptop to confirm to be using a Ryzen 4000 APU, the Lenovo Yoga Slim 7, coming March, starting at $700.
https://www.anandtech.com/show/15282/ces-2020-lenovo-yoga-slim-7-with-amd-4000-apu-inside-coming-march
Can't say I'm overly-excited by the 5600XT...
The 5600XT is also rumored to be $280 which is a decent price I suppose.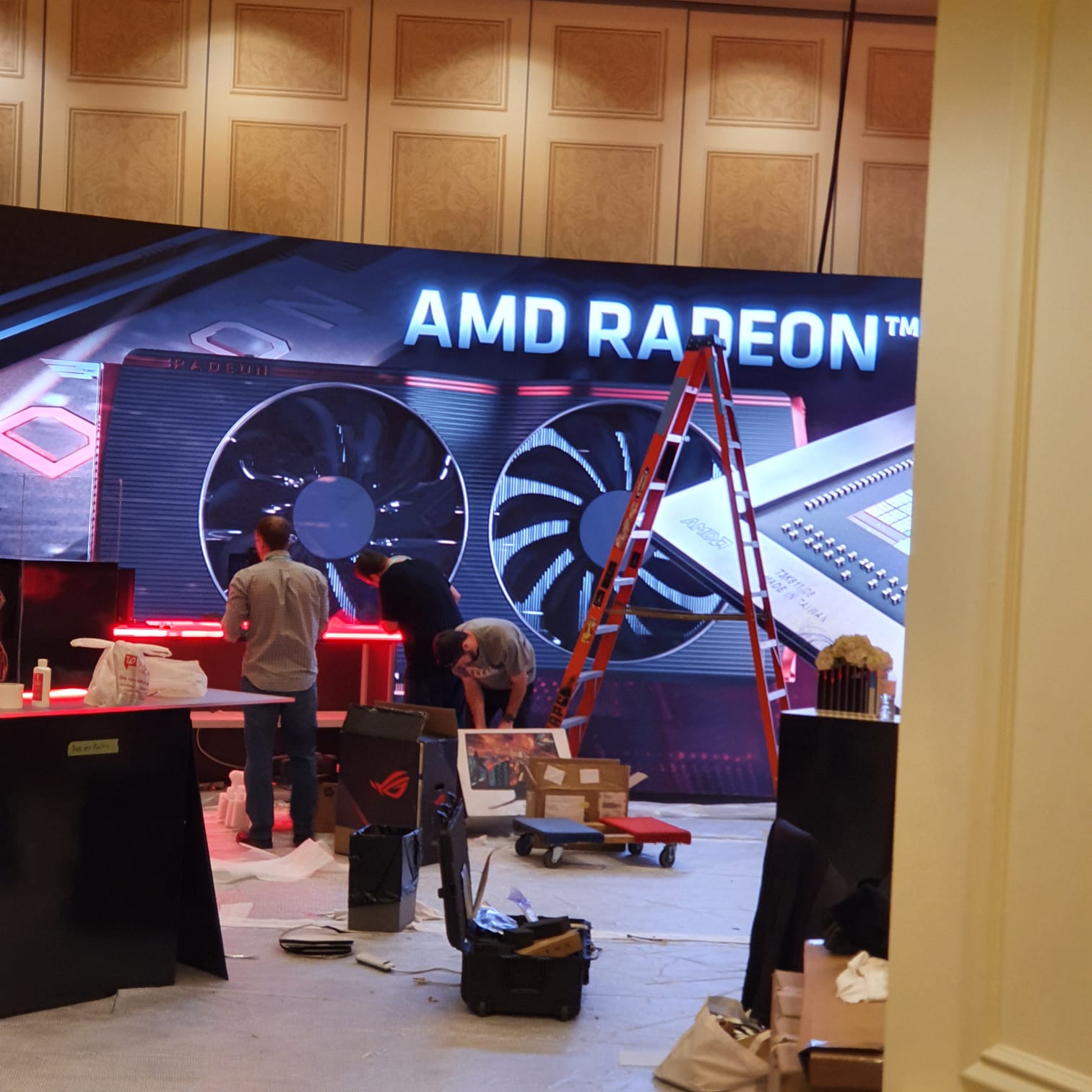 This image actually leaked a few moments ago and I guess that's what the 5600XT looks like.
So I think we're mostly expecting Ryzen 4000 APUs and the 5600XT.
Hello everyone, welcome to the live blog for AMD's CES presentation. It's gonna start in about 15 minutes but before then we figured it would be nice to talk a little prior to the presentation just to get our expectations out there.
Alright guys...you can follow the presentation live on YouTube from this link